CHEF RICK MOONEN'S NEW CONCEPT IS RX BOILER ROOM!

Award-winning chef, restaurateur and cookbook author Rick Moonen has announced his new concept, Rx Boiler Room slated to open in late June inside The Shoppes at Mandalay Place. The restaurant that previously housed his fine-dining concept referred to as rm upstairs will be transformed into a steampunk-inspired restaurant and lounge, with décor reminiscent of industrialism during the 19th century Victorian era and re-defined comfort food classics in small and large plate portions.

The playful interior design will offer a modern reflection of the Victorian era, celebrating the steampunk sub-genre often associated with science-fiction and inspired by industrialized Western civilization during the 19th century. The overall eclectic feel of the room will be punctuated with warm colors, opulent leather seating, chalkboard walls, and a hammered metallic ceiling. Seating options for dinner will include comfortable pub-style tables within the apothecary-style lounge or intimate booth dining with rich velvet drapes. For additional details, visit www.rxboilerroom.com

.
Column Continues Below Advertisement



MORTON GROUP OPENS LA COMIDA DOWNTOWN

The Morton Group will open Mexican restaurant La Comida downtown on April 29 behind Commonwealth on Sixth Street. La Comida's executive chef, Pablo Sanchez-Ortiz, grew up in Mexico City and Sahuayo Michoacán, Mexico, where his family owned restaurants in both cities. After moving to Las Vegas in 2001, Sanchez-Ortiz worked on the Strip at Wynn and Cosmopolitan.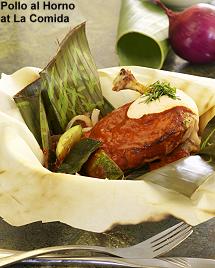 La Comida boasts the communal enjoyment of dining and more tequilas than it has seats and features signature fresh fruit margaritas. The 3,000-square-foot restaurant seats 80 in the dining room, 15 at the bar and 24 on the patio, has an open kitchen, a 25-foot cocktail bar overlooking Sixth Street and 13-foot accordion style doors opening the façade to outside sidewalk seating.
The restaurant, formerly an old laundry facility, carries an irreverent ambience with distressed construction details creating weathered comfort. Design elements include wood floors, reclaimed tiles from Mexico, church pews, old church stained glass windows, a hostess stand fashioned from an antique cart, and a metal garden entry gate. The front has a seven-foot sculptured metal monkey clinging to the rooftop with bones flash in pink neon. La Comida is open for lunch and dinner, visit www.LaComidaLV.com.
CENTRAL MICHEL RICHARD OPENS REVAMPED PATIO
Central Michel Richard at Caesars Palace has opened its all-new French garden-inspired patio for the outdoor dining season with a view of the Strip. The entrance is adjacent to the hotel's lobby. The space features white lounge furniture including swings, couches, oversized umbrellas, pub-style tables and shaded dining areas with bright green accents and surrounding greenery. The Strip-side patio is open for breakfast, lunch and dinner and seats more than 100 guests. Inside the stack of plates sculpture is eye-catching.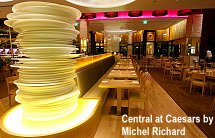 THE ACT TO HOST 'THE END OF THE WORLD PARTY'
Starting Thursday, May 2 and continuing the first Thursday of every month,
The Act in The Shoppes at The Palazzo will introduce "The End of the World Party," a monthly three-city bash in London, Los Angeles and Las Vegas to over-indulge. The ACT, managed by Variety Worldwide, is the latest venture by Hammerstein, a seasoned theatrical producer and artistic director.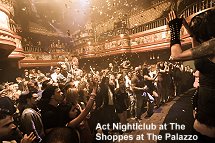 The performance-based nightclub will have theatrical performers infiltrating the audience. Guests will determine the playlist and a "Last Wish" wall will allow guests to express their final desires. The Act will offer an Ego Massage and a makeup booth. The event will occur in the 15,000-square-foot, multi-level space that merges aesthetic elements ranging from an Italian opera house to European cathedrals, from New York City's Grand Central Station Post Office to a turn-of-the-century speakeasy.
THE NEW PIZZA LOUNGE OPENS IN TIVOLI VILLAGE
The Pizza Lounge that opened at Tivoli Village in mid-March has sister properties in Laguna Beach and Huntington Beach, Calif. Local entrepreneur, Ken Henderson, partnered with Gary Decker, the founder of Pizza Lounge, to bring the 1,900-square-foot restaurant to Las Vegas.
The new dimly lit contemporary eatery features an extensive list of more than 20 wines by the glass, walls of glowing candles, and a spacious patio framing two sides of the restaurant that seats 60 guests inside and 30 outside. The décor includes custom hardwood tables, four crystal chandeliers, granite and wood countertops, and atmospheric videos on high-definition televisions.
The pizzas including an option for a gluten-free crust are prepared in brick ovens and there are small plate offerings. Hours are daily 11.m. until 10 p.m.
FERRARO'S ANNOUNCES LATE-NIGHT FINE DINING
Around since 1985, Ferraro's Italian Restaurant & Wine Bar is now offering late-night fine dining every night until 2 a.m. From 11 p.m. until 2 a.m., guests receive 50 percent off all food items and 25 percent off of drinks. Wine connoisseurs will delight in Ferraro's 12,000-bottle wine collection.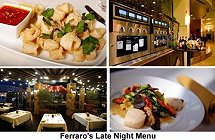 SAPPHIRE POOL & DAY CLUB HOLDS GRAND OPENING PARTY
Sapphire, "The World's Largest Gentlemen's Club" is the newest day club in town located at 3025 S. Industrial Road. The $8 million Day Club includes a multi-level pool utopia that can accommodate more than 800 party goers. The indoor/outdoor bar and restaurant offers food designed by celebrity Chef Kerry Simon and will hold its grand opening May 2-5.
The celebration begins on May 2 with Las Vegas' largest Dancer Appreciation Party and will offer free food and cocktails from 1 to 5 p.m. On May 3, Playboy Playmate Coleen Shannon, voted "The World's Sexiest DJ," will spin the music following an opening set by International Playboy Playmate DJ Amie Rose. Baywatch babes, Brande Roderick and Angelica Bridges will host with former "Sports Illustrated" swimsuit model Amber Smith. Three DJ finalists will spin-off in a competition for an opportunity to become the $100,000 resident DJ at Sapphire Pool & Day Club.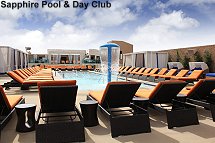 On May 4, Pamela Anderson will host with her Baywatch friends, Adrian Grenier, star of the hit HBO series "Entourage," and "Peepshow" headliner and reality star Coco. Playboy Playmates DJ Coleen Shannon and DJ Amie Rose will provide the groove along with Hugh's Hefner's wife Crystal.
On Sunday May 5, international "Bad Boy" Dennis Rodman will host with DJs Vic Latino and George Acosta.
FAT BAR CELEBRATES ONE YEAR AND CINCO DE MAYO
Fat Bar located on the Strip in front of the busiest Fatburger in the world has a circular 200-seat retro-looking bar and lounge area and recently celebrated its first anniversary. The Fat Bar will highlight Cinco de Mayo Friday through Sunday with DJs, $5 Margaritas, 2-for-1 Pacificos and a bucket of five Coronas for $17.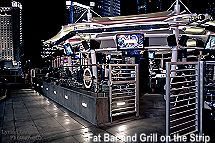 This 24/7 bar has a 5 a.m. to noon breakfast menu and is ready for any season with misters or heaters and more than 20 plasma TVs. On Thursday nights from 10 p.m.-2 a.m. DJ plays '80s music and on Fridays and Saturdays rock 'n' roll.
ANDRE'S INTRODUCES '5-6-7' HAPPY HOUR SPECIALS
The popular "5-6-7" Happy Hour menu is now available at Andre's at the Monte Carlo. At either Andre's Bar or the upstairs, signature award-winning Cigar Lounge on the second floor, the menu is offered Tuesday through Sunday from 5 to 7 p.m. The unique menu pricing makes it easy to remember the offer: all beers are $5, all cocktails are $6 and small dishes are $7.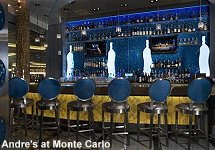 WAR WILL HEADLINE AT EASTSIDE CANNERY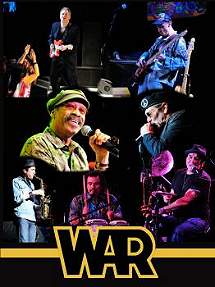 WAR, the longtime feel-good funk and rock band, will be spotlighted at the Eastside Cannery on Saturday, May 4 at 8:30 p.m. The group has 14 Top 40s hits and maintains global popularity playing an eclectic array of festivals, including the "Summer Sonic Festival" in Japan. WAR has been honored twice by its hometown of Los Angeles, over 20 years apart, for its music making positive contributions to the betterment of the community, Tickets start at $12.95.
TOP OF NEXT COLUMN
THE INTERNATIONAL SWINGERS WILL PERFORM FREE SHOW
Rock 'n' roll supergroup The International Swingers will perform a free concert at the Hard Rock Café at Hard Rock Hotel on Thursday, May 23 at 9 p.m. Formed in 2011, The International Swingers made up of members of legendary punk, new wave and glam bands, the Sex Pistols, Blondie, Generation X, Speedtwinn, and more, recently completed an Australian tour and await the release of a forthcoming album and international tour in May. The International Swingers will perform songs from each member's respective catalogue, as well as new material.
RONN LUCAS AND PALS PERFORM AT SUNCOAST SHOWROOM
Ventriloquist Ronn Lucas and his cast of characters will delight audiences with a mix of stand-up comedy and improvisations at the Suncoast Showroom June 8 and 9. The first ventriloquist to headline a long-running show in Las Vegas, Lucas has also performed for several U.S. presidents. Tickets are available from $15.95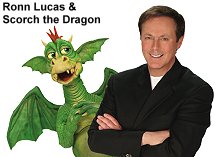 Appearing alongside Lucas are his trusty sidekicks Scorch the Dragon, Buffalo Billy and Chuck the Disposable Punk Rocker. In 1992, Scorch was the star of his own self-titled television show on CBS (with Lucas providing the voice). In 1990, Lucas starred in "The Ronn Lucas Show," broadcast in the United Kingdom. In 2009, he was featured in the documentary, "I'm No Dummy," which explored the world of ventriloquism through clips and interviews.
LAS VEGAS RECOGNIZED AS NO. 1 TRADE SHOW DESTINATION
Las Vegas has maintained its reigning title as the top trade show destination in the country for the 19th consecutive year, according to Trade Show News Network's (TSNN) 2012 TSNN Top 250 Trade Shows in the United States list. Las Vegas hosted 53 of the largest shows, more than the next two competitors Orlando and Chicago combined. In total, Las Vegas hosted nearly 22,000 meetings in 2012 with 4.9 million delegates.
MARGARITAVILLES CELEBRATE NATIONAL HAMBURGER MONTH
Chefs countrywide from Jimmy Buffett's Margaritaville restaurants recently competed in Margaritaville's annual burger challenge for a chance to be included in Margaritaville's Specialty Burger Menu in May. Each week in May, one of the winning burgers will be featured in all Margaritaville restaurants. Surveys show that over 70 percent of beef consumed in the United States is done so in the form of hamburgers and cheeseburgers. Chef Franz Zmuda from Margaritaville Las Vegas' Ultimate Burger Melt will be featured May 13-19.
LAVO ITALIAN RESTAURANT HOLDS WINE TASTING DINNER
TwentyFour by Charles Woodson and LAVO Italian Restaurant will host an exclusive six-course wine pairing dinner in the restaurant's private dining room on Friday, May 3. Winemaker and professional football star Charles Woodson, joined by TwentyFour's Director of Operations Rick Ruiz, will pair wines to the culinary creations of LAVO chefs Massimiliano Campanari and Marc Marrone. Price is $15, call 702-791-1800.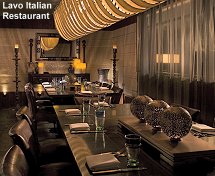 THINGS TO DO
The second "The Fight To Unite Tour" will feature double platinum selling headliner Kottonmouth Kings. The Southern California natives have sold more than two million albums during their career in the indie music scene that started 17 years ago. They will appear at the Hard Rock Café on the Strip on May 3. Tickets are $22 in advance and $25 day of show.
Azure at The Palazzo is ringing in its fifth season with a poolside grand opening party on Saturday, May 4. The event will feature a musical performance at 2:30 p.m. by American Idol alumni and engaged couple, Ace Young (Season 5) and Diana DeGarmo (Season 3), as well as a fashion show. There's a $20 cover.
Public House Las Vegas at the Luxor will celebrate National Wine Day with half-priced glasses and bottles of both red and white wines Saturday, May 25.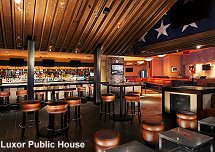 First Friday on May 3 will celebrate the marriage of art and science from 5 - 11 p.m. First Friday Las Vegas showcases 75-plus artists, 15 live bands and DJs on four stages, 25-plus food trucks and more.
It will be all about boxing at the Cosmopolitan on Friday, May 3 when undefeated contender Anthony Dirrell and rising star Antonio Orozco are featured in separate bouts that will air over the course of three hours on FOX Sports Networks and FOX Deportes.
Nikolas Mastrangelo will be back at the Mad Greek restaurant located 8565 W. Sahara with his Nik at Nite show on Tuesday, May 14 from 7-10 p.m. with Naomi Mauro on vocals and a trio and some special guests. For reservations, call 702-242-7669.
BLUES TRAVELER HOLDS A CONCERT AT THE HENDERSON PAVILION
Grammy Award-winning Blues Traveler, the soulful rock band from New Jersey that defined the music of the mid '90s and is celebrating its 25-year career this year, is touring the country in support of their 11th studio album, "Suzie Cracks The Whip," and will perform at the Henderson Pavilion for the first time, Friday, May 17 at 8 p.m. Tickets are $15.
MIRACLE MILE SHOPS HOSTS CELEBRITY MEET & GREETS
On Thursday, May 2, DC Shoes hosts a free public DC Motocross Team Signing featuring Trey Canard, Jeremy McGrath, Nate Adams, Robbie Maddison and more from 3-5 p.m.;702-369-2730. Volcom hosts a free meet and greet from 6-8 p.m. with motocross and supercross champion Ryan Villopoto; 702-369-2340.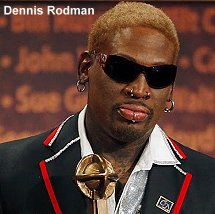 On Saturday, May 4, Pro Basketball Hall of Famer Dennis Rodman will visit TRISTAR Sports Memorabilia for autograph signings from 1-2:30 p.m. and 3-6 p.m. Fees apply, call 702-534-1650.
LOTTO STORE RENOVATED IN PRIMM WITH POWERBALL® IN MIND
Primm Valley Casino Resorts recently made improvements and renovated the Lotto Store where the $2 POWERBALL lottery game started this month. The California Lottery Commission recently adopted the multi-state, mega-jackpot lottery game. The lotto store added four more stations to the existing seven and two additional self-service machines. The store is open daily from 8 a.m. to 7:45 p.m.
STAR-STUDDED MMA EVENT SET AT HARD ROCK ON JUNE 14
The world-class Mixed Martial Arts (MMA) event at The Joint at Hard Rock will be headlined by a welterweight (170 pounds) rematch between superstars Jon Fitch (24-5) of Fort Wayne, Ind., and Josh "The People's Warrior" Burkman (25-9) of Salt Lake City, Utah, and will take place on Friday, June 14, and air live on NBC Sports Network at 8 p.m. PT.
In the light heavyweight (205 pounds) co-main event, hard-hitting, 27-year-old Tyrone "King of the Ring" Spong (1-0) of Boca Raton, Fla., via Suriname, a decorated champion and veteran of 77 professional kickboxing bouts, will make his much-anticipated, second start under MMA rules against fellow KO artist Angel "The Dream" DeAnda (11-2) of Oakdale, Calif. DeAnda has scored (T)Kos in 10 of his 11 career victories, including his last four starts. Tickets are priced from $29.
VISIT NEW ART EXHIBITIONS AND MEET THE ARTISTS IN MAY
The public is invited to meet the artists' receptions and exhibitions at three different Las Vegas city galleries this May.
Ukrainian artist Alex Krasky will be at the West Las Vegas Arts Center Community Gallery, located at 947 W. Lake Mead Blvd., on Friday, May 3 at 5 p.m. Krasky left Ukraine in 1997 and took up oil painting classes for the first time after he was laid off from his job in 2009. After four classes, his instructor sent him on his way and he hasn't stopped painting since. His works will be on exhibit through June 8. (Ed. update: The exhibit had to be removed early on May 10.)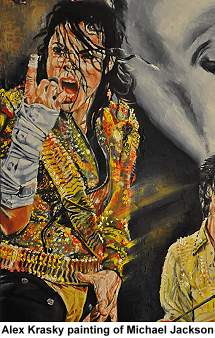 People can meet participating Southern Nevada artists on Friday, May 24 from 6 to 7:30 p.m. at the Celebrating Life! reception and awards ceremony when the new exhibition opens at Charleston Heights Arts Center, 800 S. Brush Street. The juried competition was for resdients age 50 and better.
Another opportunity is Thursday, May 30 from 11 a.m. to 1 p.m. at the Las Vegas City Hall Chamber Gallery. This exhibition will feature works from artists with studios and galleries inside of Emergency Arts in Las Vegas.
SHINE ALTERNATIVE FITNESS OFFERS X-TREME BOXING CLASSES
Shine Alternative Fitness is offering an exclusive Father's Day gift package for dads of all skill levels featuring five adrenaline-charged X-treme Boxing classes priced at $50 through Sunday, June 16. Under careful instruction from renowned boxer, Victoria Gusto, dads have three months to use the gift, call 702-420-2358.
Column Continues Below Advertisement
CONTINUE ON TO...:

THIS WEEK'S >LAUGHLIN NEWS
LAST WEEK'S >LAS VEGAS NEWS
>VEGAS VIEW FULL NEWS ARCHIVES
Return to >"Heard Around Town"
Return to >Las Vegas Leisure Guide