CRISS ANGEL Believe™ has been unveiled as the name of the new Cirque du Soleil production set to open at the Luxor. The show will star magician Criss Angel and be presented in a custom-built theater. Preview performances will begin Sept. 1 and the Gala Premiere will be held Friday, Sept. 12. Tickets are on sale now exclusively to Criss Angel loyals, Cirque Club members and Luxor Insiders online at www.cirquedusoleil.com/crissangel and www.crissangel.com. Tickets are $150, $125, $99, $79, $59 plus tax. All preview performances will be discounted 25 percent.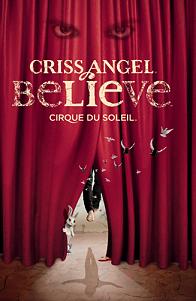 Provocative artist Angel has named the show "Believe" in an attempt to pay homage to Harry Houdini, who told his wife that was the code word for people who wanted to communicate with him after his death.

Column Continues Below Advertisement


CRISS ANGEL Believe will be a haunting exploration deep inside the inventive mind of mystified Angel as he hovers between the land of the living and a surreal world uniquely woven together by the distinctive imaginations of Angel and Cirque du Soleil. Unlike traditional magic-themed shows, CRISS ANGEL Believe will supposedly transcend any preconceived notion of what it means to be emotionally engaged by the arts of mysticism and illusion.
Angel will star as a surreal, enigmatic Victorian Noble. Along a path of imaginative exploration, he will encounter Kayala and Crimson, two women who represent different aspects of femininity, four bizarre Ushers, who will introduce the audience to the baroque theater of Angel's mind and a high-energy troupe of characters and dancers who mix a multitude of styles into a high-energy visual feast, punctuated by moments of grace and sensuality.
Singing impressionist Danny Gans after his final show on Nov. 22 will be moving from The Mirage, where he's appeared for eight years, to Wynn's resort, where he will start a three-year contract with options in mid-January 2009. The Mirage plans to continue with headlining comedians including Ray Romano, Brad Garrett and Howie Mandel, who currently share the room with Gans.
Gans will replace Monty Pyton's Spamalot, which will close on July 13 at Wynn. The venue will be renamed the Encore Theater because it is located at the connection point between Wynn and the new hotel Encore. Gans plans to make his new production more theatrical by adding sets and backdrops because of the proscenium theater.
Gans will perform four shows a week in the Encore Theater so he'll be sharing the space with other headliners.
Nathan Burton Comedy Magic made his debut at the Flamingo on April 21, with his hour-long 4 p.m., Friday - Wednesday show. Burton has been performing more than 10 years in Las Vegas and recently gained critical acclaim for his performances on NBC's America's Got Talent and E! Entertainment's - The Entertainer starring Wayne Newton. His show incorporates in-your-face magical illusions with a mix of comedy, beautiful showgirls, and Burton's engaging personality. Tickets range from $34 to $44, call 702-733-3333 or 800-221-7299.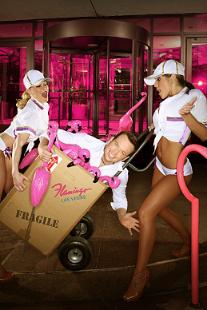 In his new show, he's performing new tricks and many signature illusions including two particular ones: the Microwave of Death and the Steamroller. Renowned set designer, Andy Walmsley, who designed sets for American Idol, Who Wants to be a Millionaire and America's Got Talent, has created a brand new set that is bigger and better than anything Burton has showcased in the past. The main set component is 43 feet across and 23 feet tall - and because it's made mostly of aluminum - it only weighs about 1,000 pounds.
Legendary rock band Three Dog Night will perform at the MonteLago Village on Lake Las Vegas Resort's outdoor floating stage Saturday, May 24 at 8 p.m. as part of the annual Stars On The Lake concert series. Tickets for the 8 p.m. outdoor concert start at $40 for lawn seating, $75 for reserved and $90 for VIP, call 702-474-4000.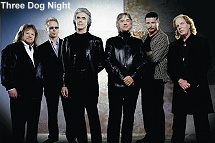 Three Dog Night has been entertaining audiences for nearly four decades with their chart-topping songs and unmistakable style. Considered one of America's most popular bands, they have earned 21 consecutive Top 40 hits, 18 straight Top 20s and have sold tens of millions of records. This year, the group will be releasing their Extended Versions - Live album.
The City of Henderson will presents the 11th annual ArtFest™ of Henderson on Saturday and Sunday, May 10 and 11 in the Water Street District in downtown Henderson from 10 a.m. to 5 p.m., both days. Drawing more than 40,000 attendees, ArtFest™ of Henderson is the largest southern Nevada art festival and has been a Mother's Day weekend tradition for years.
The free event features more than 200 select artists from across the nation displaying paintings to pottery, jewelry to photography and much more. Other festival highlights include live jazz and contemporary entertainment, a new food and beverage court and an expanded Kids' Gallery. For information, call 702-267-2171.
Long time resident and local icon Norm Johnson, best known for his award-winning journalism and the founder of the famous Mint 400 Off-Road Desert Race, is now sculpting. Johnson, who specializes in bronze sculptures illustrating the Wild West and sea creatures, will be recognized as one of the featured artists. As a junior high student in the 1940s, Johnson entered a statewide art contest requiring participants to create three dimensional pieces of famous California symbols. Johnson's interpretation of the state's grizzly bear, received high honors and created a desire to continue sculpting. His artwork has won awards and been displayed throughout the valley at several galleries. He has also sculpted the trophy for the annual off-road race held in Henderson.
The Fertitta brothers and Station Casinos bosses Frank III, 46, and brother Lorenzo, 39, will grace the May 5 cover of Forbes magazine. The cover story, tilted "Ultimate Cash Machines," focuses on the Fetittas' 90-percent ownership of the Ultimate Fighting Championship, which they purchased for $2 million in 2001. The Fertittas also discussed the future of locals gaming giant Station Casinos, which they took private in February after 15 years as a publicly traded company. The magazine said each Fertitta brother has a net worth of $1.3 billion, placing them 380th on the Forbes 400 list.
Dick's Last Resort at the Excalibur has started its own rowdy rendition of the popular past time of beer pong. Dick's entertainer Taco acts as the rambunctious referee from 7 p.m. until late, Wednesday - Sunday.
This is a reminder, the 18th annual Epicurean Affair, which allows partygoers to sample cuisine and cocktails from more than 100 bars and restaurants, will return for the third consecutive year to the Flamingo's 15-acre tropical pool oasis on Thursday, May 1, at 7:30 p.m. Tickets are $125 per person and $175 for VIP, call 702-733-3333.
TAO Las Vegas for the second year in a row was named No. 1 Highest Grossing Independently Owned Restaurant in the Country. Restaurants & Institutions magazine recently posted its list of the top 100 top-grossing independently-owned restaurants with sales in food and beverage totaling $66.6 million in 2007. TAO's revenue was up $11.3 million from the year before because of the addition of TAO Beach in May 2007.
Congratulations to the local casino Arizona Charlie's Decatur, which opened on April 22, 1988, and celebrated its 20th anniversary this month on the west side of the valley. The resort was named after Charlie Meadows, a.k.a. "Arizona Charlie," legendary cowboy and performer in Buffalo Bill Cody's Wild West Shows.
The Tenth Annual CineVegas Film Festival will be held June 12 - 21, at the Palms and Brenden Theatres. Each year the festival highlights offerings from up and coming filmmakers and visionary veterans, in-depth celebrity tributes and world premiere films. Passes and ticket packages can now be purchased by calling 888-8VEGAS8.
A 25 percent early bird discount is being given for the $600 Royal Flush pass and $250 Aces and Blackjack ticket packages purchased through April 28. The complete schedule of screenings, panels, parties and other events will be announced online on May 9.
The Opening Night Film and Gala and Monday Night Gala are separate events and additional tickets are required for entry, except for Royal Flush pass holders. Individual movie tickets will be available for purchase for $10 each starting Friday, May 23.
On June 24, Apple Corps Ltd. / Cirque du Soleil will release the feature-length, 84-minute documentary All Together Now on DVD, which will be marketed and distributed worldwide by EMI Music. The film details the whole story behind the unique partnership between The Beatles and Cirque du Soleil that resulted in the creation and launch of the LOVE show at The Mirage and the double Grammy-winning album of the same name.
The director, Adrian Wills, recorded early meetings between the Cirque & Apple Corps Ltd. creative teams, as well as contributions from Sir Paul McCartney, Ringo Starr, Yoko Ono Lennon and Olivia Harrison. Viewers learn about the decision to utilize the combined talents of Sir George Martin and his son Giles Martin to produce what became a 90-minute soundscape created from The Beatles' multi-track recordings. Even the creative differences were documented.
Conservative political talk show hosts, Sean Hannity and Mark Levin are teaming up with country music legend Lee Greenwood for the 2008 Freedom Concert at the Orleans Arena on Saturday, May 3, at 8 p.m. Tickets for the benefit concert sale $35 and $25, call 702-284-7777.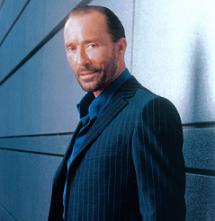 Hannity and Levin will speak to the audience on a variety of topical issues. Hannity is best known for his syndicated conservative talk show The Sean Hannity Show, and co-host position on Fox News Channel's Hannity and Colmes. Levin experiences similar success with the top-rated The Mark Levin Show a nationally syndicated show on the ABC radio networks. Greenwood, creator of the patriotic hymn "God Bless the USA," will perform as part of the program.
The California Hotel and Casino downtown will celebrate May Day with its 11th Annual Lei Day Festival on May 3 and 4 starting at 9 a.m. in the parking lot. This free event will feature Hawaiin arts and crafts, food, activities, music and demonstrations. The festival will feature a performance by Tony Conjugacion for $20 on Saturday night and the free "Island Fever Block Party" starting at 3 p.m. on Sunday.
The 3rd Annual Rock 'n' Roll Wine Reggae Pool Party will be held at the eight-acre pool area at Green Valley Ranch on Friday, May 2, from 7 to 10 p.m. The event will be celebrating the release of the second vintage wine of the Reggae Rhapsody blend and featuring more than 30 wines plus live entertainment. Tickets are $35, call 702-240-3066.
The Las Vegas Jewish community will come together to celebrate the 60th anniversary of Israeli statehood during Yom Ha'atzmaut, or Israel Independence Day. The free event will feature entertainment, exhibits and a kosher buffet from noon to 4 p.m. on Sunday, May 11, in Exhibit Hall D at the Venetian. One attendee will leave with two free round trip plane tickets to Israel. The entertainment highlight will be Israel's original singing group, Habanot Nechama, comprised of recording artists Karolina, Dana Adini and Yael Deckelbaum. For information, call 702-794-0090.
Spirit Therapies, a therapeutic horseback riding center for special needs children, will hold its annual daytime trail ride on May 3 at Bonnie Springs Old Nevada at Red Rock Canyon. The event is $35, which includes breakfast, lunch and a raffle ticket. Free t-shirts are available for early sign-up.
Recently recognized as a "celebrity hot spot" by People.com and one of the top ten new restaurants in Las Vegas by Citysearch and Zagat's Best of Las Vegas 2008, Strip House at Planet Hollywood is living up to its newfound reputation. The guests who dined there on April 19 included: Bruce Willis, actor Max Martini, Gov. Arnold Schwarzenegger, Sylvester Stallone, Jim Belushi, Catherine Zeta-Jones, Tom Jones, Chuck Zito, Simon Cowell, Mark McGrath and fighter Joe Calzaghe. Pretty impressive list to say the least!
The Riviera's star of An Evening at La Cage, Frank Marino was the first to congratulate Miss Texas, Crystle Stewart, after she was crowned Miss USA at the recent pageant held at Planet Hollywood. Marino wished her well and gave her some tips on how to be a diva.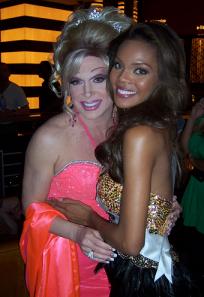 Fusion Model Talent Search, a leading Las Vegas professional model and talent search, will take place May 31 and June 1 in the new arts district of Las Vegas. The showcase will feature models, actors, singers, and dancers. Agents and managers from the top agencies of New York, Los Angeles and international cities representing a who's who of the entertainment and modeling industries will be attending, in search of new talent. For information, call 702-737-3800. Auditions for the showcase to be held weekly through May 24
CONTINUE ON TO...:
>THIS WEEK'S LAUGHLIN SEGMENT
>LAST WEEK'S LAS VEGAS SEGMENT
>VEGAS VIEW FULL ARCHIVES
>Return to "Heard Around Town"
>Return to Las Vegas Leisure Guide