NEXT VEGAS CIRQUE SHOW WILL FEATURE MICHAEL JACKSON TRIBUTE
Cirque du Soleil will build a new show about Michael Jackson with holograms and 3-D effects to open on the Strip in late 2012 at a venue to be announced. A touring arena show will pave the way for the permanent installation. The tour will have its U.S. debut in Las Vegas in the late fall of 2011 and be more like a concert. Once the permanent show opens in Las Vegas, the touring version will move overseas.
Column Continues Below Advertisement
RIO WILL DEBUT CROWN THEATER AND NIGHTCLUB THIS SUMMER
Attorney and industry veteran Darin Feinstein, who purchased the world-famous The Viper Room in Los Angeles from actor Johnny Depp, will introduce his Crown Theater and Crown Nightclub at the Rio with a mix of live concerts and nightlife events this summer in the former 3121 space that for awhile featured Prince. Feinstein's companies have hosted more than 1,000 live shows in multiple cities nationwide.
The multi-tiered, in-the-round Crown venue will have a 900-capacity. There will be VIP seating around the arch of each level, complete with low-slung, modern furnishings. Schedules, times and ticket prices for concerts, events and nightlife will be announced at a later date.
YARD HOUSE WILL OPEN AT RED ROCK RESORT
Yard House, a Southern California-based restaurant chain, will open its second Las Vegas location, taking over space inside the Red Rock Resort from the former Salt Lick, an Austin, Texas, eatery that opened in April 2006. The first Yard House, which serves American fusion food and 130 taps of beer, debuted at Town Square in 2008. The glass-enclosed keg room will be custom designed to allow restaurant guests to walk through the area. Yard House will also feature exterior patio seating adjacent to the existing water fountain pools.
MSN.COM HONORS FOUNTAINS OF BELLAGIO FOR ITS BEAUTY
MSN Travel recently released its list of "The 50 Most Beautiful Things on Earth," and named The Fountains of Bellagio as the world's most beautiful fountain of the more than 1,000 choreographed fountains enhanced by lighting and music. MSN compiled the list from numerous surveys, input from art historians, and their well-traveled staff of writers. Inspired by European villages, the AAA Five Diamond Bellagio overlooks a Mediterranean-blue lake in which the fountains perform their aquatic ballet.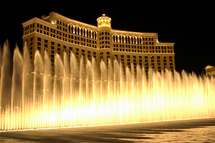 FREMONT STREET EXPERIENCE LAUNCHES NEW VIVA VISION SHOW
Fremont Street Experience has added an all-new show, "The Doors – Strange Days in Vegas," to its evening lineup of light-and-sound spectacles displayed nightly on the Viva Vision screen. Featuring legendary hits "Break On Through (To The Other Side)," "Roadhouse Blues" and "People Are Strange," this show embodies late 1960s through early 1970s iconic rock music.
This original show offers downtown visitors a symbolic and colorful montage of the greatness of Jim Morrison and The Doors. Much of the live footage was provided by The Doors and comes from a rare performance at the Hollywood Bowl in 1968.
The free Viva Vision shows run from 8 p.m. through midnight on weekdays and 8 p.m. - 1 a.m. on Fridays and Saturdays. The current lineup has "The Doors – Strange Days in Vegas" on at 9 p.m. For complete information, visit www.vegasexperience.com.
SMOTHERS BROTHERS RETURN TO THE ORLEANS SHOWROOM
Comedic siblings The Smothers Brothers, who have been entertaining Las Vegas audiences for more than 45 years, will bring their seamless blend of comedic and musical talents to The Orleans Showroom, May 15 and 16. Tickets for their 8 p.m. shows start from $34.95, call 702-365-7075.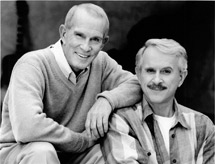 The Smothers Brothers are one of the most enduring comic duos in show business history. Tom and Dick Smothers made their first professional appearance at the Purple Onion in San Francisco in February 1959, and their first national television debut on "The Tonight Show with Jack Paar" in 1961. They've recorded 12 top-selling albums and are best known for their sometimes controversial comedy series, "The Smothers Brothers Comedy Hour," that was cancelled in 1969. In their coast-to-coast concert tours that often include performances with symphony orchestras, they include Tom as YoYo Man and Dick as the Voice of Yo.
QUICK CLIPS
"Condé Nast Traveler" announced their 2010 "Hot List" and named ARIA and the 47-story, non-gaming Mandarin Oriental, Las Vegas among this year's top new hotels. Featuring 134 hotels throughout 55 countries, the 14th annual list was determined after reviewing thousands of new hotels.
Cabo Wabo Cantina at Miracle Mile Shops inside Planet Hollywood is now offering Live Rock Star Karaoke on Sunday nights at 9 p.m. Participants sing on stage alongside the live band 3 Digit IQ and receive a complimentary shot of Cabo Wabo Tequila. Every hour there are drink specials.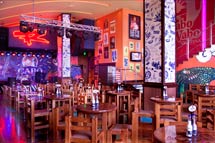 Speaking of karaoke, veteran host Rusty Varney is leading karaoke at the Las Vegas Rocks Café downtown every Saturday at 10 p.m. and Sunday nights from 8-11 p.m. with a two drink minimum.
This month, Derrick Williams has taken over the role of "Mufasa" in Disney's landmark musical "The Lion King" at Mandalay Bay. Originally from Norfolk, Va., Williams is a multi-talented singer, dancer and choreographer, and has had prestigious roles in the national tours of "Wicked," "Aida" and "Smokey Joe's Café." Williams also played the rebellious Fiyero in "Wicked" on Broadway.
Blonde bombshell Holly Madison and the sexy cast of "PEEPSHOW" at Planet Hollywood celebrated the show's first anniversary April 18, with a signature cake and champagne toast.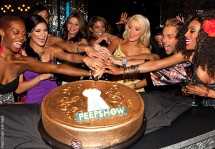 On April 23 and 24, the Hooters beauties were photographed poolside for the 2011 Hooters calendar, which made its debut in 1986. The first year approximately 2,500 copies were sold. Now, the calendar – which celebrated its 20th anniversary in 2006 – is distributed to an estimated half-million people worldwide.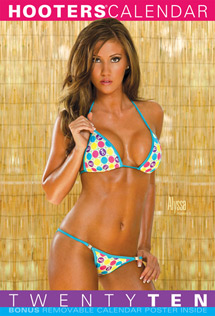 Tacos & Tequila (T&T) at Luxor has introduced a new drink…the "Black Mamba Margarita." The exotic drink combines .75 ounces of Hennessy Black, Hornitos Reposado Tequila and Triple Sec with 3 ounces of fresh sour with a line wedge for a striking new margarita.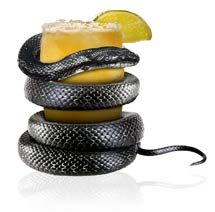 TOP OF NEXT COLUMN
'COSMOPOLITAN' MAGAZINE HOSTS THIRD ANNUAL BIKINI BASH
Presented by NIVEA on Monday, May 24, "Cosmopolitan" will host its third annual Bikini Bash at Planet Hollywood. Hundreds of women in bikinis will gather poolside to spell out the word C-O-S-M-O for North America's largest swimsuit photo shoot. The aerial shot will ultimately run in the August 2010 issue of "Cosmopolitan."
The event will also offer contestants: beauty loot gift bags; free bikinis (for first 1,000 ladies); complimentary back massages; VIP admission to the Official Bikini Bash After Party at Jet Nightclub at The Mirage sponsored by Belvedere Vodka; and more.
Also, girls and guys alike are encouraged to enter to win one of five trips for two to the event, including airfare and a $250 gift card to Miracle Mile Shops. For more information and to register, visit http://www.cosmopolitan.com/bikinibash.
COUNTRY MUSIC ICON MERLE HAGGARD PERFORMS AT THE CANNERY
Country music singer Merle Haggard will headline at The Club inside the Cannery in North Las Vegas on Saturday, May 8 at 8 p.m. Haggard has scored 40 No. 1 hits, won countless awards including three Grammys, and was inducted into the Country Music Hall of Fame. Tickets are $29.95, $44.95 and $54.95, call 702-507-5757.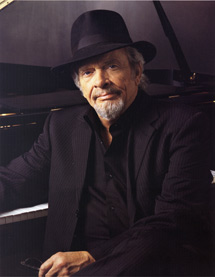 After growing up in poverty and spending his adolescent years in jail for various crimes, Haggard penned the hits "Sing Me Back Home," about a friend from prison executed after a failed escape, and "Hungry Eyes," about a family struggling in poverty. Continuing to tour and record, Haggard has released six studio albums since 2000 and is set to release, "I Am What I Am."
STEVE MARCH TORMÉ PAYS TRIBUTE TO HIS FATHER AT SUNCOAST
In a loving tribute to his father Mel Tormé, the multi-talented musician Steve March Tormé will bring "Totally Tormé" to the Suncoast Showroom for two performances May 8 and 9. Backed by a jazz quartet, Tormé will perform songs associated with his dad's celebrated career and show unseen video and photography of father and son. Tickets start from $19.95, call 702-365-7075.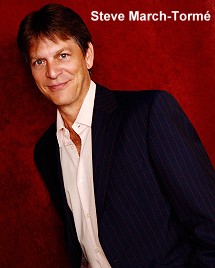 Tormé is known as an entertainer and recording artist in his own right. He began his recording career in the late '70s with his first LP, "Lucky," followed by producing and singing on Liza Minnelli's release "Tropical Nights."
Tormé has acted in a mini-series for RAI (Italian) television, and had a three-year stint as a featured singer on "$100,000 Name That Tune." He also hosted to Los Angeles-based television programs, "Video 22" and "Box Office America." Tormé currently hosts his own radio show on Wednesday and Thursday afternoons on the Music of Your Life network (www.musicofyourlife.com).
SECOND 'GIMME SHELTER' BLUES FESTIVAL RETURNS TO LAKE LAS VEGAS
The Village Lake Las Vegas and Heaven Can Wait Animal Society will co-host the Second "Gimme Shelter" Blues Festival, which will feature local bands including John Earl's Boogieman Blues Band, Pete Contino Quartet and Lady 'J' Huston & The Fireballs on Saturday, May 1 at 6 p.m. Guests sit lakeside on the lawn. General admission is $20. VIP Lounge tickets are $75, which includes a private bar with drink specials. For information, call 714-812-5803.
FARM-TO-TABLE DINNER SERIES SHOWCASES LOCAL GROWERS
Project Dinner Table headed up by a group called the Kitchen Cabinet is holding a series of seven dinners in unique locations. You dine at one long white tablecloth dinner table that seats at least 125 people. The family style affairs feature six courses of seasonal and inspired cuisine prepared by a celebrated chef utilizing local and regional purveyors.
The second dinner will be held on Saturday, May 22 at 5 p.m. at Sculpture Park and feature Monte Carlo's Executive Chef Joe Koniski and Brew Master from Anheuser Busch St. Louis. Cost is $150 per person. For more information, visit www.projectdinnertable.com.
TACOS & TEQUILA WILL CELEBRATE "DIA DE LAS MADRES"
Tacos & Tequila (T&T) at the Luxor will hold a Mariachi Brunch for Mother's Day on Sunday, May 9. All mothers attending "Dia de las Madres" will receive complimentary coffee-flavored flan along with celebrated Chef Richard Sandoval's signature Mexican breakfast selections. There will be a Mariachi band as well as two-for-one margaritas and Bloody Marias.
WYNN FLOWER EXPERT PAIGE DIXON SPEAKS AT DESIGN CENTER
Paige Dixon, who was the floral director at Wynn for six years, and now serves as their exclusive design consultant while also managing her company Paige Dixon Designs, will discuss the history of flowers, their healing power, and the secrets of floral design at Las Vegas Design Center at World Market Center Las Vegas in C-176 on Friday, May 7 from 10 to 11:30 a.m., as part of the First Friday design series. To RSVP for this public event, e-mail rsvp@lvdesigncenter.com. For more information, call 702-599-3093.
ANNUAL PUNK ROCK BOWLING & MUSIC FESTIVAL SET AT SUNSET STATION
The 12th Annual Punk Rock Bowling & Music Festival will take place May 6-9 at Sunset Station and for the first time will be open to the general public.
The final lineup for the biggest punk rock party of the year includes such acts as Flogging Molly, NOFX, D.R.I, Against Me!, Hot Water Music, F**ked Up, TSOL, Swinging Utters, The Revival Tour featuring Chuck Ragan/Ben Nichols, Youth Brigade, The Dickies, 7 Seconds, Cobra Skulls, Teenage Bottlerocket and many more.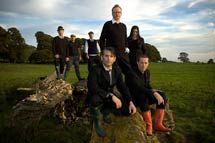 The event features an all-ages outdoor amphitheatre as well as a 21-plus indoor lounge for late night shows. Celebrating the independent music community, this year 850 bowlers are expected to be among 210 participating teams. Made up of industry insiders (bands, agents, managers, fanzines, radio stations, labels, punk rock clothing and merchandise companies), Punk Rock Bowling is one of the largest and most recognized indie music events of the year.
Weekend passes for Amphitheatre shows are $80 each and weekend passes for Club Madrid shows are $40 each. See www.PunkRockBowling.com for more details and individual show prices and times.
SANTANA's SHOW COLLECTS RECYCLED SHOES FOR PROJECT SOLE
With more than 300 million children around the world barefoot, the public and concertgoers are encouraged to drop off recycled gently used footwear at the Hard Rock through May 2. "Supernatural Santana: A Trip Through the Hits" is partnering with nonprofit Project Sole to collect durable footwear. As a "thank you" to those who donate, fashionable shoe brands Carlos by Carlos Santana and Unity by Carlos Santana is offering a 20 percent discount off their merchandise. Show collecting is before each 8 p.m. performance and daily at the Hard Rock Box Office from 10 a.m. – 8 p.m.
Column Continues Below Advertisement
CONTINUE ON TO...:
>THIS WEEK'S LAUGHLIN NEWS
>LAST WEEK'S LAS VEGAS NEWS
>VEGAS VIEWS FULL NEWS ARCHIVES
>Return to "Heard Around Town"
>Return to Las Vegas Leisure Guide