GORDON RAMSAY STEAK SET TO OPEN AT PARIS

Multi Michelin-starred Chef Gordon Ramsay's first restaurant in Las Vegas, Gordon Ramsay Steak, will open Friday, May 11, at Paris Las Vegas. The 7,500-square-foot modern steakhouse will seat 200 guests throughout the two-story dining room and have a chef's table, private dining rooms, bar and lounge. Separated from the main dining room by the Euro-tunnel design, the lounge will be a distinct area with its own food menu offering smaller plates.

On May 11, Ramsay will participate for the first time in Vegas Uncork'd by "Bon Appétit's" Grand Tasting at Caesars Palace Garden of the Gods pool.

Ramsay has opened a string of restaurants across the globe and become a star of the small screen with top-rated U.S. shows airing worldwide including "Kitchen Nightmares," "Hell's Kitchen" and "MasterChef," with an upcoming fourth series on Fox, "Hotel Hell," as well as UK shows such as "Ramsay's Best Restaurants" and "Gordon's Great Escapes."


Column Continues Below Advertisement



FIRST METRO MCDONALD's OPENS ON THE STRIP

The first and only Metro McDonald's, which is a modern twist on the classic American eatery, is now open on the Strip at Harmon Avenue across the street from City Center. Metro McDonald's is a 6,734-square-foot, two-story location featuring 24-hour service, digital menu boards and Wifi access. The contemporary setting has a bright, vibrant décor, sleek furniture and graffiti-like murals.

Metro McDonald's will host an after-hours grand opening celebration open to the public on Friday, May 4, from midnight to 6 a.m. For the event, the restaurant will be transformed into a Vegas-inspired nightclub including a red carpet, DJ Cyberkid, Las Vegas showgirls giving away pop prize-filled balloons, and celebrity servers. Ten percent of proceeds from midnight to 4 a.m. will benefit Ronald McDonald House Charities® of Greater Las Vegas.

HOUSE OF BLUES PUTS NEW TWIST ON GOSPEL BRUNCH

At Mandalay Bay, the House of Blues signature Gospel Brunch with an all-you-can-eat Southern style buffet is now offering an updated menu and lineup of entertainment and guest hosts every Sunday at the 10 a.m. and 1 p.m. seatings. Tickets are $37 for adults and $17 for children 11 and under, visit www.ticketmaster.com

or phone 702-632-7600. The Gospel Brunch was launched more than 15 years ago at the original House of Blues in Cambridge, Mass.

NEW RANCH HOUSE KITCHEN TO OPEN IN TOWN SQUARE

Ranch House Kitchen will open in Town Square on the second floor across from Rave Motion Pictures in May and appeal to the entire family with contemporary comfort cuisine and a stage for live entertainment from line dancing in the daytime for kids to live music and karaoke for adults at night. The 15,000-square-foot restaurant and bar will depict a country western atmosphere with a contemporary edge and have three full-service bars and a 3,000-square-foot outdoor patio. The centerpiece will be a mechanical bull.

Ranch House Kitchen, will serve breakfast, lunch, dinner and a weekend brunch buffet. Fine Entertainment also owns Rockhouse Bar & Nightclub and PBR Rock Bar & Grill.

LIZA MINNELLI PERFORMS AT LAS VEGAS HOTEL

One of America's true legends, Liza Minnelli, winner of four Tony awards, an Oscar, a special "Legends" Grammy, two Golden Globe Awards and an Emmy will once again perform at the LVH - Las Vegas Hotel & Casino (formerly Las Vegas Hilton) May 12. Tickets are $89-$250; call 800-222-5361.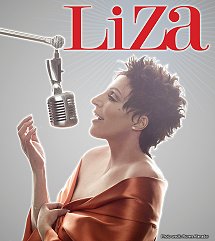 Now 18 years old, Nicolas King will open for Minnelli, which he has done since he was 16. King appeared on Broadway for nine months when he was only 8 years old in "Beauty and the Beast" with Andrea McArdle. He also has been in "A Thousand Clowns" with Tom Selleck and "Hollywood Arms" with Carol Burnett, and several television commercials.
CODY COLLINS DEBUTS SONGS ON ITUNES AND 'FAN PACKAGE'
Cody Collins, the new headliner of "Country Superstars" at the Golden Nugget, recently debuted his first self-titled solo EP, which is available for download on iTunes. The EP features three original songs. To celebrate, "Country Superstars" is offering a special "Fan Package" for guests of the show through Aug. 31. Mention the promotional code "Fan Package" at the Golden Nugget Box Office to receive a meet and greet autographed photo with Cody Collins and one free download of a Cody Collins original song from iTunes.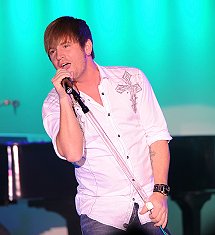 The release of "Cody Collins EP" coincides with the new show format of "Country Superstars" featuring an emerging solo artist as headliner working alongside tribute artists paying homage to some of country music's greatest talents. Collins, the former frontman of multi-platinum band, Lonestar, is the first of these headliners who performs a mix of original songs as well as Lonestar hits.
RICH LITTLE OPENS ONE-MAN SHOW AT LVH
Legendary comedian and impressionist Rich Little will return to the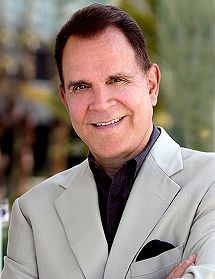 Las Vegas stage with his one-man show, "Jimmy Stewart & Friends." It will premiere Monday, April 30, in the Shimmer Cabaret at the LVH – Las Vegas Hotel. Little will be performing Saturday – Wednesday at 8:30 p.m. Tickets are $63.90.
Little was discovered in his early 20s by his friend, singer Mel Torme, who was on the musical team of CBS network's "The Judy Garland Show." Garland liked Little's tape particularly his James Mason and signed him to the show. Little had his own variety show in the 70s, was the star of the TV show "KopyKats," and a guest host 12 times for "The Tonight Show." He quickly became a household name sitting in one of the "Hollywood Squares" and went on to do the "Muppet Show."
MARTORANO's HOLDS 5-YEAR ANNIVERSARY DINNER
Celebrity cook Steve Martorano will celebrate five years of his restaurant, Martorano's, at the Rio on Friday, May 18, by cooking for an exclusive group of guests. The four-course, family-style anniversary dinner will benefit Keep Memory Alive. Tickets are $150, call 888-746-7784.
'REAL TIME' HOST BILL MAHER RETURNS TO ORLEANS
"Real Time" comedian and political commentator Bill Maher will bring his trademark humor back to The Orleans Showroom May 5 and 6. Tickets start from $54.95, call 702-365-7075.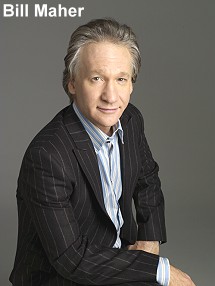 Maher began his stand-up career in 1979, and was host of New York City comedy club Catch a Rising Star. He's appeared in TV shows and films, had 21 Emmy® nominations, and written four bestsellers. Maher's most recent stand-up special for HBO, "Bill Maher But I'm Not Wrong," aired in 2010, and in February 2012, his "CrazyStupidPolitics LIVE! from Silicon Valley" debuted on Yahoo.com.
WYNONNA AND THE BIG NOISE VISIT THE CANNERY
Five-time GRAMMY® award winner and country music megastar Wynonna and her new band, The Big Noise, will perform at The Club inside the Cannery Casino on May 12, at 8 p.m. Wynonna rose to fame as one half of the legendary duo The Judds with her mother Naomi. To date, Wynonna has released seven solo albums. Tickets start at $34.95, call 702-507-5700.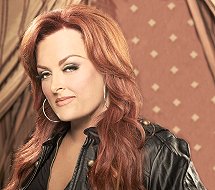 Wynonna's 2005 memoir "Coming Home To Myself" made her a "New York Times" bestselling author. Her latest work is the fictional book based on an aspiring country singer overcoming obstacles entitled "Restless Heart."
'ULTIMATE FIGHTER®LIVE FINALE' TAKES PLACE AT THE PALMS
A new welterweight contender will emerge on Friday, June 1, at the Pearl at Palms when rising stars Jake Ellenberger and Las Vegas resident Martin Kampmann lock horns in a pivotal five-round main event. Plus, a season of "The Ultimate Fighter® Live" will come to an end when the UFC® crowns its next Ultimate Fighter with a six-figure contract to compete in the world's premiere mixed martial arts organization. The event will air live on FX at 9 p.m. ET/6 p.m. PT. Tickets are $104 to $354.
TOP OF NEXT COLUMN
SILVERTON HOSTS LAS VEGAs' FIRST FOODIE FEST

Las Vegas' First Foodie Fest will be held at the Silverton in the parking lot from noon to 11 p.m. on Saturday, April 28, and from noon to 9 p.m. on Sunday, April 29. Admission is $7 in advance online at lasvegasfoodiefest.showare.com

and $10 on event day. The event will feature more than 30 gourmet food trucks, 15 food vendor booths, a farmer's market, eating contests, a beer garden, carnival rides and games, live demonstrations by chefs, a tequila party tent and live entertainment featuring live bands and DJs.

WAR HEADLINES AT THE CANNERY

WAR, the group whose music helped define a tumultuous era in American history and whose fans have purchased more than 50 million records will perform at The Club inside Cannery Casino, Friday, May 4, at 8 p.m. By the early 1970s with the album releases "Slippin' into Darkness" and "Me and Baby Brother," WAR became a cultural touchstone for the troubled times of the decade. The group followed up with the release "The World Is a Ghetto," which became the bestselling album of 1973. Tickets start at $19.95.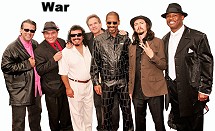 DINING NEWS
Carlos'n Charlie's Las Vegas is now open to the public at the Flamingo. The establishment, known for its party atmosphere and authentic Mexican cantina cuisine, is open daily from 11 a.m. to 2 a.m.
Nove Italiano Executive Chef Geno Bernardo has created a five-course specialty menu for a Mother's Day cooking class at the restaurant in the Palms on Saturday, May 12, at noon. Cost is $85; call 702-942-6800.
The Barrymore restaurant at the Royal Resort will televise the Kentucky Derby on flat screens in the lounge and dining room on Saturday, May 5, and offer traditional cocktails including mint juleps and bourbon smashes.
The next Project Dinner Table event will be held at Jackie Gaughan Plaza at the El Cortez downtown on Saturday May 19; visit www.projectdinnertable.com for details.
Comme Ça at The Cosmopolitan will launch its weekly Riviera Nights, a dining and lounge party experience, on Thursday, April 26, on the restaurant's patio. The soiree will introduce a selection of French small plates and a signature sangaree from 8 to 11 p.m. with a French house DJ spinning tunes.
MISCELLANEOUS NEWS
As mentioned before, the Rockhouse in front of the Imperial Palace will close permanently on Sunday, May 6, to make room for The Linq project. In addition, the Imperial Palace's front drive and pedestrian entrance will close permanently on Friday, April 27. There will be a new pedestrian entrance from Harrah's Carnaval Court to the IP.
The next outdoor Wine Walk at Lake Las Vegas will be Saturday, April 28, from 7 to 10 p.m. Advance tickets are $25 or at the door $30; visit http://www.winewalklv.com/.
"FANTASY's" powerhouse singer Lorena Peril will debut her first single "Dance on Me" at LAX Nightclub inside the Luxor Saturday, April 28, and also give a sneak peek of her upcoming single, "Soulja."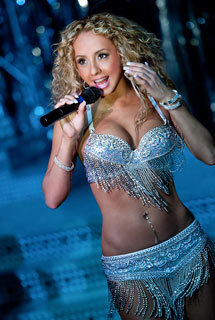 Famed mixtape, club and celebrity DJ, Kid Capri, will spin and remix at Gallery Nightclub inside Planet Hollywood on Saturday, April 28. Capri remixed "Masterpiece," an exclusive track featured on the special Smirnoff Nightlife Edition of Madonna's album, "MDNA," in March 2012.
Bree Cohen, aka DJ88, is the new music and program director for Insert Coin(s) Videolounge Gamebar now in its second year of business downtown. Cohen is also the headlining DJ for its busiest night, Saturday's "DIGITAL LOVE," and spearheading the Wednesday night party "VERSUS," in which Insert Coin(s) hosts a multitude of the hottest DJs.
CollectiveZOO, a Vegas-based digital media and event planning company, will debut summer parties at Rumor Boutique Hotel on Saturday, April 28, from noon-7 p.m. with an open bar from noon to 1 p.m. CZ's master-planned summer pool series, the Pool Party Safari, consists of nine separate bashes scattered across the downtown area in different venues with music acts and an out-of-town extravaganza to San Diego for Labor Day Weekend.
A carnival of candy dreams will mature into a wildly erotic fantasyland at Hyde Bellagio Sunday, April 29, at 5 p.m. Scantily clad servers wearing only sweets will deliver whimsical cocktails at the monthly day-to-night party. XIV Vegas Sessions is the brainchild of those behind XIV Summer Sessions in Los Angeles.
Art Vargas will bring to life vintage Las Vegas on Sunday night from 7 – 11 p.m. with his Vargas' Vintage Vegas Bandstand at Roxy's Lounge inside Sam's Town on Boulder Highway. There's no cover. He'll appear April 29, May 6 and 13.
Aid for AIDS of Nevada hosted the 22nd Annual AIDS Walk Las Vegas at the University of Nevada, Las Vegas on Sunday, April 15. For the 11th consecutive year, Penn & Teller served as Grand Marshals and of the 9,276 walkers, the 1,623 participants in the Penn & Teller Challenge set a new fundraising record with a total of $276,000 raised and counting, not including the duo's final dollar-for-dollar match.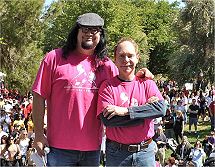 SPONGE WILL PERFORM AT SILVERTON
Rock band Sponge will take over the pool at Sway Pool Lounge at the Silverton on Saturday, May 19, for a 7 p.m. show. Sponge released its debut album "Rotting Pinata" in 1994. Going strong today, Sponge is currently touring to promote its most recent EP "Destroy the Boy." For information, visit www.spongetheband.com. Tickets are $10 in advance; $15 day of show.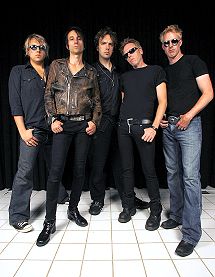 '¡VIVA SKA VEGAS!' SKANKS INTO HENDERSON
"Smash Magazine" and Miller Lite will present "¡Viva Ska Vegas!" highlighting some of the biggest bands in ska during a day-long music festival at the Henderson Events Plaza on Saturday, April 28, from noon until 10:30 p.m. This is an all-ages show. "¡Viva Ska Vegas!" will feature bands including headliners Aquabats and The Skatalites along with Voodoo Glow Skulls, MU330, La Banda Skalavera, My Superhero, Monkey, GoGo13, The Remedies, Tuesday After School, plus more. Tickets are $22.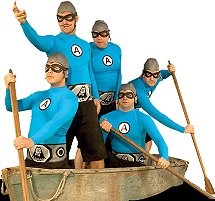 The official after party will be held immediately following the show at The Goldmine Tavern at 23 South Water Street in Henderson and feature Warsaw Poland Brothers and The Delirians.
CSI: THE EXPERIENCE HOSTS 'CLUB CSI' BOOK LAUNCH
In celebration of the new "CLUB CSI" book series, CSI: The Experience at MGM Grand is hosting a book launch event with author David Lewman on April 25 from 5 to 6:30 p.m. at the Windmill Library, 7060 W. Windmill Lane, at South Rainbow. Lewman has written more than 65 books starring kid favorites such as SpongeBob SquarePants, Jimmy Neutron, the Fairly OddParents, G.I. Joe and the Wild Thornberrys. He has also written scripts for many acclaimed television shows. The event is free and open to the public.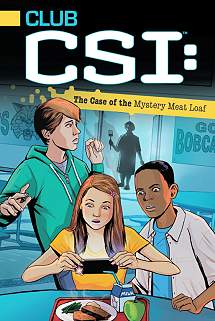 BOYD GAMING HAS NEXT GENERATION OF B CONNECTED ONLINE
Boyd Gaming Corporation (NYSE: BYD) has launched the next generation of B Connected Online, the web-based home of the Company's nationwide player loyalty program. The centerpiece of the new B Connected Online bconnectedonline.com is "B Connected Social" – the first comprehensive social gaming platform linked to a casino industry loyalty program. Members can now earn "Social Points" for using various features on Boyd Gaming websites -- such as booking rooms. Other features are My Alerts and Offers, Entertainment and Slot Watches. A weekly contest is going on through May 15 for trips.
Column Continues Below Advertisement
CONTINUE ON TO...:
>THIS WEEK'S LAUGHLIN NEWS
>LAST WEEK'S LAS VEGAS NEWS
>VEGAS VIEWS FULL NEWS ARCHIVES
>Return to "Heard Around Town"
>Return to Las Vegas Leisure Guide