MGM RESORTS OUTLINES FUTURE STRIP ENTERTAINMENT DISTRICT!

MGM Resorts International (NYSE: MGM) unveiled details about the experience it is creating in Las Vegas surrounding the 20,000-seat arena under development in partnership with AEG. Plans include new vibrant Strip-side experiences and a public park leading to the new arena. Construction will begin in the coming weeks, with completion anticipated in early 2014.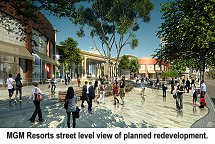 The front facades of New York-New York and Monte Carlo will be transformed into an outdoor plaza experience featuring a series of casual bars, eateries and retail destinations. New York-New York will modify its skyline and Brooklyn Bridge with an environment brought to life through a vibrant patio culture and retailers new to the market. Anchoring the new experience will be Hershey's Chocolate World™ flagship store, a two-story interactive, experiential destination celebrating Hershey's-branded products. Additionally, the hotel's Irish pub, Nine Fine Irishmen, will be enhanced with an expansion of its patio culture both on the casino floor and the Brooklyn Bridge.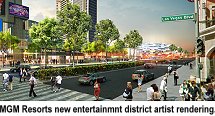 At Monte Carlo, the current formal European-style exterior features will be removed to make way for new partners, including Double Barrel; a casual roadhouse restaurant and bar concept by the leading hospitality experts at sbe; Sambalatte coffee experience; and 800 Degrees Neapolitan Pizzeria.
Between the two properties and leading back to the company's new arena will be a park environment featuring dining pavilions and performance spaces complemented by areas for quiet relaxation. At the gateway to the park will be Shake Shack, a modern day "roadside" burger stand by restaurateur Danny Meyer's Union Square Hospitality Group.
Column Continues Below Advertisement
'RICKY NELSON REMEMBERED' BY NELSON TWINS
"Ricky Nelson Remembered" featuring twins Matthew and Gunnar Nelson will visit the South Point May 3 –5. The show highlights their dad's hit songs like "Garden Party" and "Hello Mary Lou" and his life and career through his music with interviews from artists he influenced, including Paul McCartney and Chris Isaak.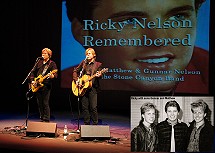 Ricky Nelson died in a plane crash on his way to perform a New Year's Eve concert in 1985. His legacy includes 53 hit singles on the Billboard Hot 100 and 19 other top-ten hits. He was a Golden Globe winner for his performance alongside John Wayne in "Rio Bravo" and a member of both the Rock and Roll Hall of Fame and the Rockabilly Hall of Fame.
From Ozzie and Harriet to Ricky to Matthew and Gunnar, the Nelsons are listed in the "Guinness Book of World Records" as the only family in history with three successive generations of No. 1 hit makers. Tickets range from $20 to $30.
ALL-NEW JABBAWOCKEEZ SHOW 'PRISM' DEBUTS AT LUXOR
Dance crew Jabbawockeez will have preview performances of its all-new show, "PRiSM," beginning Saturday, May 18 at the Luxor. Still dressed in their signature expressionless white masks and gloves, they will debut a new show in a new 830-seat, custom-built theater featuring amphitheater style seating. The show blends chart topping hits and original tracks by JBWKZ Records artist, The Bangerz, and is a celebration of imagination embracing the unexpected.
Jabbawockeez was the first dance crew to headline a show on the Strip in 2010 with "MÜS.I.C." at the MGM Grand. A year later, it moved to the Monte Carlo and now the Luxor with shows nightly except Tuesday and Wednesday. Tickets start at $55, visit www.jbwkz.com.
'CENTERFOLDS OF MAGIC' OPENS WITH FEMALE TOPLESS MAGICIANS
"Centerfolds of Magic" starring an all-female ensemble of topless magicians will open in the showroom at The Plaza on May 1 with shows nighty except Thursdays at 11 p.m.'
The late-night adult cabaret will feature illusions, sexy female magicians, contemporary choreography and original comedy. Taya Parker, 2009 "Penthouse Pet of the Year" and eight-time "Penthouse Magazine" cover girl, will host and perform. The most-published Penthouse Pet in history has also graced the pages of "Playboy."
In addition, the show will open with comedian Joe Trammel, the "TV Guy." Trammel has headlined in Las Vegas and on multiple television specials. He recently worked as a comedy coach and performer on VH1's "The Surreal Life's Fame Games" hosted by Robin Leach. Tickets range from $49 to $69.
'X BURLESQUE' CELEBRATES 11 YEARS WITH NEW EXTENSION
Topless revue "X Burlesque" at the Flamingo will celebrate 11 years there and a three-year extension on April 24. Several new dance numbers have been added to the show in honor of the anniversary. In addition, "X Burlesque" will auction off an original painting of the sexy X Girls that was commissioned by renowned artist Terry Ritter. The proceeds will be donated to former Las Vegas showgirl Shellee Renee, who is recovering from breast cancer. A silent auction will be held April 24 and a copy of the painting will be permanently displayed in the X Showroom. For information, visit www.xburlesque.com or www.terryritterart.com.
COSMOPOLITAN FEATURES ZAC BROWN, BBQ, AND EASTON CORBIN
The Cosmopolitan of Las Vegas is bringing the spirit of the South to the Strip with Grammy Award-winning Zac Brown Band performing in The Chelsea at the Cosmopolitan on April 27 at 8 p.m. followed on April 28 at 1 p.m. by a barbeque and country music showcase featuring artist Easton Corbin.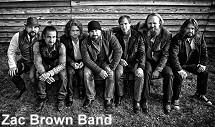 THREE FORMER NEVADA GOVERNORS SPEAK AT MOB MUSEUM
On Thursday, April 25 at 6:30 p.m., The Mob Museum downtown will host "Protectors of the State – A Conversation with Three Former Governors" in its historic courtroom. The panel will be former Nevada Governors Bob List, Senator Richard Bryan and Bob Miller, and author Jack Sheehan moderating. Afterwards, Miller will do a book signing for his newly released, "Son of a Gambling Man." Tickets are $15 for members and $19.95 for non-members with complimentary libation and light fare included. Register at http://themobmuseum.org/.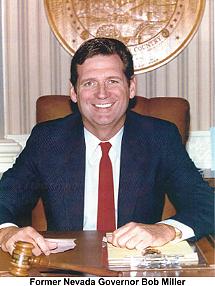 ARIZONA CHARLIE'S DECATUR CELEBRATES 25 YEARS
Arizona Charlie's Decatur will celebrate its 25th anniversary on April 25. The public is invited to share in the celebration between 10 a.m. and 6 p.m. when cake, coffee and champagne will be served in the hotel lobby. Originally the site of the Charleston Heights Bowling Alley, Arizona Charlie's Decatur opened April 22, 1988, with about 600 employees. Three employees who worked at the bowling alley are still employed there along with 15 others who opened Arizona Charlie's. There will be many specials throughout the property that day including $1 draft Budweiser at all casino bars.
BEACH BOYS MAKE CONCERT APPEARANCE AT THE CANNERY
The legendary Beach Boys will make a concert appearance at the Cannery Casino on May 11. The Beach Boys are led by Mike Love and Bruce Johnston, who along with Christian Love, Randell Kirsch, Tim Bonhomme, John Cowsill and Scott Totten continue the legacy of the iconic American band. Tickets start at $29.95.
LIFE IS BEAUTIFUL FESTIVAL SHOWCASES MUSIC ACTS
The Life is Beautiful Festival will present its fourth in a series of monthly musical showcases on Wednesday, May 1 from 7 p.m. to 1 a.m. at Insert Coin(s) on East Fremont. The festival hosts free local concerts at varying Downtown Las Vegas venues. The May Showcase will feature the sounds of Personal Touch; Phoreyz; Crykit; DJ ZO; Byra Tanks; and Totescity.
ANNUAL SPYONVEGAS.COM 'HOT 100' RETURNS TO WET REPUBLIC
The SPYONvegas.com's "Hot 100" will return to WET REPUBLIC at the MGM Grand on Friday, April 26 for another bikini contest battle for the title "hottest female in Las Vegas." Now in its sixth year, the 14-week competition is scheduled to take place select Fridays over the course of four months. A total of $150,000 in cash and prizes will be won. To enter, visit www.spyonvegas.com/ hot100/ signup until Friday, June 14.
'TOP GUN' AUTHOR AND MOVIE ADVISOR SPEAKS AT ATOMIC LIQUORS
The National Atomic Testing Museum will hosts a Pub Lecture at the remodeled historic downtown Atomic Liquors bar with Commander Dave "Bio" Baranek, USN (Ret) noted author and technical advisor for the hit movie "Top Gun" on Saturday, April 27 at 6 p.m. Commander Baranek served in the U.S. Navy for more than 20 years and commanded a carrier-based F-14 Tomcat squadron. Tickets are $20, call 702-794-5151.
TOP OF NEXT COLUMN
COSMOPOLITAN ADDS ACTS TO 'SET YOUR LIFE TO MUSIC' SERIES
The Cosmopolitan has two new additions to the Set Your Life to Music series at the Boulevard Pool with Edward Sharpe and the Magnetic Zeros on Aug. 1 and Fitz & The Tantrums on Sept. 5. Tickets are $25 and $30.
The 10-member Edward Sharpe and the Magnetic Zeros troupe was formed in 2007 after singer Alex Ebert met fellow singer Jade Castrinos outside of a cafe in downtown Los Angeles. Their debut album "Up From Below" was released in 2009 and a third album is expected this spring. Fitz & The Tantrums, a Los Angeles-based sextet, has their debut album "More Than Just A Dream" out on Elektra Records.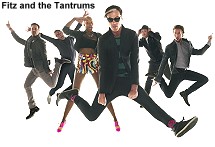 The Set Your Life to Music series will also feature: Aloe Blacc - April 25; New Beat Fund - May 2; Marina & The Diamonds - May 9; Yellowcard -May 16; JJAMZ - May 23; Matt & Kim - May 30; Iration - June 6; Ryan Bingham - June 13; Infected Mushroom - June 20; Tyler Bryant & The Shakedown - June 27; Twin Shadow - July 4; Makua Rothman - July 11; Elan Atias- July 18; Theophilus London - July 25; and Gary Clark, Jr. - Aug. 8.
WORLD CLASS DRIVING UNVEILS MUSCLE CAR DRIVING EXPERIENCE
World Class Driving launched the American Muscle Car Driving Experience with a party at the company's headquarters where an elite fleet of muscle cars includes a Dodge Challenger SRT8, Corvette Z06 and a Shelby GT 500. World Class Driving is the country's first open-road muscle car experience. Drivers can take the wheel and rev the fiercest muscle car engines on the winding streets of Red Rock Canyon during either the 30-mile Red Rock Muscle Experience or the supercharged Red Rock Muscle XL Experience, which includes driving four fearsome hot rods in a 50-mile excursion, visit www.world class driving.com.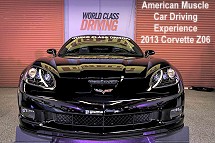 THE DISTRICT HOLDS SECOND 'NEXT TOP DOG' PHOTO CONTEST
The District at Green Valley Ranch is holding its second "Next Top Dog" photo contest. The winning dog will be featured in the June 2013 issue of "Desert Companion" magazine and the owner will receive a $100 gift card to The District and other pet-friendly prizes. Photos will be accepted through April 30 and can be uploaded via www.Shop The District GVR.com/ NextTopDog. The winner will be announced during the DC on Tour event taking place May 9 at 6 p.m. at The District.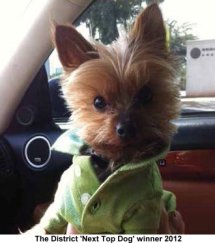 'WET WONDERLAND' RETURNS TO MARQUEE DAYCLUB
Marquee Nightclub & Dayclub at The Cosmopolitan and Insomniac, the producer of music festivals such as the Electric Daisy Carnival, have the weekly Saturday "Wet Wonderland" returning on April 27 with dance music phenomenon, philanthropist and record label executive Avicii, the No. 3 ranked DJ in the world. Future lineup includes: May 4 Armin Van Buuren; May 11 Cosmic Gate; May 18 Benny Benassi; and May 25 Gareth Emery. Marquee Dayclub is open daily from 10 a.m. to 6 p.m.
SPEEDY NEWS
"Wheel Of Fortune" will be in Las Vegas in July and August taping shows for six weeks at The Venetian® And The Palazzo®.
The nightlife mecca, Hakkasan Las Vegas at MGM Grand opened its doors to thousands of clubgoers with Grammy-nominated dance music phenomenon, deadmau5 working the DJ booth.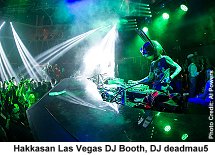 "Menopause The Musical" celebrated its 3,000th show this month and for the showbiz landmark, a "Memory Loss" $12 cocktail served in a 22-ounce souvenir glass is available through the end of May.

The third annual Las Vegas Science and Technology Festival will take place April 28 - May 4. The seven-day celebration of everything and anything science, technology, engineering and math (STEM)-related in Southern Nevada, features more than 50 free programs. For a detailed schedule of events, visit www.Las Vegas Science Festival.com.
The show "Raiding The Rock Vault" at the LVH, which takes audiences through the history of rock 'n' roll and features classic anthems, has moved into the ideal 8 p.m. time slot, created some enticing package deals and started a locals-only price.
The Neon Museum is now open for tours seven days a week. Guided, hour-long tours of the museum's boneyard are available every half hour starting at 10 a.m.; however, tour times may vary.
Comedian Eddie Griffin who headlines in The King's Room at the Rio did a three-night tour in Beirut where he performed for 5,000 people at the World Trade Tower, Dubai and Saudi Arabia recently and was treated like royalty.
Cabo Wabo Cantina inside Miracle Mile Shops at Planet Hollywood will host a series of UFC viewing parties through May. Upcoming fights include: UFC on FX 8 Live from Brazil: Belfort vs. Rockhold – May 18 and UFC 160 Live from Las Vegas: Velazquez vs. Bigfoot 2 – May 25. For information, visit www.cabo wabo cantina.com.
Public House at the Luxor will celebrate the Professional Bull Riders Las Vegas Invitational with a round-up of drink specials May 10 and 11.
The Nevada Hotel & Lodging Association is holding its first Scholarship Fundraiser Bowling Tournament on Friday, May 10 from 1 - 4 p.m. at Red Rock Lanes inside the Red Rock resort. Four bowlers will play three games for $30.
UNLVINO KICKED OFF WITH 'BUBBLE-LICIOUS' AT THE VENETIAN
UNLVino kicked off four days of world-class beverage tastings last week with Bubble-Licious at The Venetian. Legendary Chef Thomas Keller of Bouchon was honored with the Dom Pérignon Award of Excellence for establishing a collection of restaurants that set a new paradigm within the hospitality industry.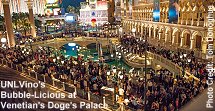 MIRACLE MILE SHOPS HEADQUARTERS NEVADA'S BIG GIVE
On Thursday, April 25, a retail store in the Miracle Mile Shops at Planet Hollywood will serve as the official headquarters for Nevada's Big Give, 24 hours of online giving supporting nonprofits serving the state of Nevada. Visitors are encouraged to stop by and make a donation to their favorite charity and buy raffle tickets. Between 10 a.m. to 11 p.m., local celebrities and community leaders will visit. Select restaurants will feature light bites.
'COUTURE FOR CAUSES' FUNDRAISER HAS FASHIONS UP FOR GRABS
Couture for Causes will display fashions at a mid-day shopping soiree to benefit Communities in Schools of Nevada on April 28. The event includes tastings from chefs from Wynn, art and live entertainment from noon - 4 p.m. The event has grown and moves to a new home this year at The Arts Factory Las Vegas. Trendy couture pieces are donated from generous Las Vegas residents as well as superior boutiques and designers. Nannies and Housekeepers will have staff on site to watch the little ones. Tickets are $50 for adults, visit www.cisnevada.org/couture.
TERRY FATOR LAUNCHES 'THE CLINTON DETWEILER SCHOLARSHIP'
The Mirage headliner Terry Fator would like to pay it forward to fellow ventriloquist enthusiasts with "The Clinton Detweiler Scholarship" presented by him and his wife, Taylor Makakoa. Three scholarship packages will be awarded—two for performers 17 years of age and under and one for a performer 18 years of age and up. Included in the scholarship packages is entry to the 2013 Vent Haven Convention, which takes place July 17 – 20 at the Cincinnati Airport Marriott. To qualify, contestants must submit a two-minute video to www.terryfator.com/ scholarship by Friday, May 31.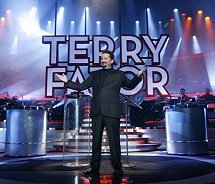 UPCOMING FUNDRAISING DINNERS
Dave Rice, head coach for the UNLV Runnin' Rebels basketball team, and his wife, Mindy, will host the second "An Evening with Dave Rice" fundraising dinner for Autism at the Hard Rock on Friday, May 3.
The College of Southern Nevada (CSN) Foundation will recognize exceptional community leaders and partners at its 8th annual Legacy of Achievement Gala on Saturday, April 27 at the Rio. The fundraiser supports student scholarships and programs at CSN
Both events hold major league silent auctions with incredible items. For CSN, you can bid online at http://csn.auction-bid.org/.
Column Continues Below Advertisement
CONTINUE ON TO...:

THIS WEEK'S >LAUGHLIN NEWS
LAST WEEK'S >LAS VEGAS NEWS
>VEGAS VIEW FULL NEWS ARCHIVES
Return to >"Heard Around Town"
Return to >Las Vegas Leisure Guide