RIVERSIDE HOSTS BBQ AND MUSIC FESTIVAL!

The third annual "Smoke on the Water BBQ & Music Festival" will take place in the South Parking Lot at the Riverside May 2 and 3. This top national BBQers event has challengers competing for the $20,000 Nevada State BBQ Championship in chicken, brisket, pork butt and ribs categories. The party atmosphere will include demonstrations with free samplings, world champion BBQ vendors, and live music featuring country/rock bands Powerhouse, Go Big, and The Marvelous Mustangs. Admission is free and food and beverages will be available for sale. Hours are Friday 11 a.m.-7:30 p.m. and Saturday 11 a.m.-8 p.m.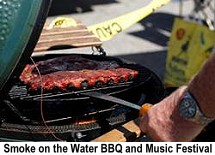 MARK CHESNUTT BRINGS COUNTRY MUSIC TO THE RIVERSIDE
Country star Mark Chesnutt will perform in the Celebrity Theater at the Riverside May 2-4 at 8 p.m. each night. Chesnutt got his start in the honky-tonks of Beaumont, Texas, learning from his father Bob Chesnutt, who was a singer, record collector and major fan of classic country music. With the release of his first single "Too Cold at Home," Mark Chesnutt established himself as an authentic country music talent. He has 14 No. 1 hits, 23 top ten singles, four platinum albums and five gold records to his credit. He maintains a hefty tour schedule every year. Tickets are $25.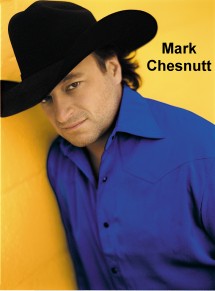 TROPICANA HOSTS ANNUAL 'CINCO DE MAYO CAR SHOW'
The popular "Cinco De Mayo Car Show" show will take place in the North Parking Lot at the Tropicana on May 3 and 4 from 10 a.m. to sunset each day. This outdoor event will have all types of custom, classic, hot rod and low-rider vehicles on display, which are free to view. Other events will include a Show 'n' Shine, vendors, DJ music, contests and more. For car entry and vendor information, email Happy Times Events at loucyndasdream@hotmail.com.
IT'S DANCE PARTY TIME WITH SOTO AT THE TROPICANA
A Dance Party with music by Soto will take place in the Pavilion Theater at the Tropicana, May 3 and 4 at 8 p.m. Entrance is $10.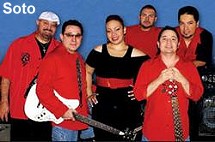 Based out of Norwalk, Calif., Soto is a self-contained group comprised of family members…John, Bruce and Ross "Artie" Soto. The brothers started their own dance band working up from school dances to concert tours with groups such as Earth, Wind & Fire, Patti La Belle, James Brown, Poncho Sanchez, Tito Puente, Whitney Houston and Marc Anthony just to name a few. Soto can be seen with Ricky Martin on his "One On One" Asia MTV special as his backup band. Soto has traveled throughout the world and was the first Latin American band to perform in Beijing, China.
LOS TIGRES DEL NORTE VISITS LAUGHLIN EVENTS CENTER
Los Tigres del Norte, winners of multiple Grammy® awards, will headline the Laughlin Events Center with opening act Francisca Viveros Barradas, better known as "Paquita la del Barrio," which a rough English translation means "Frannie from the neighborhood." Their show is on Saturday, May 3 at 8 p.m. Tickets are $45, $55 and $65.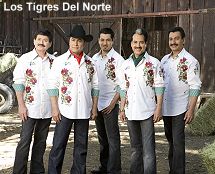 The "Chiefs of Chiefs," as they are often called, continue making musical history with their latest album, "MTV Unplugged: Los Tigres del Norte and Friends" recorded on Feb. 8 at the Hollywood Palladium in Los Angeles, Calif. The 14-time nominated and five-time Latin Grammy Award winners of "Norteño" music with its polka roots is blended with stories of social injustice and news. They have recorded more than 55 albums that have earned Gold and Platinum Records in the United States and Mexico and have sold more than 32 million records. The San Jose, California-based band tours internationally and has a recording repertoire of more than 500 songs and corridos (ballads).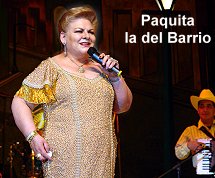 Paquita la del Barrio, who was nominated for a Grammy in 2008, is a popular Mexican singer of rancheras and other Mexican styles. She is most famous for her advocacy against Mexico's machismo culture and known for her common song themes of women empowerment and man bashing. Her signature phrase in translation is "Are you listening, good-for-nothing?"
COMEDIANS RICK PULIDO AND KUL BLACK VISIT THE EDGEWATER
Two standup comedians take to the stage at the Edgewater Showroom Friday through Sunday each week at 7 p.m. Tickets are $10 and there is a $2 discount for veterans on Sunday.
Upcoming "Comedy on the Edge" acts include: Jack Willhite and John Hilder May 9-11; David Testroet and Eric Henderson May 16-18; Rickey Shackleford and Justin Berkman May 23-25; and Manny Maldonado and Steve Natarelli May 30-June 1.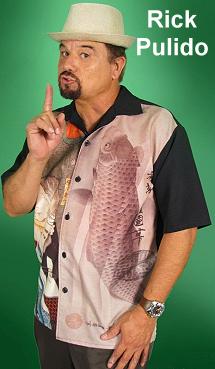 Rick Pulido and Kul Black co-headline May 2-4. Pulido was born and raised in El Paso, Texas, and moved to California after high school. He took acting lessons but when he moved to northern California and entered a comedy competition, he got the bug big time. Pulido is self-taught and by never knowing his father and being raised by his mother, sister and aunts, his life provided him with good material. He was the winner of the 2009 Great American Comedy Festival and has had numerous appearances on television and radio. He has showcased at comedy festivals in Aspen, Las Vegas, and Vancouver and performed in 47 states and three Canadian provinces. He is a past winner of the Seattle Comedy Competition and was a semi-finalist in the San Francisco Comedy Competition. Also, in 1988 Pulido was "Dishwasher of the Month" at the Sea-Tac Airport Denny's.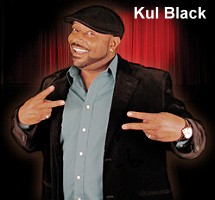 In the past nine years, Kul Black, a gifted storyteller, has performed in more than 1,890 shows across the country. He has a rare ability to paint pictures with his words. His comedy covers topics such as growing up in the 80s and 90s, being married, getting divorced and returning to the dating scene. Black uses his colorful view of life to bring forth relatable topics. Growing up as an "Air Force Brat" helped him develop his sense of humor and comedic timing; plus he is likeable. Black has traveled the world performing as a member of the former hip-hop duo "Nepotizm," which helped develop his commanding stage presence. Black found his true calling in stand-up comedy in 2004.
TOP OF NEXT COLUMN
HARRAH'S HAS 'FRANK MARINO'S DIVAS' VISITING FROM LAS VEGAS
For most of May, "Frank Marino's Divas" show from Las Vegas will inhabit the Fiesta Showroom at Harrah's. Tickets are $35 and $46 for the May 6-26 performances at 8 p.m.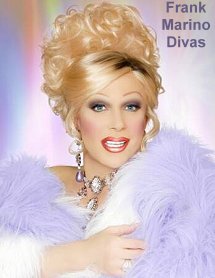 Marino has been wearing spectacular Bob Mackie gowns for years along with Manolo Blahnik stilettos, make-up and wigs. Known as "The Queen of the Strip," the Brooklyn native is famous for his spot-on Joan Rivers impersonation. He performed as Rivers for more than 20 years before his current headlining show at The Quad on the Strip. Marino also appeared in several TV shows and movies, including "Miss Congeniality 2," "Baywatch," "Millionaire Matchmaker" and "Nip/Tuck." He even released a bestselling book, "His Majesty, the Queen." Marino gives the saying "life's a drag" a whole new meaning. The Las Vegas superstar has had more than 10 plastic surgery procedures costing more than $100,000.
Along with Marino, the 75-minute show features a dynamite cast of female impersonators who recreate an uncannily likenesses of stars ranging from Britney Spears to Cher, Diana Ross to Beyoncé, and even Madonna to Dolly Parton. Marino begins the show as comic icon Joan Rivers, and then changes between every act, bringing an international whirlwind of couture to the stage with each spectacular entrance. For a limited time, Harrah's Laughlin is playing host to this show filled with over-the-top comedy, singing and a star-studded faux cast.
THE BUSBOYS WITH GUEST OTIS DAY UNITE AT THE RIVERSIDE
The BusBoys with their special guest Otis Day will combine forces in Don's Celebrity Theater at the Riverside May 8-11. Tickets are $20.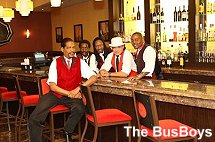 The evening's music will be a mixture of Rock 'n' Roll, Funk, Soul, and R&B. The BusBoys are best known for their appearance in the 1982 film "48 Hrs." in which they performed their songs "New Shoes" and "The Boys Are Back in Town" (the latter song is also heard during the closing credits). The band opened for the film's costar, comedian Eddie Murphy, during his subsequent "Delirious" standup comedy tour—during which he referred to them throughout the program—including an hour-long special that aired on HBO.
Otis Day of Otis Day and the Knights is best known for his performance in "National Lampoons: Animal House" with their version of "Shout" and "Shama Lama Ding Dong."
ANNUAL CHEFS FOOD FEST AT AQUARIUS IS AN 'OFFICIAL NV150 EVENT'
Nevada is celebrating its 150th year as a state and the 27th annual Chefs Food Fest on Thursday, June 5 has been declared an "Official NV150 Event." The event attracting chefs from around the tri-state area who will showcase their talents and creativity in this friendly competition to raise funds to help struggling families in the area will be held at the Aquarius Pavilion starting at 5:30 P.M.
Guests will be able to sample appetizers, entrées, desserts and drinks prepared by chefs from Laughlin casinos, local restaurants and food and wine distributors. Participants will compete for the "People's Choice Best Food Creation" and the "People's Choice Best Booth Design" trophies.
Proceeds from Chefs Food Fest will go to the River Fund, Inc., a local nonprofit agency that provides direct emergency and crisis services for individuals and families in Bullhead City, Ft. Mohave, Mohave Valley and Laughlin areas. Last year's Chefs Food Fest raised a record $23,000, which was donated to the River Fund, Inc. The Laughlin Chamber of Commerce, who sponsors the event, hopes to raise even more funds this year.
Tickets are $50 and can be purchased at the Laughlin Chamber office, 1585 Casino Dr., Laughlin, by calling 702-298-2214 or visiting www.laughlinchamber.org. Admission is for guests 21 years of age and over.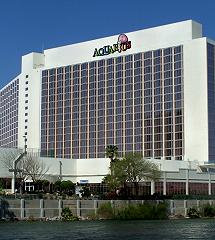 The Aquarius is offering a special room package for guests who would like to attend the event and stay the night. The room package includes a one-night stay on Thursday, June 5 and two Chefs Food Fest tickets for $134.99 plus tax. To book, call reservations at 800-662-5825 and mention code Chef14 or visit AquariusCasinoResort.com.
ABOUT TOWN TRIVIA
For those who like to party, Gold Diggers Nightclub at the Golden Nugget features top flight DJs Thursday-Saturday. Ladies Night, which is Thursday, starts at 8 p.m., and offers ladies drink specials from 9-11 p.m. Friday and Saturday nights start at 10 p.m. and go to closing. Wednesdays from 8 p.m. to midnight feature "Partyoke," which is a combination karaoke/DJ, with drink specials and DJ Loke.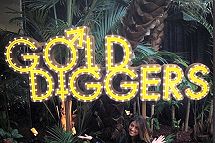 If you want to see something different, catch "The Hand of Faith" in the Golden Nugget's Hotel Registration Lobby. It is the world's largest gold nugget on display, weighing 61 pounds 11 ounces. Valued at more than $3 million, it is on display daily and viewing is free.
Sue Hanson plays piano in The Gourmet Room Lounge at the Riverside Thursday—Sunday starting at 5 p.m.
Monster Trucks are returning to the Outdoor Arena at the Avi on Saturday, May 3 at 7:30 p.m. Tickets start at $15. The World Fighting Championships will follow on Saturday, May 10 in the Avi Ballroom at 8 p.m. with tickets starting at $30.
The Losers Lounge at the Riverside has two Top 40 dance rock 'n' roll bands working from 7 p.m. to 5:45 a.m. Thursday-Saturday and 8 p.m. to 1:45 a.m. Sunday-Wednesday.
Also at the Riverside is The Dance Club with Karaoke with Chris and Susie of Earthbound Friday-Sunday from 8 p.m. to midnight and karaoke and dance parties Monday-Thursday and there's a Sunday Tea Dance from 2-5 p.m. For those who want line dance lessons, Jim Allen teaches on Thursday from 6-7:30 p.m. and Burt and Jane lead on Tuesday night at the same time.
DAVIS DAM IS AREA'S VISUAL ICON
Just north of Laughlin in Pyramid Canyon is Davis Dam named in 1941 for then Director of Reclamation, Arthur Powell Davis. The $67 million earth and rock filled embankment along the Colorado River has a concrete spillway, intake structure and power plant. The dam is 200 feet high and was completed in 1953 to control flash floods and to generate hydroelectric energy. A rock formation resembling a bull's head was located behind the present dam and was flooded by the waters of Lake Mohave when the project was completed. The construction town below the dam and directly across the Colorado River from Laughlin was named Bullhead City in honor of this formation. The Dam can be viewed by land and water tours on the river.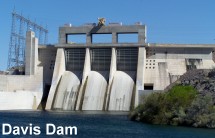 COLORADO RIVER AREA MUSEUM IS NEARBY

The Colorado River Historical Society And Museum includes replicas of area landmarks, historical display and items from the region's earliest inhabitants to the present. The small museum is located in the Davis Camp area on the Arizona side of the Colorado River just a half mile north of the Laughlin Bridge. The museum is open Tuesday-Sunday, 10 a.m.-4 p.m. and closed Mondays, holidays and in July and August. Admission is $2 for adults and free to children under 12. For information, call 928-754-3399.

CONTINUE ON TO...:

THIS WEEK'S >LAS VEGAS NEWS
LAST WEEK'S >LAUGHLIN NEWS
>VEGAS VIEW FULL ARCHIVES
Return to >"Heard Around Town"
Return to >Las Vegas Leisure Guide