<!A-- Left Column -->

Thousands of bikers will roar into town for the 26th annual Laughlin River Run April 24-27. The Edgewater and Colorado Belle will be ready to deliver what the bikers have come to expect during this four-day bike rally. From custom choppers and free live entertainment to sexy women in bikinis, the two sister resorts will be the party headquarters for the 2008 Laughlin River Runr.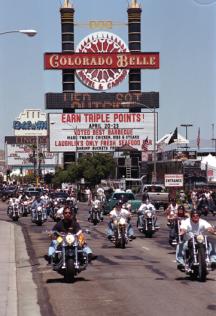 Guests arriving on Wednesday can catch a preview of what's to come as live bands entertain in the Edgewater's Outdoor Party Zone and Kokopelli's Showroom, as well as in Center Circle at the Colorado Belle. The event officially kicks off on Thursday with non-stop performances at each venue.
The Edgewater's Outdoor Party Zone will be home to the Sam Morrison Band, Chris Hiatt and Judge Jackson. Inside, Mumbo Jumbo will rock Kokopelli's Showroom each evening. Fan favorites, John Earl & The BoogieMan Band, Michael Burks, Brad Wilson and The Stoney Curtis Band heat things up in Center Circle. Laughlin's only micro-brewery, the Boiler Room, will feature local bands, Irie Sounds & The Half Wits and SavageKat, Thursday through Saturday evening.
The beautiful Purrfect Angelz will spice things up at the Edgewater's Party Zone Thursday through Saturday with their show that consists of acrobats, dancing and singing. These are the same talented dancers who have performed in country music videos with such stars as Trace Atkins, Brooks and Dunn and Toby Keith.
On Saturday night at 8 p.m. the JĄger Babes Bikini Contest will take the stage at Edgewater's Party Zone. Fifteen models will be competing against one another for the coveted first place award. JĄgermeister will be the sponsor for the bikini contest. Throughout the River Runr the Purrfect Angelz and the JĄger Babes contestants will be available for autograph signings and photos in the Party Zone and at the Colorado Belle's Center Circle.
After combining the two merchant display areas, the Colorado Belle and the Edgewater will have the largest retail exhibit space in town. Guests can shop at more than 120 retail outlets featuring specialty items ranging from motorcycle parts and apparel to custom bike displays. In addition to JĄgermeister, other sponsors at this year's run will include: Budweiser, Jack Daniels, Russian Standard Vodka and Hummer.
This year, the Custom Bike Show on Saturday has been moved to the Riverwalk between the Colorado Belle and the Edgewater Casinos. The judging and public viewing will be held from 11 a.m. to 3 p.m. followed immediately by an awards show. This year's prize money will be $5,000. Two of the judges will be former bike builders from the cable network show American Chopper, Vinnie and Cody.
The Boiler Room at the Colorado Belle will be hosting this year's Early Bird Poker Run. Registration will be Saturday from 7:30 a.m.-10:30 a.m. at the Boiler Room. Awards will be at 4 p.m. The prize money for this year's poker run will be $4,000.
Ron Stubbs - The Outrageous Rock & Roll Hypnotist will perform in Don's Celebrity Theatre at the Riverside, April 29-May 4. Stubbs explores the infinite possibilities that the mind can create while providing an entertaining show where no one leaves embarrassed even though he uses willing volunteers from the audience. Tickets are $22.

TOP OF NEXT COLUMN
The Aquarius will host The Pointer Sisters' inaugural Laughlin performance on Saturday, May 17 at 8 p.m. in the Aquarius Outdoor Amphitheater. Tickets are $30 for general admission and $40 for premium seating.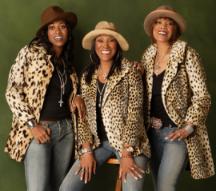 The Pointer Sisters began their formal vocal training in their father's church in West Oakland, Calif. They went on to achieve worldwide fame and have secured a place in pop music history as one of the top female groups. The Pointer Sisters have been amazing crowds for over three decades with hits such as He's So Shy, Slow Hand, Jump (for my love) and I'm so Excited.
The River Palms Comedy Room is highlighting comedians Luke Torres, Patrick DeGuire and one TBA, April 29-May 3. Tickets are $14.95 and $19.95.
Torres, a Texas native, is a comedian impressionist who has a unique show with a Rock 'n' Roll Latino combination. He performs impressions of Ricky Martin, Enrique Iglesias, Carlos Santana, Prince, Ozzy, and even Jimi Hendrix. His show is a mix of stand-up comedy combined with song parodies and multi-cultural ethnic dialects and characters. Torres has worked as a freelance contributor to Premiere Radio's National Comedy Network. As an impressionist and writer, his work has been sent to hundreds of radio stations across the United States, and he's made many television appearances.
Deguire started his career in stand-up after losing a significant amount of his vision because of an eye disease called optic neuritis. Soon after being diagnosed, Deguire discovered laughter as a means of self-therapy and went on to win the 1998 Improv/Harrah's National Comedy Club Talent Search. Deguire has toured with George Lopez, Paul Rodriguez and Tommy Davidson. Besides performing at the top comedy clubs in the United States, he has devoted his time overseas for the troops in Japan and Korea. His material includes the advantages and disadvantages of living in a world with limited vision and the hilarious adventures that ensue.
The Aquarius, the largest gaming resort in Laughlin with 1,907 rooms, is now home to the largest Starbucks in Laughlin. Starbucks is conveniently located on the casino main floor just off the main hotel entrance and is open from 6 a.m. to 4 p.m. Hours of operation will eventually expand to 8 p.m.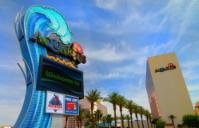 Nevada's Big Bend State Recreations Area has opened its multi-million dollar recreational vehicle campground with all of the spaces offering full-service hookups.
The town-wide Laughlin Weekend of Wheels will be held, May 9-11. This will be a first-time event featuring cars galore with a Show 'n' Shine, various competitions, drawings, music and vendors on Friday and Saturday.
Joan Jett and the Blackhearts will headline at the Rio Vista Outdoor Amphitheater at Harrah's on April 25. Tickets are $25.
Jett, a rock legend famous for hits like Bad Reputation and I Love Rock 'N' Roll, is also a savvy record label founder and executive. After 28 record labels rejected her first solo LP in 1980, she became the first woman to start a rock label and subsequently released more than 15 of her own albums that have sold more than 30 million copies. The label has also been home to several punk bands like The Vacancies and The Eyeliners, even Big Daddy Kane.
CONTINUE ON TO...:
>THIS WEEK'S LAS VEGAS NEWS
>LAST WEEK'S LAUGHLIN NEWS
>VEGAS VIEW FULL ARCHIVES
>Return to "Heard Around Town"
>Return to Las Vegas Leisure Guide