STOMP OUT LOUD at Planet Hollywood celebrated its first anniversary at the resort this week. This exclusive STOMP production has a cast double the size of the original production and a $28 million, 1,500-seat theater specifically created for it, making it unique to the STOMP brand. The show is an intriguing combination of percussion, movement and visual comedy that creates an inimitable form of musical entertainment. It is a journey through sound combined with a comic interplay of characters wordlessly communicating through dance and percussion. Tickets range from $59 to $99, call 702-785-5000 or 877-333-9474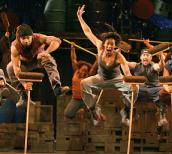 Over the past year, this cast of STOMP OUT LOUD has performed at iconic Las Vegas events such as the NBA All-Star Game, Latin Grammy Awards and Professional Bull Riders World Finals. The cast has been seen on NBC's America's Got Talent and will appear in an upcoming episode of ABC's Extreme Makeover: Home Edition.

Column Continues Below Advertisement


Having taken the buffet concept to new heights, the Rio has redefined the category by opening the more than 13,000-square-foot Village Seafood Buffet featuring interactive sushi stations, sommeliers to pair seafood selections with the finest of wines, fresh seafood from around the world and the gelateria. The $38 buffet is open daily from 4 to10 p.m., Sunday through Thursday, and 11 p.m. on Friday and Saturday.
The décor is highlighted by the grand new entrance showcasing metallic pieces that depicts the ebb and flow of the ocean tides and commissioned artwork from renowned artist Brad Holland. The cuisine is presented in a clean fashion with food stations set up to mirror that of a seafood market. A further element is selections being served in much smaller portions as compared to a typical buffet, enabling chefs to refresh more often. In fact, guests can expect popular selections such as lobster to be refreshed practically every 10 minutes.
Guests are also experiencing a new sound system boasting crisp sound quality and new lighting special effects. There are new tables including Viking tables that seat 15 to 20 guests, leather chairs and high back banquettes in various shades of metals, blues and purples.
The Village Seafood Buffet is under the direction of acclaimed Chef Richard Leggett, who graduated from the Johnson Wales Culinary Institute. His professional career brought him to The Ritz-Carlton, Atlanta and Victoria, and Albert's in the Grand Floridian Resort, then to Café St. Louis at Paris Las Vegas.
Bellagio, the first Las Vegas casino hotel in AAA history to earn Five Diamond status, has raised the bar again with a contemporary $60 million suite redesign. Located in the Bellagio Tower, the dramatic new look of seven suite types - Salone, Bellagio, Cypress, Tower, Penthouse, Lakeview and Grand Lakeview - combines high styling and lavish furnishings with indulgent high-tech amenities such as DVD players, multi-line phones, fax machines, flat-screen, high-definition televisions and laptop safes. In addition, there are automatic draperies, plush slippers and robes and twice-daily housekeeping visits including nightly turndown service. Rates range from $450 to $8,000 a night.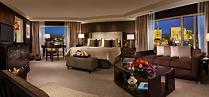 Kenny Rogers will be singing his hits at The Orleans Showroom, May 2-4. Tickets are priced from $59.95, call 702-365-7075.
Rogers is a prolific American country music singer, photographer, producer, songwriter, actor and businessman. He has charted more than 70 hit singles across various music genres and topped the country and pop album charts for more than 420 individual weeks in the Unites States alone. Two of his albums, The Gambler and Kenny are featured in the About.com poll of The 200 Most Influential Country Albums Ever. He has recorded 63 albums and sold more than 185 million records. He has received three Grammy Awards, five Country Music Association Awards, eight Academy of Country Music Awards, 11 People's Choice Awards and 18 American Music Awards.
Rogers post-First Edition career included a series of albums and duets with friend Dottie West and then he paired with Dolly Parton on Islands in the Stream, which was recently named the No. 2 country duel of all time by the CMT.
In the 21st century, Rogers was back at No. 1 for the first time in almost a decade with the 2000 single Buy Me a Rose, making him at 61, the oldest artist in the history of country music to reach the chart summit. In doing, he broke a 26-year old record held by Hank Snow. Rogers had more success in 2006 with the release 21 Number Ones which went gold.
An evening of fine dining and the most exclusive magic show, Impossible Magic, will debut Saturday, May 17, at 7 p.m. in the elegant, upscale Six Tables restaurant minutes from the Strip at 2110 North Rampart. After dinner, sleight-of-hand artist and 2008 International Close-up Magician of the Year, Steve Dacri, will present his intimate and astounding magic.
In this unique restaurant, there are literally only six tables with the guest count limited to no more than 30 people, and the evening includes a six-course gourmet meal, prepared by world-renowned Master Chef Roland Levi from Belgium. At $300 per person, it is a high priced ticket at 7 p.m. on Saturdays and Sundays, call 702-256-2060.
This is a reminder. The 18th annual Epicurean Affair, which allows partygoers to sample cuisine and cocktails from more than 100 bars and restaurants, will return for the third consecutive year to the Flamingo on Thursday, May 1, at 7:30 p.m. The event will be held in the resort's15-acre tropical oasis. Tickets are $125 per person and $175 for VIP, call 702-733-3333.
Joey Vega, who is described as the thinking man's comedian, likes to "get up there and wing it" with the audience even though he has a set act. He wants to make an audience think and he'll be doing that at the Riviera Comedy Club, May 12-18, with fellow funny men Vince Dantona and David Huntsberger. Tickets for the 8:30 and 10:30 p.m. shows are $24.99, call 702-794-9433.
Born and raised in New York City, Vega is also an actor who you've seen in The Sopranos. He just completed a film with his two best friends entitled The Latin Legends of Comedy and has his own stand-up show The Latin Ratpack of Comedy.
Ventriloquist Dantona appearing with George were $10,000 winners on ABC-TV's America's Funniest People. They have opened for Soupy Sales, Bobby Vinton, Tiny Tim, Henny Youngman and Robert Klein among others.
Huntberger in December 2005 made his television debut on Comedy Central's Premium Blend. In June 2006, he made it to the semi-finals of NBC's Last Comic Standing. When not doing stand-up, he is a writer for The Hooligan Show that performs monthly at Cap City Comedy Club.
With almost 40 years of recording and touring experience behind them, Tower of Power has been issuing albums and touring the world steadily since the early 70s, in addition to backing up countless other musicians. They will appear at the 450-seat Suncoast Showroom in the northwest valley, May 9-11. Tickets for the 7:30 p.m. shows are priced from $39.95, call 702-636-7075.
Formed in 1967 in Oakland, Calif., this durable funky soul group In the 70s toured with Sly Stone and Creedence Clearwater Revival, creating traffic jams when they started to headline their own shows. They performed on records with the likes of Elton John, Smokey Robinson and Rod Stewart. In the early 80s, they were backing Huey Lewis and the News.
Over the past few years, Tower of Power has added new members and a fresh outlook.
Sadly the Guggenheim Hermitage Museum in the Venetian will be closing its doors on May 11 after nearly seven years at the Strip property. With this closure, the only remaining Strip art gallery is at the Bellagio. The museum is offering free admission until it closes in May.
Agassi's Grand Slam for Children premiere fundraiser, after 12 years at the MGM Grand Garden, will be moving to Wynn Las Vegas and be held Oct. 11 in the Lafitte ballroom.
Live rock with Phoenix on Thursdays will start at the Las Vegas Hilton on May 1 and feature Jimmy Crespo, former member of Aerosmith. Doors will open at 7:15 p.m. with a pre-concert party before the 8 p.m. show. The Las Vegas Hilton is also introducing its new "Group Therapy Thursdays" in the resort's Tempo Lounge featuring the Nova jazz group, drink specials by Sex Vodka, cozy blackjack tables and prize drawings for players. "Group Therapy" is presented every Thursday from 5:30 p.m.-9:30 p.m.
Frank Marino, the star of An Evening at La Cage at the Riviera, was chosen by the TV show Extra out of thousands of entries to compete for the position of Vegas weekend correspondent and has made it among the four finalists.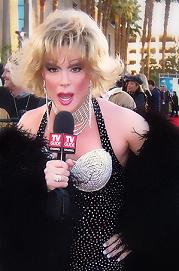 The 8,200-square-foot Art of Richard MacDonald Fine Art Gallery opened this week at the "O" Theatre Lobby in the Bellagio. MacDonald is the first and only artist given behind-the-scenes access to Cirque du Soleil, allowing him to capture the beauty, athleticism and human spirit of the performers. The resulting sculptures are exhibited and available for purchase in the newly renovated "O" Theatre Lobby.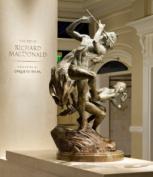 The AGO restaurant inside the Hard Rock is offering "Ladies Night Out" specials Tuesday through Thursday during April between 5 and 10 p.m. Ladies who dine in AGO's lounge receive 50 percent off food and beverage from the bar menu.
The Origin India Restaurant and Bar located on Paradise Road across the street from the Hard Rock recently celebrated its second birthday. Along with indoor restaurant dining, the business also offers Origin India Catering.
TAO Beach, the latest addition to the successful TAO Las Vegas venue at The Venetian, has opened for its second season. On Friday and Saturday nights, TAO Beach becomes an extension to TAO Nightclub providing an open-air nightclub featuring four 14-foot fire columns, high-energy music from resident and international guest DJs and strategically-placed beds. In addition, TAO Beach is hosting weekly day and evening events including Good Fridays and Sunset Sundays.
PUFF is a new nightlife place and restaurant that opened with a 36-hour event cleverly called Puffapalooza, which they hope to turn into an annual event every April. PUFF is located about a mile from the Strip at 1030 East Flamingo Road off Cambridge. For information, call 702-221-PUFF or visit www.pufflounge.com.
Le Golosita, an Italian trattoria, owned and operated by the creators of Zeffirino Italian Ristoriante and Tintoretto Bakery at The Venetian, has opened at 9500 S. Eastern Ave. The kitchen and bar open daily at 11 a.m., and the bakery opens at 8 a.m. Happy Hour food and beverage specials are offered Monday through Friday from 4 to 6 p.m. Specials include free pizza, Italian specials and half price well drinks and draft beers. There's also a 22-flavor gelateria.
In March, Pole Position Raceway, located across the street from the Palms on Flamingo, has launched its new Web site with many new features including the ability to look up lap times and driver statistics via the Internet. Also last month, the indoor track was redesigned. Upcoming Pole Position Raceway events include Team Endurance Races on April 26 and May 31, Iron Man Competition on May 10, and Youth Racing Clinic on May 17. For information, call 702.227.RACE (7223).
Lisa Angeline was crowned the official winner of the Miss LAX competition held at the LAX Nightclub inside the Luxor. Angeline won $50,000, a guest appearance on the A&E television program Criss Angel MINDFREAK and a LAX modeling contract.
The Nevada Ballet Theatre will present Ballet Under the Stars: A Benefit for the Arts at the Henderson Pavilion, located at 200 S. Green Valley Parkway, on Friday, May 9 at 8 p.m. The free performance that is open to the pubic will be a combination of three ballets: NKH, Equinoxe and Rubies. For information, call 702-267-2171.
The Lied Discovery Children's Museum downtown will hold the 14th annual Thai Festival, celebrating Thailand's culture, dance and food, on Saturday, May 3, starting at 11 a.m.
Las Vegas theater producer, John Bentham, will debut Sing City Gospel Fest in Las Vegas with some of Southern Gospel's most renowned performers including The Hoppers, a five-member musical family with four releases since 1990, and The Beene family. The family event with food will be held at the Henderson Pavilion on Sunday, May 4 from 5 to 8 p.m. Tickets are $15 and $25, call 702-222-9777 or at the day of the event.
Star of Defending the Caveman at the Golden Nugget, Kevin Burke will be performing a standup of Christian comedy and local singer Richel Kompst will perform songs from her new album. A generous portion of tickets sales will go to benefit Children's Heart Foundation.
CONTINUE ON TO...:
>THIS WEEK'S LAUGHLIN SEGMENT
>LAST WEEK'S LAS VEGAS SEGMENT
>VEGAS VIEW FULL ARCHIVES
>Return to "Heard Around Town"
>Return to Las Vegas Leisure Guide