CHEECH & CHONG HEADLINE AT HARRAH's


Popular 70s and 80s comedy duo, Cheech & Chong will headline the Rio Vista Outdoor Amphitheater at Harrah's on April 29 at 9 p.m. These edgy comedy legends blend popular skits from the past, stand-up comedy and musical bits. Cheech & Chong are best known for their films, "Up In Smoke," "Nice Dreams," and "Born in East L.A." In 2009, the duo launched their successful "Light Up America" tour. In years past on the small screen, Chong has had a recurring role on the television sitcom "That '70s Show," and Marin co-starred with Don Johnson in "Nash Bridges" and appeared on ABC's "Lost." Tickets range from $35 to $70.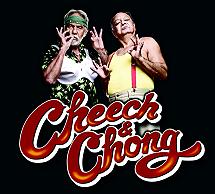 BATTLE OF THE BANDS AT AQUARIUS HAS 12 FINALISTS
The Aquarius has chosen 12 bands to compete in the Official Laughlin River Run Battle of the Bands. The three-day "battle" will go down 7 to 10 p.m. Thursday, April 28 through Saturday, April 30, at the Aquarius Outdoor Amphitheater during the largest motorcycle event on the west coast. Thirty-thousand dollars of prize money is at stake, with the winning band taking home $10,000 and the title of the Official Band of the Laughlin River Run 2011.
The 12 bands are: Heaven Below – Los Angeles, Calif.; Arrival – Modesto, Calif.; Big Black Novel – Chino, Calif.; Simmer Down – Laughlin, Nev.; The Blood Orange Project – Needles, Calif.; Bulletville – Kingman, Ariz.; DoubleXXCross – Bullhead City, Ariz.; Substance – Bullhead City, Ariz.; Laura Ash & the Inferno – Las Vegas, Nev.; Thrasher Cadillac – Los Angeles, Calif.; and Blue Daddy – Orange County, Calif.
Qualifying rounds will be on Thursday and Friday. Each band will perform a 20-minute set. The top six bands, three from each night, will advance to the finals beginning at 7 p.m. Saturday. Tickets start at $10, call 800-435-8469.
AQUARIUS HOLDS MISS LAUGHLIN RIVER RUN CONTEST
The competition for the title of Miss Laughlin River Run and $1,000 cash, dinner for two at the Vineyard and two tickets to the Saturday performance of the Battle of the Bands will be held at the Aquarius "Party Platform" in the front parking lot on Saturday, April 30 at 3 p.m.
PIONEER PLANS ACTIVITIES
"The History of the Side Show" - featuring "America's Madman" Ses Carney and Professor Chumley in a performance/lecture dealing with past and present masters of the American sideshow will be held at Granny's inside the Pioneer on Wednesday, April 27 at 6 p.m. Tickets are $7 at the gift shop.
During the Laughlin River Run, April 28-30, the Pioneer will hold "Carnivale" in the front parking lot featuring music with all-girl tribute bands, rocker bands, and a stunt/freak show with "America's Madman""Ses Carney and Professor. It's a free event.
BACHMAN &TURNER HEADLINE AT THE EDGEWATER
Two giants of rock 'n' roll have reunited for the first time in more than 20 years. The musicians at the heart of legendary band Bachman-Turner Overdrive are on tour again as a new, full-throttle rock machine: Bachman & Turner. They made "Let It Ride," "You Ain't Seen Nothing Yet," "Takin' Care of Business" and "Roll On Down the Highway" classic hits of the 70s. They will headline The E Center at the Edgewater on April 30 at 9 p.m. Tickets start from $25.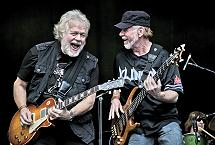 BURNS & POE BRING THEIR ACT TO THE RIVERSIDE
Country Thunder's duo Burns & Poe, the perfectly balanced singing songwriting team of Keith Burns and Michelle Poe, will split the lead vocal chores at the Riverside, April 19-24. Tickets are $32.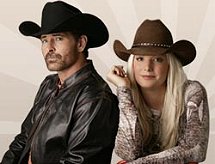 Burns was a founder and vocal mainstay of the group Trick Pony. Poe has been the accomplished and eye-catching bass player and harmony singer for the likes of Dierks Bentley and Hank Williams Jr. Producer James Stroud brought the two together, and there was an instant connection. Not only did the two singers blend together musically, they also discovered profound songwriting chemistry and pen most of their songs.
An established writer, Burns has had songs recorded by Joe Diffie, Hootie & The Blowfish, Sammy Kershaw, Anita Cochran and, of course, Trick Pony.
ERIC BURDON & THE ANIMALS HEADLINE THE EDGEWATER
Eric Burdon & The Animals will headline the new Edgewater Event Center on Friday, April 29 at 9 p.m. Tickets start at $15.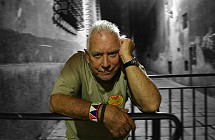 Burdon's rock music career includes: being the driving force of the San Francisco psychedelic rock scene; fronting WAR - the biggest funk band of the 1970s; cutting an LP with jazz-blues great Jimmy Witherspoon; reuniting his original band, The Animals, for a series of projects and worldwide tours; forming new groups of Animals; and releasing his second autobiography, which was translated in several languages. In addition, Burdon has had many movie parts.
RIVER PALMS FEATURES TRIBUTE ACTS
The lineup of tribute acts performing at the 2700 Club at the River Palms on Saturdays for the month of April is: Freebird tribute to Lynyrd Skynyrd - April 23 and Rad Co - tribute to Bad Company on April 29 and 30. Tickets for all these shows are $10. In May there will be tribute show to Santana, KISS, Poison and Bon Jovi.
TOP OF NEXT COLUMN
EDGEWATER STICKS WITH LAUGH MAKERS
The Edgewater sticks with "Comedy on the Edge" in the showroom every Friday, Saturday and Sunday at 7 p.m. Each show features two stand-up comedians. Upcoming acts are: April 22-24—Russ Rivas and Debbie Lockhart; May 6-8—Frank Lucero and Aurelio Bocanegra; May 13-15—David Testroet and Jayson Cross; May 20-22—Beny Mena and Todd Link; May 27-29—Ron Shock and Eric Hunter; June 3-5—Peter Berman and Andy Beningo; June 10-12—Vince Valenzuela and Andy Wood; June 17-19—Adam Hunter and Drale Witham; June 24-26—Michael Pace and Lee Levine. Tickets are $10 at the Edgewater Casino Cage or the door.
Russ Rivas has played comedy clubs all over and owns a Laffs Club in Albuquerque. Before starting his career as a comic, Rivas was a sergeant in the United States Army and a certified auto mechanic. Though his ignorance of certain topics like fishing and hunting seemed feigned, his ability to improvise his way through anything is popular with the audience.
QUICK CLIPS
The "Blues & Brews Festival" will be held at the Center Circle Event Area in the Colorado Belle's parking lot, April 22-24. This annual event will feature blues music by Michael Burks, Preston Shannon, Chris Hiatt & Cold Shot and John Earl's Boogieman Band, BBQ and other food, beverages at booths and vendors. Admission is free with food and beverages sold separately.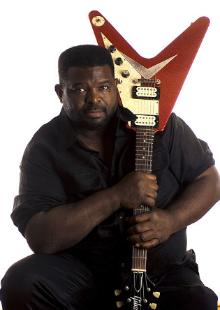 The Laughlin River Run is coming up April 27-May 1. The annual motorcycle run will have more than 50,000 riders coming to town. This event features vendors, shows, special events, Wednesday through Sunday.
The Tropicana will feature tribute shows in The Pavilion Theater during the Laughlin River Run. Fortunate Son - tribute to CCR – Creedence Clearwater Revival will take place at The Pavilion Theater on Thursday, April 28. For nearly two decades, Fortunate Son's lead singer Stan Adams has been performing an awesome tribute to CCR. Headlining across America and Canada, Fortunate Son has opened for major acts including Randy Bachman of B.T.O., The Outlaws, Jimmy Van Zant and recently with Charlie Daniels, Southern Rock Allstars, Buddy Miles, and .38 Special. On April 29 and 39, Led Zep Again will perform their show honoring Led Zepplin. Tickets are $10.
The Laughlin Tattoo Convention will take place April 28-30 during the annual Laughlin River Run in the Edgewater Tent in the parking lot from noon to midnight. The show will offer a variety of bands playing throughout the event, performers, and other entertainment. Additionally there will be industry leading tattoo artists, vendors from across the country, tattoo contests sporadically through the three-day event, a full bar, and tattoo hostesses. Cost is $10. For more information, call 808-699-0060.
"Thunder on the River" at various sites at the Avi will include a biker's market, poker run, April 30-May 1. There will be "Race-Your-Ride" motorcycle races for amateurs only on April 30 at the Aha Macav Parkway next to the Avi from 10 a.m.-5 p.m. It's $5 to enter a cycle and free spectator seating.
The Bluzmen – Tribute to the Blues Brothers will headline the Avi Grand Ballroom on Saturday, April 30 at 8 and 9:30 p.m. Shows are free.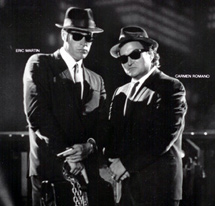 Cinco de Mayo will be celebrated on the Riverwalk between the Colorado Bell and Edgewater on May 5 from 4 to 8 p.m. There will be a strolling mariachi band and Mexican food items for sale at food booths.
Country music star Trace Adkins will headline at the Riverside Amphitheater on May 7. Tickets range from $40 to $75.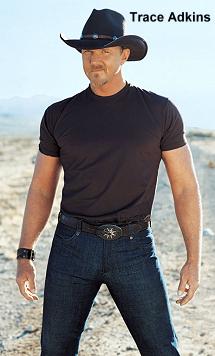 The Riverside BrewBQ - a Kansas City BBQ Society (KCBS) sanctioned cook-off will be held in the Riverside's South Parking Lot, May 13 and 14. This event will feature all kinds of BBQ, micro breweries from around country with their brews, food/craft vendors, and live music. Hours on Friday are 1 – 8 p.m. and Saturday noon to 6 p.m. Cost is $8 for "People's Choice plate; $20 to sample all the beers; $30 for the VIP tent; and $50 for both days.

The Riverside Resort will showcase "Biker Burlesque" in Don's Celebrity Theater April 27-May 1 and then "Sin City Burlesque" May 4-8. The shows are bawdy, frisky, playful, and of course sinful. Tickets are $32.

It will be "Rock 'N' Ribs" time on the Riverwalk between the Colorado Belle and Edgewater May 27-29. This event will feature a variety of ribs, from Jamaican jerked to Memphis dry rub, and music by classic rock 'n' roll bands. Hours will be Friday 4 – 10 p.m. and Saturday ad Sunday from 2 – 10 p.m. The event is free to attend with food and beverages sold separately.

Tom & Sharon's Ballroom, Dance Party at the Riverside is scheduled on May 7 from 1:30 – 4 p.m. Admission is free. For more information about parties or dance classes, call 928-754-2097.


CONTINUE ON TO...:


>THIS WEEK'S LAS VEGAS NEWS
>LAST WEEK'S LAUGHLIN NEWS
>VEGAS VIEW FULL ARCHIVES
>Return to "Heard Around Town"
>Return to Las Vegas Leisure Guide