Broadway fare seems to have trouble succeeding in Las Vegas; however, "Spamalot" at Wynn may prove to be the exception. The show, which is a slapstick adaptation of the cult-classic film "Monty Python and the Holy Grail," is all about the laughs. The story line loosely follows King Arthur and his knights as they search for the Holy Grail.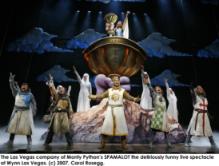 The cast with John O'Hurley playing the lead role of King Arthur and Nikki Crawford as The Lady of the Lake is rock solid poking outrageous fun at everything. "Spamalot" features a chorus line of dancing divas and knights, flatulent Frenchmen, a killer rabbit and the only legless knight on the Strip, which is an example of how ridiculous the show can be. To everyone's delight, many references in the show have been staged and written about Las Vegas. The show's closing song "Always Look on the Bright Side of Life" epitomizes what Las Vegas is all about... fun and frivolity.

Column Continues Below Advertisement


The redesign of the "Le Rêve" Theater at Wynn started minutes after the last show on March 5 and took more than 200 workers and 30 days to complete. The extensive project included repainting the theater, recovering the walls, installing entirely new custom-made seating and flooring and creating the exclusive Champagne Circle area. The theater went from 2,087 seats to 1,606, providing additional room for guests and a more intimate theatrical experience. The surroundings are now soft and warm with rhythmic decorative flourishes inspired by Art Nouveau floral motifs. Luxe fabrics, plush chairs and a warm blend of cocoa, bronze and deep reds complete the feeling of elegance and style.
The new VIP Indulgence Package offers complimentary Perrier-Jouët champagne bottle service; chocolate-covered strawberries; generously-scaled lounge seating; and video monitors providing up-close imagery and behind-the-scenes glimpses during the show. Package holders experience exclusive opportunities at Wynn with a "Privileged Access" pass for dining and entertainment on the day of the performance.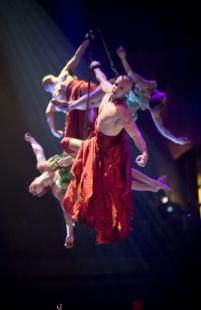 The show "Le Rêve," which means "the dream," offers an aqua theater in-the-round and features aerial acrobatics, provocative choreography and artistic athleticism. Live music and elaborate special effects immerse the audience into a world of fantasy. Tickets are $99 (Splash Zone), $119 (Premium Seating) and $159 (VIP Indulgence Package); call 702-770-WYNN.
The Hard Rock expects to top last year's records as Rehab celebrates its fourth season hosting pool parties beginning April 29. Grammy award-nominated R&B artist Akon will headline the Rehab 2007 premiere event.
Named one of "The Top 10 Pools" in the world by the Travel Channel, the Hard Rock's sandy beach transforms into Rehab each Sunday and offers an adult 4.7-acre playground beach-club atmosphere. Rehab features 40 Tahitian-style cabanas.
Rehab takes place weekly each Sunday through the end of September from noon to 7 p.m. Admission to the launch of Rehab is $40 per person.
A new $170 million consolidated rent-a-car center has opened three miles south of McCarran International airport on 68 acres of land. The new modern structure consolidates operations of 11 car rental companies. The McCarran Rent-A-Car Center also combines shuttle bus service instead of each company operating its own buses. The airport spent $12 million on about 40 vehicles to move customers between the terminals at the nation's sixth-busiest airport and the car rental area.
The Shops in Desert Passage at the Aladdin will begin operating as Miracle Mile Shops in May 2007. Modernized interior and exterior renovations and an influx of brand-name retailers will continue while operating under the new name.
The Miracle Mile Shops are named in part to promote the 1.2 miles of retail space the mall covers. The multi-million dollar makeover has focused on de-theming the original design for a more streamlined, contemporary look that helps create a synergy with the more than $1 billion renovation and re-branding of the Aladdin into the Planet Hollywood.
The design currently under construction includes adding people movers for better access into the shops, a backlit sidewalk water feature, and an LED video offering continuous streaming imagery. Additionally, many of the mall's entrances and existing retail locations on the facade have already been made over with floor-to-ceiling glass vestibule doors and storefronts. A new patio and terrace is also being built to extend out to the sidewalk. Miracle Mile Shops' exterior renovations are projected to be carried out by June 2007 and interior renovations will continue to be completed in phases through 2007 and 2008. The mall features 170 specialty stores, 15 restaurants and live entertainment.
Sahara headliner Amazing Johnathan is having heart complications that have plagued him since childhood. He's having a defibrillator placed in his heart and for now plans to continue working.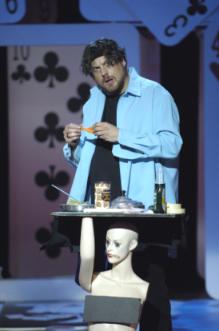 Paul Anka will mark his 50th anniversary in music and nearly five decades performing in Las Vegas with an exclusive appearance at the Las Vegas Hilton May 4 and 5. Anka has sold more than 40 million albums, CDs and singles worldwide. In the United States, he has scored three No. 1 songs, "Diana," "Lonely Boy," and "You're Having My Baby," as well as 22 Top 20 hits. Anka's first Vegas gig was at the Sahara in 1959 with Sophie Tucker.
Hennessey's Tavern downtown has opened the Brass Lounge on the second story of their Fremont Street location right inside the large faux pint glass that adorns the building. Cleverly they say "Come Party in the Pint" and offer an ultra-pub and lounge daily from 5 p.m.
The Fashion Outlets of Las Vegas mall located in Primm off I-15 at the California/Nevada border will be expanding by nearly 60 percent. The owners plan to invest $141 million to increase the mall's size from 371,000 to 521,000 square feet. Currently there are more than 100 stores.
Rock 'n' roll legends Aerosmith will headline a charitable concert for Lili Claire at the Mandalay Bay Events Center on April 28. Tickets are $85, $135 and $185, call 702-862-8141 for information.
The high-energy Sunset Strip group performing at the Shimmer Cabaret at the Las Vegas Hilton has been extended through 2007.
Harrah's headliner Rita Rudner is currently working on a television project with Jon Lovitz in which they will play a brother and sister, forced to live together in middle-age.
The cast of MTV's hit reality show, "The Real World," will be making a return appearance to Sin City in mid-April and at the Palms to celebrate the five-year reunion of the Real World: Las Vegas. Five years ago, the Real World, which was the first reality television show shot in the neon city, brought seven strangers to Las Vegas, set them up with jobs at Rain Nightclub and gave them a penthouse suite to reside in together. The reunion show will make up six episodes and take about three weeks to film.
For the second consecutive year, the Nevada Restaurant Association will hold its Epicurean Affair at the Flamingo on Thursday, May 31. This year will be the 17th annual installment of the event that is a staple on the industry social calendar. Tickets for the 17th annual installment of this event are $125 or $1,000 per pack of 10 tickets, call 702-733-3333.
George Wallace will return to his regular performance schedule on April 17. When he comes back, he will be joined once again by singing sensation Mosaic.
Participating in the Collings Foundation's nationwide Wings of Freedom Tour are WWII vintage bombers that will fly into North Las Vegas Airport for a public visit from 3 p.m. on April 18 to noon on April 20.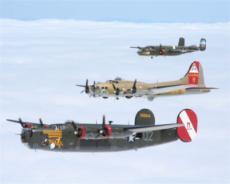 The Boeing B-17 Flying Fortress "Nine O Nine" is one of only nine in flying condition in the United States, the Consolidated B-24J Liberator "Witchcraft" is the sole remaining example of its type flying in the world, and the North American B-25 Mitchell is one of only a handful in flying condition. For close-up viewing, there's a $10 charge for adults and $5 for children under 12. Another opportunity will include a 30-minute flight for a tax deducible amount ranging from $325 to $425, call 800-568-8924.
On May 4, the night before the super Cinco de Mayo fight between Oscar De La Hoya and Floyd Mayweather, some of the world's best fighters will be in action when Golden Boy Promotions presents "Fiesta Boxeo" at the MGM Grand Conference Center. The championship bout will be between World Boxing Organization (WBO) light flyweight champion Hugo Cazares and challenger Wilfrido Valdez Perez and the event will see the return of 2000 Olympian Francisco "Panchito" Bojado to the ring and air live on Telefutura's 'Solo Boxeo' telecast. Tickets are $125, $75 and $25; call Ticketmaster at 702-474-4000.
What was already one of the most highly anticipated weekends of boxing in Las Vegas history just got bigger. Another Friday night fight prelude on May 4 will be the first professional boxing event in The Pearl - the recently opened 2,500-seat theater at the Palms Casino Resort. Tickets are $50, $75 and $100, call Ticketmaster at 702-474-4000.
In the Showtime "ShoBox" main event telecast, undefeated and USBA Heavyweight Champion "Fast" Eddie Chambers (28-0, 16 KOs) will fight Dominick "The Southern Disaster" Guinn (28-4-1, 19 KOs) in a scheduled 10-round heavyweight battle.
Another pair of popular and unbeaten heavyweights - Cristobal "The Nightmare" Arreola (19-0, 17 KOs) and Malik Scott (27-0, 10 KOs) - will be featured in separate fights.
Rock 'n Roll Wine will present a night for wine lovers, rockers and dread lockers by creating a reggae wine party by the new $30 million pool dubbed "The Tank" at the Golden Nugget downtown. ForTwentyDaze, the roots, dub/rock, five-member Las Vegas reggae band, will perform poolside, where the center attraction is a 200,000-gallon shark tank, on Friday, April 20.
Doors open at 7 p.m. and the event will feature up to 15 wineries representing more than 50 distinct wines. Tickets are $30 or $35 at the door and can be purchased at www.rocknrollwine.com.
The Silverton, located off I-15 three miles south of Mandalay Bay, will host the timeless band The Spinners in concert on Saturday, April 21 at 8 p.m. Throughout the years, The Spinners have acquired 12 gold records. In 1972, the quintet signed with Atlantic Records, and by early 1980, the single "Working My Way Back to You," was topping Pop and R&B charts. The Spinners have six Grammy nominations and have performed twice during the awards ceremony. Tickets are $29.99, call 702-914-8557 or 1-866-946-4373.
The Michelin guide is coming to Las Vegas. The French guide's judges are notorious for slighting acclaimed chefs and being stingy with their stars. It should be interesting to see the results.
Harrah's afternoon headlining comedy magician Mac King recently had the honor of performing at the annual White House Easter Egg Roll on the South Lawn.
Through May 31, the DAM Restaurant at Hooters is offering a fresh one-pound Alaskan king crab leg dinner with soup or salad for $16.99 between the hours of 4 p.m. and midnight. Crab lovers can order a second pound of crab legs for an additional $10.99.
River Empress cruise lines, one of Europe's most exclusive and prestigious river cruise ships, has selected renowned Las Vegas restaurateur Certified Master Chef Gustav Mauler to be a featured guest chef for their nine-day, 138-passenger, culinary European river cruise, Aug. 3-11. For information, contact Yuval Nissan at 702-255-2773 or Monica Castronova at 702-256-5441 at Prestige Travel.
The Stratosphere has launched the "$250,000 Point Challenge" promotion for Ultimate Rewards Card Club members. The "$250,000 Point Challenge" is a three-month slot promotion with three promotional periods that will determine 62 finalists through accumulated play and daily drawings. All finalists will be entered for a final drawing to win a 2007 Lexus and cash prizes on July 28, and each will be guaranteed a Mexican Riviera cruise for two for attending the event.
During the promotion period running through June 30, there are daily drawings at 5 p.m. at the Special Event Center. There are five winners in each drawing plus one Wild Card Winner. Prizes include cash, dinners, room stays, spa credit, show tickets and promo chips.
CONTINUE ON TO...:
>THIS WEEK'S LAUGHLIN SEGMENT
>LAST WEEK'S LAS VEGAS SEGMENT
>VEGAS VIEW FULL ARCHIVES
>Return to "Heard Around Town"
>Return to Las Vegas Leisure Guide