DRAI'S BEACH CLUB WILL HAVE POOLS WITH A VIEW AT THE CROMWELL!

Drai's Beach Club and pools will open Memorial Day Weekend and be perched 11 stories above the Strip atop The Cromwell. On two levels, the 35,000-square-foot Drai's Beach Club will be a visual wonder featuring a 360-degree experience with multiple pools, ten 35-foot palm trees, fancy cocktails, renowned DJs, VIP luxury cabanas and gourmet food.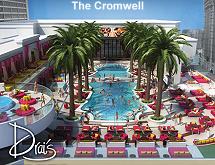 M RESORT'S POOLS WILL OPEN WITH NEW OFFERINGS
The M Resort will open its main pool and entertainment complex, Villaggio del Sole, on Friday, April 25, while the intimate adult day club experience, DayDream, will open with a sneak peek on Saturday, April 26. The following Saturday, May 3, will mark the official grand opening weekend of both pools and DayDream and have DJ Sandman working the turntables from 11 a.m.-6 p.m.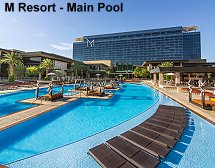 Some things are new this year. Two elevated VIP Penthouse Patios are for rent offering a spacious lawn with lounge furniture, umbrellas and recreational game tables for up to 30 guests. Penthouse Patios start at $150 midweek and $250 on weekends. Additionally, the all-new Piazza Grille, a poolside café will open on the resort's main pool deck.
DayDream has upgraded VIP cabanas and daybeds and has added a brand new Jacuzzi for private group rental. The DayDream Party Jacuzzi package offers a private covered patio with its own 22-person Jacuzzi, four flat screen televisions, lounge chairs, couch sets, a dining area and ice chest packed with beverages and assorted snacks. Starting at $2,000 and available on weekends only, the DayDream Party Jacuzzi can accommodate up to 35 guests.
The Villaggio del Sole main pool deck will be open daily from 10 a.m. to 6 p.m. and free to hotel guests with a $10 midweek/$20 weekends charge for non-hotel guests.
Column Continues Below Advertisement
TOM'S URBAN AND SHAKE SHACK WILL OPEN AT NEW YORK-NEW YORK
New York-New York's new plaza experience is adding restaurants Tom's Urban and Shake Shack that will open December 2014. The restaurants will take the space currently occupied by The Sporting House, which is closing June 3, and join recently opened retail outlets Swatch, Stupidiotic, I Love NYNY and Starbucks, as well as Hershey's Chocolate World, which is opening this spring.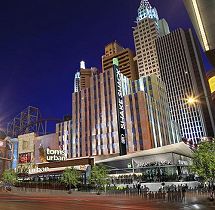 Shake Shack, which sprouted from a hot dog cart in Madison Square Park in Manhattan, will be introducing its first West Coast Location. Shake Shack® is a modern day "roadside" burger stand known for its all-natural burgers, flat-top dogs, frozen custard, beer, wine and more. It is part of Danny Meyer's Union Square Hospitality Group (USHG). Since the original Shake Shack opened in 2004, it now has multiple outlets along the East Coast as well as international locations.
Recognized by Gourmet Magazine as one of the "Top 25 Food Entrepreneurs of the Last Quarter Century," Tom Ryan is the namesake of Tom's Urban, which has its roots in Denver. He founded the concept with restaurant financier Rick Schaden in 2012. Together they traveled to the best "food cities" to understand the uniqueness of urban cultures, food and lifestyle in America. The 24-hour eatery will have an indoor-outdoor patio.
MEMORABILIA CASE UNVEILED FOR 'RAIDING THE ROCK VAULT' CAST
The cast of "Raiding the Rock Vault" that headline at LVH were honored with a special memorabilia case dedication at Hard Rock Cafe's Strip location featuring many items from their rock 'n' roll histories with bands including Heart, Asia, Whitesnake and Quiet Riot. Several of the display items include the leather jacket worn by Paul Shortino during "This is Spinal Tap," guitars from Doug Aldrich of Whitesnake and Andrew Freeman of The Offspring, the black suit worn by Robin McAuley during MSG's music video "This is my Heart" and more.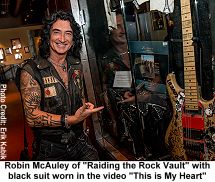 OPPORTUNITY VILLAGE OPENS KITCHEN CREATIONS CAFÉ
Opportunity Village, in partnership with DETR/Business Enterprises of Nevada and the Blind Association, has opened its newest division - Kitchen Creations Café, located in the Clark County Government Center.
JAZZ AND R&B FESTIVAL RETURNS FOR 22ND YEAR
The 22nd annual Las Vegas City of Lights Jazz and R&B Festival will be held April 25-27 at the Clark County Government Amphitheater. Performances will include multiple GRAMMY Award winning artists. Some of the lineup includes: Friday - KEM and Chrisette Michele; Saturday - Boney James, BWB, Nick Colionne, Jeff Lorber, Everette Harp, Althea Rene; and Sunday - Chaka Kahn, Joe, Raheem Devaughn, Leela James, and Eric Roberson. Tickets are for sale on the festival website www.yourjazz.com.
BOCA PARK FASHION VILLAGE HOSTS ARTWALK
ArtWalk, a weekend celebration of artwork and fine crafts, will be held at Boca Park Fashion Village, April 25-27. The outdoor mall will transform into a festival marketplace with 40 artist booths featuring artisans from southern Nevada, California, Arizona, Utah, and Colorado. The event is open to the public of all ages with free admission and free parking. Festival hours are noon-6 p.m. on Friday; 10 a.m.-6 p.m. on Saturday; and 10 a.m.-5 p.m. on Sunday.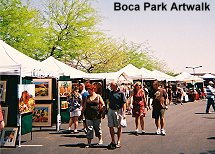 ZUMBA PART OF HENDERSON HERITAGE PARADE & FESTIVAL
Henderson will host a Zumbathon Saturday, April 26 from noon-3:30 p.m. at the Henderson Events Plaza on Water Street as part of the International Food & Folklife Association's activities scheduled for the day-long Heritage Parade & Festival. Events include: a 9 a.m. breakfast with the mayor and city council; parade at 10 a.m.; international entertainment, food and games from 11 a.m.-7 p.m.; and a car show from noon-6 p.m. Admission and participation is complimentary.
Zumba Nation features more than three hours of non-stop cardio-dance workouts based on Latin and international rhythms. Every 20 to 30 minutes there will be a different instructor from around the world. For information, visit HendersonLive.com.
ABOUT TOWN TIPS
The Stratosphere Tower, which opened April 30, 1996, will soon celebrate a milestone with its 40 millionth visitor, who will win a Stay & Play Getaway valued at more than $2,500.
Showman Wes Winters will celebrate his third anniversary at the South Point Grandview Lounge on Friday, April 25. In celebration, complimentary cake and champagne will be served from 5 to 7 p.m. Winters will perform from 6 to 9 p.m.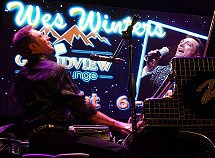 Room reservations are now open for sbe's SLS Las Vegas Hotel & Casino. The first rooms are available for booking beginning Aug. 25, and the property will host its official grand opening Labor Day weekend.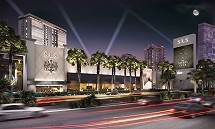 The Billboard Music Awards will broadcast live from the MGM Grand Garden Arena on ABC May 18.
"Entrepreneur Magazine" named Wynn Las Vegas as a top casino industry leader in the United States on its "2014 Most Trusted Brands" list. The resort was ranked number 12 out of 120 of the country's most successful companies.
The addition of an LGBT spot to the famous "What Happens Here" campaign was a natural next step for marketing by the Las Vegas Convention and Visitors Authority.
TOP OF NEXT COLUMN
DINING NEWS ITEMS
On Tax Day - April 15 starting at 5 p.m., Hard Rock Cafe on the Strip will allow guests to "Sing For Your Supper." Rock 'n' roll legend Paul Shortino from Quiet Riot and Rough Cutt will be joined by some of his fellow "Raiding the Rock Vault" artists from LVH to kick off the evening by performing a song and encouraging guests to take the stage. Guests who sing a complete song will receive a free dinner entrée from Hard Rock's new menu.
Border Grill at Mandalay Bay will hold a tequila multi-course dinner and cocktail reception featuring Central Mexico's renowned Tequila Corralejo on Thursday, May 1. The menu will be paired with an array of tequila-infused margaritas. This event is $75 plus tax and gratuity; RSVP 702-632-7403.
Ferraro's Italian Restaurant Wine Bar on Paradise Road has an outdoor patio and Tramonto (sunset) Dining between 4 and 5:30 p.m. offering 50-percent off your food bill.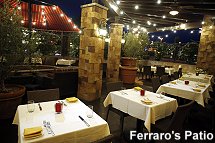 The all-new Sammy's Restaurant & Bar at 1501 Green Valley Parkway will honor Teacher Appreciation Week by offering complimentary tapas for teachers during lunch or dinner with the purchase of equal or greater value May 5-9. Teachers must present their current school ID.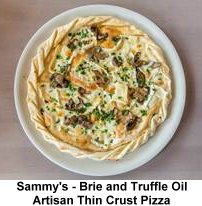 The same Sammy's Restaurant & Bar will host its second installment of the monthly dining event at 7 p.m. on Wednesday, April 30. The event will highlight a four-course dinner with wine pairings from the Franciscan Estate Winery. One course is Brie Cheese and Truffle Oil Artisan Thin Crust Pizza. Cost is $50.
MADAME TUSSAUDS HAS OFFERS FOR STUDENTS AND CHILDREN
For college students 21 and older with ID, Madame Tussauds at The Venetian is offering one complimentary Madame Tussauds signature cocktail at the attraction during Spring Break 2014. For families, children 12 years and younger dressed as super heroes receive complimentary admission when accompanied by at least one paying adult. Children will get to see the attraction's brand-new Marvel Super Heroes 4D Experience.
LAS VEGAS GRANTS GRANDMOTHER'S 103RD BIRTHDAY WISH
Internet sensation and 103-year-old Seattle grandmother, Evelyn Kottman, will check another adventure off her bucket list when she arrives in Las Vegas April 18. Las Vegas heard her request and will provide her the weekend of a lifetime. Grandma Evelyn will be greeted by Las Vegas' Host Committee Chairman Oscar B. Goodman, authentic Las Vegas showgirls and the men of Australia's "Thunder From Down Under" from Excalibur when she arrives at McCarran Airport. Known as the "Internet's Grandma," who for her other birthdays got a tattoo, skydived and indulged in whiskey, started a thread on Reddit, allowing users to ask her anything. During a conversation, she revealed her Vegas-visit wish.
JERRY'S NUGGET CASINO LAUNCHES PRIME RIB EATING CHALLENGE
Jerry's Nugget in North Las Vegas will launch its Prime Rib Eating Challenge at Jerry's Famous Coffee Shop on National Prime Rib Day, Sunday, April 27. The continuing challenge will take place Sunday - Thursday from 11 a.m. to 9 p.m. It includes the full consumption of the Double Cut Prime Rib meal, which consists of a salad, 48-ounce prime rib, a baked potato and ear of corn, one piece of garlic toast, and Jerry's Famous Banana Split. The diner must finish the meal in 45 minutes or less.
Winners receive an "I am King of Cow at the Jerry's Nugget Prime Rib Challenge" t-shirt and commemorative crown, and the free meal minus gratuity and photo taken for the Prime Rib Hall of Fame. Participants who fail will be required to pay for their prime rib meal valued at $41.89 plus tax and gratuity and will have their photo taken for the Prime Rib Hall of Shame.
HUSSONG'S CANTINA/SLICE OF VEGAS PARTNER WITH VETERAN'S VILLAGE
Titan Brands, owner and operator of Hussong's Cantina and Slice of Vegas, located inside The Shoppes at Mandalay Place, announced a new partnership with local nonprofit organization Veteran's Village, which provides services to veteran residents and is located at 1150 South Las Vegas Blvd. Both restaurants will be donating supplies to the organization on a monthly basis as part of their on-going partnership. Veteran's Village is open 24 hours a day, seven days a week.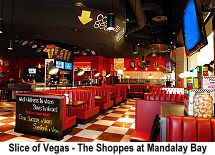 PINBALL COLLECTORS CLUB DONATES A TRUCK TO SALVATION ARMY
Tim Arnold and his team of volunteers from the Las Vegas Pinball Collectors Club presented The Salvation Army Southern Nevada with a 24-foot truck for use by The Salvation Army Food Pantry that serves approximately 200 families and individuals weekly. Since its inception in 1990, the Pinball Hall of Fame now located at 1610 E. Tropicana Blvd. has shared the quarters played in the machines with nonprofits and the truck is their latest gift.
TIVOLI VILLAGE OFFERS EASTER WEEKEND ACTIVITIES
On Saturday, April 19 fresh52 Farmer's & Artisan Market will present a Spring Festival from 9 a.m.-4 p.m. featuring DIY workshops, Chicago Brewery Beer Truck, free games and prizes, Jerky Eating Contest, free Kids Art Garden, live entertainment, chef demos, and BBQ.
Tivoli Village will have a free petting zoo in the children's play area featuring real bunnies, ducks, and chicks from 10 a.m.-2 p.m. Friday, April 18 and 10 a.m.-4 pm. Saturday, April 19. Photography packages ranging in price from $5 to $40 will be available for purchase.
MORE EASTER OPTIONS
This Easter, April 20, Honey Salt in Summerlin will hold its second Honey Salt Easter Egg Hunt and Sunday brunch. Easter Egg Hunts will be at 10 a.m. and noon. One hunt per child is included with purchase of the $15 special Kid's Easter Corner menu. Easter Brunch starts at 10:30 a.m.
The Cooking Experience by Mise En Place is offering weekend baking and decorating classes for 12 children ages 5 to 12 per class who must be accompanied by an adult. Taught by a professional pastry chef the Le Petit-Easter Basket-Chocolate Edition will be from 11 a.m. -12:30 p.m. on Saturday, April 19, and Le Petit-Easter Basket-Cupcake Edition will be Saturday, April 19, 2:30-4 p.m. and Sunday, April 20, noon-1:30 p.m. Each class is $35.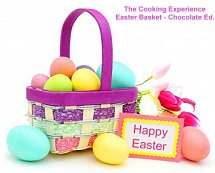 The newly opened Divine Café at Springs Preserve will have an Easter Brunch with a Mimosa on Sunday, April 20 with seatings at 10 a.m., noon and 2 p.m. Tickets are $24.99, $9.99 for children 5-10 and free under age 5.
KEEP MEMORY ALIVE GALA HONORS GLORIA AND EMILIO ESTEFAN
Keep Memory Alive, the fundraising arm of the Cleveland Clinic Lou Ruvo Center for Brain Health, and Bill Edwards Presents will host the 18th annual all-star tribute Saturday, April 26 in honor of philanthropists Gloria and Emilio Estefan at the MGM Grand Garden Arena. The evening showcases a celebrity-chef-packed dinner featuring Wolfgang Puck and Masaharu Morimoto.
The evening's honorary co-host is Quincy Jones. Performers and celebrity supporters will include: GRAMMY award-winning recording artists Ricky Martin, Carole King and Jon Secada; Academy Award nominees Andy Garcia and Sharon Stone; recording artist and talk show hostess Queen Latifah; multi-award-winning actress and singer Rita Moreno; actor Christopher Meloni; platinum recording artist and actress Jordin Sparks and Fantine, Emilio Estefan's new artist making her debut stage performance.
DJS FOR PJS HOLDS INAUGURAL PAJAMA FUN RUN
DJs for PJs®, a nonprofit organization, will host its inaugural Pajama Fun Run on Saturday, April 19. The 5K run and 1-mile walk will take place at the Kellogg Zaher Sports Complex with pre-race festivities beginning at 8 a.m. The run will serve as an additional day of collection and fundraising, as the 12th annual DJS for PJS® pajama collection day is Friday, April 11 from 6 a.m. until 7 p.m. For details and to register, visit www.djsforpjs.org.
LETTER CARRIERS NATIONWIDE COLLECT FOOD ON MAY 10
On Saturday, May 10, letter carriers all over the nation, including Southern Nevada, will participate in the National Association of Letter Carriers' Stamp Out Hunger Food Drive - the largest single-day food drive in the country. To participate, leave a bag of non-perishable food by or in your mailbox. Your letter carrier will pick up the food and deliver it to local food pantries. Last year nationally, 74 million pounds of food was collected feeding an estimated 30 million people.
AFGHAN SOLDIER'S DREAMS LAUNCH 'THE JANUS PROJECT'
Nathan Nearman, counter intelligence officer and Afghanistan veteran, racks up years of dedicated military service with a new mission to translate his lifelong dreams into making movies. Currently those dreams are becoming reel reality with the launch of an original screenplay into film production that won movie trailer plaudits at the CinemaCon gathering of worldwide film makers and exhibitors at Caesars Hotel in Las Vegas. Nebulae Entertainment has slated Nearman's psychological fantasy global titan thriller feature "The Janus Project" to begin film production in Utah on June 1. Major roles are assigned to soap stars Emily O'Brien from "The Young and the Restless" and Adam Gregory from "90210" and "The Bold and the Beautiful."
Column Continues Below Advertisement
CONTINUE ON TO...:
THIS WEEK'S >LAUGHLIN NEWS
LAST WEEK'S >LAS VEGAS NEWS
>VEGAS VIEW FULL NEWS ARCHIVES
Return to >"Heard Around Town"
Return to >Las Vegas Leisure Guide