<!A-- Left Column -->

Country music singer-songwriter Collin Raye will take center stage at Don's Celebrity Theater at the Riverside, April 15-20. Tickets are $34, call 800-227-3849.
Floyd Collin Wray is more commonly known by his stage name Collin Raye. He made his debut on the American country music scene in 1991 with the release of his debut album All I Can Be, which produced his first No. 1 hit Love, Me. All I Can Be was the first of four consecutive albums released by Raye to go platinum.
Throughout the 1990s, Collin continued to produce Top Ten singles on the country music charts. By the end of the decade; however, his momentum had slowed; 2001's Can't Back Down was his first album that did not produce a Top 40 country hit, and he was dropped by his record label soon afterward. He did not record another studio album until 2005's Twenty Years and Change, released on an independent label.
Between 1991 and the present, Raye has charted 30 singles on the U.S. country charts; he has also charted twice on the Adult Contemporary format as a duet partner on two Jim Brickman songs. His most recent compilation, an EP titled Selected Hits, was released in 2007.
The River Palms Comedy Room plays host to a rotating weekly lineup of standup comics. Wild Willy Parsons will appear the week of April 22-26 with fellow comedians Robert Sherwood and Anthony Marino. Tickets are $14.95 and $19.95, call 866-448-7849.
Parsons has been a professional comedian since 1985. He continuously tours the country headlining at clubs, colleges, corporate functions, children's benefits as well as numerous biker events and law enforcement festivities. He has also made many television appearances including, The Dennis Miller Show, Showtime, MTV, Evening at the Improv and Comics Only, to name but a few.
Parsons has opened for many acts on the road such as The Charlie Daniels Band, Steppenwolf, Sam Kinison, Buddy Miles, Andrew Dice Clay, Pauly Shore and Richard Jeni. He has also been the comic relief for several Easyriders videos since 1990. His unique character has opened the door to the acting arena by landing him roles in movies and on television such as: The Guardian, Nothing To Lose, Trancers II, Matlock, Vietnam Texas, Silk Stalkings and a couple of national beer commercials. Parsons also has an Emmy Award for writing.
Parsons has become nationally known as "The World's Original Biker Comic." His subject matter ranges from his personal experiences in life, the justice system, society's misconceptions of bikers and their appearance, current events and even raising a family in today's world.
Don Laughlin's Riverside keeps adding big names and tribute shows to its impressive 2008 lineup. This summer, the resort will be Celebrating the Music of Neil Diamond, Aug. 10-17. Meanwhile, the Superstars of Country Music, June 17-29, will feature a lineup that hasn't been named yet.
Also added this year are: The Tennessee Three July 23 - 27; It's Only Make Believe - A Tribute to Conway Twitty, Sept. 16 - 21; and Mel Tillis over the holidays, Dec, 27 - Jan 1, 2009.

TOP OF NEXT COLUMN
Eddie Money will take center stage at the Tropicana Express in The Pavilion Showroom on May 10. Tickets for his 8 p.m. show are $25 and $35, call 800-243-6846.
Money's career has a mythical quality. The successful rock icon is doing what he always loved. It's what took him out of the New York City Police Force and across the country at a young age - playing and performing his own music. Last year, Money released Wanna Go Back, an album that pays homage to the rock music of the 1960s when the 15-year-old Eddie Mahoney and his band, The Grapes of Wrath, were together. Good Lovin and Build Me Up Buttercup are just two of the many feel-good tracks on the album.
One of the things that has made working-class rocker Money such a huge success with many diverse groups throughout his career is his connection to his fans. Money figures for his fans, he has probably signed every copy of every album he's made. Money's fan base bridges many gaps that include people who got into his earlier albums, their kids and even celebrities like Oscar de la Hoya, who trains to Money's music.
Singing legend Money is the proud papa of five kids who are all musicians of some sort. His 18-year-old daughter Jesse Money is a big part of Eddie's live show.
The Black Crowes will star at the Rio Vista Outdoor Amphitheater at Harrah's on April 24. Ticket to the 9 p.m. concert start at $40.
The Robinson brothers originally formed the Black Crowes in Georgia in 1984. At the time of the group's 1990 debut, the kind of rock 'n' roll music they specialized in was out of style. Jealous Again, the first single from their debut album, Shake Your Money Maker, was a moderate hit but their cover of Otis Redding's Hard to Handle made the group a multi-platinum success.
After numerous albums, the group went on hiatus in January 2002. Drummer Steve Gorman was fired and Chris Robinson announced his intentions for a solo career. In 2005, however, the Black Crowes reunited for a show at San Francisco's Fillmore, a concert that was released in both CD and DVD form in 2006 as Freak 'N' Roll... Into the Fog. That same year also saw the release of The Lost Crowes, which contained two previously unreleased albums, 1993's Tall (parts of which were seen in America and other places) and the 1997 never-before-heard Band. Following a series of lineup changes, the retooled band then hit the road for a proper tour before setting to work on their first studio effort in seven years.
Blue &Oulm;yster Cult will be performing at the Riverside, April 25 and 26 at 9 p.m. Tickets are $38.50. The group will be taking to the stage during the famous Laughlin River Run when more than 60,000 bikers make their way to town for a five-day bike event.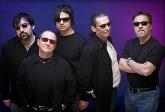 The band got its start in the late '60s on Long Island, N.Y., as the Soft White Underbelly, but each member had been involved in bands previously in high school and college, before ending up in the "right place at the right time" to create the beginnings of Blue ™yster Cult.
CONTINUE ON TO...:
>THIS WEEK'S LAS VEGAS NEWS
>LAST WEEK'S LAUGHLIN NEWS
>VEGAS VIEW FULL ARCHIVES
>Return to "Heard Around Town"
>Return to Las Vegas Leisure Guide