'SINATRA DANCE WITH ME' CLOSES EARLIER AT WYNN!
Dance legend's Twyla Tharp's masterpiece "Sinatra Dance With Me" at Wynn, which was extended through April 30, will now close on Saturday, April 23, due to the show's upcoming national tour. The show, which features world class dancers and Frank Sinatra's lyrics, opened last Dec. 11 in celebration and honor of Sinatra's 95th birthday.
Column Continues Below Advertisement
RODNEY CARRINGTON DEBUTS AT THE MIRAGE
Multi-talented comedian, actor, singer and writer Rodney Carrington will debut his stand-up routine at the Terry Fator Theatre at The Mirage June 17 – 18, at 10 p.m. For nearly 20 years, Carrington has been one of Pollstar's Top Five-grossing touring comedians. He released his debut album, "Hangin' with Rodney," in 1998 and has since released seven additional major record label comedy albums. Carrington recently starred in his own TV sitcom "Rodney," which ran for two seasons on ABC, and co-wrote and co-starred with Toby Keith in the award-winning movie "Beer for My Horses."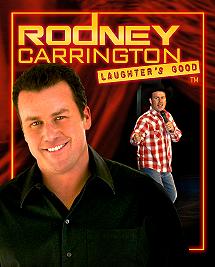 STARLET ANGEL PORRINO JOINS 'ABSINTHE'
The Gazillionaire and his cast of eccentrics will be joined by Las Vegas starlet Angel Porrino as part of the "Absinthe" cast, the new adult carnival show at Caesars Palace, on Tuesday, April 19. Porrino will be featured as The Weather Girl performing an exotic routine with (and in) a weather balloon. The Las Vega native currently co-stars in "Holly's World" on E! and most recently filled in for best friend Holly Madison as "Bo Peep" in "Peepshow."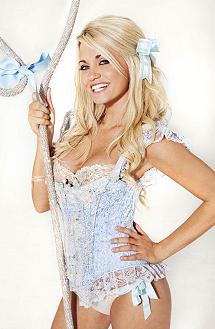 JEFF MITCHUM GALLERY OPENS AT BELLAGIO
Jeff Mitchum Gallery opened this month at Bellagio featuring an eclectic collection of world-renowned fine art photographer Mitchum's treasured images taken during his world travels. Nine of the limited-edition prints on display come from Mitchum's "Israel Collection," which showcases the stunning natural beauty of Israel's dramatic landscapes, which he shot over a 24-year period.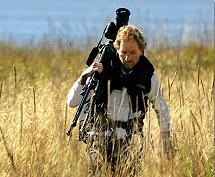 Mitchum's passion extends to the conservation of our natural resources, which is evident in his unique line of eco-furniture designs also available at his new gallery. Also on display are such artifacts as one of Sierra Club founder John Muir's original manuscripts, as well as a pair of desert hiking boots that belonged to Ansel Adams, accompanied by a personal letter from Adams' daughter.
'THE MENTALIST' SIGNS FOR TWO MORE YEARS AT V THEATER
"The Mentalist" Gerry McCambridge has signed on to do his 7:30 p.m. Thursday through Tuesday shows for another two years at the V Theater inside Miracle Mile Shops at Planet Hollywood. McCambridge is known internationally and was awarded "Mentalist of the Decade" by the International Magicians Society. Among his many TV appearances, McCambridge was best known as the executive producer and star of the NBC prime time TV show "The Mentalist." He was also on the reality show "Phenomenon" with Criss Angel.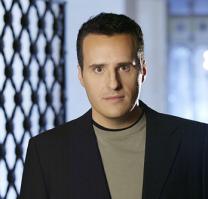 CABO WABO CANTINA HOLDS 'SAMMY'S BATTLE OF THE BANDS'
Sammy Hagar's Cabo Wabo Cantina will host a 12-week battle of the bands competition starting Sunday, May 1. The winners of "Sammy's Battle of the Bands" will open for Holiday Havoc 2011 and win $5,000 in Sam Ash merchandise. Four jamming crews will have 30 minutes to convince the crowd each week that they have what it takes to move on to the semi-finals starting on Sunday, July 31. The final showdown will be held Sunday, Sept. 18.
BILL MEDLEY PERFORMS AT CANNERY
Bill Medley will honor his four decade collaboration with Bobby Hatfield as half of the singing duo, The Righteous Brothers, and offer a variety of his own songs in a performance at The Club inside the Cannery on April 16. Tickets are $29.95, call 702-507-5757.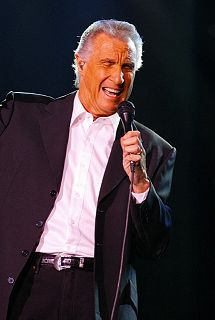 Medley, who joined in a duet with Jennifer Warnes in 1987, earned an Oscar®, Golden Globe®, and a Grammy® for the song "(I've Had) The Time of My Life" featured on the "Dirty Dancing" movie soundtrack, which sold 14 million copies. In 1990, The Righteous Brothers' classic version of "Unchained Melody" in the film "Ghost," helped send the song back up the charts 30 years after its original release. Medley and Hatfield, as The Righteous Brothers, were inducted into the Rock and Roll Hall of Fame in 2003.
MARIO IS SET TO PERFORM AT LAX NIGHTCLUB
Singer and songwriter Mario will perform for the first time at LAX Nightclub at the Luxor on Wednesday, April 13. In addition as an actor and dancer, he has starred in movies including "Step Up" and "Freedom Writers" and was a previous contestant on season six of "Dancing with the Stars" where he was eliminated in week eight.
YANNI PERFORMS AT ORLEANS ARENA
World music legend Yanni will perform his instrumental hits in concert at the Orleans Arena on Saturday, May 14 at 7:30 p.m. Tickets range from $38 to $78, call 702-284-7777.
Yanni and his world-class musicians will perform his greatest music made famous in his shows from the Acropolis in Greece, the Taj Mahal in India, the Forbidden City in China and the Royal Albert Hall in England.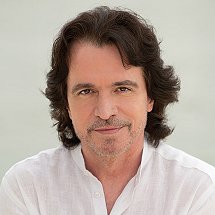 For the first time, the live show will introduce some of the music from Yanni's new album "Truth Of Touch," which is the composer's first album of original studio music in almost a decade.
ANDREW DICE CLAY WILL RETURN TO PLAYBOY COMEDY
The legendary "Bad Boy of Comedy" Andrew Dice Clay following a successful, sold-out run earlier this year will return to the Playboy Comedy club in The Lounge at the Palms hosted by Cort McCown and Paul Hughes, June 23 – 25. Shock comic Clay has sold out countless sold-out arena tours, had multi-platinum selling albums, and starred in films such as the cult classic "The Adventures of Ford Fairlane." Tickets prices are $99 and $59.
CALIFORNIA HOTEL HOSTS 14TH ANNUAL LEI DAY
The California Hotel downtown will host the 14th Annual Lei Day Polynesian Festival on Saturday, April 30 and Sunday, May 1 from 9 a.m. to 6 p.m. The annual Polynesian festival brings together musicians, dancers, artists, craftsmen and food and beverage vendors to showcase the very best of Hawaii. Entry to the two-day event is free.
A special concert will be held on Saturday, April 30 at 7:30 p.m. inside the Ohana Maile Room featuring Hawaiian recording artists Na Hoku, plus Female Vocalists of the Year Diana Aki (1990), Nohelani Cypriano (1980 and 1992), and Mailani Makainai (2010). Tickets are $20, call 702-388-2705 or $25 at the door.
PETER TORK & SHOE SUEDE BLUES PERFORM IN HENDERSON
Peter Tork & Shoe Suede Blues, a traditional blues band fronted by an original member of The Monkees, will perform as part of Henderson's cultural ArtBeat series presented by Target on Friday, April 15 at 8 p.m. The free show will be at the Henderson Events Plaza.
Tork burst onto the music scene in the '60s with the made-for-television phenomenon, The Monkees. As the American version of the Beatles, the rock/pop band produced four chart-topping albums and had a popular television show for two years. After The Monkees, Tork began to focus on his solo career, performing with his own bands, as well as writing and recording original music.
LOCAL WEATHERMAN AUTHORS THIRD CHILDREN'S BOOK
Emmy Award-winning Las Vegas weatherman Kevin Janison has authored his third children's book "Deputy Dorkface: How Mannerland Got Its Manners Back" with his established gruff, but kindhearted Deputy Dorkface. In Janison's newest book, Deputy Dorkface has relocated to the suburbs of Mannerland, where everyone is well behaved until a strange event changes everything. Deputy Dorkface restores order by coming up with the idea of a reality TV show to try to bring manners back to town visit; www.deputydorkface.com.
PROJECT DINNER TABLE SHOWCASES MGM GRAND CHEFS
Project Dinner Table, the wildly popular community dinner series that was launched last April, will begin its 2011 season on Saturday, April 16 at Town Square with a seven-course meal prepared by MGM Grand chefs. Project Dinner Table's signature table is draped in white linens and seats up to 150 guests. Tickets are $140, visit www.projectdinnertable.com. Additional 2011 dates are: May 14; June 25; Sept. 10; Oct. 15; and Nov. 13.
TOP OF NEXT COLUMN
PENN & TELLER CELEBRATE 10 YEARS WITH AIDS WALK
For the tenth consecutive year, Penn & Teller will serve as Grand Marshals for Aid for AIDS of Nevada's (AFAN) 21st Annual AIDS Walk Las Vegas and once again lead the Penn & Teller Challenge AIDS Walk team on Sunday, April 17, at 10:30 a.m. For everyone who joins the Penn & Teller Challenge, the famous duo will match all monetary funds raised by pledges and donations to AFAN. Last year, the challenge raised more than $176,000. Registration for the Walk is free, but a minimum $50 donation is encouraged. The AIDS Walk will be held downtown at the World Market Center. To register, visit www.afanlv.org.
The AIDS Walk will include more celebrities and production show support on Sunday, April 17, at the World Market Center. Among the lineup is dance troupe Jabbawockeez, "Jersey Boys" cast, Las Vegas glee club On with the Show, DJ Axis, comedian Hal Sparks from the Showtime series "Queer as Folk," and The Tap Dancing Twins.
JABBAWOCKEEZ "WOCK AS ONE" CAMPAIGN FUNDRAISERS
As part of their newly-created "WOCK AS ONE" charitable foundation and partnership with the American Red Cross, Jabbawockeez will donate the proceeds from the 7:30 p.m. performance of their "MÜS.I.C." on Sunday, April 10 at the Monte Carlo to the relief efforts for the Japan earthquake and tsunami victims. In addition, Jabbawockeez has also created an exclusive fundraising t-shirt for the "WOCK AS ONE" campaign.
In addition, proceeds from Jabbawockeez's "Move-Ology" dance workshop, which will be held on Wednesday, April 13 at the Student Recreation and Wellness Center at University of Nevada, Las Vegas, will also be donated to the American Red Cross relief efforts. The "Move-Ology" dance workshop from 7-9:30 p.m. will feature classes on break dancing and isolations. Cost is $30 and $20 for UNLV students.
ROCK, PAPER, SCISSOR MONDAYS TAKE OVER ROCKHOUSE
Rock crushes scissors, scissors cut paper and paper covers rock. Easy enough to remember as Rock, Paper, Scissor Mondays kick off at the Rockhouse on Monday, April 11. The weekly event starting at 6 p.m. lets guests test their RPS skills against the Rockhouse bartenders for a chance to receive 50 percent off their round for beating the bartender in a best two out of three competition. Additionally, Rockhouse holds a RPS tournament with partygoers buying in for $5 and winner takes all.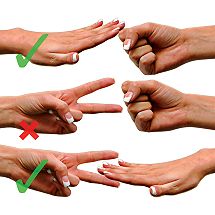 BETTIE PAGE CLOTHING BOUTIQUE OPENS AT FORUM SHOPS
With a vintage look that has inspired the fashion sense of celebrities such as Katy Perry, Madonna, Rihanna, The Pussycat Dolls, and spokes model Claire Sinclair, Bettie Page Clothing is a global fashion empire and recently opened its doors inside The Forum Shops at Caesars Palace.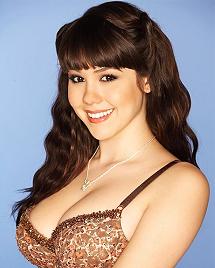 The other Bettie Page store inside Miracle Mile Shops at Planet Hollywood will host a meet-and-greet with Claire Sinclair, who is the face of Bettie Page Clothing, from 1 to 5 p.m. on Friday, April 22. Sinclair, who is a Las Vegas resident and will return as a guest star in MGM Grand's "Crazy Horse Paris," April 20-27, will be available for photographs and signing autographs. It's rumored she will soon be named "Playboy's" 2011 Playmate of the Year.
QUICK CLIPS
The first official GUINNESS® store in the United States has opened inside the Shoppes at Mandalay Place. The 1,500-square-foot store offers a wide range of GUINNESS® merchandise, including unique Las Vegas products, and graphically celebrates more than 250 years of the iconic GUINNESS® brand.
"VEGAS! The Show" at the Saxe Theater inside Miracle Mile Sops at Planet Hollywood that opened in June 2010 is moving to seven days a week starting May 1.
The Professional Bull Riders (PBR) will bring "Last Cowboy Standing" to the Mandalay Events Center April 16. This is a progressive elimination event featuring the Top 40 riders from the Built Ford Tough Series competing against the fiercest bulls for the top prize of $200,000.
In remembrance of the 99th anniversary of Titanic's sinking on April 15, Titanic: The Artifact Exhibition will host the following promotions that day: buy one, get one for 99 cents admission to the Exhibition with coupon available in Las Vegas Magazine or online at Luxor.com; trivia questions on a scratch-off card for a gift shop Titanic keepsake; and a Memorial Wall for condolences.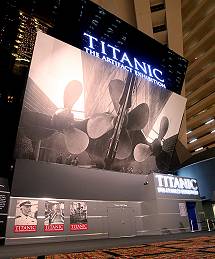 Looking every bit the Hollywood icon, "Dynasty" star Joan Collins recently stayed at The Venetian. Always stylish, she wore a fedora and white carried a Chanel purse while enjoying a gondola ride with close friend Judy.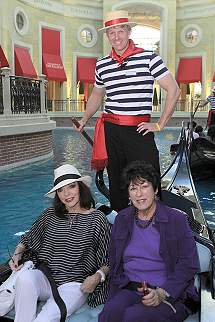 The sixth annual Reggae Pool Party will be held Saturday, April 30 at Green Valley Ranch. Headliners on the poolside stage will be Michael Black & Jahn Guide Band with special guest The Makepeace Brothers. Tickets are $39.99 and $49.99, call 702-240-3066.
In celebration of the 7th Annual Las Vegas Highland Games, the Fremont Street Experience will hold night time free concerts along with pipe and drum parades both days, April 15 and 16.The Las Vegas Celtic Society began the annual celebration to honor Celtic culture and tradition.
Andre's Restaurant & Lounge at Monte Carlo is now hosting new Whisky Wednesdays from 7-9 p.m. inside its signature cigar lounge. The price is $25 for an unlimited tasting. For select rare whiskies, there may be an additional charge of $20. For information, call 702-798-7151.
As Executive Chef for Eva Longoria's celebrated Beso Steakhouse in Crystals at CityCenter, Matt Piekarski is introducing a new small plates menu. In addition, Eva Longoria's Eve Nightclub has launched its newest house music night with "House of Eve" every Thursday. House DJs take over Eve Nightclub with DJ Rap on April 14 and Steve Smooth on April 21.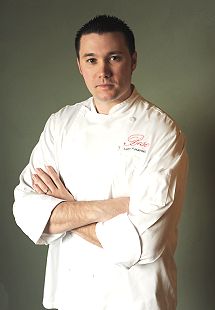 Border Grill at Mandalay Bay has introduced the new Border Brunch, an all-you-can-eat experience running every Saturday and Sunday from 10 a.m. – 3 p.m. through October. The cost of the brunch is $24.99 or $29.99 with free-flowing mimosas and Border Margaritas are $5 each. The regular lunch menu is also available.
Some of the city's top entertainers will serve frozen treats at Ben & Jerry's 33rd Annual "Free Cone Day" at two Scoop Shops in Henderson at The District at Green Valley Ranch and Sunset Station to benefit local children's charities. All small cones are FREE with no purchase necessary on Tuesday, April 12.
The Golden Nugget downtown will hold the third annual World Series of Slots® April 15-17. Players will battle head-to-head in several rounds of slot play for their share of more than a quarter of a million dollars in prize money and a championship bracelet. The tournament fee is $599. Another addition to the new tournament format this year is the opportunity to become a part of the cheer team that wins money.
CSI: The Experience at MGM Grand has launched its "Spring Break 2011 Beat the Heat" promotion happening every Friday and Saturday in April from noon to 3 p.m. at the MGM Grand pool. Guests who purchase a signature CSI beverage get a $10 discount offer for CSI: The Experience.
Primm Valley Casino Resorts is partnering with United Blood Services (UBS) to host a community blood drive on April 29, from 11 a.m. to 4 p.m. in the Primm Valley Convention Center. Donors will be rewarded with one of many prizes donated by Primm Valley including certificates to The Spa at Primm, unlimited attraction passes, access to a mini-buffet, t-shirts, etc. Currently, only three out of every 100 people in America donate blood.
Internationally recognized musician Gabriel Ayala, who is a member of the Yaqui people of southern Arizona, will perform a free guitar concert from noon to 1 p.m. on Friday, April 15 in the Lloyd D. George U.S. Courthouse downtown. For information, call 702-229-3515.
The annual Moms Rock Annual Mother's Day Tea fundraiser for Child Focus will be held at Springs Café by Wolfgang Puck at the Springs Preserve from 11 a.m. – 1 p.m. An adult ticket is $80 and $40 for children under 12, call 702-436-1624.
EASTER COUTURE DOWNTOWN BENEFITS EASTER SEALS
Independent fashion designers and vintage retailers Altered Nation Designs and Flockflockflock will hold the fourth Couture Community Challenge downtown on Saturday, April 16 from 7-9 p.m. at The Beat Coffeehouse inside Emergency Arts 25+ with local designers showcasing one-of-a-kind garments created from Easter décor, gifts and candy in a lively fashion show. Proceeds from the $5 suggested donation at the door and the $1 raffle tickets benefit Easter Seals.
TROPICANA SMOOTHIE CAFÉ CELEBRATES 10 YEARS
In mid-April, Tropical Smoothie Café, which has 19 locations throughout the Las Vegas Valley, will celebrate its 10-year anniversary in Southern Nevada. The flagship store at Eastern Avenue and Horizon Ridge Parkway in Henderson will permanently switch from fixed operating hours to 24-hours on April 18 and also offer two anniversary specials. On April 18, customers at this location who purchase a smoothie at regular price can get any sandwich or wrap for only 10 cents. And from April 18 through 24, customers who visit between midnight and 6 a.m. and mention "10-year anniversary" will get 50 percent off of their entire order.
The Henderson store was the first in Southern Nevada and 24th location in the nation. Six of the 19 Vegas area stores are among the top 10 in sales throughout the company's more than 285 locations. The top-selling store within the entire company is located at Flamingo and I-215.
Column Continues Below Advertisement
CONTINUE ON TO...:
>THIS WEEK'S LAUGHLIN NEWS
>LAST WEEK'S LAS VEGAS NEWS
>VEGAS VIEWS FULL NEWS ARCHIVES
>Return to "Heard Around Town"
>Return to Las Vegas Leisure Guide