The Lake Las Vegas Resort in Henderson has announced plans for Hilton Hotels Corporation to develop a 200-unit Hilton Grand Vacations Timeshare Resort and 50-unit luxury fractional Waldorf-Astoria component. The project will be developed on a 17.5 acre lakefront parcel overlooking the 17th hole and the 18th tee of the Jack Nicklaus designed Reflection Bay Golf Course. Development of the project is currently in the design phase, with groundbreaking targeted for early 2008 and an opening date projected for fall of 2009. The Waldorf-Astoria project at Lake Las Vegas Resort will be the first fractional lodging product to be developed by Hilton.
Lake Las Vegas Resort is a premier residential resort destination situated on a privately owned 320-acre lake located 17 miles from the Las Vegas Strip.
The Light Group will add more sizzle to the Las Vegas Strip this September with the opening of its newest venture, Diablo's Cantina at the Monte Carlo resort. The 10,000-square-foot multi-level entertainment complex will be "party central" with a lively "cross-the-border" fiesta-like atmosphere. Diablo's Cantina will be a casual dining and drinking destination with an open-air design, The d'cor will feature vibrant colors with rustic tile and furniture as well as 10 large plasma screens throughout for sports and entertainment viewing. One-of-a-kind, hand-painted murals will add character to the space.

Diablo's Cantina will mark the beginning of a Monte Carlo transformation. The first floor will incorporate the main dining area with a hip bar and lounge. Guests will be able to enter from a Strip-front entrance that will feature a walk-up frozen/specialty drink bar, or through the casino. The second floor will include an open-air center bar area and stage for live music, rotating entertainment acts and weekend DJs.
Column Continues Below Advertisement


By overwhelming demand, Prince has extended his stay at 3121 inside the Rio through April 28. His final dates are: April 13-14, 20 - 21, and 27-28.
Country superstars Tim McGraw and Faith Hill will bring their "Soul2Soul" tour back to Las Vegas at the MGM Grand Garden Arena on Aug. 4. Tickets are $68.25 and $125.
Mary Wilson, a real "Dream Girl" and one of the original "Supremes" will be appearing for two nights, April 20 and 21, in the all-new showroom at the Golden Nugget downtown. Tickets start at $35, call 1-866-946-5336. In addition to being a wonderful entertainer, she has also authored two books, "Dreamgirl...My Life As A Supreme" and "Supreme Faith...Someday We'll Be Together."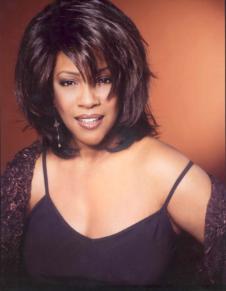 Herbst Gaming will complete its $400 million acquisition of the three Primm resorts, Whiskey Pete's, Buffalo Bill's and Primm Valley, on the Nevada-California border 35 miles south of Las Vegas this month from MGM Mirage. These resorts encompass more than 2,600 hotel rooms and more than 138,000 square feet of casino space.
Herbst Gaming also operates the off-Strip Terrible's Casino on East Flamingo Road and slot machines in more than 100 Terrible's gasoline stations and convenience stores around the valley.
The company's plans for the Primm properties include upgrading amenities, purchasing new slot machines, enhancing the entertainment lineup at the 6,000-seat Star of the Desert Arena at Buffalo Bill's, and erecting the largest Terrible's cowboy icon sign in Nevada.
The first-ever official Bettie Page boutique outfitted in classic Bettie style with leopard print, pink and black opened last month at the Shops in Desert Passage at the Aladdin. Pin-up '50s legend Page is an icon around the world and the store features an array of products that reflect the style-icon's attitude and fashion. Clothing items include a line of vintage-style dresses. lingerie, shoes and accessories in a range of prices. In addition, the store displays the largest collection of paintings by artist Olivia DeBerardinis and will feature occasional signings by the artist. Using Bettie as a muse for her paintings, Olivia's artwork is featured each month in "Playboy" magazine. For information, call 702-636-1100 or 866-4-BETTIE.
The Tropicana reached a milestone on April 4, when it marked its 50th anniversary on the Las Vegas Strip. The kickoff event was a celebrity-studded VIP party for invited guests on March 31, and other celebratory events will be held throughout 2007.
Ben Jaffe and Colonel Charles Baron opened the $15 million dollar, 34-acre, 300-room casino / hotel on April 4, 1957. The plush desert resort became known as the "Tiffany of the Strip," a metaphor first used by the "Saturday Evening Post" to describe the hotel's atmosphere of elegance. The Tropicana was the twelfth hotel/casino to open on the Strip.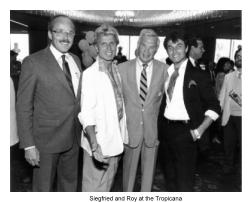 Currently the Tropicana features more than 1,800 garden and tower rooms and suites; six restaurants; a five-acre tropical garden oasis with three swimming pools and whirlpools; seasonal swim-up blackjack; a full service spa; more than 100,000 square feet of convention and exhibit space; and a tropical-themed island wedding chapel. The property is also home of the world-renowned showgirl extravaganza "Folies Bergere" acquired directly from Paris in 1959. "Folies" is the longest-running show in Las Vegas history. It shares the Tiffany Theatre stage with the afternoon production "Xtreme Magic Starring Dirk Arthur," The Comedy Stop has also been a long-time mainstay.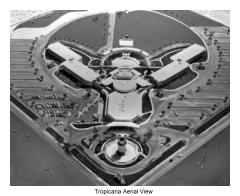 In January 2007, Wimar Tahoe Inc, doing business as Columbia Entertainment, acquired the Tropicana when it merged with and into the property's former owner Aztar Corporation for $2.1 billion.
The Wolfgang Puck Companies has implemented an animal-welfare program in its restaurants. The guidelines include the use of humanely raised animals and sustainable seafood. Foie gras has been removed from all the menus.
The Wolfgang Puck Fine Dining Group is proud to announce two nominations in this year's James Beard Foundation Awards, the culinary world's most prestigious honors. Managing Partner/Executive Corporate Chef Lee Hefter, who has worked alongside master chef Wolfgang Puck since 1993, has been nominated for "Outstanding Chef," and the Beverly Hills CUT, has been nominated for "Best New Restaurant."
Harrah's headliner and comedienne Rita Rudner originally wasn't supposed to have any performances in May, but she has added the following dates: May 1, 5, 8, 12, 14, 19, 22, 26 and 28, with all shows starting at 6 p.m. General reserved tickets are $54 and VIP tickets, which include preferential seating, a pre-show meet and greet, and autographed copy of her book or DVD, are $90.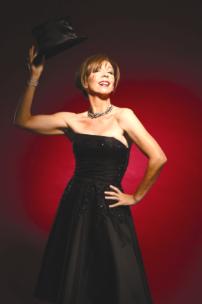 Blue Man Group is holding an open casting call for aspiring Blue Men at The Venetian's Blue Man Group Theatre on Tuesday, April 10 from 11 a.m. to 4 p.m. The Blue Man character is an egoless, genderless being, and both male and female performers may audition. Some specifications are height between 5'10" and 6'1" with an athletic build, solid drumming skills, acting skills, and a willingness to relocate. Approximately 70 Blue Man performers currently appear in shows and concerts around the world.
The company applies its unique creative process to a wide variety of projects, including the recording of three albums, the "How To Be A Megastar Tour 2.0" that is currently touring 105 U.S. cities, toy development, film and TV scoring, commercial campaigns, television programs and a children's museum exhibit.
Opportunity Village's Celebrity Poker Tournament, the friendliest poker tournament in town will return to Caesars Palace Poker Tournament Room on Saturday, May 12. Initial celebrity players scheduled to appear include Ronn Lucas, Earl Turner, Jose Canseco, Bobby Slayton, Robin Leach, Thunder from Down Under and Chippendales performers and poker pros Annie Duke and Oklahoma Johnny Hale.
Participants in this year's tournament will compete for a grand prize spot in the 2007 World Series of Poker, plus additional cash and prizes from M.J. Christensen Diamond Centers. Check-in will begin at noon for the No-Limit Texas Hold 'em tournament. A recommended contribution of $500 benefiting Opportunity Village gets players a seat in the tournament with second chance opportunities available through the sixth round. For those not wanting to play, $50 grants access to watch the tournament and attend a VIP reception at PURE Nightclub featuring live entertainment, a diamond fashion show, open bar and gourmet hor d'oeuvres. For those wanting to learn new tips and tricks, poker lessons from Professional Poker Player David Sklansky will be held from 12:15 to 12:45 p.m. For information, call 702.259.3741.
Made entirely from sugar, the hand-crafted brand new art pieces on display in the lobby of The Ritz-Carlton, Lake Las Vegas almost appear to be glass. Executive Pastry Chef Chris Hanmer designed and created two identical displays entitled, "An Unexpected Oasis" that are showcased in two separate wood and glass cases. Each highlights 45 orange and blue pieces created from 150 pounds of sugar. The entire project, which he began planning last October, took Chef Hanmer more than 100 hours to craft by hand, using food coloring for the orange and blue hues. Changing seasonally, the next "sweet" display will debut this summer.
Hanmer has nearly 15 years of experience in the culinary industry. He competed in the World Pastry Team Championship in 2004, which was televised on the Food Network. At age 26, he became the youngest American to win the championship.
Iconic alternative-rock crooner Morrissey will headline The Pearl at the Palms on June 9. Tickets are $60.
Morrissey was the lead singer of The Smiths, which was the best indie band in Britain in the '80s. By the time Morrissey broke away from The Smiths in 1988, he was well established as a solo artist and more popular in the U.S. than in his own country of Britain. Morrissey continues to bring fans heartfelt lyrics and charming melodies. His most recent album, "Are You The Quarry," was released in May 2004.
David Burke Modern American Cuisine has opened at The Venetian. Burke has been a James Beard Foundation nominee for Best Chef: New York City.
Bloc Party, formerly known as Angel Range and the Union, will perform at The Pearl Concert Theater at the Palms on June 13. The group is comprised of four talented musicians Kele Okereke singer/guitarist, Russell Lissack guitarist, Gordon Moakes bassist/singer and Matt Tong drummer. The band is known worldwide for their style of alternative indie music. Tickets are $30; call Ticketmaster 702-474-4000.
Bloc Party's debut album, "Silent Alarm," sold more than one million copies and was named Album of the Year in 2005 by British Music Weekly. The album remained on the UK charts for 69 weeks. A "Weekend in the City" is their album newly released this year.
The Verandah at the Four Seasons is offering its 5-2-7 happy hour from 5 to 7p.m. on Thursday, with free appetizers and $5 house wine and beer specials.
Tom Gullikson, a former Association of Tennis Professionals (ATP) player who captained the U.S. Davis Cup Team, coached Pete Sampras and beat Bjorn Borg and Jimmy Connors, and two-time Australian Open Champion Johan Kriek, will lead the court at the Las Vegas Tennis Fantasy 2 at the Las Vegas Hilton May 18-20. Participants in the three-day adult fantasy tennis camp will participate in a Friday night welcome reception with Gullikson and Kriek; enjoy a Barry Manilow show; and receive three-hour on-court instruction with demonstrations from the pros and lunch on Saturday and Sunday. For reservations, call 1-800-457-3307 and ask for "Tennis Fantasy 2."
Tennis great Andre Agassi has announced that he will have his memoirs published and cover his life on and off the courts.
The Great Art & Craft Festival will take place April 13-15 at Cashman Center downtown. There will be 300 exhibitors, entertainment and festive food.
Aristocrat Technologies Inc. is releasing its newest double standalone progressive title, the Australian adventure-themed Outback Jack™ featuring six bonus games.
The Ritz-Carlton, Lake Las Vegas is debuting three new summer season packages. For reservations, call 702-567-4700.
For Lake Mead boating and outdoor enthusiasts, there's the "Lake Lovers" package starting on April 16. Pricing begins at $169 per day. Package includes: accommodations, cooler maintenance with ice, a la carte selections, and storage, boat parking and Lake Mead entrance pass.
"The Choice is Yours" package starting on April 16 gives guests the flexibility to choose how they will spend their time at the resort. Pricing begins at $279 and includes: room, breakfast for two, and $100 resort credit that can be used throughout the hotel.
The Ritz-Carlton's signature package, "Reconnect" will be available May 29. Pricing begins at $209 and includes: room, $25 resort credit to be used at either the Poolside Café and Grill or any of the resort's retail boutiques, one in-room movie and breakfast for two.
CONTINUE ON TO...:
>THIS WEEK'S LAUGHLIN SEGMENT
>LAST WEEK'S LAS VEGAS SEGMENT
>VEGAS VIEW FULL ARCHIVES
>Return to "Heard Around Town"
>Return to Las Vegas Leisure Guide