DINNER IN THE SKY AERIAL DINING EXPERIENCE RETURNS!

A couple years ago Dinner in the Sky was around but couldn't seem to find a permanent location. Now Dinner in the Sky Las Vegas, an open-air gourmet dinner served 180 feet from the ground, will break ground on Monday, April 29 and open early this summer on an 8.8 acre site just minutes away from Las Vegas Boulevard near Polaris Street and Tropicana Avenue.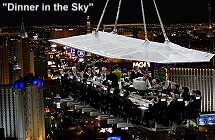 Diners will be strapped in by six-point harnesses for safety while enjoying dinner by Executive Chefs Ward Martin and Ivan Sanchez. There will be two tables accommodating 22 guests each. Packages will start at $290 for a three-course gourmet dinner with wine pairings for each course and a complimentary photo. Dinner in the Sky will offer eight nightly seatings.
The tables, measuring 29' x 18' and weighing seven tons when fully loaded, will be permanently attached to a 200-foot-high steel tower.
Dinner in the Sky will be available for all types of events and occasions that can accommodate up to 1,000 guests. The attraction will include a spacious reception area on the ground with an on-site bar and lounge.
Column Continues Below Advertisement
UNLVINO HOLDS FIRST CELEBRITY CHEF 'BAR-B-Q'
In its 39th year, UNLVino is expanding to four days of events and will introduce a mixology-focused "BAR-b-q" on Sunday, April 21 from 11 a.m. to 2 p.m. at the Keep Memory Alive Events Center in the Lou Ruvo Center downtown. The event will feature celebrity chefs Scott Conant, Angelo Sosa and Gustav Mauler; craft cocktails by Master Mixologist Francesco Lafranconi; and farm-to-table, gourmet fare from a collection of Las Vegas' favorite restaurants. Southern Wine & Spirits of Nevada has enlisted local farmers to provide the freshest spring produce for this high-end epicurean affair honoring MGM Grand President and COO Scott Sibella. Tickets are $100 in advance visit UNLVTickets.com and $125 at the door.
Other events from 7-10 p.m. will include "Bubble-Licious" at The Venetian on April 18; "Sake Fever" at The Mirage on April 19; and "Grand Tasting" at Paris on April 20. Tickets range from $100 and $125 to $150.
CHOCOLATE & SPICE BAKERY COOKING CLASSES
Megan Romano of Chocolate & Spice Bakery on West Sahara will present cooking classes featuring personal recipes and professional instruction, small bites, refreshments and a take home gift on April 25, May 30 and June 27. Classes are $75 and run from 6-7 p.m. on Thursday nights. For information, visit www.chocolatenspice.com or call 702-527-7772.
SHINE ALTERNATIVE FITNESS HOLDS 'GET FIT CHALLENGE'
The Cirque-inspired fitness studio, Shine Alternative Fitness and Marquee Dayclub at The Cosmopolitan will host a 12-week "Get Fit Challenge." The competition will take place from Friday, April 19 through Friday, July 26 and will feature 10 local men and women who will tone and tighten their entire frame through a variety of classes.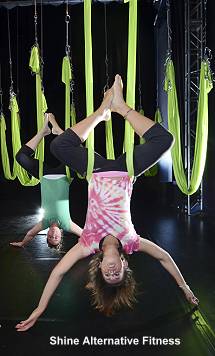 The event launch party, which also commemorates Shine being named one of the "Coolest Fitness Clubs in America" in the March issue of "Shape Magazine," will kick off at Marquee Dayclub on Friday, April 19. Alongside Shine's panelist of judges, partygoers will narrow 'Get Fit Challenge' hopefuls down to the final 10. Interested participants can pre-register with Lindsay Feldman, at Lindsay.Feldman @WickedCreative.com.
COMEDIAN CARLOS MENCIA RETURNS TO TREASURE ISLAND
Comedic superstar Carlos Mencia will perform at Treasure Island May 3 at 9 p.m. Mencia has released multiple CDs and DVDs featuring his stand-up performances. His acting credits include starring opposite Ben Stiller and Michelle Monaghan in 2007's "The Heartbreak Kid," and in 2010 he starred in "Our Family Wedding" with Forrest Whittaker and America Ferrara. Tickets start at $49.95.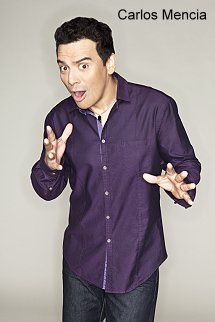 Mencia began his stand-up career performing at The Laugh Factory during amateur night and quickly rose to superstar status. "Buscando Estrellas," the Latino version of "Star Search," named Mencia "International Comedy Grand Champion," which opened the door to appearances on television shows including "In Living Color" and "An Evening at the Improv." In 2000, he released a comedy album called "Take a Joke, America" that showcased his brand of confrontational humor.
ROBERT DAVI OPENS FOR DON RICKLES AT ORLEANS
Award-winning film star and classically-trained singer, Robert Davi will perform his tribute to Frank Sinatra with a 35-minute set and 15-piece orchestra opening for Don Rickles on April 13 and April 14 at The Orleans. Most recently, Davi performed his "Davi Sings Sinatra: On the Road to Romance" at The Venetian and released his debut album of the same title in October 2011. Tickets range from $79.95 to $110.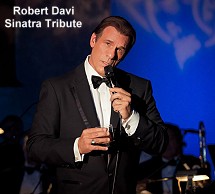 Davi has appeared in more than 100 films. A couple of his acting credits include his introduction to film in "Contract on Cherry Street" with Sinatra and playing a villain in the James Bond classic "License to Kill," and being in "Die Hard." Davi's next major motion picture, "The Iceman" is set to be releasee in May 2013 and also stars Chris Evans, Michael Shannon, Ray Liotta, Winona Ryder and David Schwimmer.
'CADDY' EXTRAVAGANZA RETURNS TO TOWN SQUARE
The 8th annual Las Vegas Cadillac Through the Years will return to Town Square on April 13 and 14. The "Caddy" experience will feature some spectacular one-of-a-kind models with exhibitors traveling as far as New Jersey to participate. Admirers can preview such classic vehicles as a 1940 Cadillac Series 75 Fleetwood built for esteemed Hollywood billionaire Howard Hughes and a 1903 Cadillac Runabout built in the first year of Cadillac production.

The event will include live entertainment, celebrity surprises, giveaways, food, a fair, vendors and a display of more than 100 classic Cadillac beauties. Attendees will have the chance at winning up to $25,000 in prizes and giveaways by purchasing "Fintastic Fortunes" fundraising raffle tickets for $2.50 each. This is a free family friendly event from 10 a.m.-8 p.m. on Saturday and 10 a.m.-5 p.m. on Sunday.
ROBBIE RIVERA BRINGS JUICY BEACH PARTIES TO HARD ROCK
The Hard Rock will launch a new residency and the first outside of Miami for Robbie Rivera and his Juicy Beach party on Saturday, April 20. Robbie and Monica Rivera will present their high-energy, 17-hour event on select dates at the Paradise Beach. The April 20 lineup will include Robbie Rivera, Stonebridge, Felix Cartal, Manuel De La Mare and Hot Mouth. Future dates include May 25, June 22, July 6 with more to be announced. Admission starts at $20 for women and $30 for men but is subject to change per event. For more information, visit www.robbierivera.com.
RIO HEADLINERS PENN AND TELLER RECEIVE HONORS IN LA
Penn & Teller were honored with the 2,494th star on the famed Hollywood Walk of Fame. It was unveiled at 7003 Hollywood Boulevard just steps away from the star of legendary Houdini. The Magic Castle, which is celebrating its 50th Anniversary this year, honored Penn & Teller the following day with the coveted "Magicians of the Year" Award.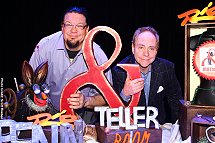 Penn & Teller have been headlining at the Rio for 12 years. Their acclaimed Showtime series, "Penn & Teller: BS!" was nominated for 13 Emmys and is the longest-running series in the history of the network. Their newest television venture, "Penn & Teller Tell A Lie" for the Discovery Channel premiered in October 2012. Penn is currently on the new season of NBC's "All-Star Celebrity Apprentice." In the UK, Penn & Teller have recently completed the first series of their return to British television, "Penn & Teller: Fool Us!"
TICKETS AVAILABLE FOR GOLDEN RAINBOW'S 'RIBBON OF LIFE'
Tickets for Golden Rainbow's 27th Annual "Ribbon of Life" fundraiser at The Smith Center on Sunday, June 30 at 1 p.m. are on sale. This year's theme, "Tributes," will feature a wide spectrum of tribute-themed performances from contemporary to classic, Broadway to film, pop to hip-hop, music videos, television and political comedy. Tickets range from $38 to $212.
GILLEY'S HOSTS 'THE VOICE' VIEWING PARTY FOR MICHAEL AUSTIN
Gilley's at Treasure Island will host a viewing party from 7-10 p.m. on April 8 for that night's episode of NBC's hit series "The Voice" that will feature local Michael Austin of the band Austin Law. As part of Gilley's Country Summer, Austin Law is scheduled to perform at 10 p.m. on May 17 and 18, and June 21 and 22.
TOP OF NEXT COLUMN
THREE-DAY FOODIE FEST RETURNS TO SILVERTON
The Las Vegas Foodie Fest, featuring more than 30 food trucks and vendors, will return to the Silverton April 26-28. Many trucks will be traveling from other parts of the country including The Lobster Lady from Maine, Super Q from San Diego and Tornado Potato from Los Angeles.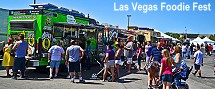 New this year, White Castle for the first-time ever in Las Vegas will be grilling. The three-day festival hours are Friday 4 p.m. to midnight, Saturday noon to midnight and Sunday noon to 10 p.m. Admission is $10 and includes access to all three days. The VIP area will include cocktails by Lee's Liquor and cooking demonstrations starting at $50 for the first 50 people.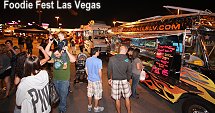 VILLAGE SQUARE HOLDS ARTS & EATS TO BENEFIT THREE SQUARE
Village Square will hold the first Arts & Eats 11 a.m. to 5 p.m. Saturday and Sunday, April 13 and 14 at the open-air retail and dining center located at 9400 W. Sahara Ave. and Ft. Apache Rd. The public is invited to enjoy live music and original art displays from featured contemporary artist Niki J Sands and 17 other exciting artists, free of charge.
The public can also partake in sampling and tasting award-winning cuisine and drinks from Village Square participating restaurants such as Bachi Burger and Cold Stone Creamery, as well as, Chinita Mexican Bar & Grill, 808 Tapas, Rocket Fizz, Tropical Smoothie, Chicago Brewing Company and Jollibee by purchasing a $20 restaurant passport. All proceeds from the eats passports will be donated to the Three Square Food Bank. For more information, visit http://govillagesquare.com.
BINION'S DOCU-SOAP 'CASINO CONFIDENTIAL' IS AIRING
The new Cineflix series "Casino Confidential" takes viewers behind the scenes at Binion's Gambling Hall downtown. In each of 10 episodes, viewers meet the people working day and night at the legendary casino. Two 30-minute episodes air back-to-back weekly and they started on Thursday, April 4.
INSERT COIN(S) DOWNTOWN CELEBRATES TWO-YEAR ANNIVERSARY
The interactive nightlife venue Insert Coin(s) downtown will celebrate two years of success on April 12. The barcade will host an anniversary celebration party featuring special guest NADASTROM, an electronic music icon, and resident DJs Dave Fogg, Phoreyz, Cutso, and Charlie Darker. To continue the festivities, Insert Coin(s) will present the GENERATIONS Video Game Tournament on April 13, where $3,500 in cash and prizes will be up for grabs. For information, visit www.insertcoinslv.com.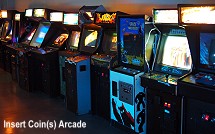 TREASURE ISLAND HOLDS CHAMPIONSHIP FIGHT
Undefeated lightweight Angelo "La Cobra" Santana from Miami, Fla., will face Carlos Cardenas from Barinas, Venezuela, for the World Boxing Association interim lightweight championship, and undefeated super lightweight prospect Amir "Young Master" Imam from Albany, N.Y., will meet Jeremy "Hollywood" Bryan from Paterson, N.J., in the co-feature on Friday, April 12 at Treasure Island.
The "ShoBox: The New Generation" doubleheader will be televised live on Showtime beginning at 10 p.m. ET/PT (delayed on the West Coast). Tickets are $100 each; call 866-712-9308.
MAD MUD RUN RETURNS TO LAS VEGAS
The Mad Mud Run and Mudpuppy Splash for kids will be held on Saturday, April 17 at the Knickerbocker Park located at 10695 W. Dorrell Lane. There will be four waves of adult racers in the 4.6-mile, timed Mad Mud Run race. Cost is $50 until April 13 and $60 thereafter until 10:15 a.m. on race day. The 100-meter Mudpuppy Splash is open to the first 200 4 to 12-year-olds who register. Cost is $15 per child. Costumes are encouraged with prizes awarded to those deemed most creative.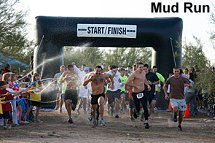 Entrants and attendees are encouraged to donate new and gently used books for Spread the Word Nevada. Also, volunteers are needed to douse participants with water in the course's Splash Zone.
FREE FINE ARTS COMPETITION FOR RESIDENTS AGE 50-PLUS
Each year the Las Vegas Arts Commission and the city of Las Vegas sponsor the "Celebrating Life!" fine arts competition to recognize the talents of local and regional artists age 50 or better who are invited to enter their original works for free in the 13th annual juried event. A public reception and awards ceremony will be held on Friday, May 24 from 6 to 7:30 p.m. at the Charleston Heights Arts Center and the exhibition will be displayed there May 24-July 13. Award-winning pieces from "Celebrating Life!" will travel to the City Hall Chamber Gallery for display July 25-Sept. 5. For information, call 702-229-4631.
NEWS ON THE FRONT LINE
Legendary rapper and Grammy Award-nominee Vanilla Ice well known for his popular singles "Play That Funky Music" and "Ice Ice Baby" will hit the main stage at LAX Nightclub inside the Luxor on Saturday, April 13.
The country's budget cuts spell the cancellation of Nevada's largest free public event. Aviation Nation air show at Nellis Air Force Base will not happen this November. This notice came after the Thunderbirds season was cancelled.
The father and two-son band, The Bronx Wanderers, will perform at the South Point on April 13 and 14 with the best two hours of '50s, '60s and '70s music at the South Point on April 13 and April 14. Tickets are $35 - $45.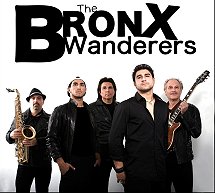 Everclear, an American rock band formed in Portland, Ore., in 1992 is best known for their radio hits spanning more than a decade. They will play at the Cannery on April 13. Tickets are $29.95.
Reba McEntire played by Ryan Zink joins Frank Marino's "Divas Las Vegas" cast at The Quad. Performing McEntire's smash hit, "Fancy," Zink will be joined on stage by Kenneth Blake as Dolly Parton, Andrew Ryan as Shania Twain and some dancers.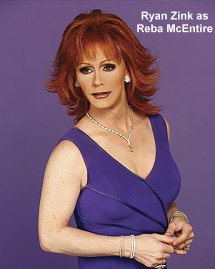 Tax payers can enjoy a "tax break" at PBR Rock Bar & Grill inside Miracle Mile Shops with an open bar special from 9 p.m. to 1 a.m. on Monday, April 15. Cost is $10 for ladies and $20 for gentlemen. Patrons can also challenge the bartenders for the chance to win 50 percent off drinks during Rock, Paper, Scissors Monday.
The Speakeasy Swingers will be performing at Sailor Jerry's Swing Night at the House of Blues on Tuesday, April 16 from 9 p.m.-midnight and there's no cover or minimum. They will also appear as at e-String, 2031 W. Sunset Road, Sunday, April 21 for an ECE Hall of Fame luncheon at noon.
"The Sammy Davis Jr. Story" starring Lambus Dean with a cast of singers and dancers and a live piece Jazz ensemble will be performed at 8 p.m. on April 19 and 20 and also at 4 p.m. on April 20 at the Family Music Center located at 8125 W. Sahara Ave. Tickets are $20 and $25, call 702-742-6109.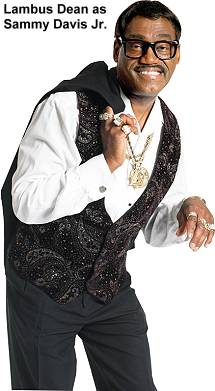 RagTag Entertainment will present the musical classic "Pippin" at Shane O'Neal Studios, 4970 Arville St. Suite 101, on April 14 and 15 at 8 p.m. Tickets are $15 and a portion of the proceeds will benefit Golden Rainbow.
LOUNGE AT THE PALMS OFFERS AFFORDABLE ENTERTAINMENT
The Lounge inside the Palms continues to offers varied acts. Coming up are two free shows. On April 12 and 13, the Los Angeles acoustic duo Crimson Crowbar will entertain at 10 p.m. and front man Peter Monroy will play on April 20 at 10:30 p.m. On April 26 at 9 p.m., rock and rhythm duo IAMDYNAMITE featuring vocalists Christopher Martin on guitar and Chris Phillips on drums will perform and tickets are $10. The duo's debut full-length album "SuperMegaFantastic" was released in September 2011.
YALE ART PROFESSOR SPEAKS AT ADELSON THEATER IN SUMMERLIN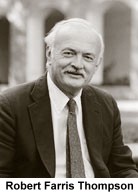 The Yale Club of Nevada Faculty Series will feature Robert Farris Thompson, Colonel John Trumbull Professor of Art at Yale University on Sunday, April 13 at 5 p.m. in The Adelson Theater located at 9700 W. Hillpointe Road in Summerlin. He will be presenting "Aesthetic of the Cool: Afro-Atlantic Art & Music" with video, music and slides supplementing his talk. Professor Thompson will be signing copies of his book. Lecture is free with a $10 voluntary contribution at the door.
Column Continues Below Advertisement
CONTINUE ON TO...:

THIS WEEK'S >LAUGHLIN NEWS
LAST WEEK'S >LAS VEGAS NEWS
>VEGAS VIEW FULL NEWS ARCHIVES
Return to >"Heard Around Town"
Return to >Las Vegas Leisure Guide