LAS VEGAS FOODIE FEST RETURNS TO THE STRIP!

MGM Resorts International and PepsiCo will present Las Vegas Foodie Fest, a Red Dragon event April 24-27 at the lot across from Luxor on the Strip. Foodies will enjoy the fun from 4 p.m. to midnight Thursday and Friday, noon to midnight on Saturday, and noon to 10 p.m. on Sunday.

Returning to Vegas for the fifth time in three years, Las Vegas Foodie Fest will feature more than 50 of the nation's top food trucks and vendors highlighted by White Castle, along with a number of celebrity trucks from The Food Network, History Channel, Cooking Channel and Travel Channel. MGM Resorts will feature some of its top chefs and restaurants. PepsiCo, maker of brands such as Pepsi, Mountain Dew, Lay's and Doritos, will offer samples of a variety of its popular food and beverage products.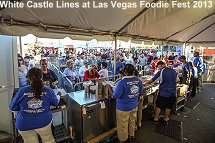 Participating food trucks include local favorites such as Fukuburger, Sin City Dogs, Dragon Grille and Wa Da Pho; national trucks including White Rabbit and Bacon Mania from California and Lobster Lady from Maine; and more than 15 new trucks and vendors making their Las Vegas Foodie Fest debut.
General admission is $10 the week of the event or $8 in advance or for veterans or seniors at www.lasvegasfoodiefest.com. All tickets include unlimited re-entry for the four-day event. Individual food and drink items are for purchase. The festival will feature a live performance by Jabbawockeez and have carnival rides, games, eating competitions and a silent auction.
Column Continues Below Advertisement
MICHAEL MINA TO DEBUT NEW CONCEPT BARDOT BRASSERIE AT ARIA
James Beard award-winning chef Michael Mina will unveil BARDOT Brasserie at ARIA next winter in the space currently occupied by AMERICAN FISH that will close in July. Offering lunch and dinner, the menu will pay homage to the café culture of Paris and will be a reflection of traditional brasserie fare and feature a roving shellfish cart. The cocktail program will tip its hat to the eclectic bars throughout the Parisian districts.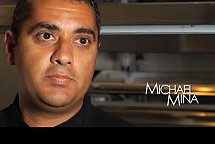 BARDOT Brasserie will be designed by Bishop Pass to convey the mood of early French film noirs where low lighting and dramatic shadows set the stage for an alluring and mysterious experience. An open kitchen will be set behind a Parisian storefront, while the centerpiece of the restaurant will be a 360-degree accessible bar with counter-to-ceiling brass shelving.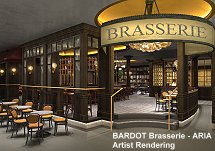 YUSHO WILL OPEN AT MONTE CARLO
Yusho, the Japanese-inspired grill and noodle house by renowned Chicago Chef Matthias Merges will make its Las Vegas debut at Monte Carlo this month. The approachable menu will include varieties of fresh seafood, poultry, meats and vegetables, cooked-to-order over a chattering fire, along with house-made pickled vegetables, noodles and steamed buns. The new restaurant is part of a major transformation creating a new plaza featuring a variety of casual restaurants, bars and eateries all opening this spring.
HECHO EN VEGAS OPENS AT MGM GRAND
Hecho en Vegas at MGM Grand celebrated its grand opening in the space formerly occupied by Diego with a lively Mexican fiesta. The restaurant was created from a partnership between MGM Grand and the Flores family that are restaurateurs known for their iconic Arizona outposts El Charro Café and Sir Veza's. Hecho en Vegas promotes the Sonoran-style cooking of Northern Mexico. The new eatery's Monday-Friday killer Happy Hour is from 5-7 p.m. with $5 margarita and half-price appetizers.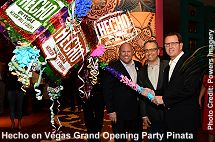 1923 BOURBON & BURLESQUE OPENS AT MANDALAY BAY
1923 Bourbon & Burlesque by Holly Madison will premiere at Mandalay Bay April 17. The new social lounge will transport guests to an exclusive speakeasy featuring a sensual burlesque revue, along with 1923's custom barrel-aged whiskey and premium cigars. The venue is where Ivan Kane's Forty Deuce used to be. The 1923 partnership is among Madison, Mandalay Bay and Robert Habes' Fat Hat LLC, which operates a pair of Minus 5 Ice Bars in Las Vegas. Madison will be presenting a burlesque revue "Bourbon Burlesque" with a set of dancers and a four-piece band.
HARD ROCK CAFE SPOTLIGHTS NEW COMPANY-WIDE MENU
The Hard Rock Café has rolled out a newly redesigned menu after more than 14 months of culinary development, intensive research and guest evaluation. The new offerings and updated fan favorites are now available at both Las Vegas locations.
The brand surveyed more than 3,000 guests in cafes across four continents and 14 cities to collect feedback on more than 100 items from its existing and redesigned test menus. The process resulted in the addition of 30 new items and the modification of 28 existing menu items. Every garnish and ingredient was put under scrutiny and more than 27 types of buns were sampled. Plates, glasses and serving dishes were updated.
THE LAS VEGAS HIGH ROLLER IS CIRCLING NOW
The Las Vegas High Roller, the world's tallest observation wheel, officially opened March 31 at The LINQ. People are curious about pricing: day ticket 10 a.m.-6 p.m. $24.95; night ticket 6 p.m.-2 a.m. $34.95; express pass anytime $59.95; one-day flex pass $44.95; and three-day flex pass (one ride in three-day window) $54.95. Each of the 28 capsules can accommodate 40 people for a 30-minute ride. Drinks can be purchased at the Wheelhead to take in the capsule.
ROCK IN RIO BRINGS LEGENDARY MUSIC FESTIVAL TO VEGAS IN 2015
The first stateside edition of Rock in Rio, the legendary music festival, will be held in Las Vegas May 2015 with support from iHeartRadio. Founded by Brazilian entrepreneur Roberto Medina, Rock in Rio has redefined the modern music festival experience with its immersive combination of the biggest names in music and a massive entertainment attraction. Since its inception in 1985, 13 Rock in Rio festivals have taken place across three countries with more than 7 million people attending and 1 billion more watching at home around the world.
GREATEST GENERATION HONORED AT FREE HENDERSON EVENT
"The Spirit of 45" is a nationwide, nonprofit initiative to honor the achievements of America's Greatest Generation and their sacrifices and to collect family and military photographs as well as personal stories of the day World War II ended. On Wednesday, April 16, "The Spirit of 45" will honor the Greatest Generation at the Henderson Pavilion from noon-4 p.m. with live entertainment, vendor booths, awards, etc. A free show at 2 p.m. hosted by Mark OToole will feature Lou Gazzara, Dangerous Curves, Corrie Sachs, Denise Clemente, Gary Anthony and Genevieve. Marty Allen is the Grand Marshall.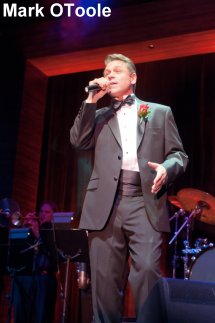 SUPPORT MOB MUSEUM BY PURCHASING BENCH NAMING RIGHTS
Members of the public are invited to support The Mob Museum downtown by purchasing naming rights for benches in the historic meticulously restored courtroom. The benches occupy the museum's courtroom where one of the famous "Kefauver Committee" hearings investigating organized crime in the 1950s was held. The cost of naming a bench is $2,000 for one year, $5,000 for three years and $15,000 for permanent recognition. All sponsored courtroom benches will have purchaser's name prominently displayed on the bench, enjoy premiere designated parking, and receive seating for four at purchaser's choice of museum programming events. To name a bench, contact Kimberly Kindig at kkindig@themobmuseum.org or 702-724-8614.
MEN'S 'JUBILEE!' COSTUMES ON DISPLAY AT NEVADA STATE MUSEUM
Showboys: Men's Costumes of "Jubilee!" is a new small display at the Nevada State Museum showcasing the original showboy costumes from act five of the show's opening night in 1981. Created for the Titanic production number, these garments are inspired by early 20th century American men's fashion but in bright colors. This is the first time these retired costumes have been on display since leaving the stage in 1999 and 2000.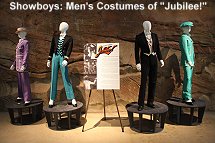 As "Jubilee!" was in rehearsals and just two weeks shy of its premiere at the MGM Grand in late 1980, a fatal fire swept through the Strip property destroying the majority of the show's stage props, sets and costumes. The show's famous producer, Donn Arden, regrouped and reconstructed the show in time to open the following July.
JIM JEFFERIES WILL MAKE TOUR STOP AT THE JOINT AT HARD ROCK
Actor, writer, producer and comedian Jim Jefferies will stop at The Joint at Hard Rock Hotel on Saturday, May 31 during his new 31-city live "Day Streaming" tour. This is Jefferies first full North American tour.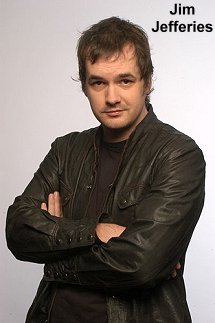 Jefferies got his comedy footing while performing stand-up in Britain. He is the creator and star of "Legit," an edgy, controversial original comedy series, which returned to FXX for a second season in January. In "Legit," Jefferies portrays a heightened version of himself as a comedian from Australia who realizes there's more to life and his career than the stand-up comedy lifestyle. Tickets start at $42.50.
TOP OF NEXT COLUMN
JAMBA JUICE LOCATION OPENS WITH WORLD'S FIRST DRIVE-THRU
Jamba Juice Las Vegas will celebrate the grand opening of its 10th location in the Las Vegas Valley on Saturday, April 12 featuring a special meet-and-greet with five-time World Champion and UFC Hall of Fame member Randy Couture. The public is invited from 11 a.m. to 1 p.m. and Jamba Juice Las Vegas will donate 20 percent of net sales at the new location, which is at 6925 S. Rainbow Boulevard and offers the company's first convenient drive-thru window.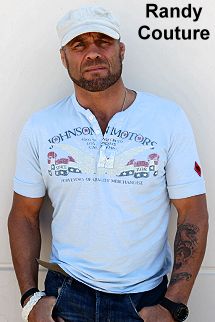 HARD ROCK EXTENDS REHAB TO TWO DAYS A WEEK
After an unparalleled 10th anniversary season, Hard Rock Hotel is inviting revelers to indulge in a double-dose of REHAB by extending the debauchery to two days, adding Saturdays to its signature Sunday events. Revelry will begin Saturday, April 12 with music sensation Robin Thicke and Sunday, April 13 with award-winning artist Flo Rida.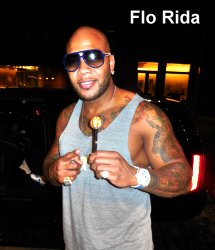 INTERNATIONAL HAIR STYLIST CLAUDE BARUK OPENS SALON AT ENCORE
Claude Baruk, a leading colorist and trendsetter in France, launched his first North American salon at Wynn/Encore blending his signature hair spa services with an artistic precision resulting in runway-worthy styles. The salon also features 12 hairstyling stations, eight pedicure thrones, eight manicure tables, and two makeup stations.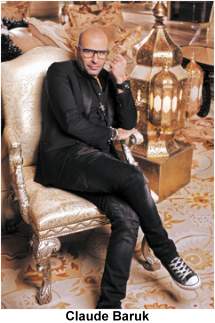 SIGN UP TO VOLUNTEER AT SHRINERS HOSPITALS FOR CHILDREN OPEN
Registration is open to volunteer for the 2014 Shriners Hospitals for Children Open at TPC Summerlin, Oct. 13-19, which allows golf fans to go inside the ropes of a PGA TOUR FedExCup event. Volunteer opportunities include admissions, standard bearers, caddie services, walking scorers and more.
Interested participants can register for $60 until Monday, June 30 when fees will increase by $5. With the fee, volunteers receive an invitation to the Volunteer Appreciation Party, a week-long tournament access badge, a commemorative gift, meals during their shifts and a uniform including a tournament golf shirt, jacket and hat. Organizations and companies are encouraged to volunteer together with the Team Volunteer Program. Volunteers can register online at http://events.trustevent.com/index.cfm?eid=1549 or email dmillwood@shrinershospitalsopen.com.
AIA HOLDS 'CANSTRUCTION' EVENT
Students from UNLV School of Architecture have organized this year's CANstruction event in Centennial Plaza behind the Historic Fifth Street School, with teams of architects, engineers, consultants and students constructing structures made entirely from canned goods. The structures will be on display April 17-19. At the end of the event, all food is donated to Three Square Food Bank.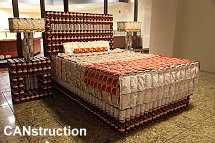 FIRST SMOKIN' NOTES JAZZ AND BARBECUE FESTIVAL PLANNED
The first Smokin' Notes jazz and barbecue festival presented by KXPT-97.1 FM The Point will be held Saturday, April 19 from 11 a.m. to 3 p.m. at Knickerbocker Park, located in the Providence Master Planned Community, which is among the top 10 best-selling master planned communities in the country. Local jazz band The Tommy Thompson Project will perform at the free family-friendly event that will include a Safety Fair, barbecue sauce-making competition, and children's activity area. Attendees are invited to bring blankets, picnic baskets and well-behaved, leashed dogs.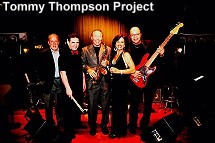 LUXOR TITANIC EXHIBIT COMMEMORATES SHIP'S 102ND ANNIVERSARY
April 10-15, Premier Exhibitions Inc. will commemorate the 102nd anniversary of the R.M.S. Titanic's maiden voyage. Throughout the week, guests who visit Titanic: The Artifact Exhibition at the Luxor will receive a special scratch-off boarding pass to win Titanic-themed prizes including a golden ticket grand prize trip to visit the exhibition in one of the two partnering cities. During the week, enthusiasts can participate online to win a grand prize trip by visiting http://www.premierexhibitions.com/titanic.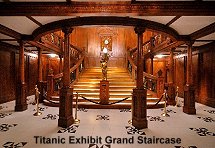 AWARDS AND RECOGNITION
Flipkey.com, the vacation rental company of leading travel site TripAdvisor, named the Neon Museum one of the "Top 50 Museums Worth Traveling For." FlipKey.com compiled the list by assembling the 50 most loved and talked-about museums in each U.S. state as determined by industry research and traveler feedback; the Neon Museum represents Nevada on the list.
MGM Resorts International received the Extraordinary Employer Support award for sustaining support of military service members. It is Nevada's highest military honor awarded by the Department of Defense. MGM Resorts has several programs that target veterans or members of the Guard and Reserves including: Boots to Business in partnership with the American Red Cross started in 2012; an employee Veterans Network Group; and paying the salary and benefits of employees who are deployed.
ABOUT TOWN NEWS CLIPS
Carlo's Bakery, the setting of TLC's hit reality show "Cake Boss," has opened its first store west of the Mississippi River adjacent to Buddy Valastro's restaurant, Buddy V's, in the Grand Canal Shoppes at The Venetian.
The Chinese-produced show "PANDA!" has been extended at The Palazzo through July 2014. The show is produced by a team whose credits include the opening and closing ceremonies of the 2008 Summer Olympics in Beijing.
Award-winning chef and restaurateur Wolfgang Puck will sign copies of his new cookbook, "Wolfgang Puck Makes It Healthy: Light, Delicious Recipes and Easy Exercises for a Better Life," with more than 100 health-conscious recipes on Wednesday, April 9 from 2-4 p.m., in front of Spago at The Forum Shops at Caesars.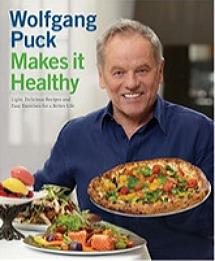 The spring display at Bellagio's Conservatory & Botanical Gardens runs through May 11 featuring more than 8,200 flowers and floral creations.
The 29th Annual Boulder City Outdoor Spring Art Show on April 12 and 13 will present fine art by approximately 100 artists from seven Western States at Bicentennial Park. There will be food, live music and fine art with free admission and drawings from 10 a.m. - 5 p.m. both days.
Each year the Advertising Community Talent Show brings together members of the Southern Nevada advertising community to showcase a diverse range of creative talents with 100 percent of the proceeds benefiting Safe Nest. The show date this year will be Saturday, Aug. 2 at 7 p.m. in the Chrome Showroom at the Santa Fe. Tickets will be $25.
Las Vegas has been named the No. 1 trade show destination for the 20th consecutive year, according to the Trade Show News Network's (TSNN) "2013 TSNN Top 250 Trade Shows in the United States" list. Las Vegas hosted 53 of the largest shows. Another snapshot, Las Vegas had more than 22,000 meeting in 2013 hosting 5.1 million delegate.
National Travel and Tourism Week is May 3-11 this year. On Travel Rally Day, Tuesday, May 6 at 3:45 p.m. there will be a Tourism Rally at The Mob Museum and will conclude with a tourism celebration on 3rd Street. Everyone is encouraged to wear "blue."
PT's Entertainment Group, operators of PT's and Sierra Gold taverns, opened its newest location at 9435 W. Tropicana Avenue at Fort Apache Road. This newly renovated space occupies the former Foothills Lodge and marks the 43rd tavern in the PT's Entertainment Group in southern Nevada.
FUNDRAISERS
South Point hosts Strikes For Kids' "Las Vegas All-Star Bowling Classic," Nevada's first celebrity bowling showdown, to benefit Make-A-Wish Foundation of Southern Nevada on Saturday, April 12 at 7 p.m. In attendance will be Oakland Raiders-James Jones; Denver Broncos-Julius Thoma, Matt Prater and Duke Ihenacho; Detroit Lions-Ziggy Ansah; Kansas City Chiefs-Chris Owens; Washington Redskins-Phillip Thomas; and Carolina Panthers-Kenjon Barner. To register, visit www.lasvegasallstarclassic.com.
The 6th Annual We ♥ Maggie Golf Tournament will be held on Saturday, May 24 at 1:30 p.m. at Rio Secco Golf Club and benefit nonprofit Children's Heart Foundation (CHF), a Nevada based nonprofit, that offers support to children living in Nevada with heart conditions. People can even register as a Virtual Golfer for just $5. Registration is available at www.weheartmaggie.com.
Column Continues Below Advertisement
CONTINUE ON TO...:
THIS WEEK'S >LAUGHLIN NEWS
LAST WEEK'S >LAS VEGAS NEWS
>VEGAS VIEW FULL NEWS ARCHIVES
Return to >"Heard Around Town"
Return to >Las Vegas Leisure Guide