JOHN FOGERTY STARS IN SPECIAL TOWN CONCERT
The Laughlin Tourism Commission is hosting a concert starring John Fogerty on Saturday, April 17 at 8 p.m. in the Laughlin Events Park. Tickets range from $25 to $55, call 800-308-2253.
John Fogerty was honored as a composer, with the 1997 Lifetime Achievement Award from the National Association of Songwriters, and as an instrumentalist, with the Orville Gibson Lifetime Achievement Award. He also received a star on the Hollywood Walk of Fame and has been inducted into both the Rock and Roll and Songwriters Halls of Fame.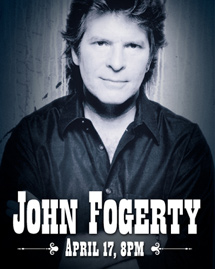 APRIL IS TIME FOR THE ANNUAL TOWN-WIDE LAUGHLIN RIVER RUN
More than 50,000 motorcycle enthusiasts will roar into town for the 28th anniversary of the Laughlin River Run. The five-day event is the largest motorcycle-oriented event on the West Coast. Activities include stunt shows; the Harley-Davidson lifestyle tradeshow; traveling museum; the "River Run" to Oatman, Ariz., on historic Route 66; custom bike shows; the Ms. River Run Contest; and a poker run. Motorcycle dealers, parts, clothing, accessories and craft vendors; exhibits; prize drawings and top-name live entertainment are scheduled for this town-wide event. See LaughlinRiverRun.com for more information.
The free "River Run Party" in the Pioneer Parking Lot, April 21-24, will feature live music, sideshow acts of Ses Carny and Professor Chumley, plus food and drink booths throughout each day.
The Avi will hold its free "Thunder on the River" in the South Parking Lot and Convention Center, April 22-25, and provide a bikers market, bike drags, a poker run, food and beverages, and music throughout each day and night. On April 23 and 24 at 6:30, there will be a free concert by The Iron Maidens in the Convention Center.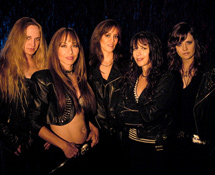 The Colorado Belle will hold "River Run Blues/Brews," April 21-24, in the Center Circle Outdoor Event Area. This event is a combination of blues music, brews and food. The free midday to late night event will feature music by Michael Burks, John Earl's Boogieman Band, and others.
Food and drinks are sold separately at events.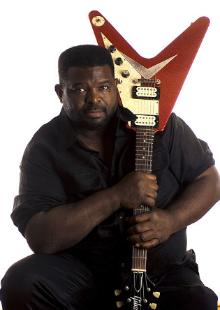 QUICK CLIPS
The "Gambler Classic River Run" annual car show will take over the North Parking Lot at the Tropicana Express, April 8-10. The event will feature classic Chevys, Corvettes and trucks, Show 'n' Shine, sock-hop, raffles, and more each day. It's free to view the cars. For complete info and to register an entry, visit www.gamblerclassicriverrun.com.
The top 40 bull riders in the PRCA will be in Laughlin, April 10-11, to compete for a $60,000 purse in the "Laughlin Xtreme Bulls" event taking place in the Laughlin Events Park. Tickets are $10, $25 and $35.
TOP OF NEXT COLUMN
MORE QUICK CLIPS
Harrah's will be picking up the country theme with The Country Rat Pack starring Tracy Byrd, Tracy Lawrence and Richie McDonald formerly of Lonestar, performing on April 10 at The Rio Vista Outdoor Amphitheater.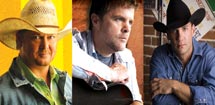 Sha Na Na will bring rock nostalgia to the Riverside Resort, April 13-18. Through it all – flower power, hard rock, metal music, disco, hip hop, rap and more – Sha Na Na has remained true to its original concept: rock 'n' roll is here to stay! Tickets are $30, call 800-227-3849, ext 616.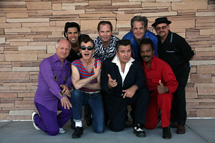 The Pioneer will host a lecture/demonstration "The History of the Sideshow" on Tuesday, April 20, in Granny's restaurant. Ses Carny and Professor Chumley will cover the history of the American sideshow at 5:30 p.m. Tickets are $8 and available in the Pioneer Gift Shop.
Leading up to the Laughlin River Run, the Avi will hold "Hotrods and Harleys Spring Run" on the lawn area near the Lagoon Pool, April 15-18. The River Cruizers Car Club will sponsor a Show 'n' Shine, music by DoubleXXCross on Friday and Saturday, food, contests, and more. Hours are 9 a.m.-dusk, Thursday-Saturday, and 8 a.m.-noon on Sunday with awards that morning. The event is free and it's $40 to enter a vehicle; see rivercruizers.com for details. Phins to the West, the annual gathering of Parrothead Clubs and Jimmy Buffett fans enjoying music, food, partying and more, will take place at the Avi Lagoon Pool and Convention Center, April 30-May 2. Events will be held daily Friday-Sunday. For details and registration, visit www.phinstothewest.com.
"Wings and Things" will be held on the Riverwalk between the Colorado Belle the Edgewater resorts on April 16 and 17. The afternoon and evening event will have music, food with chicken wings being the featured food, and carnival games. Admission is free and food and drinks are sold separately.
The Edgewater is continuing with ongoing "Comedy on the Edge" every Friday, Saturday and Sunday at 7 p.m. Tickets are $10. Upcoming acts are: April 9-11—Darryl Rhoades and Laurie McDermott; April 16-18—Dean Austin and Jayson Cross; April 23-25—Mike Marino and Cliff Yates; and April 30-May 2—Clinton Jackson and Mary Kennedy.
DAVID ALLAN COE ENTERTAINS AT THE TROPICANA EXPRESS
David Allan Coe known as an "Outlaw-style" country and western artist will headline at the Pavilion Theater at the Tropicana Express, April 22-23. Many of his songs have humorous topic with lyrics about himself in association with other famous country "Outlaws." Tickets are $25, $35 and $45, call 800-243-6846.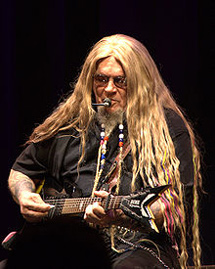 During the 1980s, Coe enjoyed a resurgence in mainstream popularity, twice hitting the top 10 on the Billboard Hot Country Singles chart with "The Ride" (1983) and "Mona Lisa Lost Her Smile" (1984). Coe's long career has included 26 LPs, with 1987's "Matter of Life... and Death" being one of the most successful and critically acclaimed.





CONTINUE ON TO...:
>THIS WEEK'S LAS VEGAS NEWS
>LAST WEEK'S LAUGHLIN NEWS
>VEGAS VIEW FULL ARCHIVES
>Return to "Heard Around Town"
>Return to Las Vegas Leisure Guide