MULTI-YEAR DEAL FOR GORDIE BROWN AT GOLDEN NUGGET
Golden Nugget headliner Gordie Brown, who has been there since Feb. 5, 2009, and the resort have reached an agreement to extend "Gordie Brown Live" for a multi-year deal. Backed by his sizzling five-piece band, "Gordie Brown Live" is a fun scenario of comedy, music, impressions and parody.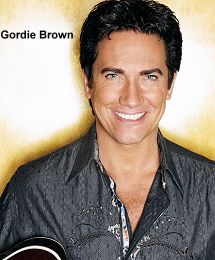 Column Continues Below Advertisement
CHINESE MAGICIAN LIU CHIEN DEBUTS AT WYNN
Award-winning Chinese magician Liu Chien will bring his "Liu Chien Magic Show 2011 — Witness Of Miracles" to the Encore Theater on April 30 and May 1 at 7:30 p.m. The show performed in Chinese features illusions and audience interaction. Tickets are $68, $108 and $188, call 702-770-7100.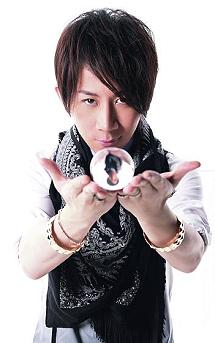 Chien has gained the most international awards in Chinese history, including at the Merlin Award - the Magician of the Decade from the International Magicians' Society.
GOLDEN RAINBOW'S 25TH ANNIVERSARY SHOW WILL BE AT PARIS
Golden Rainbow, a local HIV/AIDS nonprofit, will host its 25th annual fundraising "Ribbon of Life" production in the Paris Théâtre inside Paris on Sunday, June 26 at 1 p.m. Tickets for the 25th anniversary show will be $35, $50, $100 and $200 and available in the coming weeks.
"Ribbon of Life" is Golden Rainbow's main revenue source. The show is an original production featuring singers, dancers and performers from premiere shows on the Las Vegas Strip. The show when it was presented for the first time was called "Golden Rainbow" and led to the creation of the nonprofit organization.
PALMS HOSTS DIGITOUR 2011 FEATURING YOUTUBE SENSATIONS
Digitour 2011 is set to take over The Lounge inside the Palms at midnight on Friday, April 15 with headliner Dave Day and a lineup of top YouTube sensations. Other artists include: Autotune the News- most noted for their Billboard Hot 100 hit "The Bed Intruder Song" featuring Antoine Dodson; David Choi with more than 90 million views and TV placements on NBC, FOX, VH1, MTV, A&E and Disney Channel; Destrom with more than 645k subscribed fans, he is the No. 1 rapper on YouTube; Mystery Guitar Man who has nearly 2 million subscribed fans and has campaigns with Coca-Cola, McDonald's and Ford; and Ricky Ficarelli who was recently featured in Justin Bieber 3D and Tiger Beat magazine. Tickets are $14, call 702-944-3200.
WYNN OFFERS VEGAS COOKING AND TASTING EVENT
On May 7, Wynn Las Vegas will host Viva Las Vegan: a vegan cooking and tasting event as part of Vegas Uncork'd by "Bon Appétit" magazine. The event will be co-hosted by Tal Ronnen, a vegan culinary pioneer and "New York Times" best-selling author of "The Conscious Cook: Delicious Meatless Recipes That Will Change the Way You Eat" (William Morrow, 2009), and the award-winning Wynn Las Vegas and Encore chefs.
The event begins at noon and will take place in Encore's Beethoven suite, where guests can sample a selection of vegan creations. Tickets: $125, visit www.VegasUncorked.com.
In 2010, Wynn Las Vegas and Encore became the first resorts on the Las Vegas Strip to offer an extensive vegan culinary program.
AZURE LUXURY POOL AT THE PALAZZO OPENS
"The Real Housewives of Beverly Hills" Kyle and Kim Richards will host the grand opening of Azure Luxury Pool™ at The Palazzo on Saturday, April 9. The sisters will celebrate the start of another chic pool season with fashion shows from Spiegel.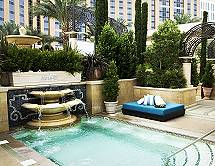 PLAYBOY COMEDY AT PALMS FEATURES CELEB COMEDIANS
Playboy Comedy hosted by Cort McCown and Paul Hughes in The Lounge at the Palms has the following lineup of comedians: Nick DiPaolo April 7-9; Brad Williams April 14-16; Jimmy Shubert April 21-13; and Rich Vos April 28-30. Tickets start at $39.99, call 702-944-3200.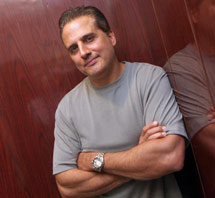 Nick Di Paolo was twice nominated for an Emmy for his writing on "The Chris Rock Show" and has also had three half-hour stand-up specials of his own on Comedy Central. Di Paolo had guest starring roles on "Lucky Louie" and "The Sopranos" as well as films including Artie Lange's "Beer League." He is a favorite on both Howard Stern and Opie and Anthony and hosted his own show on New York's 92.3 Free FM.
'MATSURI' CELEBRATES 500 SHOWS ON THE STRIP
"Matsuri" will mark its 500th performance at the Imperial Palace, where it opened on July 31, 2009, on Tuesday, April 5 at 4 p.m. at Imperial Palace. The production comprised of 15 Japanese nationals, features traditional and contemporary Japanese culture through acrobatics, gymnastics, dance, and comedy. In celebration of this milestone, "Matsuri" is offering free tickets to this show to the first 500 locals who pick up tickets at the Imperial Palace box office.
PAULA POUNDSTONE BRINGS HER WIT TO SUNCOAST
Following a successful weekend at The Orleans Showroom in January, comedienne, writer, actress and author Paula Poundstone will bring her stand up act, along with audience interaction, to the Suncoast Showroom, April 23 and 24. Tickets start from $15.95, call 702-636-7075.
Poundstone began nurturing her stand-up comedy talent in 1979 as part of the Boston comedy scene. By 1990, she had moved to Los Angeles and starred in multiple HBO comedy specials, appeared on "Saturday Night Live." She wrote the back page column in "Mother Jones" and authored multiple books including "There's Nothing In This Book That I Meant To Say," and three math text books for children, co-authored with her high school math teacher. In 2009, she released her first comedy CD "I HEART JOKES: Paula Tells Them In Main."
HENDERSON UNVEILS PAVILION SPRING SCHEDULE
The City of Henderson has announced the spring 2011 performance schedule at the Henderson Pavilion. The concerts and events span a variety of music genres and they are either complimentary or $10, call 702-267-4TIX (4849). For information, visit HendersonLive.com.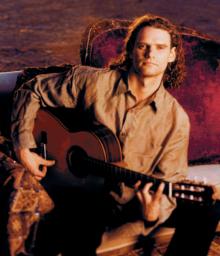 Leading off the schedule is platinum-selling, award-winning flamenco guitarist Jesse Cook on April 28, with Sugar Ray, the multi-platinum rock band from Orange County, Calif., led by front runner and current contestant on "Celebrity Apprentice," Mark McGrath on April 29.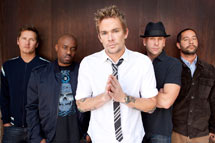 Some of the future acts will include: a stage production of "The Wizard of Oz" in May; the Henderson Symphony Orchestra on May 20; a live orchestral screening of Charlie Chaplin's "City Lights" on June 3; and the Las Vegas classic rock cover band, Yellow Brick Road, partnering with a 30-piece hand-selected orchestra to produce an evening of symphonic rock on June 18.
RED ROCK RESORT STARTS OUTDOOR CONCERT SERIES
Red Rock Resort in mid-May at the Sandbar outdoor poolside venue at 9 p.m. will start its new Friday night outdoor concert series – Red Rock 'n' Roll that will run through September. Tickets for all shows are $30.
R&B / Hip Hop artist Sean Kingston, who was raised in Jamaica, will perform on May 13. Echo & The Bunnymen an Alternative Rock group performing on May 20 has had numerous hit songs to their name as have Alternative Rock group Barenaked Ladies who will take the stage on May 27.
TOP OF NEXT COLUMN
ANNUAL NHL AWARDS SHOW RETURNS TO THE PALMS

The stars of the National Hockey League will come together for the third straight year with celebrities from music, stage and screen for a celebration of hockey at the star-studded 2011 NHL® Awards on Wednesday, June 22, at the Pearl Concert Theater inside the Palms. The awards will be broadcast by VERSUS in the United States and CBC in Canada. Tickets are on sale and include the show and cocktail reception afterwards.

M STARTS ROCK 'N' ROLL WINE TASTING ROOM & SOUND BAR

On Friday, April 1, the Hostile Grape wine bar at the M Resort and its newest partner Rock 'n Roll Wine introduced the Rock 'n Roll Wine Tasting Room & Sound Bar being held weekly at 5 p.m. At 9:30 p.m., Rock 'n Roll Wine introduces up and coming breakthrough bands and musicians.

To add an interactive component, guests can participate in a Weekly Wine Showdown where two wine flights are offered for guests to purchase and vote on via text messaging. Participants receive bounce back drink and dining specials.

ETHEL M WILL BE HERITAGE PARADE GRAND MARSHAL

Ethel M Chocolates, which is celebrating its 30th anniversary this year, will be the honorary grand marshal for the 2011 Henderson Heritage Parade on Saturday, April 16 at 10 a.m. For three decades, Ethel M Chocolates has called Henderson home and been a tourist attraction. The Henderson Heritage Parade & Festival is a day-long celebration of the City's 58-year history. The event also includes a Mayor and Council Breakfast, classic car show and festival featuring culturally-diverse entertainment, world cuisine, craft and cooking demonstrations courtesy of the International Food & Folklife Association. Admission is complimentary, visit HendersonLive.com

.

CALIFORNIA HOTEL HOSTS CYMBIDIUM ORCHID SHOW

For the sixteenth year, the California Hotel downtown will be the host location for the Cymbidium Orchid Show April 15 - 17 in the Ohana Ballroom. The Torrance Cymbidium Society and the Las Vegas Orchid Society members will display more than a dozen different species of the tropical flower in extravagant arrangements. Judging and awards will be on April 15. The three-day event is open to the public for free.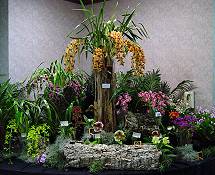 ROYAL CROWN REVUE PERFORMS AT THE PALMS
The retro-swing band Royal Crown Revue will perform at The Lounge inside the Palms April 21-23 during the Viva Las Vegas rockabilly convention. Tickets are $19. The group's most recent release, "Don't Be A Grinch This Year," is the band's first holiday CD, which features original songs as well as the group's version of holiday classics.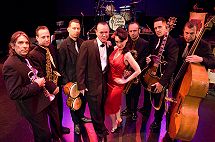 COMEDIAN DENNIS MILLER STOPS AT THE ORLEANS
Five-time Emmy Award® winner Dennis Miller brings his hilarious stand-up routine back at The Orleans Showroom for three nights, April 8, 9 and 10. Tickets start from $49.95, call 702-365-7075.
Miller keeps audiences laughing with his irreverent observations. He emerged on the national scene as the "Weekend Update" correspondent on NBC's "Saturday Night Live." After leaving SNL in 1991, Miller moved to HBO, where he hosted the critically acclaimed talk show "Dennis Miller Live" for nine seasons. No stranger to television talk shows, Miller is a regular on Fox News Channel's "Hannity" and "The O'Reilly Factor."
PALMS AND VEGAS.COM LAUNCH E-COMMERCE PROGRAM
Vegas.com has formed a strategic partnership with Palms Casino Resort to offer a fully integrated e-commerce program for the Las Vegas property's needs at the TravelCom Conference 2011. The updated website will allow guests to search and book air/hotel packages, hotel rooms, show tickets, casino events, spa packages, restaurant reservations and more directly through Palms.com. The updated site will use Cyllenius technology.
FANTASY REVEALS SEXY SHOWGIRL OF THE MONTH CAMPAIGN
"FANTASY" at the Luxor has launched its sexy "Showgirl of the Month" campaign to give fans a chance to know each one, up-close and personal. The March calendar girl was Delecia from Memphis, Tenn., who has a Bachelor of Science degree in Speech and Dramatic Arts from Jackson State University. Delecia has performed all over world including Japan, Mexico, Atlanta, Los Angeles and Atlantic City.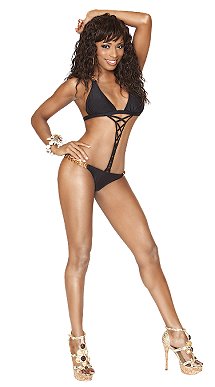 QUICK CLIPS
Due to a scheduling conflict, Jay Leno's Saturday, March 19 performance has been cancelled but he'll still headline on March 18 at 10 p.m.
Music legend Barry Manilow recently celebrated the one-year anniversary of his wildly successful show at Paris and was presented with a special anniversary cake and a champagne toast.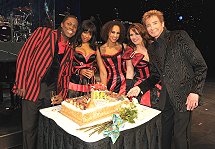 On April 6, Tacos & Tequila (T&T) at the Luxor is kicking off Cougars & Cuervo Wednesdays from 6-9 p.m. Hosting the inaugural event is "Real Housewives of Orange County" realty star alum Tamra Barney. T&T will also introduce its newest cocktail, "The Cougarita."
"Jabbawockeez," the world-famous dance crew headlining in their own show "MÜS.I.C." at Monte Carlo, is featured in an innovative new social-media campaign for Ford's 2011 V6 Explorer. The Jabbawockeez-Ford dance off is viewable online at Facebook and YouTube.
The Palms welcomed Jive Records recording artist Britney Spears to Rain Nightclub for two surprise performances last month. The performances were filmed by MTV as part of a Britney Spears special in celebration of her current album release.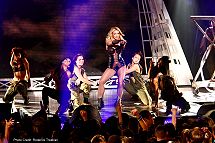 The Las Vegas Chapter of St. Jude Children's Research Hospital in coordination with the City of Las Vegas is unveiling the first "Hearts of Las Vegas" live interactive art exhibit featuring more than a half dozen 5-foot tall, 3-dimensional "human" Heart sculptures that have each been custom painted by a different professional artist. Smaller hand painted hearts will be auctioned off at the St Jude Gala "An Affair of the Heart" dinner with entertainment that will take place at the Mandarin Oriental on May 21, call 800-227-6737.
BRIO Tuscan Grille (BRIO) at Town Square and at Tivoli Village will introduce a new menu on Tuesday, April 12. To view the menu, visit www.brioitalian.com. Beginning April 14, BRIO celebrates Martini Night every Thursday with $5 Sobieski Martinis.
After her short hiatus, lead vocalist Lorena Peril is back in the Luxor's "FANTASY" show. Lily Arce and Felice Garcia, the singers who filled in during her absence, will continue to fill-in as understudies for Peril during her days off.
Actor, comedian, recording artist and DJ, Nick Cannon began his exclusive DJ residency at Chateau Nightclub & Gardens, Las Vegas' new nightlife destination at Paris on April 2.
The Rockhouse on the Strip will celebrate National Beer Day on Thursday, April 7 and offer two-for-one Budweiser bottles and $2 drafts all day long.
McFadden's Irish pub at the Rio will host "Welcome to the Jungle" on Saturday, April 9. The animal-like bash will feature $3 Tiger Blood shots and $5 Jungle Juice cocktails throughout the night. The party kicks off with a pregame open bar from 8 - 10 p.m. for $15, and continues from 10 p.m. until 1 a.m. and costs $20 for ladies and $30 for guys.
On Thursday, April 7, Origin India at 4480 Paradise Road will hold a fundraising dinner in conjunction with the Japanese embassy with 50 percent of all proceeds going towards Japan's relief efforts. Tickets are $65, call 702-734-6342.
Every Thursday night from 4 to 9 p.m., the Rampart Buffet creates a little piece of Brooklyn by putting on New York Deli Night. While most selections are made in house, Executive Chef John Ciborski from New Jersey wants an authentic touch so the potato and macaroni salads are flown in from Thumann's "The Deli Best of New Jersey" each week.
Primm Valley Casino Resorts located 25 minutes from Las Vegas will present Fight Club Primm, a Solo Boxeo Tecate event at Buffalo Bill's Star of the Desert Arena on April 8 at 7 p.m. The doubleheader will feature two main events. Tickets are $27.25 and $59, call 800-FUN-STOP (386.7867).
This April, Miracle Mile Shops at Planet Hollywood is partnering with Autism Speaks for its national Light It Up Blue campaign by turning the fountain blue in honor of National Autism Awareness Month.
Column Continues Below Advertisement
CONTINUE ON TO...:
>THIS WEEK'S LAUGHLIN NEWS
>LAST WEEK'S LAS VEGAS NEWS
>VEGAS VIEWS FULL NEWS ARCHIVES
>Return to "Heard Around Town"
>Return to Las Vegas Leisure Guide