The Titanic was the largest Ship built prior to 1912 and the largest moving object built by man. On a calm April night in 1912, the ship of dreams, struck an iceberg and slowly sank in the freezing water of the North Atlantic. On board were 2,228 passengers and more than 1,500 died.

Column Continues Below Advertisement


In Titanic: The Artifact Exhibition, on view at the Tropicana now through Oct. 31, hundreds of artifacts recovered from the wreck site tell the Titanic's tragic tale. A suitcase, a felt bowler hat, the ship's whistles, glassware etched with the logo of the elite White Star Line, even a massive piece of the ship itself, these and many other objects offer haunting, emotional connections to lives abruptly ended or forever altered.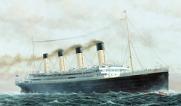 The 25,000-square-foot exhibit extends throughout the Tropicana Pavilion and takes you on a chronological journey through the life of the Titanic, from the building of the legendary ship to life on board. Visitors walk through authentically recreated first and third class rooms with furnishings by original manufacturers. You can press your palms on an "iceberg" to sense what it was like for passengers thrown into the frigid water that night.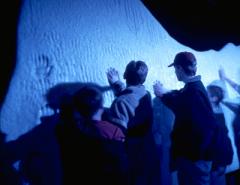 Upon entry, you are given a boarding pass bearing a Titanic passenger's name. In the Memorial Room, visitors learn about the aftermath of the disaster, the relief funds, and the efforts to find the over 1,500 lost loved ones. You can then read the memorial wall and find out if the person whose ticket you hold survived.
In the past 10 years, more than 15 million people have seen this powerful exhibition in major museums worldwide and a number of years ago it was at the Rio. Titanic: The Artifact Exhibition is open daily from 10 a.m. to 10 p.m. Admission prices are: adults $16.95, seniors ages 62 and up $15.95, and children ages 4-11 $9.95, plus tax and surcharge. For information, call 702-739-2411.
"Xtreme Magic Starring Dirk Arthur" has opened at the Tropicana in the Tiffany Theatre and plays twice daily except Friday at 2 and 4 p.m. Tickets are $24.95 and $29.95 plus tax and surcharge, call 702-739-2411.
Arthur's show features comedy, audience participation, and dance routines interweaved with magic sequences. The show also stars a wide variety of exotic animals including orange Bengal tigers, white striped tigers, a pure white snow tiger and black African leopards.
Arthur's magic has been seen extensively throughout Las Vegas and Atlantic City, as well as in major television shows such as NBC's World's Greatest Magic Specials and more recently his own HD Animal Planet Special, "Big Cat Magic."
The Riviera is celebrating its 50th anniversary all month long with casino promotions such as "Oldies but Goodies" and "50 is Nifty," anniversary merchandise, food specials such as complete dinners in Ristorante Italiano for $19.55, and cake and champagne being served in the Race Book area. Original showgirls from the 50's will also be available for photo opportunities.
On the actual anniversary date, April 20, there will be a recreation of the ribbon cutting ceremony in 1955. The public is invited and a piano concert by Liberace scholarship winner David Jonathan Lomascola will follow.
Special fireworks shows will highlight the nights of April 20 and 22, and singing icon Michael Bolton will give anniversary concerts on April 22 and 23. Check the Riviera Box Office 702-794-9433 for details.
The grand opening weekend for the new Pussycat Dolls Lounge adjacent to the PURE Nightclub at Caesars Palace will be April 7-9. The club will be open daily from 4 p.m. to 4 a.m. For information, call 702-731-7872.
On Friday, April 8, Los Angeles' famed Pussycat Dolls will take to the stage for a one-of-a-kind performance to open their namesake nightspot. Both Thursday and Friday the Pussycat Dolls Lounge will be open to the public.
Saturday, April 9, will be a star-studded, invitation-only VIP Grand Opening party featuring Eva Longoria, star of ABC's "Desperate Housewives." The red carpet event will attract former Guest Dolls and celebrity friends.
The annual Gay Pride Festival will take place May 24-29 and feature a week of events including: Colors of Pride BINGO @ Hamburger Mary's on May 24; Girlz Party at Gipsy on May 25; Boys Party at Gipsy on May 26; Night Parade through downtown Las Vegas and Official After-Parade Party on May 27; Indoor/Outdoor Pride Festival at The Sport Center Las Vegas on May 28; and the T-Dance at the Blue Moon Resort on May 29.
Last Wednesday, the Venetian kicked off its weekly Ladies Night parties at VIVID on the second-level of The Grand Shoppes. Ladies enjoy an hour of Sex Vodka specials from 10:30 to 11:30 p.m. and complimentary Sex Vodka cocktails from 1:30 to 2:30 a.m. Ladies are admitted free to this nightclub.
The Las Vegas Natural History Museum at 900 Las Vegas Blvd. North will celebrate Earth Day 2005 on April 23, with Animal House, an ecological look at animal habitat from 9 a.m. to 4 p.m. The event will have free admission for children. For information, call 702-384-DINO.
An eclectic exhibition of artwork by the Cirque du Soleil cast and crew titled "The Collective" opened last Friday at the Arts Factory and will be open to the public for the month of April. No limitations were set and all artistic formats of any dimension were accepted. This freedom resulted in a display which ranges from photography to leather sculpture to a plexi-glass light display.
The Silverton conveniently located three miles south of the Strip, off I-15 at Blue Diamond Road, will host a night of hard-hitting rock 'n' roll when John Kay & Steppenwolf take the Hideaway Theatre stage on Friday, April 22, at 8 p.m. Tickets are $25, call 702-914-8557 or 1-866-946-4373.
John Kay & Steppenwolf - originally named Steppenwolf after Hermann Hesse's mystical novel- first emerged in the late 1960s and have since sold over 25 million records worldwide. The band's leader, John Kay was born in 1944 in Germany, where he was introduced to American rock 'n' roll as a result of World War II and the U.S. Armed Forces Radio. He created Steppenwolf and they released their first album in 1968 after a four-day recording session and soon topped the charts with "Born to Be Wild."
In the next three years, Steppenwolf recorded five albums including "Steppenwolf The Second," which featured another Top Five hit, "Magic Carpet Ride." In spite of their success, Steppenwolf disbanded in 1972 and re-launched in 1980 as John Kay & Steppenwolf. The band has produced seven albums and maintained a busy international touring schedule. Each year they host Wolf Fest in Dickson, Tenn. and they have recently been featured on VH1's popular series "Behind the Music."
In Las Vegas, seeing is believing! Former U.S. Army Private Ryan Zink, who performs as Reba McEntire in "An Evening at La Cage" at the Riviera, is celebrating his first year in the show.
The soft-spoken native of Perrytown, Texas joined the Army in '93 and '94 to get out of his small town of 7,500 people. Now he can work an M-16 and a make-up brush.
Zink an only child was dared one time at age 23 to dress up as a female singing star and he was hooked. He performed in Lake Tahoe and played Shania Twain for three before taking on the role of Reba. Throughout high school he worked at his mother's cosmetic studio and learned how to do makeovers on women.
The Cannery in North Las Vegas and KOOL 93.1 radio will travel back to the 50's with Cruisin' Friday Nights and Sock Hop Spectacular one Friday a month from April to September. The dates include April 15, May 20, June 24, July 22, Aug. 26, and Sept. 23. Doors open at 7 p.m., the show begins at 8 p.m. and admission is free.
The Sock Hop with Doo-Wopp.com inside The Club will feature dancing, a KOOL radio remote, costume contest, and a car cruise on Aerojet Parkway.
Three trophies will be given away each night to the best looking cars, and KOOL oldies will photograph cars for its special Cruisin' 2006 Calendar.
The Vegas Ventriloquist Festival, in its ninth year, is presented by the International Ventriloquists' Association and promotes the art of ventriloquism and performance for all ages. The Festival being held at the Imperial Palace, April 22-24, features workshops, vendor displays and several shows including Ventastic 2005, which is open to the public. Tickets are $10 plus tax at the Imperial Palace Show and Tour Desk.
At this show on Sunday, April 24, the legendary Smothers Brothers will be presenting Rio headliner Ronn Lucas with the Askins Lifetime Achievement Award. Lucas is the first ventriloquist to have his own, long-running show at a major showroom in Las Vegas and he is celebrating his 25th year in show business. Lucas is publishing two books on puppetry and the Emmy-nominated performer will be featured in Maxim Magazine in May and profiled on BBC television's "Only In America" program this fall. For more information, visit the association's Web site at www.ventriloquists.net.
MonteLago Village Resort at Lake Las Vegas is transforming itself into a cultural oasis providing events for summer and fall. The Jazz on the Lake series, one of the resort's most popular events, returned yesterday and will run on Saturdays through Oct. 29, from 7 to 10 p.m. The free concert series has become known for featuring some of the best national and local jazz artists in a relaxing atmosphere on the water's edge. Some of the featured national acts will include: Patrick Yandell on April 16; Dotsero on May 7; Grady Nichols on June 18; Brian Hughes on July 16; Michael Ward (electric violin) on Aug. 20; Jeanette Harris on Sept. 17; and Blake Aaron on Oct. 8.
Wine aficionados can toast the sunset over Lake Las Vegas during a series of Wine Walks on April 15, June 24, and Sept. 24 from 6:30 to 9:30 p.m. Each participating village shop along the tour will feature a different wine to taste and anyone visiting 10 or more wine stops will have the chance to win a variety of prizes. The $20 entry fee includes a commemorative glass.
Sorry for any confusion, headliner uncensored hypnotist Anthony Cools will premiere his show in the 210-seat theatre at Paris the second week of April instead of on April 1.
"The National Barbecue News," the world's premier publication dedicated to the sport of barbecue, features the winners of "Best-of-the-Best Barbecue Restaurants in America" in an updated guide in the publication's April issue. Memphis Championship Barbecue for the fifth year in a row, with four locations in the Las Vegas area, is one of 35 restaurants across the country on the list, and the only restaurant named in Nevada.
The Aladdin, the future home of Planet Hollywood Resort & Casino, has received accolades for its dining and entertainment venues in 2005 from Zagat and AOL CityGuide.
Zagat recognized three restaurants: Tremezzo, the Northern Italian dining room; the Spice Market Buffet; and Elements, which got an extraordinary top honor rating.
For the second consecutive year, Tabú Ultra Lounge at The MGM Grand captured the "Best Lounge" award at the 3rd Annual Club World Awards, hosted by Club Systems International. The three other finalists included; BarTwenty3 located in Nashville, Tenn., The Abbey located in West Hollywood, Calif., and Pearl in Providence, R.I.
CONTINUE ON TO...:
>THIS WEEK'S LAUGHLIN SEGMENT
>LAST WEEK'S LAS VEGAS SEGMENT
>VEGAS VIEWS FULL ARCHIVES
>Return to "Heard Around Town"
>Return to Las Vegas Leisure Guide