The 2006 spring and summer concert line-up at the Flamingo will include: Engelbert Humperdinck, Foreigner, REO Speedwagon, Clint Black, The Beach Boys, Mel & Pam Tillis, The Temptations and Billy Ray Cyrus and that's just through the end of August.
Humperdinck, known for his romantic songs with eternal themes of love, will be performing at the Flamingo Outdoor Amphitheater on Saturday, April 15 at 8 p.m. Tickets are $25, $30 and $35, call 800-435-8469.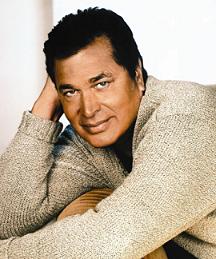 Humperdinck's name comes from the 19th century composer who wrote "Hansel & Gretel." He has been a legend in the international music industry for over 30 years and has sold over 130 million records. Humperdinck has recorded everything from the most romantic ballads to the theme song from the Beavis and Butthead movie to dance re-mixes of his classics.
In the past few years, he has joined an elite group of musical artists, who have crossed over successfully to strike a new chord with a younger generation.
Over 50 fine artists will be exhibiting at the 3rd Annual Riverwalk Art Festival at the Colorado Belle and Edgewater on Saturday and Sunday, April 8-9. The event, which will be free and open to the public, will be held outdoors on the riverwalk between the two casino properties. The art festival will run from 10 a.m. until 5 p.m. each day.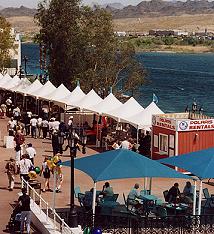 Artists from throughout the western United States will be featured at the juried art festival. During the event, art browsers will be entertained by Tucson-based L'o Gosselin, a pioneer and master of the unique Chapman Stick, a stringed instrument and member of the guitar and bass family. Gosselin has performed at hundreds of different venues, including the Tempe Fall Festival of the Arts, the Edmonton International Street
Performers Festival, Winnipeg Folk Festival, and the Pan American Games. Gosselin has released five albums, four of which are available as CDs.
Back by popular demand at the Belle, Kenny Menard's authentic zydeco band will provide free live entertainment beginning at 6 p.m. each evening, April 8-9, in the Colorado Belle's Center Circle Event Area. Described as the collision and fusion between Louisiana Cajun tunes and Creole Afro-Caribbean rhythms and styles, zydeco is a musical mainstay in the south, and a hot music style on the west coast. Menard and band will be accompanied by Mardi Gras-bead tossing "Louisiana Sue" Ramon, the band's saucy emcee.
In addition to the music, evening activities at the Center Circle will include New Orleans- style street vendors-palm and tarot card reader Nancy Sabin and a caricaturist.

TOP OF NEXT COLUMN
Peter Cottontail will be carrying cash-and lots of it during the $30,000 Bunny Money Cash Giveaway at the Ramada Express on April 15 and 16, when bunnies will be hopping between 11 a.m. and 11 p.m. The bunny trail will lead to the Distinguished Players Club where folks will receive egg bobbers along with all the details on how to win. Wearing egg bobbers while you play on the casino floor, a bunny might hand out a cash voucher worth $5 - $50. You can win cash more than once.
At the Colorado Belle, you can wear bunny ears to win a share of $25,000 in cash and prizes during the Lucky Bunny Giveaway promotion, April 13-16. The official Easter Bunny Ears will be available to One Club members who earn a minimum of 10 points at the Colorado Belle on the day they want to receive their bunny ears. Then, the ears must be worn while playing and the Lucky Bunny Prize Patrol cart will cruise the casino several times each day, randomly distributing prizes.
Todd Luxton and his ultimate Elvis Tribute with all the shakes and moves along with the Cadillacs band will be on stage at the Pavilion Theater April 15-17 at the Ramada Express. Tickets are $15 and new Distinguished Players Club members who earn 50 points will receive two free show tickets.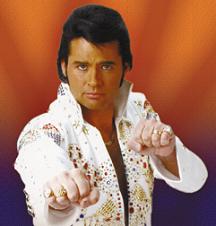 Luxton hands out scarves and kisses the ladies in the audience. He has been doing Elvis since he was five years old. On Halloween night in 1976, he went out trick-or-treating dressed as Elvis Presley and now some 28 years later, Luxton is still wearing Elvis costumes. This time, his costumes are made by the same man who made Presley's jumpsuits and cost in the range of $2,500 each.
Luxton grew up in Michigan and graduated from Western Michigan University in 1994 with a degree in political science and business management. Ironically, he has won every Elvis competition he ever entered including a contest at Harrah's where he beat out more 30 other contestants, and a contest at Apacheland Movie Ranch, the filming location for the Elvis movie "Charro," where he got the top spot in a field of 40.
The Floyd Mayweather vs. Zab Judah Welterweight Championship Title "Sworn Enemies" fight on Saturday, April 8 can be viewed at the Riverside. Doors at Lightning Strikes will open at 5 p.m. Tickets can be purchased at the Entertainment Office or at the door for $25.
Lena Prima, daughter of Louie Prima, will be doing her "That's My Dad" show at the Edgewater, April 7-9 at 7 p.m. Prima can regularly be seen in Las Vegas at the Sahara in the Casbar Lounge. Tickets are $15, call 7020-298-2453.
Her high-energy show features Prima classics including "That Old Black Magic," "Jump, Jive and Wail," "Pennies from Heaven," and "Sing, Sing, Sing." Rare video footage of Louis Prima's Ed Sullivan show performances, a kickin' orchestra, dancing, costume changes, personal family photos and heartwarming stories of growing up as the daughter of a legend round out her show.
Lena's mother Gia Maione first performed on stage with Louis in 1962. They were married in 1963 and Lena was born later that year.
Aces Cracked is the newest promotion at the Ramada Express. If you get beat with Pocket Aces, you get paid $75. If you don't lose the hand, you win the pot or at least a share of it. The promotion plays daily starting at 9 a.m. and continues until all 4 Aces Cracked have been hit. There are 4 lucky winners each day.
The Ramada's Distinguished Players Club is for poker players too. Membership is free and qualifies you for the Aces Cracked promotion.
CONTINUE ON TO...:
>THIS WEEK'S LAS VEGAS NEWS
>LAST WEEK'S LAUGHLIN NEWS
>VEGAS VIEWS FULL ARCHIVES
>Return to "Heard Around Town"
>Return to Las Vegas Leisure Guide