Earl Turner has been performing in Las Vegas for more than 15 years and he's always had an enthusiastic following because he faithfully produces incredibly super-energetic shows. He backs his talented efforts with a fabulous seven-piece that he proudly highlights throughout the show. Catching a performance with his son singing and dancing in it is an added plus for sure.
Turner always the optimist was headlining in New Orleans when Hurricane Katrina hit. He was instantly out of work so he migrated back home to Las Vegas and reunited his band. The results are a show not-to-be-missed. Turner is shaking up audiences at the Sound Trax at Palace Station on West Sahara, Thursday through Sunday at 8 p.m. and also at 10 p.m. on Saturday. Tickets are $34.95 plus taxes, call 702-547-5300.

Column Continues Below Advertisement


Having seen "Dragapella!" at the Westin over the past couple years, it was obviously a matter of time before some hotel booked them indefinitely. Who would have thought that this tremendously original award-winning, all-male, a cappella beauty shop quartet would get started in 1993 when as a group of friends they went to a Bette Midler concert in San Francisco, dressed as the Andrews Sisters? Afterwards, the foursome calling themselves The Kinsey Sicks™, named for the top end of sexologist Alfred Kinsey's scale of sexual orientation, discovered that they could harmonize professionally.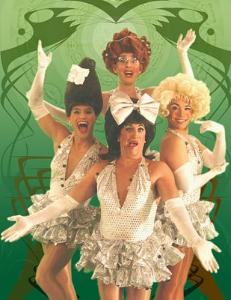 From the second you lay eyes on the high-heeled, fashion divas of hairdo don'ts, you realize this show will be "over the top." The satire is exceedingly sharp and so are the original lyrics. The quartet has produced five music CDs with titles that prove this is a one-of-kind-group: "Dragapella!," "Boyz2Girlz," "Sicks in the City," "I Wanna Be A Republican," and "Oy Vey in a Manger: Christmas Carols and Other Jewish Music." Now The Kinsey Sicks are subjects of two impending feature films.
As shocking as the group is, the fascination begins with the fact that the original member Ben Schatz, who plays Rachel, is a Harvard-trained civil rights Lawyer and Irwin Keller playing Winnie is a University of Chicago-trained lawyer and linguist. The other two characters, Trampolina and Trixie are portrayed by actors/singers Chris Dilley and Jeff Manabat.
Tickets for this fun and fascinating show presented Tuesday-Saturday at 9:30 in the Shimmer Cabaret are $42.50 plus tax and fee; call 7o02-732-5755 or 1-800-222-5361.
The Bellagio Gallery of Fine Art will present a display featuring nearly 50 masterworks by American photography's most recognized figure, Ansel Adams. The exhibition entitled "Ansel Adams: America," which will be on view from May 3, 2006 to May 6, 2007, will include a collection of legendary artworks based on a selection personally chosen by Adams before his death.
Included among the works he considered iconic images of his epic career are: Monolith, Face of Half Dome, Yosemite National Park, California (1927), Rose and Driftwood, San Francisco (ca. 1933), Aspens, Dawn, Autumn, Dolores River Canyon, Colorado (1937), The Tetons and the Snake River, Grand Teton National Park, Wyoming (1942), and a rare image of Boulder Dam (1941).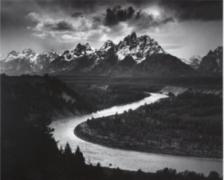 These works trace four decades of Adams' experimentation with black and white photography.
Important selections from Adam's archive will also be on view. Among them: album pages of some of Adams' earliest photographs (1916), the 8 x 10 Kodak camera Adams used to create his iconic photographs, an album of negatives from 1932, Adams' Swiss compass used on his photographic expeditions, the Presidential Medal of Freedom, awarded to Adams by President Carter in 1980, and personal correspondence from some of the most noted figures of the twentieth century. Complementing these objects will be a series of historical photographs from 1903 to 1983 that will serve as a visual biography of Adams' life.
This show will be the first major exhibition in Las Vegas dedicated to one of the masters of fine art photography. Tickets will be $15 and $12 for students and seniors over 65. Audio-guides are included in the admission price; call 702-693-7871 or 877-957-9777.
The Silverton situated off I-15 will debut its new fine dining buffet, Seasons, this week on Thursday, April 6. Seasons will serve classic and exotic cuisine for breakfast, lunch, dinner and brunch. The restaurant will have a large dining room for 365 guests and a private dining room and VIP area. Seasons will also offer fire and water features, music and Plasma screen televisions throughout the rooms.
Seasons will serve breakfast for $7.99; lunch for $8.99; dinner for $13.99; specialty dinner for $16.99; and specialty brunch for $13.99. Children under three will dine free and children between ages four to six will eat for half price. For information, call 702-263-7777.
The Las Vegas Hilton has just opened its 888 Noodle Bar, located in the heart of Benihana Village. The Pan-Asian menu features noodles, congee, and rice dishes prepared in an exhibition kitchen as you watch. Menu items include appetizers, soups and salads (from $7 to $9) and entrees (from $10 to $28). Authentic Asian noodles are comprised of such popular varieties as Singapore, Udon, Szechuan and Chow Mein. 888 Noodle Bar is open nightly from 5:30 p.m. to 11:00 p.m.
Isla Mexican Kitchen & Tequila Bar will celebrate Cinco de Mayo this year with specialty beverages, a live mariachi band and nationally known chef / creator Richard Sandoval on hand to cook guests' meals personally. The Tequila Goddess will be crafting the perfect margarita tableside.
JW Marriott and the Easter Bunny have teamed up to produce the Third Annual Easter Celebration. The Easter Brunch and Egg Hunt are scheduled for Sunday, April 16 with three brunch seatings available at 10:30 a.m., 12:30 p.m. and 2:30 p.m. in Ceres Restaurant followed by an Easter egg hunt. Upon arriving, families can have complimentary Polaroid images taken and children can get their faces painted. The cost of the brunch is $35 per adult and $16.95 for children three to 12; call 702-869-7381. Children under three are complimentary.
Las Vegas has become a hub of renowned restaurants and the 16th annual Epicurean Affair being held on April 12 at the Flamingo will bring the best chefs together for the culinary extravaganza. The always-exciting affair will go poolside this year at the Flamingo's tropical playground from 7 p.m. to 10 p.m. Tickets are $125 or $1,000 for a package of 10; call 702-733-3333. Tickets will be $150 at the door.
A most fascinating concept is in the works Downtown. Fox Sports Net is turning television poker into a live spectator sport in Downtown Las Vegas by converting three movie theaters at Neonopolis into the Pokerdome, where nearly 200 people will be able to watch weekly tournaments. Players' cards will be revealed live on television in the arena, and the players will sit behind a soundproof, one-way glass. Plans are currently to hold the first Texas Hold 'em tournament at the Pokerdome on May 20.
Further plans are for free admission, no alcohol, and 44 tournaments a year that will each be televised the following day. The network has a three-year lease on Neonpolois. Each weekly Saturday night event will consist of one table of pre-qualified players, who will be wearing monitors tracing their heart rates.
Now the only hiccup might be the Gaming Control Board ruling that a gaming license may be required and that could kill the innovative project.
Easy rock super-group and Silverton headliners, Hootie & the Blowfish, will ring in their first Silverton performance this year in the casino's Outdoor Events Center on Saturday, April 22 at 8 p.m. Tickets are $45; call 702- 914-8557 or 866-946-4373.
Hootie & the Blowfish formed at the University of South Carolina in the late '80s and named themselves after the nicknames of two of their college friends. In the summer of 1994, Hootie & The Blowfish released their major label debut," Cracked Rear View," on Atlantic Records, and their sophomore album, "Fairweather Johnson," followed in 1996 with more hit singles.
In August 2005, Hootie & the Blowfish released their latest studio album, "Looking for Lucky," in conjunction with a CD listening party at the Silverton located off I-15.
This past January the group amended their existing partnership agreement with the Silverton and extended it through New Year's Eve 2007. The expanded contract outlines more performances and appearances at the Silverton, as well as additional Hootie merchandise and paraphernalia to be sold and displayed at the resort.
The Museum of the American Cocktail, inside Commander's Palace at Desert Passage, will offer its second seminar, "Great Classic Cocktails at Home," on Friday, April 14 from 6:00 p.m. - 7:30 p.m. Registration is required.
Presented by the "modern mixologist" Tony Abou-Ganim, the seminar will teach guests how to start and stock their personal at-home bar, introduce tools of the trade and the correct way to use them and provide all the secrets behind mixing great drinks. In addition, delicious cocktails and hors d' oeuvres from Commander's Palace Executive Chef Carlos Guia will be served throughout the seminar.
In conjunction with the seminar, a special six-course, Bacardi rum pairing dinner will be served on Thursday, April 13 at 7 p.m. This dinner and seminar will be the second installment in a yearlong series.
Pre-registration for the seminar is $45 or a higher fee at the event and $100 for the dinner, call 702-892-8272.
The Rampart Casino in Summerlin will present The Original Comets, A Salute to Bill Haley on Saturday, April 15 in the Grand Ballroom at 8 p.m. Tickets are $20 plus tax at the Rampart Casino Cage.
In 1951, Bill Haley led The Saddlemen, who had roots in country western music, and in 1952, he renamed his band The Comets. The group helped shape the music that is now known as rock 'n' roll and created such hits as "Rock Around The Clock," "See you later Alligator" and "Shake Rattle and Roll."
Even though more than 150 musicians have participated in the Comets band throughout Haley's career, the gentlemen performing at the Rampart Casino actually worked with him on his greatest Essex and Decca recordings.
Lou Gramm, lead singer of Foreigner and successful solo artist, is replacing Survivor, who had to cancel due to scheduling conflicts, at 8 p.m. on April 8 inside The Club at the Cannery in North Las Vegas. Foghat is still set to open for Gramm. Survivor and Foghat tickets will be honored at the Gramm and Foghat performance. Tickets are $20.95 and $14.95 plus tax and fees; call 617-5585 or 866-287-4643.
Gramm was the vocalist on more than a dozen gold and platinum albums and nearly 20 hit singles such as "Cold As Ice," "Double Vision," "Urgent" and "Waiting For a Girl Like You." Rock giants Foghat have seven gold records, one platinum record, 1975's "Fool For The City," and one double-platinum record, 1977's "Foghat Live."
Barry Manilow has extended his Las Vegas Hilton contract through 2008.
The Fab Five, stars of Bravo's Emmy Award-winning original series "Queer Eye," are currently filming three special episodes in Las Vegas to give the sloppiest straight guys on the Strip a "make-better." Ted Allen, Kyan Douglas, Thom Filicia, Carson Kressley and Jai Rodriguez are busy preparing a fun loving couple for their fairy-tale elopement and helping both a magician / fire-eater and renown poker-player transform their lives for the better. The episodes are scheduled to air in early June.
The Shimmer Cabaret at the Las Vegas Hilton, home of "Menopause The Musical®" and The Kinsey Sicks in "Dragapella," has now added themed dance nights to its late night 11 p.m.-3 a.m. schedule: Wednesday is Latin Dance Night; Thursday is '80s Dance Night; Friday is Disco Dance Night; and Saturday is '80s-90s Dance Mix.
The Leukemia Cup Regatta®, (LCR) will take place from 10 a.m. to 3 p.m. on April 8 and 9 at Lake Mead. The fourth-annual weekend will include boat race competitions with more than 40 boats, a live and silent auction dinner, entertainment and an awards ceremony. For information and tickets, call 702-436-4220
Southern Hills Hospital located on Fort Apache, one block off the I-215 West Sunset exit, will provide valuable information to parents and parents-to-be at its second free baby fair on Saturday, April 29, from 10 a.m. - 1 p.m. Sponsored by Sears Grand and Babies "R" Us, the Southern Hills Hospital Baby Fair will offer entertainment, informative activities, complimentary car seat safety inspections, a chance to win valuable prizes and a maternity fashion show. Immunizations can be purchased for $16 per hild with the presentation of records. For information, call 702-880-2700.
On Saturday, April 22, Aliante will host its third annual "Trails & Tails" event to benefit Lied Animal Shelter. The public is invited to enjoy a wide range of activities at the community's 20-acre Nature Discovery Park including a 5K Run and a 1 Mile Doggie Stroll, each with an advance $15 entry fee, pet adoptions and more. For information, visit www.active.com, click on "Individual Sports," and then type Trails & Tails in the "Find an Event" bar.
CONTINUE ON TO...:
>THIS WEEK'S LAUGHLIN SEGMENT
>LAST WEEK'S LAS VEGAS SEGMENT
>VEGAS VIEWS FULL ARCHIVES
>Return to "Heard Around Town"
>Return to Las Vegas Leisure Guide