TRAVIS TRITT HEADLINES DURING LAUGHLIN RIVER RUN!

Country music "outlaw" and two-time Grammy Award winning singer and actor Travis Tritt will headline at the E Center during the annual Laughlin River Run on Friday, April 26. Tickets start at $15 for his 8 p.m. show.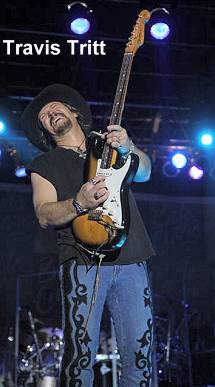 Tritt, hailing from Marietta, Ga, first signed with Warner Bros. Records in 1989 and released seven studio albums and a greatest hits collection for the label between then and 1999. In the 2000s, he released two albums on Columbia Records and one for the defunct Category 5 Records. In addition, he has received four awards from the Country Music Association and been a member of the Grand Ole Opry since 1992.
RIVERSIDE FEATURES JOHNNY CASH TRIBUTE
Shawn Barker will star in "The Man in Black" - tribute to Johnny Cash show in Don's Celebrity Theatre at the Riverside, April 9-14. Tickets are $33.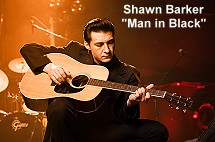 Shawn Barker who is from St. Louis, Mo., where he still lives, started his musical career as an Elvis tribute artist and soon realized the market was saturated. Auditioning for the part of Elvis in a Hollywood production of "The Million Dollar Quartet" featuring Elvis, Johnny Cash, Carl Perkins and Jerry Lee Lewis, the director asked Barker to send a video of him portraying the other characters. Barker was instantly cast as Cash. That started a one-year character study of Cash and working in a country tribute show. His own show followed and since he's 37, he embodies the young Cash.
QUINN DAHLE AND RICKEY SHACKLEFORD BOOKED AT EDGEWATER
On weekends Friday through Sunday, two comedians bring laughter to the Edgewater in the showroom at 7 p.m. Tickets are $10. Future comedians include: April 19-21 Frazer Smith and Brett Riley; May 3-5 Darryl Rhoades and Lou Magelowitz; May 10-12 David Testroet and Allison Breen; May 17-19 Andrew Norelli and Kate Brindle; May 24- 26 Vince Valenzuela and Jason Love; and Dennis Blair and Bethany Thenese.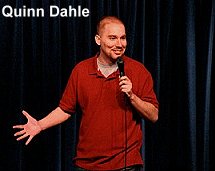 Quinn Dahle is a clean and witty stand-up comic who will co-headline with Mark Serritella April 5-7. Dahle grew up in Minnesota, finished high school in Colorado, and stepped on stage for the first time while attending Arizona State University. Dahle comes from a show business family with Dahle Sr. having played in the band Copperhead that had an album out in the early 1970s. Quinn has performed on Comedy Central and worked with such notable stars as Robin Williams, Drew Carey, Dana Carvey, Jon Lovitz, Bill Maher, Frank Caliendo, David Alan Grier and John Pinette.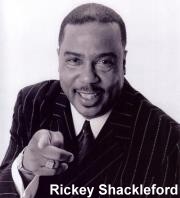 Rickey Shackleford will perform with Zach Risen, April 12-14. Shackleford is a seasoned comedian, who has opened for Pattie LaBelle, Adel Givens (Queens of Comedy), and entertained US troops in Iraq, Afghanistan and Saudi Arabia in 2002, and is guaranteed to keep the audience in stitches. His humor is adaptable to audiences of all ages.
XTREME MUD RUN ATTRACTS ENTHUSIASTS
The Xtreme Mud Run across the Colorado River from the Avi at Fort Mohave, Ariz., is the longest Mud Run in the nation and the only one to offer four races on one course. If you've pushed yourself through "Tough Mudder" or "Spartan" then Xtreme Mud Run is the next challenge.
The races are: 5K for fun with 15 obstacles; 10K for adventurers with 20 obstacles; 10 Mile for advance Mud Runners with 28 obstacles; and 15 Mile for crazy athletes with 38 obstacles. Each race will have selected heats starting every 30 minutes. For more information, visit www.xtrememudrun.com.
AIR SHOW WILL BE HELD AT LAUGHLIN/BULLHEAD AIRPORT
The Laughlin/Bullhead International Airport will host the 3rd Annual "Legends Over the Colorado" Air Show on Saturday, April 6 from 9 a.m. - 4:30 p.m. This one-day event presented by the Mohave County Airport Authority will feature aerial performances, precision flying, and displays of both vintage and modern-day aircraft. Tours and rides will be available (subject to availability). The event will also offer vendors, food and beverage booths, photo ops with the "Pinup Patriettes," veteran speakers, a hospitality tent and more. Tickets are $10 for adults and $12 at the gate; $5 for children ages 5-12 years old; and free for children under 5 years of age. For advance tickets, call 928-754-2134 or visit LOTCAirShow.com.
Among the performers will be: West Coast Ravens (a group of pilots from the West Coast who fly their home-built RV airplanes in formation in a demonstration); Coleman DEMO; the CJ Trainer aircraft; plus demo and reenactment of WWII Pacific encounter featuring a Japanese Zero, an F6F, a TBM, a P51 Mustang and a British Spitfire.
CORVETTE CLASSIC CAR SHOW VISITS THE RIVERSIDE
The 18th annual "All Corvette Gambler's Classic Car Show" will be held by Corvettes of Bakersfield in the South Parking Lot at the Riverside, April 18-20. The Thursday through Saturday event will include a poker run and showcase of approximately 300 Corvettes from morning to mid-afternoon. It's free to view the cars. For information, visit corvettesofbakersfield.org.
The Corvettes of Bakersfield, Inc. is a non-profit organization that was established in November 1967 as Associated Corvettes and had a name change in the early 1970s. Today the organization has a membership of 74 families, meets the second Tuesday of every month, and raises money for charities.
TOP OF NEXT COLUMN
THE AVI WILL FEATURE THE FABULOUS THUNDERBIRDS
The Fabulous Thunderbirds will appear in the Avi Grand Ballroom on Friday, April 19 with the show starting at 9 p.m. Tickets are $40 reserved and $35 general reserved.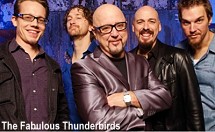 For more than 30 years, The Fabulous Thunderbirds have been influenced by a diversity of musical styles which has manifested itself into a unique musical hybrid style. While they started as a straight blues band, co-founder Kim Wilson, the sole original member, still spearheads the group as it evolves into its newest incarnation. The current lineup features Jay Moeller on drums, Johnny Moeller and Mike Keller on guitars, and Randy Bermudes on bass. Wilson says they are all willing to adopt a more contemporary style.
For Wilson, his musical journey started in Goleta, Calif., at 17 when he began playing the harmonica. He met Jimmie Vaughan in Austin, Texas, and they founded the T-Birds in 1974, which subsequently signed a record deal with CBS/Epic Records. In 1979, The Fabulous Thunderbirds released their first self-titled album. In subsequent releases, the band started to incorporate more Cajun, rock 'n' roll and soul influences. Vaughan left the group in 1989 but Wilson kept the band going, incorporating keyboards into the guitar-driven sound.
CHLORIDE, ARIZONA MAKES FOR FUN DAY TRIP
Since most folks drive to Laughlin, consider a day trip to the 1860s mining town of Chloride, Ariz., located 47 miles away. Chloride is the site of the oldest continuously used post office in the state of Arizona and, at one time, home to 73 functioning mines. The town's name comes from silver chloride, the most abundant item mined there. Old buildings include the historic jail and train depot. Roy Purcell's murals are located on nearby canyon walls a short drive outside of town.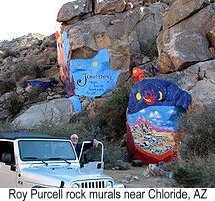 Chloride is a small village with 250 people, one motel with a full-service restaurant and bar, Yesterdays Restaurant, one convenience store and several gift shops. The town is dotted with a fun collection of lots of yard art, has a large collection of old tractors and a cemetery dates back into the 1800s.
RECAPPING ABOUT TOWN HAPPENINGS
Latin music takes over the Edgewater's Inferno Night Club every Sunday night from 10 p.m. to 4 a.m. when it is Latin Night featuring the music of Cuba. Folks are dancing the night away to Salsa, Timba, Merengue, Reggaeton and Bachata.
The 15th annual "Blues & Brews Festival" will take place at the Colorado Belle outside in the Center Circle Event Area, April 5-7. John Earl & The BoogieMan Band, Chris Hiatt & Cold Shot, The Lionel Young Band, and Shawn Jones will provide the blues music for the three-day event. Six-time Grammy Award winner Buddy Guy will highlight the event with a show at the Edgewater's E Center on Saturday, April 6. Tickets range from $25 to $65.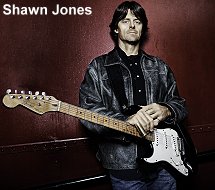 Heart, featuring sisters Ann and Nancy Wilson, will perform at the Aquarius Outdoor Amphitheater on Saturday, April 6 at 8 p.m. Most recently, the Wilsons were on the charts in 2010 with their Billboard Top 10 hit "Red Velvet Car" album. Tickets to see the classic rock group are $37 and $47.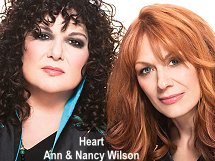 Magician Dirk Arthur is finishing a two-week run in the Fiesta Showroom at Harrah's nightly through April 14.
The Letterman will appear at the Riverside, April 2-7. Through the 1960s and 1970s, the trio scored 20 chart-topping hits with songs. Tickets are $30.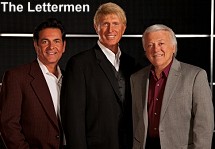 Harrah's Rio Vista Outdoor Amphitheater and ballrooms will be taken over with the AAU National Bench, Deadlift, Pushpull, USA Record Breakers Powerlifting and National Feats of Strength multi-pronged event on April 6 and 7. Cost is $10 per day for spectators.
Edward Escalante from Yucca Valley, Calif., won $34,611.75 playing Royal Match Progressive 21 on March 24 at the Tropicana Laughlin.
At the Aquarius, from Monday, April 8 through Sunday, April 14, ace | PLAY card members will receive $10 in free slot play for every 2,000 base slot points earned. There is no cap on the amount of free slot play a player can earn.
AVI HOSTS 'RIVER CRUIZERS HOT RODS & HARLEYS' CAR SHOW
The 14th Annual "River Cruizers Hot Rods & Harleys" car show will take place at the Avi, April 18-21, on the Beach Overlook. The event will be daily from 9 a.m. to dusk and it's free to view the cars. There will be a poker walk, daily 50/50 drawing and trivia. For more information, visit rivercruizers.com.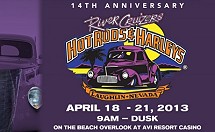 KIWANIS KRASH DEMOLITION DERBY WILL BE HELD AT AVI

The annual Kiwanis Krash Demolition Derby will be held Saturday, April 13 at the Avi Outdoor Special Events Arena north of the casino. Gates will open at 4 p.m. The event starts with a parade of entries at 6 p.m. There will be grandstand seating as well as food, beverage and merchandise vendors. The total prize pool is $4,300 and first place in the main event will pay $1,800. This is a fundraising event for the Bullhead City Morning Kiwanis Club. Admission at the gate is $10 for adults; $5 for ages 7-15; free for ages 6 and under; and pit passes are $5 for ages 16 and older with paid admission.



CONTINUE ON TO...:
THIS WEEK'S >LAS VEGAS NEWS
LAST WEEK'S >LAUGHLIN NEWS
>VEGAS VIEW FULL ARCHIVES
Return to >"Heard Around Town"
Return to >Las Vegas Leisure Guide