JOEL MCHALE RETURNS TO MANDALAY BAY
Comedian Joel McHale, best known to the world as the star of E! Network's "The Soup," is heading back to Mandalay Bay. Renowned for his witty commentary on celebrity slip-ups and pop culture, McHale will return for one-night only Friday, April 30 at 9 p.m. Tickets are $40 and $60, call 702-632-7580.
Column Continues Below Advertisement
McHale's quick wit includes entertaining scoffs about celebrity bloopers and blunders. He also amuses guests with anecdotes on everything from his family and friends to people he has encountered during his time in show business.
In addition, McHale is the star of NBC's new comedy series, "Community," and also has appeared on numerous television shows including "Will & Grace," "CSI: Miami," and "Pushing Daisies." McHale recently appeared on the big-screen in the Steven Soderbergh-directed thriller "The Informant," opposite Matt Damon. His other work includes roles in "Spider-Man 2" and "Lords of Dogtown."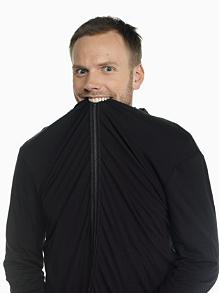 INTERNATIONAL STAR AARON KWOK WILL PERFORM AT ENCORE
Aaron Kwok, dubbed the "Asian dancing king," is bringing his "Dancing King Concert – World Tour" to North America exclusively at the Encore Theater for concerts on April 2 at 11 p.m. and April 3 at 7 p.m. and 11 p.m. Kwok is the first Asian entertainer ever invited to perform at the Encore Theater, and this will be his first performance of the "Dancing King Concert – World Tour" in Las Vegas.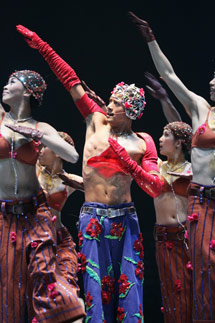 Kwok is one of Hong Kong and Asia's most revered singing and dancing stars. He has performed the "Dancing King Concert" 16 times in Hong Kong. The entertainer has received rave reviews in Macau, Taiwan, Mainland China, USA, Canada, Singapore and Malaysia. Kwok's performances on stage are always choreographed with great artistry and dramatic effect.
Tickets are $48, $118 and $168, call 702-770-SHOW (7469).
FIGURATIVE ART NEXT EXHIBIT AT BELLAGIO GALLERY OF FINE ART
Bellagio Gallery of Fine Art (BGFA) has announced "Figuratively Speaking: A Survey of the Human Form" will open on May 1. Organized in partnership with the Museum of Contemporary Art San Diego (MCASD) and the Museum of Fine Arts, Boston (MFA), the exhibit will present figurative works by such artists as Pierre-August Renoir, Pablo Picasso, Alberto Giacometti, Joseph Cornell, Roy Lichtenstein, David Hockney, Judith Shea, Bill Viola, Yoshitomo Nara, Vanessa Beecroft and many others.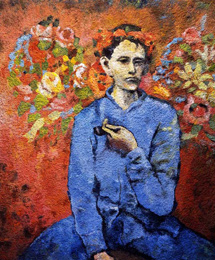 The engaging survey will feature more than 30 paintings, photographs and sculptures along with video installations by 26 artists whose traditional and contemporary perspectives on figurative art helped to define the genre in the late 19th, 20th and early 21st centuries.
Different schools of modern and contemporary art fall under the heading of figurative art. Figurative works of art not only depict a real subject, but also reflect the religious, social, political and mythical beliefs of the times in which it was made.
The figurative exhibit will be on view May 1 through Jan. 9, 2011. The gallery is open daily at 10 a.m. Tickets are $15 for general admission, $12 for Nevada residents and seniors 65 and older, and $10 for students, teachers and military. Children 12 and younger are free. Audio and docent tours are included in the price of admission.
THIRTY SECONDS TO MARS TO PERFORM AT THE PEARL AT THE PALMS
Modern rock band Thirty Seconds to Mars will perform at The Pearl Concert Theater inside the Palms on Friday, April 9, at 9 p.m. with special guests Neon Trees. With album sales reaching 3.5 million worldwide, Thirty Seconds to Mars continues to bring fans the modern, progressive rock they've been putting out for nearly a decade. Tickets are $30, call 800-745-3000.
The band was formed by Jared and Shannon Leto in 1998 and the group's first self-titled album was released in 2002. The multi-platinum follow up, "A Beautiful Lie" in 2005 boasted two Top 5 Modern Rock singles "From Yesterday" and "The Kill," which set the record for the longest-running hit in the history of Modern Rock radio with airplay for more than 50 weeks following its No. 3 peak in 2006. The band mates traveled to four different continents over three years to keep up with recording while front-man Jared Leto was filming several movies.
Thirty Seconds to Mars' newest album "This Is War" in 2009 is a reference to the band's personal battles, a commentary on global crises and economic turmoil, and homage to their now infamous $30,000,000 lawsuit with Virgin Records.
JAY AND THE AMERICANS WILL PERFORM AT THE CANNERY
Jay and the Americans, a '60s pop group known for their doo wop-influenced vocals will perform their greatest hits at the Cannery in North Las Vegas on Saturday, April 3 at 8 p.m. Tickets are $19.95, call 702-507-5757.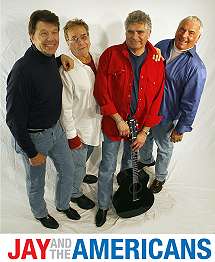 Jay and the Americans entered the music scene in 1962, releasing the No. 5 Billboard single, "She Cried." In 1964, the group scored its biggest hit, "Come A Little Bit Closer," soaring to No. 3 on the charts. Through the following years, the group, which was inducted into the Vocal Group Hall of Fame in 2002, continued their success with more hits including, "Cara Mia," "Only In America," "Some Enchanted Evening" and "This Magic Moment."
BELLAGIO UNVEILS 2010 EPICUREAN EPICENTER SERIES
Bellagio, the recipient of nine consecutive AAA Five Diamond Awards for excellence, is presenting the palate-pleasing interactive food and wine Epicurean Epicenter series.
At Epicurean Epicenter events, guests watch talented chefs prepare their meal and minutes later get to savor the cuisine paired with some of the world's finest vintages. The 1,170-square-foot, demo Tuscany Kitchen serves as the set for most of the events.
Dates for series are May 7, June 19, Sept. 25, and Dec. 29. Cost is usually $75 to $95.
TOP OF NEXT COLUMN
ELTON JOHN - BILLY JOEL TRIBUTE OPENS AT LAS VEGAS ROCKS CAFÉ
"The Ultimate Tribute to Sir Elton John & Billy Joel" starring veteran tribute artists Jeffrey Allen and Michael John opened at the Las Vegas Rocks Café's Embassy Theatre on Thursday, March 25. They are headlining every Thursday and Friday at 8 p.m. and Saturday at 9 p.m. Tickets are $19.95 and $29.95, and only $49.95 plus tax and gratuity for a three-course salmon or chicken dinner and premium seating, call 227-5872 (LVRC).
Like the original tour, each artist performs a solo set with a five-to-six piece rock 'n' roll band, and then close the show with a face-to-face set featuring both of them playing together on two pianos and trading off lyrics on each song they perform. Allen and John each have an extended resume as their superstar characters and have performed in "Legends in Concert."
JOIN PENN & TELLER FOR AN AIDS WALK
For the ninth consecutive year, Rio headliners Penn & Teller will serve as Grand Marshals for AFAN's (Aid for AIDS of Nevada) 20th Annual AIDS Walk Las Vegas and will lead the Penn & Teller Challenge AIDS Walk team at 8 a.m. Sunday, April 25. The AIDS Walk serves as AFAN's largest fundraiser of the year. For everyone who joins the Penn & Teller Challenge, the famous duo will match all monetary funds raised by pledges and donations. This challenge raised more than $120,000 in 2009. Harrah's Entertainment has joined the Penn & Teller Challenge this year, adding not only their generous support but a variety of reward items from their Strip properties.
To join the Penn & Teller Challenge follow the Penn & Teller Challenge link to 'Join Our Team.' Registration for the walk is free, but a minimum donation of $35 per person is encouraged and includes an official AIDS Walk Las Vegas t-shirt. This year's AIDS Walk will be held downtown at the World Market Center. To register, visit www.afanlv.org.
HENDERSON's ARTBEAT PRESENTED BY TARGET RETURNS IN APRIL
ArtBeat is a cultural arts series sponsored by Henderson and Target that will return in April. The featured performing acts will include: Lucy Walsh, daughter of Eagles' guitarist Joe Walsh, on April 9; pianist Jon Schmidt on April 16; country Western singer Chuck Mead on April 23; and local group, Tony Scodwell's Big Band on April 30. All four free shows will take place at 8 p.m. at the Henderson Events Plaza, 200 S. Water Street. Events include pre-show activities, such as art displays and children's make-and-take crafts at 7 p.m.
GIADA DE LAURENTIIS VISITS AND SIGNS AT SUR LA TABLE
Bestselling author and Food Network star, Giada De Laurentiis, will personalize her new cookbook "Giada at Home: Family Recipes from Italy and California" and greet fans at Sur La Table inside Miracle Mile Shops Monday, April 5 at 5 p.m. Fans must have a ticket, which can be obtained by purchasing a copy the book at Sur La Table between now and April 5.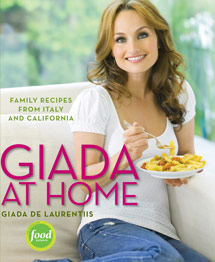 QUICK CLIPS
Charlie Trotter closed his Restaurant Charlie and Bar Charlie at The Palazzo. Also David Burke Las Vegas at The Venetian will also be closing.
Beginning on Sunday April 11, Sunset & Vines at Lake Las Vegas will be offering a three-course "All You Can Eat" Alaskan King Crab Dinner for $39.95 to the first 40 reservations, from 5-9 p.m. every Sunday (except holidays).
The Greek Isles on Convention Center Drive will begin a "Victorious" Sunday Gospel Brunch in the hotel's re-branded "A" Theater on Palm Sunday, March 28 at 1 p.m. Gospel vocalists, Victorious, will feature Tony Arias, Tim Searcy and the Victorious singers. Ticket prices are discounted $5 if purchased in advance. Adult ticket is $39.95 and $24.95 for children under 12.
The Comedy Stop now in the main showroom at the Sahara has the following lineup: Harry Maurer, Lucas Bohn and Greg Morton, March 29-April 4; and Paul Lyons, Michael Gelbart, and Quinn Dahle, April 5-11. Maurer is a comedy magician who has entertained for U.S. presidents, celebrities and international royalty.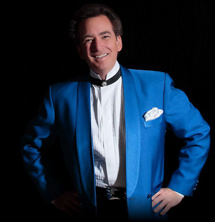 Through Wednesday, March 31, the Miracle Mile Shops' fountain is emitting a constant orange color in between its regularly scheduled water shows in support of The National Multiple Sclerosis Society - Nevada Chapter. Additionally, all money tossed into the fountain and the center's indoor rainstorm feature during the month of March will be donated to the Nevada Chapter.
WOMEN's EXPO SHOW WILL BE HELD AT RED ROCK
Due to the success of last fall's expo, a spring Las Vegas Women's Expo show on Saturday, April 3, has been added. The event at the Red Rock Ballroom from 10 a.m. to 5 p.m. will highlight the latest trends in fashion and shopping, anti-aging treatments and cosmetics, spa and beauty treatments, food and chocolate, home décor, health and weight-loss.
Complimentary food samples provided by local restaurants, cocktail samples courtesy of Blue Martini, chair massages, special health screenings and much more will be available. Stage entertainment includes a performance from Men of Sapphire, and the Easter Bunny will also be on hand for photo opportunities with the kids.
Hundreds of prizes will be given away throughout the day including an Easter basket valued at $2,000 filled with gift certificates. Every woman through the door also gets a key for a chance to unlock the grand prize case and win a $2,100 diamond necklace from Morgan Taylor Jewelers.
Admission is $10 at the door or free tickets can be obtained by visiting www.lvwomanmagazine.com/expo. The first 200 ladies will receive complimentary goody bags.
HENDERSON TO HOST XTERRA WEST CHAMPIONSHIP
On April 24-25, Loews Lake Las Vegas Resort will host the XTERRA West Championship triathlon and accompanying off-road sports festival for the second straight year.
More than 1,000 competitors from across the country will take part in the various races. The main event, an off-road triathlon comprised of a one-mile swim in Lake Las Vegas, an 18-mile mountain bike up, down, and around the desert surrounding the resort, and a 6.2-mile trail run, will award $10,500 in prize money.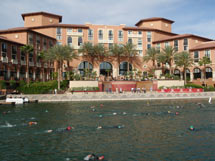 EASTER EVENT AT LAKE LAS VEGAS
The Village Lake Las Vegas will hold its annual Easter Egg Hunt on Sunday, April 4. There will be hourly egg hunts from 11 a.m. to 2 p.m., an appearance by the Easter Bunny until 4 p.m. and face painting noon to 4 p.m. Event is free and an egg hunt is $5 per child.
Column Continues Below Advertisement
CONTINUE ON TO...:
>THIS WEEK'S LAUGHLIN NEWS
>LAST WEEK'S LAS VEGAS NEWS
>VEGAS VIEWS FULL NEWS ARCHIVES
>Return to "Heard Around Town"
>Return to Las Vegas Leisure Guide