GLADYS KNIGHT AT TROPICANA

Seven-time Grammy Award-winning performer Gladys Knight will headline in a special engagement at the newly transformed Tropicana Las Vegas, beginning Tuesday, April 5. It's her first residency on the Strip since 2005. Tickets are $65 and $75, call 702-739-2411.
Column Continues Below Advertisement



Knight will be joined by four singers and dancers during the show, along with an 11-piece band. Merald "Bubba" Knight, one of the original members of the Pips, will be featured as part of the show. Knight will showcase songs ranging from her greatest hits to her new album being released in this spring or summer. She has teamed up again with Producer Randy Jackson.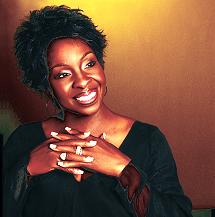 There will also be three preview performances held March 31, April 1 and April 2 with tickets available for the public to purchase.
STEVIE NICKS VISITS CAESARS PALACE
Rock and Roll's reigning queen, the one and only Stevie Nicks, will perform in a rare solo appearance at The Colosseum at Caesars Palace on Saturday, May 14 at 8 p.m. Tickets range from $49.50 to $175, call 800-745-3000.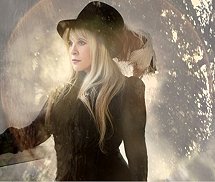 Nicks' first studio album in a decade, "In Your Dreams," is scheduled for release May 3. Nicks is a multi-Grammy Award-winning, multi-platinum, Rock & Roll Hall of Fame inductee and member of Fleetwood Mac. Nicks will appear on NBC's "Today Show" on May 3. Currently, she is co-headlining the Heart & Soul Tour with Rod Stewart.
BELLAGIO GALLERY HAS NEW EXHIBIT OPENING APRIL 16
Bellagio Gallery of Fine Art (BGFA) will debut its next exhibit, "A Sense of Place: Landscapes from Monet to Hockney" on April 16. Through a juxtaposition of images, "A Sense of Place" will present more than 30 artworks ranging from paintings, photographs and a video installation that contrast and compare both approach and expressionism in art.
The exhibit will showcase landscapes by artists including Claude Monet, Marc Chagall, Helen Frankenthaler, David Hockney, Sylvia Plimack Mangold, Robert Rauschenberg, Christo, Vik Muniz and many others and run through January 2012. Tickets are $15, $12 for Nevada residents and seniors 65 and older, and $10 for students, teachers and military.
RITA RUDNER HOSTS 8th ANNUAL 'BEST IN SHOW'
Rita Rudner will shine the spotlight on dozens of shelter dogs competing to become The Animal Foundation's "Best in Show" at the Orleans Arena on Sunday, May 1 at 1 p.m. Tickets are $12 for adults, $5 for children 2-12 years of age and seniors, call 702-284-7777 or visit www.orleansarena.com.
An annual tradition, "Best in Show," features more than 50 healthy happy dogs from The Animal Foundation competing in an AKC-style dog show. Each dog will be available for immediate adoption after the show.
CHICAGO RETURNS TO THE LAS VEGAS HILTON
Chart-topping Chicago will return to the Las Vegas Hilton April 8 - 9 as part of their extensive North American and International tour. Tickets are $59-$89, call 800-222-5361.
An incredible 25 of Chicago's 32 albums have been certified platinum, and it is the first American rock band to chart Top 40 albums in five decades. In September 2008, "Billboard Magazine" named its Top 100 artists of all time based on the Billboard Hot 100 singles chart and Chicago's extraordinary career landed them at No. 13.
TEMPTATIONS RETURN TO THE ORLEANS
The Temptations – Otis Williams, Bruce Williamson, Terry Weeks, Ron Tyson and Joe Herndon will bring classic Motown back to The Orleans Showroom, April 1, 2 and 3. Tickets start from $34.95, call 702-365-7075.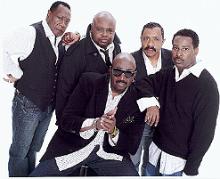 The Temptations are an essential component of the original Motown machine invented by Berry Gordy beginning their musical career in Detroit in the early '60s. Beyond their fabulous singing, The Temptations became known for smooth-stepping and flawless presentations.
EASTSIDE CANNERY BOOKS SHORE's 'LEGENDS IN COMEDY'
Sammy Shore's "Legends of Comedy" will be at the Eastside Cannery in Marilyn's Lounge at 8 p.m. with free performances in April and May.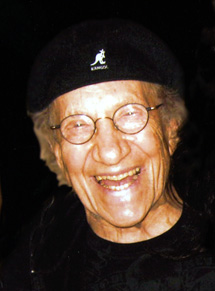 The "Legends of Comedy" show on Saturday, April 16 will include one liners and comedy quips from Shore, as well as one of Las Vegas' favorite comic impressionists, Kathy Walker and Barry Diamond, who has had a spot on "Friends," "Seinfeld" and "Curb Your Enthusiasm."
On Saturday, May 21, Shore will share the stage with the "Pit Bull of Comedy" Bobby Slayton, whom the New York Daily News called "Armed and Dangerous." Comedian and actor Robert Duchaine will keep the audience entertained with his sarcastic social commentary.
EASTSIDE CANNERY PRESENTS PAUL RODGERS
Paul Rodgers, who toured and recorded with Queen from 2004 to 2008 and reunited Bad Company from 2008 to 2010, is at long last returning to the United States with his solo band for an exclusive concert at the Eastside Cannery on April 2. Tickets are $39.95, $49.95 and $59.95, call 702-856-5470.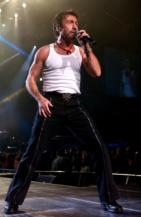 Grammy® nominated and Platinum selling artist Rodgers is playing an exclusive 10 dates in the United States this year and his first stop will be at the Eastside Events Center. He has also chosen to rehearse for several days at Eastside Cannery for his upcoming UK tour prior to his show.
The singer/songwriter will be performing new songs from his up and coming solo CD, making it 31 album/CD releases since 1968, plus hits from his expansive back catalogue.
VOICES 3 MAKE LAS VEGAS DEBUT AT SUNCOAST
Popular Las Vegas entertainers Bill Fayne, Teddy Davey and Chris Coyne will make their Las Vegas debut as Voices 3 at the Suncoast Showroom, April 16 and 17. Mollie Tennant from "Jubilee!" and other surprise guests will join Voices 3 along with an orchestra. Tickets are $15.95, call 702-636-7075.
Voices 3 is a blend of musical styles and genres featuring three admired Las Vegas singers and entertainers. Mixing everything from rock to Motown and Broadway to swing, the show spans more than 100 years of memorable music.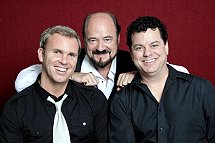 Fayne has more than 40 years in the music industry and was the musical director for singers Clint Holmes, Kathie Lee Gifford, Ann Jillian, Suzanne Somers and many others. In addition to Voices 3, Fayne created The Las Vegas Tenors and Voci Vegas.
In Las Vegas, Davey was a member of The Las Vegas Tenors as well as a solo artist. As a classically trained singer and Shakespearian actor, Davey also performs in musical theater, and sings romantic songs in a variety of languages.
Coyne has traveled the world performing in musical theater productions like "Hair" and "Vita." He has been the lead singer in "Jubilee!" and "Follies Bergere," and has sung on many occasions with The Las Vegas Tenors.
'COMMISSION FREE' PAI GOW AT CANNERY CASINOS
Cannery Casino Resort properties including The Rampart are offering Las Vegas' only "no commission" Progressive variation of the Pai Gow game. It's an exclusive change. All other Progressive Pai Gow games in Las Vegas charge a 5 percent commission fee when the player hand wins. Cannery Casino Resorts partnered with DEQ Systems Corporation (DEQ) to provide this variation which allows players to keep more of their winnings, while speeding up the game.
In lieu of taking 5 percent of your winnings, we had to make one simple change to the game. When a dealer receives a Queen high Pai Gow all player winning hands are pushed.
SILVERTON WILL HOST 10TH PURE ALOHA FESTIVAL
Vizzun Entertainment will present the 10th Annual Pure Aloha Festival April 14 – 17 at the Silverton. The two-fold event features a Hawaiian festival and concert series.
The festival will feature more than 100 island craft and merchandise booths, authentic food vendors and amusement rides. Meanwhile, there will be entertainment by local halau performances and bands. Festival admission is $7 at the gate and $5 for seniors 55 or older, military and children under 10 or call 702-263-7777. Concerts are $30 and $38. Hours are 4 – 11 p.m. on Thursday and Friday, 11 a.m. – 11 p.m. on Saturday, and 11 a.m. – 9 p.m. on Sunday.
TOP OF NEXT COLUMN
WYNN NIGHTCLUBS HAVE DJs STEVE AOKI & FEED ME
The premier nightlife and daylife venues at Wynn Las Vegas will continue their recent partnership with the addition of shared residencies with renowned DJ Steve Aoki and rising star Feed Me.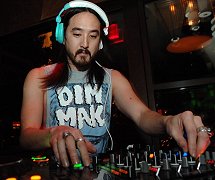 Steve Aoki debuted as the musical director for Surrender Nightclub last year in addition to his Friday night residency "Aoki's House." His contract this year will expand into bringing his unique and energetic sets to XS once a month beginning Monday, April 4 at the venue's popular industry night.
DJ Feed Me is the most recent emerging talent on the electronic scene. Fresh off of his latest album release, "Feed Me's Big Adventure," the artist most famously known for his affiliation and collaboration with Deadmau5 and the mau5trap label brings a unique sound of electro-house and dubstep to his performances. Feed Me recently made his Las Vegas debut at Surrender and will do the same at XS on April 11 for his year-long residency.
TIVOLI VILLAGE ANNOUNCES ADDITIONAL TENANTS
Tivoli Village, a 29-acre mixed-use development in Northwest Las Vegas opening April 28, is announcing more tenants including the Las Vegas debut of the David Barton Gym, a 31,000-square-foot Health Club. Also joining the lineup are first-to-the-market Charming Charlie, national restaurant BRIO Tuscan Grille, Jeff White Custom Jewelry, Crystal Medical Spa, Leone Café, YoScream, The Dog House, Bobby Wheat Gallery and Regus, operator of more than 1,100 Business Centers and Executive Office Suites worldwide.
CIRQUE DU SOLEIL OFFERS BACKSTAGE EXPERIENCE
For spring and summer, Cirque du Soleil is offering a behind-the-scenes backstage tour at two shows – The Beatles "Love" at The Mirage and "O" at Bellagio. The package will include the tour, a premium ticket, a special limited edition bag with Cirque du Soleil merchandise items, and a Front-of-Line VIP Pass for Jet Nightclub at Mirage or Bank Nightclub at Bellagio depending on the show purchased. Special offers will also be included for The Beatles REVOLUTION Lounge at Mirage and Caramel at Bellagio. The Cirque Insider Access package is $260, call 800-947-1081.
'FLIPPING OUT' STAR JEFF LEWIS VISITS LAS VEGAS
Design-savvy Jeff Lewis, the star of Bravo's docu-series "Flipping Out," will appear at a public event at Las Vegas Design Center on Saturday, April 16, from 11 a.m. to noon. In just 11 years, Lewis has purchased, renovated and designed more than 100 properties in some of Los Angeles' most enviable neighborhoods. Most recently, he was tapped by "House Beautiful" magazine to design the third annual "Kitchen of the Year" in Rockefeller Center.
DANA CARVEY PERFORMS AT THE ORLEANS
Witty impressionist, actor and comedian Dana Carvey, who is famous for his six-year stint as a cast member of NBC's "Saturday Night Live" and memorable characters "Church Lady," "Garth" and "Hans," will bring laughs to The Orleans Showroom, April 16 and 17. Tickets start from $54.95, call 702-365-7075.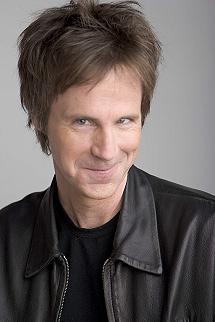 Carvey's work on SNL garnered him six Emmy Award nominations, with a win in 1993 for "Outstanding Individual Performance in a Variety or Music Program." In addition, Carvey appeared on several other television programs – in guest and starring roles – and had a self-titled 1996 series, "The Dana Carvey Show."
T&T PRESENTS 'COUGARS & CUERVO' WEDNESDAYS
On Wednesday, April 6, Tacos & Tequila (T&T) at the Luxor is kicking off Cougars & Cuervo Wednesdays from 6 - 9 p.m. and will introduce its newest cocktail, "The Cougarita." There will also be $5 shots of flavor infused Jose Cuervo Tradicional, $5 Dos Equis, a shirtless "Hunk" mascot and the sexy cast of Excalibur's "Thunder From Down Under." Hosting the inaugural event will be "Real Housewives of Orange County" alum Tamra Barney. This reality star is known for recently getting divorced, moving on to a younger, sexy man.
QUICK CLIPS
Due to strong demand, 20 additional performances have been added Dec. 13-27 to the Las Vegas stop of "Michael Jackson THE IMMORTAL World Tour™" at the Mandalay Bay Events Center. The new dates are in addition to the previously announced performances from Dec. 3 - 11.
Terry Fator's second anniversary show at The Mirage warranted introducing his new puppet Berry Fabulous and a tiered cake shaped like his puppet Winston the Impersonating Turtle.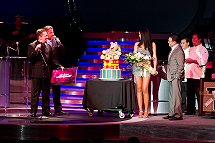 Simon at Palms Place will host a Pinot Noir five-course wine dinner at 7 p.m. on Wednesday, April 13 for $80; call 702-944-3292.
"Aqua Magazine," the business magazine for pool and spa professionals, features an award winning project "Fire in the Desert" by Paragon Pools of Las Vegas on the cover of the March issue. This is the second year in a row that Paragon Pools has claimed an Aqua Choice Award.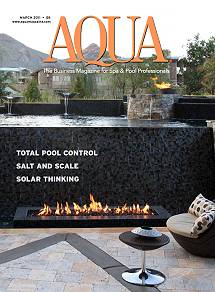 Through April 4 at Red Rock, every person who brings in their non-winning ticket from a bet made on a NCAA game at the Red Rock Sports Book will automatically get 15 percent off the Bracket Burger. For bettors who use social media, they can show their server that they "checked in" at LBS Burger Joint on foursquare or yelp and get a free potato "Twister" appetizer when they order a burger.
Effective immediately The Festival Fountain Show at The Forum Shops at Caesars is being discontinued for refurbishing until further notice. The Atlantis Show, an animatronics extravaganza that tells the tale of Atlas, Gadrius and Alia, who struggle to rule the undersea city can be viewed daily; every hour on the hour beginning at 11 a.m.
'A FLAIR FOR CARE' FASHION SHOW FUNDRAISER
The 12th annual "A Flair For Care" Fashion Show, sponsored by Neiman Marcus to benefit the non-profit Nathan Adelson Hospice, will be held Friday, April 8 at Wynn Las Vegas at 10:30 a.m. The event will include a Michael Kors fashion show, lunch and gift drawings. Tickets are $250, call 702-938-3910.
The event's guests will be treated to an elegant lunch catered by Wynn Las Vegas and can participate in the "Only The Best" Opportunity Drawing. The drawing features items from the world's most sought-after designers and includes jewelry, handbags, shoes, luxurious experiences, trips and many other incredible items.
COLOR SALON AT CAESARS PALACE LAUNCHES TUTORIALS
Michael Boychuck's stylish salon, COLOR, at Caesars Palace, has launched "Find Your Color with Kate," a series of glamorous makeup tutorials by Director of Cosmetics, Kate Stromberg. The series will showcase Vegas' hottest starlets and the step-by-step process on the Caesars Palace YouTube channel.
The premiere tutorial, Vegas Vixen, showcases Laura Croft, Playboy Playmate and star of E! Entertainment's reality series, "Holly's World."
JAKE SHIMABUKURO OPENS ARTBEAT PRESENTED BY TARGET
The spring season of ArtBeat presented by Target will kick off with a free performance by ukulele player, Jake Shimabukuro, on Friday, April 1 at 8 p.m. at the Henderson Events Plaza. At only 33 years old, Shimabukuro has completely revolutionized the perception of the four-string, two-octave instrument. The Hawaii native rose to fame through the popularity of YouTube, and has shared the stage with the likes of Jimmy Buffett, Bette Midler, Yo-Yo Ma, Cyndi Lauper and Ziggy Marley. The musician's newest album, "Peace Love Ukulele" debuted earlier this year at No.1 on the Billboard World Album chart.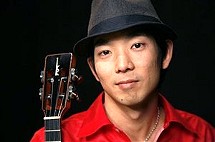 Currently, Shimabukuro serves as the head spokesperson for Music is Good Medicine (MIGM), a community outreach program that promotes healthy living.
This year, the event will feature a new art and music experience at 5 p.m. with local musicians, bands and choral groups performing. In addition, various painters, sculptors, craftsmen and other artists will exhibit.
HEALTHCARE CENTER HOLDS CELEBRITY CHEF CONTEST
Five of Las Vegas' top chefs will be competing in the first Silver Plate Celebrity Chef Contest fundraiser at the Silver Ridge Healthcare Center on Tuesday, March 29, from 2 to 4 p.m. Competing Chefs are: Aaron Moran - Hard Rock Café; Anthony Vidal - Hash House A Go Go; Kiko Ojeda - The Palm – Las Vegas; Marco Beltran - Lolita's; and Shawn Wilder -Second Street Grill at the Fremont.
Chefs will prepare an appetizer trio plate with key ingredients given to them prior to the event. The winner will receive $500 and a prestigious silver recognition plate. The attendees will be the judges making this a truly interactive event. Tickets are $25; call Shanda at 702-468-9418.
CHUCK RAGAN TO PERFORM TWO SHOWS AT THE PALMS
Former Hot Water music front man, Chuck Ragan, will perform at The Lounge inside the Palms on April 19 and 20 at 9 p.m. Ragan has become a musical troubadour, growing from punk rock to releasing a string of well-received solo acoustic efforts. Tickets are $19, call 702-944-3200.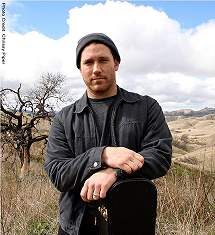 Column Continues Below Advertisement
CONTINUE ON TO...:
>THIS WEEK'S LAUGHLIN NEWS
>LAST WEEK'S LAS VEGAS NEWS
>VEGAS VIEWS FULL NEWS ARCHIVES
>Return to "Heard Around Town"
>Return to Las Vegas Leisure Guide