Since acquiring the Four Queens three years ago, local businessman Terry Caudill has invested more than $20 million in the historic downtown property. Having remodeled public areas and guest rooms that now include 32" flat-screen LCD TVs, added new dining options including a walk-up deli and coffee bar, refreshed the casino floor and upgraded gaming machines, the Four Queens' next achievement will be the Canyon Club, which is expected to open in April.
The mastermind behind the successful launch of the House of Blues at the Mandalay Bay, Lance Sterling, will be reentering the market with the Las Vegas version of his prospering LA nightspot, the Canyon Club. The 10,000-square-foot facility will offer a dinner menu and live entertainment nightly provided by dance bands, comedians and nationally known acts.
The owner, who also owns the local eatery and brew pub, The Chicago Brewing Company, installed a smaller-scale version of the restaurant with a cigar bar inside the property.

For one night only, legendary rock band, Sly and the Family Stone will perform during George Wallace's show at the Flamingo on March 31 at 10 p.m. George Wallace is in his fourth year as a headliner at the Flamingo. Tickets are $99 and $125, call 702-733-3333.
Column Continues Below Advertisement


Guaranteed to be a memorable night, this will be the first live performance in Las Vegas in 20 years for Sly and the Family Stone. Breaking social boundaries with a band comprised of both white and black members, audiences united to the racial, sexual and stylistic music that has since inspired musicians like Prince and Rick James. The group issued hit after hit in the 1960s and 1970s.
The Lucky Strike Lanes at the Rio featuring a 10-lane bowling alley and full-service restaurant and bar, is open daily from 11 a.m. until 3 a.m.
Last Monday, Beacher's Madhouse started BUBA - Beacher's Unprofessional Bowling Association, the only bowling tournament of its kind. Part of the Monday night competition running from March 19-June 11 includes a grand prize trip for four to Atlantis in the Bahamas.
The entry fee for a team of six is $50 plus the cost of lane and shoes.
In 1991, the Glitter Gulch casino was converted into The Girls of Glitter Gulch gentlemen's club. Now after a $3.5 million dollar redesign consisting of gutting and rebuilding the 6,500-square-foot club highlighting a color scheme of red, maroon and black with silver accents, the 195-guest capacity club is reopened. Red is a key color featuring red-colored glass entrance doors with the Glitter Gulch silhouette etched in silver, red Italian diamond stone placed throughout the club, and red lanterns hanging throughout.
The main stage is located down one side of the club, and it's surrounded by high-back booths. Opposite the booth side, is a long bar plus three additional smaller stages. The men's and women's restrooms are adorned with modern black and red tile, along with custom black sinks. Between 250 and 300 dancers perform at the club, which is located under the Fremont Street Experience. The club opens daily at 1 p.m. and goes until 4 or 5 a.m. Admission is free until 8 p.m. and then there's a $20 door charge, which includes one drink.
Sad to say, the delightful light-hearted "Forever Plaid" show will close at the Gold Coast on April 1. A production of "Forever Plaid" will return to the Sycuan Resort & Casino in El Cajon, Calif., beginning the week of April 9. The show debuted in the Gold Coast Showroom in 2005 and at the Flamingo's Bugsy's Celebrity Theatre in 1995.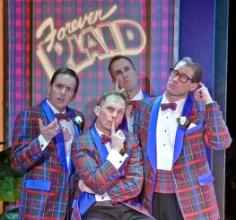 Nathan Burton Comedy Magic is now performing every day of the week in the "V" Theater at the Aladdin, and is no longer dark on Thursdays. The new performance schedule is Saturday - Thursday at 2 p.m. and 6 p.m. on Friday. Magician Burton gained national recognition last summer with six prime-time performances on NBC's hit, "America's Got Talent." This summer, he will be returning for the second season as a special guest and coach. Tickets are $33 and $39, call 702-932-1818.
Larry G. Jones, "The Man of 1002 Voices" who has his show at Fitzgeralds downtown, is celebrating more than five years and 1,200 shows in Las Vegas. That in itself is a testimony.
Work on the 2.44-mile Vegas Grand Prix temporary street course is on schedule and showing signs of progress around downtown Las Vegas. The course is taking shape with the addition of barriers and grandstands along Grand Central Parkway adjacent to the World Market Center. The 10-man track construction crew is working from 7 p.m. until the wee hours of the morning to get ready for the April 6-8 event featuring the Champ Car World Series, Champ Car Atlantic and Historic Grand Prix races.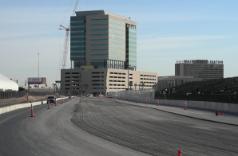 The entertainment lineup for the Vegas Grand Prix Friday Night Street Party on April 6 will include hit country duo Big & Rich with Cowboy Troy, alternative rocker Chris Cornell, rock amalgamation Army of Anyone and up-and-coming indie band the Teddybears.
The daring act, Riders of the Thunderdome downtown at the Fremont Street Experience has a new performance schedule, which is 8:15 p.m. and 9:15 p.m. on Friday and Saturday evenings. Previously, their first performance was at 7:15 p.m.
Joe Piscopo, who headlines in the Shimmer Cabaret at the Las Vegas Hilton with Vincent Falcone and his sextet, Sundays -Tuesdays at 9:30 p.m., established Avellino Productions two years ago and is currently working on "Joey Benefit," an independent feature film based on a character who can't say no to performing at any charity.
The Las Vegas Hilton - Star Trek: The Experience is currently running a promotion offering $10 off adult admission to registered Las Vegas Hilton guests.
Comedian / magician / ventriloquist John Pizzi will headline the Riviera Comedy Club's roster for seven nights, beginning Monday April 16. Pizzi is best known for his fun approach to live audiences with the help of his puppet Andy and a Don Rickles style of delivery. He will be joined by funnyman Gino Bisconti making his Riviera debut and comedy hypnotist Steve Marshall.
Thousands of women will gather at Bally's, March 29-April 1, for the Passion Parties Annual Convention to empower women. The organization's president is Pat Davis, author of recently released Random House book, "The Passion Parties Guide to Great Sex," will hold a book signing and Candace Bushnell, the "real life" Carrie Bradshaw of "Sex and the City," will be a guest speaker at the event. Throughout the convention there will be seminars. The organization has more than 28,000 representatives, who hold more than 10,000 parties a month,
One of the best visual shows in town is the ever-changing themed displays at the Bellagio Conservatory & Botanical Gardens. The current display highlights spring with a magical oversized garden. Filled with thousands of vibrant flowers, guests find themselves amidst whimsical scenes of a gardener at work. In one corner, a gigantic wide-brimmed straw hat rests near a towering watering can while steps away an oversized gardener's trowel can be found next to living gardening pots. Each of these elaborate creations features 10,000 to 20,000 individual plants and blooms and weighs between 500 and 2,000 pounds. The free display runs through May 5.
The Hard Rock is again offering top shelf entertainment at The Joint. The newly announced shows includes politically astute comedy icon Bill Maher doing six shows April 20 and 21, May 4 and 5, plus June 15 and 16 at 11:30 p.m. He is most recently known for his show "Real Time with Bill Maher" on HBO. Tickets are $45.50, $57.50 and $75.50.
Other acts include: XM Radio's Opie & Anthony's Traveling Virus Tour, Latin Pop stars Sin Bandera, a duo-comedy act with Colin Quinn & Greg Giraldo, and electronic music innovators Air.
At Boulder Station, the party band Morris Day & The Time will take center stage at The Railhead, an intimate 650-seat venue, on April 13 and 14. Rock 'n' roll artist Eddie Money will follow on April 20. Country act Sawyer Brown, who got started by winning a Star Search competition in the early 1980s, will perform on April 27 with special guest American Idol Season 5 finalist Bucky Covington, who just released his debut single, "A Different World." His self-titled debut CD is set for release April 17. Ticket prices range from $22.50 to $47.50.
At Texas Station in the 1,800-seat Dallas Events Center, composer, singer and arranger Isaac Hayes will headline on April 28. In 1972, Hayes was the first African-American composer to win an Oscar for Best Original Song for the theme song from the movie, "Shaft." The musician was also inducted into the Rock and Roll Hall of Fame in 2002 and continues to play the smooth talking "Chef" on Comedy Central's "South Park." Tickets range from $24.95 to $47.95.
Venus Pool at Caesars Palace
With the Las Vegas heat rising, many resort pools are now open and the Venus Pool Club at Caesars Palace has begun its second season. Venus Pool Club, which is open daily from 9 a.m. to 7 p.m., features poolside indulgence with posh cabanas, oversized chaise lounges, and air-conditioned bars with flat screen TVs being a few of the extravagances. DJs spin beats as bartenders while the staff provides guests with such luxuries as frozen towels, cooling Evian face spritzers and body massages.
Bare at The Mirage
The Light Group, renowned for providing stylish Las Vegas nightlife and restaurant properties, has opened Bare at The Mirage, an exclusive adult alternative to the typical Las Vegas pool experience. The season will run through Oct. 15.
At Bare, it is poolside pampering with ultra VIP service and DJ-spun music. Highlights include two luxury dipping pools, private daybeds and boat beds, a menu of specialty food items and cocktail service. VIP service also includes: chilled cucumbers to soothe the eyes; iced towels, rolled and chilled in flavored water; exotic frozen fruit, skewered for easy snacking; icy popsicles; mini fruit smoothies, served in individual shot glasses; and Evian misting bottles, super-chilled and ready to spritz.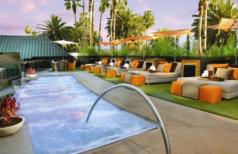 Bare is open Thursdays through Mondays from 11 a.m. to 7 p.m. Admission charge Thursday and Monday: $10 for women, $30 for men. Friday, Saturday and Sunday: $20 for women and $40 for men. For information, call 702-791-7442.
TAO Beach Opens at The Venetian
On May 4, Marc Packer, Rich Wolf, Noah Tepperberg and Jason Strauss, owners of the 42,000-square-foot TAO Asian Bistro and Nightclub at The Venetian, will unveil a new extension TAO Beach, an Asian themed European-style beach club offering high-end amenities, topnotch service, cuisine from Wolfgang Puck Catering and an exotic setting.
By day, guests can secure a reservation to lounge poolside in one of seven luxury cabanas that feature such amenities as high definition plasma screen televisions with X-box gaming consoles, a DVD library, Internet and customized mini bars. Other amenities will include sunglass cleaning, iPod rental, and a staff of masseuses. Asian-inspired day beds will be scattered throughout the 18,000-square-foot oasis, which will also include a 30-foot bar.
At night, the venue will turn into an open-air nightclub featuring a floating dance floor, four 14-foot fire columns, music from resident DJs Reach and Galeano and strategically-placed beds for lounging.
---
The new musical, "Berenstain Bears On Stage!" will perform at the Henderson Pavilion on April 28 at 7 p.m. The musical production is based on the biggest selling children's series in the history of publishing that began in 1962 by co-authors Stan and Jan Berenstain. The Bears will take the audience on an entertaining journey. Tickets are $10 and $15, call 702-267-4849.
Roy Yamaguchi, James Beard award winner and founder of Roy's restaurant featuring Hawaiian Fusion cuisine, has added an innovative and untraditional menu of sushi, aptly titled Yamaguchi Sushi, to his two restaurants in Las Vegas. One eatery is near the Strip at 620 E. Flamingo Road. Differentiating his sushi from the rest, Roy's incorporates his signature bold sauces, spices and unorthodox ingredients combined with expert preparation and exquisite presentation.
CONTINUE ON TO...:
>THIS WEEK'S LAUGHLIN SEGMENT
>LAST WEEK'S LAS VEGAS SEGMENT
>VEGAS VIEW FULL ARCHIVES
>Return to "Heard Around Town"
>Return to Las Vegas Leisure Guide