PAUL MCCARTNEY HEADLINES AT HARD ROCK'S NEW JOINT


The legendary rocker and ex-Beatle, Paul McCartney will headline the grand opening weekend at the 4,000-seat all New Joint inside the Hard Rock on Sunday, April 19. Multiple Grammy Award-winning McCartney is one of the world's most influential and successful singer/songwriters writing some of the most popular music in rock 'n' roll history. Tickets start at $195.

THE STRIP'S NEWEST SHOW IS "FREAKS" AT O'SHEAS

O'Sheas Casino next to the Flamingo has introduced a new 70-minute production show, "FREAKS," that is produced by hypnotist Anthony Cools. The unusual show features extreme "freakish" human behavior including human shish-kabobs, glass eating, contortionists, knife throwing and sword swallowing. "FREAKS" is adult-oriented and includes partial nudity, adult language and graphic stunts.

"FREAKS" is performed at 9 and 11 p.m., Wednesday - Saturday. Ticket prices start at $29.95, call 702-733-3333.

Column Continues Below Advertisement



LOEWS OFFERS MONTHLY SUSHI & SAKE LESSONS

Master Sushi Chef of Loews Hotels, Chef Osamu "Fuji" Fujita, will be personally conducting Loews Culinary Institute sushi classes every second Saturday of every month through 2009 at Marssa restaurant at Loews Lake Las Vegas Resort. The class includes two hours of Sushi & Sake clinics, hands-on learning, a tasting of sushi and sake and the finer points of chopstick strategy.

Students will take home a "Sushi Savvy" gift bag filled with Chef Fuji's "Guide to Sushi," a signature Marssa apron, chopsticks and a VIP discount card to enjoy dinner in Marssa. The cost is $50 per person, call 702-567-6000.

Chef Fuji is a third-generation sushi chef whose father was the personal chef for the Emperor of Japan. He began his career as an apprentice to one of only three master chefs in Tokyo. He is the only sushi chef in the United States to earn the Japanese Chefs Association's recognition of achievement in 2006-2007.

LIBERACE MUSEUM WILL CELEBRATE 30 YEAR ANNIVERSARY ON APRIL 15

The Liberace Museum at 1775 E. Tropicana Avenue will celebrate its 30-year anniversary on Wednesday, April 15, with a full day of festivities that will include festivities, free performances by Liberace scholarship recipients and Liberace Piano Competition winners, and 30-cent museum admission from 9 a.m. to 9 p.m.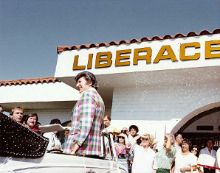 Philip Fortenberry, composer and "Jersey Boys" pianist, will perform his "Liberace and Me" cabaret show at 1 p.m. The Liberace Museum will also debut a new 30th Anniversary Exhibit to run through May 31 commemorating three decades of milestones since 1979.
Evening festivities from 5 to 6 p.m. will feature a celebrity and invited guest "red carpet reception" that will be open to the public is encouraged to the public. A ticketed event will follow with live entertainment from 7-9 p.m. in the Liberace Museum Cabaret Showroom with "Liberace through the Years - The Friends and the Music" hosted by and with performances by Lorraine Hunt-Bono, Dennis Bono, "Jersey Boys" cast members Keith Thompson, Philip Fortenberry, Erich Bergen, and other friends from the Broadway community. To purchase tickets, call 702-798-5595 ext. 14 and proceeds will benefit the Liberace Foundation.
Liberace opened his museum on Easter Sunday, April 15, 1979. The bulk of Liberace's estate when he passed away on Feb. 4, 1987, was left to help talented people in the arts. As a result, $5.2 million has been awarded to date by the Liberace Foundation to 2,500 students deemed "Liberace Scholars" from 120 colleges and universities across the United States.
DIXIE'S DAM BAR AT HOOTERS HAS REOPENED
Dixie's Dam Bar at Hooters is open for business again with a bar that has a brand new look. Dixie's Dancing Divas are beautiful female bartenders who also perform choreographed dance moves to songs on the jukebox. The 3,000-square-foot rustic casual atmosphere is devoid of bottle service and offers tables and booths on a first-come, first-served basis. Entry is $20 and the place is open Wednesday through Saturday from 9 p.m. until the party stops. Make a note, the music is loud.
WORLD POKER CHAMPIONSHIP RETURNS TO BELLAGIO APRIL 1-25
The Five Star World Poker Classic tournament will return to the Bellagio on Wednesday, April 1 with the first of 13 No Limit Hold 'em tournaments. The month-long event concludes April 18-25 with the Season VII World Poker Tourr (WPT) World Championship. To compete, players may either pay the $25,000 entry fee or earn a seat by participating in one of the seven super-satellite tournaments held throughout the first three weeks.
The WPT World Championship begins Saturday, April 18 and Sunday, April 19 at noon with two separate flights. The event continues Monday, April 20 with all competitors who have retained chips from their original allocation and concludes with the televised final table Saturday, April 25.
The Seniors No Limit Hold 'em tournament also will return to Bellagio April 13-15 along with the Club WPT No Limit Hold 'em tournament scheduled for Thursday, April 23. Entry fees for all of the tournaments range from $500-$5,000.
BINION'S CELEBRATES ONE YEAR ANNIVERSARY UNDER NEW OWNERSHIP
This month, Binion's Gambling Hall & Hotel downtown is celebrating its one-year anniversary under new ownership. The legendary property that was bought in 1951 by Texas gambler, Benny Binion, was purchased in March 2008 by the same company that owns the Four Queens downtown.
Since taking over, the new owners have been revitalizing and remodeling. In the last year, Binion's has completely remodeled the famous 24th floor steakhouse including a new menu and wine list, unveiled the brand new Hall of Fame Poker Room, opened a new race and sports book, introduced the stylish new Benny's Bullpen Sports Bar & Cigar Lounge, revamped its beloved $1 Million Display, added new table games, reconfigured the casino floor, and purchased the very latest slot and video poker machines.
RECENT CLOSINGS
After 18 years, The Comedy Stop at the Trop closed on Sunday, March 15. Owner Bob Kephart says he will reopen the club at a new location to be announced.
The Scintas have ended their 17-month run at the Hilton and a nine-year run as Las Vegas resident headliners. They will remain based in Las Vegas and have a booking at the Suncoast, April 17-19.
JW MARRIOTT HOSTS BRIDAL SHOW IN APRIL
For the second year in a row, JW Marriott will host the Summerlin Bridal Show on Saturday, April 11, from 11 a.m. to 5 p.m. in the Grand and Marquis Ballrooms located in the Conference Center. Vendors range from florists, photographers and entertainers to wedding venues, bakeries and gown boutiques. Bridal events throughout the day will include mini-fashion shows, gown sales, battle of the bakers, tours showcasing ceremony and reception venues, and a catering contest. For information or complimentary tickets, call 792-2378 or visit www.lasvegasbride.com.
AS TEMPERATURES RISE HOTELS OPEN FOR POOL SEASON
The Hard Rock has opened its world famous Beach Club pool, complete with 51 plush cabanas, resurfaced base, and upgraded LED lighting for the 2009 season.
Socialite and television starlet Kim Kardashian will kick off the Vegas pool season at WET Republic at the MGM Grand on Saturday, March 28. Taking a break from her hit reality show, "Keeping Up with the Kardashians," she will take in the party scene from the VIP bungalows. The grand opening celebration will be on Saturday, April 18 and the pool destination will launch Daylife Sundays, a weekly industry event, on Sunday, April 26.
The 53,000-square-foot contemporary WET Republic pool venue has a linen-white palette adorned with vibrant hues of emerald green, turquoise and canary yellow. Its centerpiece features two saltwater pools measuring 2,500 and 3,500 square feet, respectively. Six cascading waterfalls accent the vast poolscape. Adjacent to the main pool area is a 2,500-square-foot open-air ultra lounge and a 4,100-square-foot sundeck is located between the lounge and the saltwater pools that transforms into a stage to spotlight celebrity guests.
Wolfgang Puck's poolside restaurant Solaro opened for its second season at the Palazzo on March 19. It is open for breakfast and lunch exclusively to hotel guests. Solaro is the second poolside restaurant in Las Vegas by renowned celebrity chef Wolfgang Puck.
QUICK CLIPS
"Terry Fator & His Cast of Thousands" opened at The Mirage on March 14 with a celebrity-filled red-carpet event.
The "U2360" stadium settings tour featuring the Irish group U2 will stop at Sam Boyd Stadium on Oct. 23.
The show that will replace the Scintas at the Las Vegas Hilton's Shimmer Cabaret is "Voices," which will open on April 17 and star local favorites Earl Turner and Lani Misalucha, who formerly worked with the group Society of Seven.
A sexy "six-pack" of men are strutting their stuff at the new Men of "X" show at Hooter's Night Owl Showroom. The show's creators are the husband and wife team that produces "X Burlesque" at the Flamingo.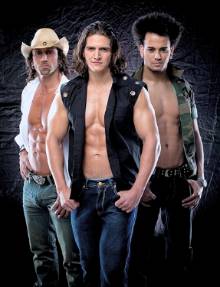 The male strip show performs nightly at 9 p.m. Tickets are $39.95, $49.95 and $59.95, call 866-LVHOOTS (584-6687).

Comedian Andrew Dice Clay, who was the first contestant fired from this season of Donald Trump's "The Celebrity Apprentice" is booked for an interesting gig, March 25-April 4, at the Sugarcane Lounge that accommodates about 200 people and is adjacent to the Palazzo's Sushisamba restaurant.

The Charlie Daniels Band will be headlining at the Silverton on Saturday, March 28. Tickets are $35. Daniels formed a rock-and-roll band shortly after graduating high school in 1955. Skilled on guitar, fiddle and mandolin, Daniels in 1976 recorded the chart topping, mega-hit single "The Devil Went Down To Georgia." In April 1998, he was named the recipient of the Academy of Country Music's Pioneer Award and on Jan. 19, 2008, he was inducted as a member of the Grand Ole Opry.

The new Bellagio Conservatory exhibit celebrates spring with horticulture tributes and displays from England, France, Italy and Japan through mid-May.

The next Rock 'n Roll Wine event will be on Friday, April 3 at the Hard Rock inside of Body English.

The Golden Nugget's Spring Wine & Jazz Festival three-day event will be held March 27-29. On March 27, the Champagne & Wine Reception at The Tank from 8 to 10 p.m. is $75. On March 28, the Grand Tasting from 6-8 p.m. is $100. On Sunday from 11 a.m. to 1 p.m., the Champagne & Jazz Brunch is $100. A package for all three is $249, call 866-946-5336. Two events at Vic & Anthony's restaurant on Saturday are each $50: Napa Valley Red Bland Showdown at 1 p.m. and Blind Tasting at 2:30 p.m.

A free NHRA driver autograph session will kick off the annual NHRA SummitRacing.com Nationals, April 2-5, at The Strip at Las Vegas Motor Speedway. The autograph session will take place in the Key West Room at The Palms on Thursday, April 2, from 6-8 p.m. Drivers scheduled to appear include: Tony Schumacher, Jeg Coughlin Jr., Cruz Pedregon, Ron Capps, Jack Beckman, Morgan Lucas, Shawn Langdon, Urs Erbacher, Matt Hagan, Jeff Arend, Johnny Gray and Bob Bode.

McFadden's Restaurant and Saloon at the Rio will host a fashion show at 11:30 p.m. presenting designs by SweetLux on Friday, March 27. SweetLux is well known for their "domesticated living" style and one-of-a-kind aprons and fragrances. In addition, McFadden's will give away complimentary bottles of champagne to groups of six or more ladies. There will be an open bar from 10 p.m. to midnight, $10 for girls and $20 for guys. For information, call 702-270-6200.

ENVY The Steakhouse Lounge that seats 60 guests in the Renaissance near the Convention Center has kicked off its new Happy Hour that will last throughout the year. ENVY is offering 20 percent off the entire bar menu, $2 draft beers and $5 "Pick and Roll" dice drinks in which the drink discount is determined by a roll of the dice.

ENVY The Steakhouse is offering monthly wine dinners. Through March 31, the eatery is offering a selection of premier wines from Canada. Upcoming themes include wine from: New York, April 20- 30; Italy, May 18- 31; Ros' wines, July 20- 31; Argentina, Aug. 17- 31; Ales, Lagers and Blondes from Belgium, Sept. 21- 30; Hungary, Nov. 16- 30; Champagne, Dec. 7- 31. Epicurean Wine Dinners start at $25 for a wine tasting; $55 for a four-course dinner; and $65 for the dinner and wine pairing. For reservations, call 702-784-5716.




CONTINUE ON TO...:

>THIS WEEK'S LAUGHLIN SEGMENT

>LAST WEEK'S LAS VEGAS SEGMENT
>VEGAS VIEW FULL ARCHIVES
>Return to "Heard Around Town"
>Return to Las Vegas Leisure Guide