Have to say a "must-see" show is gracing the Splash Theatre stage at the Riviera for a limited engagement through April 29. The show "Matsuri," which is the number one show in Japan and the first musical production to have ever originated in that country, is very refreshing and appealing on many levels.
In Japan, the show is called the "Muscle Musical" because rather than relying on a script or storyline, the show focuses on athletic creativity. In Las Vegas, the show is called "Matsuri," which means "festival" and brings out the Japanese origins.

Column Continues Below Advertisement


The imported show features 33 incredibly talented cast members, many of which are world-ranked professional athletes, and combines athletics, extreme sports, dance and Japanese tradition into a highly energetic family show that breaks through culture barriers.
There's no speaking except in a song that's like our "YMCA," where the cast gets everyone clapping and spelling "muscle."
There are many clever numbers with the top one having over a dozen performers dressed as black and white piano keys. The flat key is attached to their back and they take a position on the floor that allows them to do a chin up whenever their key is struck by a person playing a real keyboard on stage. A lot of comedy and athleticism comes from this number where some keys get picked on more than others.
While all the routines are upbeat, two world-ranked athletes make a big impression. One is world champion German wheel gymnast Yasuaki Yoshikawa, who is considered a pioneer of the sport of German wheel gymnastics. The sport invites the gymnast to perform complicated and compelling routines in a big wheel. The other is 2004 Trampoline World Cup winner Daisuke Nakata. He is the only professional trampoline athlete in Japan and won the Japan championship seven years in a row and competed in the 2000 Olympics. His number has him jumping up on a set piece showing a tall building and he spells out with chalk and drawing a heart - "I Love Vegas."
This show is a very pleasant surprise and running at 4 p.m. Saturday-Thursday and at 7:30 and 10:30 p.m. on Fridays. Tickets are $59.95 general admission, $69.95 VIP seating, and $39.95 for children under 12, call 1-877-892-7469.
The entertainment company ValCom, Inc. has announced the debut at the Stardust on April 4 of "Headlights & Tailpipes," a titillating adult revue that will celebrate the love for fast cars, motorcycles and women. Ticket prices will range from $39.95 to $59.95 plus tax.
"Headlights and Tailpipes" is a joint effort from famed theater creator, Jeff Kutash, and ValCom, Inc., who have created an adult sensation that incorporates Playboy playmates and the hottest cars from legendary television shows and movies. Kutash has assembled an all-star cast that includes the past choreographer for Usher and Kanye West, the previous set designer for "American Idol" and Michael Jackson's former costume designer.
The sexy show features Mobius 8 along with hot rods and motorcycles from the 1960s through the 1990s. In addition, the show will debut the 2007 Shelby Cobra as well as wild custom cars provided by Movie Mike. The costumes were created to resemble car emblems and characters such as "Porsche" and "Mercedes." "Headlights & Tailpipes" features the hottest modern rock and urban music of the past four decades.
Funnyman George Wallace, who headlines 10 p.m. shows at the Flamingo, keeps his shows fresh by interacting with his audience members and by bringing in special comedic and musical guests to perform in his show. Sometimes special guests are announced ahead of time, but more often than not Wallace likes to surprise his audience.
In the past, he's been joined by such comedians as Chris Tucker and his long-time friend Jerry Seinfeld. Coming up over the next few months, heavyweights in comedy and music including Marla Gibbs, Mark Curry, Candi Staton and Mavis Staples plan to join Wallace onstage during his regular shows.
Beginning April 4 and running through April 29, Wallace will be joined by David Brenner. With these dual-headliner appearances, it will be a toss up as to who will perform first. Tickets for their special performances will be $75, call 702-733-3333.
Wallace is entering his third year at the Flamingo. He's best known for his "Yo Mama" jokes and his infamous "I Be Thinkin" lines. During each performance, he gives away a multitude of prizes.
The Rio has announced the departure of The Scintas after five rewarding years. The group's last performance in the Scinta Showroom is scheduled for Wednesday, May 3. The full-scale production show brings heart-warming humor, singing and impressions to the stage nightly at 7:30 p.m. Friday-Wednesday. Tickets are $59.95 plus tax.
The Scintas will be moving to the Sahara and working opposite the "Buck Wild Show."
For the 47th consecutive year since debuting in 1959, comedian Don Rickles, known as "Mr. Warmth" because of his caustic remarks, has been a Las Vegas headliner. For the sixth straight year, he has signed on for an exclusive contract to appear in the 900-seat showroom at the Stardust. His dates this year are March 30-April 1, May 11-13 and Sept. 14-16. Tickets are $49.95 plus tax, call 702-732-6325.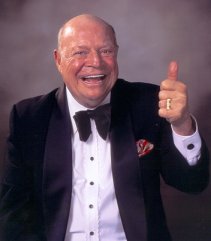 Earlier this month, the Silverton ended its underwater fantasy "mermaid" show, "AZURE," with plans to welcome a brand new underwater entertainment experience inside the aquarium later this year. Meanwhile, the saltwater aquarium remains a remarkable attraction within the casino featuring an octagonal 117,000-gallon aquarium housing over 4,000 tropical fish from all over the world, three species of stingrays and three species of sharks. The aquarium continues to offer its popular daily fish feedings, featuring one of the Silverton's staff marine biologists undertaking the feedings, outfitted with a full-face communication mask that allows him to interact with guests and answer questions from the audience. The show occurs daily at 1:30, 4:30 and 7:30 p.m.
The 2006 CineVegas Film Festival is taking submissions until April 21. The eighth annual festival will run June 9-17.
Week after week Gordie Brown's engaging comedy and mastery of impersonations has delighted Las Vegas audiences. After a nearly two-year run, comedian and master impersonator Gordie Brown will perform his last show at the Golden Nugget's intimate Theatre Ballroom on Friday, March 31. Brown opened at the Golden Nugget on May 28, 2004. Reserved tickets are $60.50, call 866-946-5336 or 702-386-8100.
The Cannery in North Las Vegas off I-15 at Craig and Losee roads has scheduled Blood Sweat & Tears with special guest Chuck Negron, formerly of Three Dog Night, on Saturday, May 13 at 8 p.m. inside The Club. Tickets are $14.95 and $20.95 plus tax and fees, 617-5585 or 866-287-4643.
A musical institution, Blood, Sweat & Tears has left an indelible mark on the American music scene since 1968, and been one of the greatest horn bands in the history of popular music. The group has earned multiple Grammy awards and gold records with hits like "Spinning Wheel," "You Made Me So Very Happy," and "When I Die."
Negron, a founding member of Three Dog Night, produced top 20 singles such as "One (Is The Loneliest Number)" and "Old Fashioned Love Song." The multi-Grammy nominated song, "Joy to the World" with the famous phrase, "Jeremiah was a Bullfrog" was released in 1971, and is considered part of Americana and awarded Negron a place in rock and pop music history.
For the second year in a row, the Imperial Palace Karaoke Club at Tequila Joe's has been named Best Karaoke Bar in Las Vegas by James Bartholet, host of "L.A. Nitelife," a Los Angeles-based television program carried on cable outlets from coast to coast. TJ's karaoke club won the distinction and plaque based on popularity with clientele and the décor, ambience, staff, sound and lighting of the club.
Since the club's beginning in September 2003, about 60,000 crooners, divas and American Idol wannabes have taken center stage nightly at 8 p.m. to warble and belt out tunes to their hearts' content - many of them even in key. With more than 15,000 songs from which to choose, there is music for every taste.
The club has attracted celebrity singers including World Series of Poker champion Scotty Nguyen and pro bowler Liz Johnson,
Comedian Louie Anderson began an indefinite run at the Excalibur last Friday. He's been performing in Las Vegas on and off for 25 years.
The Hogs & Heifers Saloon downtown has announced that it will begin Blues, Brews and Barbeques on March 26 and continue the fourth Sunday of each month through October. The 3 p.m. to 4:30 p.m. event will include a barbeque, beer and music.
A wax likeness of NASCAR driver Jeff Gordon was unveiled at Madame Tussauds this month. Fellow driver, the late Dale Earnhardt is another race notable at the museum.
The "Sunday Swing Show" starring Derek David, who is also the lead singer of The Platters performing at the Sahara, has moved his Swing Era tribute show with a 17-piece Big Band and backup singers to Cafe Nicole at West Sahara and Decatur Avenues. Tickets for the 2 - 5 p.m. Sunday show are $20, call 702-317-7752 or pay at the door.
The MDA Jerry Lewis Telethon will return to Las Vegas for the first time since 1995 and be broadcast from the South Coast on Sept. 3-4.
AAA has selected MGM Grand as one of its 2007 Four Diamond Award recipients. With 5,034 guest rooms and suites, the MGM Grand now becomes the world's largest hotel to hold this respected travel designation.
The Blue Man Group, playing at the Venetian, recently held an open call for more bald and blue hopefuls. Since the Blue Man characters are egoless and genderless beings; both male and female performers can audition. The basic criteria are an athletic build, height between 5'10" and 6'1", solid drumming skills and acting skills. The Blue Man Group performs nightly at 7:30 p.m. and/or 10:30 p.m. at The Venetianr. Tickets are $85 and $110, call 702-414-SHOW.
In celebration of their first anniversary, SKYLOFTS at MGM Grand has issued a limited edition $5 poker chip. Guaranteed to be a collector's item with only 1,000 issued, the chip is specially designed with the SKYLOFTS' logo on one side and the famous MGM Grand lion on the other. The chips are on sale at the Main Cashier's cage and at the casino tables.
The 2005 World Domino Tournament, which was held last year at the Las Vegas Hilton Nov. 18-20, will begin airing on ESPN Deportes on March 21, at 10 p.m. ET. The telecast was produced in a reality show format and will include seven one-hour shows. The 2005 World Domino Tournament featured more than 40 teams from the United States, Latin America, and the Caribbean competing in a two-day tournament that featured the most skilled professional players. The 2005 World Domino Tournament is also scheduled to air in English on ESPN II in June.
Colin Mochrie and Brad Sherwood, stars of "Whose Line Is It Anyway?" have teamed up to present an evening of extraordinary improvisational comedy in the Scinta Showroom at 7:30 p.m. on Thursday, March 23, at the Rio. Spectators are able to shout out subjects for the witty comedians to work with during this interactive show. Tickets are $75, call 702-777-7776 or 888-746-7784.
Mochrie is a successful Canadian comedian who first became involved in improv comedy through Second City. He was extremely successful in both the British and American "Whose Line Is It Anyway?" show versions in which Sherwood was also a regular. Sherwood appears regularly on "The Tonight Show" with Jay Leno.
NASCAR: The Official Store will open a The Shops in Desert Passage at the Aladdin this spring and offer merchandise, clothing and collector's paraphernalia. Additionally, the store will feature exclusive Las Vegas branded items and will be one of the only stores in the valley officially licensed by NASCAR to sell its merchandise. The NASCAR store will also feature special events, like drivers' appearances, autograph signings and giveaways throughout the year. The Desert Passage NASCAR store will mark the second outlet of its kind in Las Vegas.
The Hofbräuhaus Las Vegas will serve as Formula One auto racing headquarters for its 18-race 2006 season that begins today. Hofbräuhaus will televise each race on a tape-delayed basis starting at 2 p.m. (PST) on big screens in its beer garden. The upcoming schedule includes the Malaysian Grand Prix, March 19; the Australian Grand Prix, April 2; and the San Marino Grand Prix, April 23. For information, call 702-853-BEER (2337).
Open-wheel Formula One racing is among the most popular sports in Europe. Formula One currently has 11 teams that represent the United Kingdom, Switzerland, Germany and Italy. The oldest team is Team Ferrari, founded in 1950, while the Red Bull team made its debut during the 2005 season.
CONTINUE ON TO...:
>THIS WEEK'S LAUGHLIN SEGMENT
>LAST WEEK'S LAS VEGAS SEGMENT
>VEGAS VIEWS FULL ARCHIVES
>Return to "Heard Around Town"
>Return to Las Vegas Leisure Guide