RANDY TRAVIS VISITS THE RIVERSIDE

Country music artist Randy Travis, who is also a gospel singer and featured cinema and television actor will headline the Riverside's Amphitheater on Saturday, April 7 at 8:30 p.m. Travis has sold more than 25 million records, earned 22 No. 1 hits, six No. 1 albums, six Grammy Awards, six Country Music Association Awards, nine Association of Country Music Awards, 10 American Music Awards, seven Gospel Music Association Awards and a star on the Hollywood Walk of Fame. Tickets start at $35, call 800-227-3849 Ext. 616.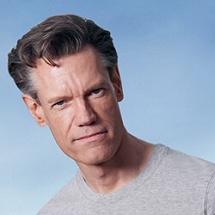 CHARO ENERGIZES AUDIENCES AT AQUARIUS
Charo, best known in America as the "cuchi-cuchi" lady, is better known the world over for her masterful Flamenco guitar abilities. She studied guitar under the world-famous master of Flamenco guitar, Andrés Segovia, and has twice been voted Best Classical Flamenco Guitarist in the World by "Guitar Player Magazine." Charo is also a singer, comedienne, actress, and platinum recording artist who will perform at the Aquarius Pavilion on Saturday, April 7.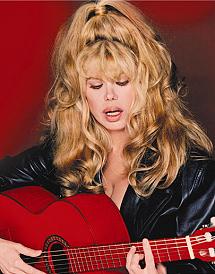 Audiences have been delighted for decades by Charo's infectious personality, trademark shake, loveable accent, undeniable talent and wide repertoire. Her show highlights music from dance floor anthems to brilliant performances of classical masterpieces on her guitar. Tickets are $20 and $30 for her 8 p.m. performances.
14TH ANNUAL BLUES AND BREWS EVENT HELD AT BELLE
The 14th Annual Blues and Brews will be held at the Colorado Belle's Center Circle outdoor entertainment in the front parking lot, April 6-8. It will be three days of food and beer paired with free live blues entertainment. The featured blues bands will include Guitar Shorty, Preston Shannon, Chris Hiatt & Cold Shot, and John Earl and the Boogieman Band. Food and beverages will be sold separately.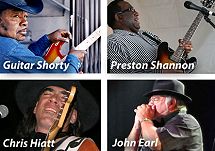 SLOT PLAYER WINS MILLION DOLLARS AT TROPICANA
This month, Lowell J. of Wisconsin won a $1,350, 269.49 jackpot playing a $1 Wheel of Fortune machine at the Tropicana. He and his wife had just checked in at the resort and had been gaming for about 30 minutes when all three reels stopped on the Wheel of Fortune logo, earning the progressive payout of more than a million dollars.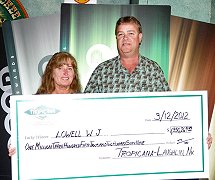 HARRAH's PRESENTS 'DEFENDING THE CAVEMAN'
Broadway's longest-running, one-man play, "Defending the Caveman," is being staged in the Fiesta Showroom at Harrah's through March 29. The show starring comedic stage actor Kevin Burke, who has starred in "Caveman" since 2003 and the show's entire and current Las Vegas-run, explores the differences between men and women and how each sex views the world. The topic is so well handled that husbands and wives and men and women in general double over laughing. The story is told with lots of humor and insight. Tickets are $25 and $35.
Caveman, which clearly appeals to both sexes, should be seen by all couples. The play is about the way men and women relate. More than 40 actors have performed this record-breaking comedy worldwide.
Kevin Burke is also one of the founding actors of the famed Improv Olympics and has his own show, "Kevin Burke: Fits of Laughter" playing The D Las Vegas (formerly Fitzgeralds) in downtown Las Vegas.
EDGEWATER PROMOTES COMEDY ENTERTAINMENT
The entertainment lineup at the Edgewater is "Comedy on the Edge" in the Inferno Nightclub/Edgewater Showroom every Friday through Sunday at 7 p.m. Two new stand-up comedians work each week. The upcoming lineup is: March 23-Eric Hunter and Chris Pleasant; March 24-25-Art Krug and Andy Wood; March 30-Chris Simpson and Amy Snowden; March 30-April 1-Davin Rosenblatt and Bethany Therese; April 6-Dwayne Gill and Greg Vravis; April 7-8-Jack Willhite and Tome McClain; April 13-15-Spencer Dobson and Jeremy Greenberg; and April 20-22-David Testroet and Ron Ferguson. Tickets are $10 at the Edgewater Casino Cage or the door.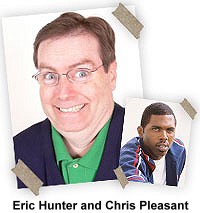 Eric Hunter jokes sarcastically about different topics, including his friends and Irish Catholic family, relationship, education and sports. He's best known for his deadpan attempt to impress the women in the audience. Hunter is paired with Chris Pleasant on Friday, March 23.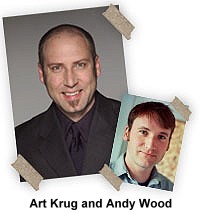 Art Krug and Andy Wood will follow on March 24-25. Krug delivers observational comedy dissecting things in life that normally go unnoticed and proves that everyday life can be outrageously funny. He has traveled across the United States and Canada for 22 years.
Chris Simpson along with Amy Snowden will perform on Friday, March 30. Simpson's comedy has been described as a mixture of Don Rickles and Rodney Dangerfield because he teases and stereotypes everyone.
New York-based comedian Davin Rosenblatt will take the stage on March 31 and April 1 with Bethany Therese. Rosenblatt gives a unique perspective on current events, social issues, everyday life and more.
TOP OF NEXT COLUMN
ENGELBERT HUMPERDINCK WILL HEADLINE E CENTER

Four-time Grammy nominated Engelbert Humperdinck will headline the Edgewater's E Center on Saturday, April 21. This Golden Globe Entertainer of the Year has sold more than 150 million records and been an international headliner for the last 40-plus years. Tickets for his 8 p.m. show range from 25-$75.

CAR AND MOTORCYCLE EVENTS DESCEND ON LAUGHLIN

The Avi will host the "13th Annual River Cruizers Hot Rods & Harleys" car and motorcycle show in the Area at the Beach Overlook, April 19-21. This event features a Show 'n' Shine of classic cars, muscle cars and motorcycles, a poker run, various other events, and vendors. Garlin Hackney will provide live music from 5:30 – 8:30 p.m. on Friday and Saturday. Event hours are 9 a.m. – dusk, Thursday-Saturday, and from 8 a.m. – noon on Sunday. Admission is free.

The 17th Annual Gambler's Classic all-corvette car show will set up in the South Parking Lot at the Riverside, April 20-22. There will be approximately 300 Corvettes on display along with activities including a dinner show, poker run, vendors and awards. Open to the public, the main car display will be on Saturday from 9:30 a.m.-12:30 p.m. For information, visit: http://corvettesofbakersfield.org/

.

Get ready to rev those engines when the "30th Anniversary of the Laughlin River Run" rolls into Laughlin, April 25-29. The annual motorcycle event running Wednesday through Sunday takes over the whole town and features lots of vendors, events, shows, rides and day and night activities. For information, visit www.laughlinriverrun.com.

The second Friday of every month is "Bike Night Laughlin" from 7-9 p.m. at Bikini's Sports Bar in the Preferred Outlet Center on Casino Drive. A bike will be on display and raffled off during the Laughlin River Run, April 25-29.

The Avi parking lot will be filled with a variety of events, music, and vendors related to motorcycles during the "Thunder on the River 2012," April 26-29. Thursday through Sunday there will be a bikers market from 9 a.m. – dusk. Admission is free.

LAUGHLIN FEATURES ENTERTAINMENT AND EVENTS

Vicki Lawrence will headline March 21-25 at the Riverside with her self-imposed sidekick Mama. Emmy Award-winning comedienne Lawrence is one of the most beloved television personalities of her generation having spent years as part of the now-legendary cast of the "Carol Burnett Show." In her show, Lawrence shares her acting, comedic and vocal talents, while Mama offers strong opinions on everything.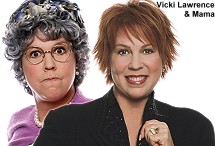 Alabama, a group with career sales that have topped 73 million records, will perform in the Laughlin Events Park on Saturday, March 31, at 7 p.m. This group comprised of original members Randy Owen, Teddy Gentry and Jeff Cook ranks as one of the 10 biggest-selling bands in the annals of popular music. Tickets are $45 to $100.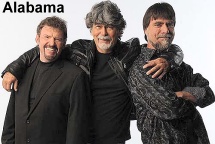 The Varitones and Sylvia's Band will bring polka music to the Victory Plaza in front of the Tropicana on March 20 from 4 – 10 p.m. The polka music will continue at the hotel in the Pavilion Theater on March 30 and 31 with the "Get Your Polka On" event that will include group lessons from 2-4 p.m. on Friday with Alfredo Delgado and again on Saturday from 1-4 p.m. The cost will be $10. From 5-10 p.m. in the evening both nights, there will be a polka feast with food and dancing to The Varitones and Sylvia's Band. Cost will be $30 or $50.
Seventy of the top-ranked bull riders will be in town vying for $50,000 in prize money during the Fort Mojave Classic PRCA Xtreme Bulls event at the Mojave Crossing Event Center across the Colorado River from the Avi on March 23 and 24. Top bull riders in the country will compete in this all-bull riding event at 7:30 p.m. each night. Ticket range is $10 for children 12 and under and $35 for Gold Buckle Seats. There will be shuttle service to and from the Avi and event site.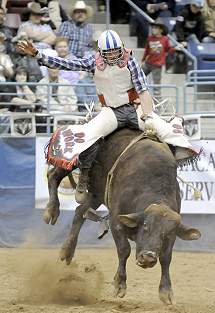 Displays of strength will be presented when the AAU National and World Drug Free Powerlifting Championships returns to Laughlin, April 14-15. The competition will be held at the E Center at the Edgewater/Colorado Belle starting at 9 a.m. both days. A spectator pass is $10.
The largest tri-state western collectible and firearms show and sale will take place at the Edgewater in the E Center, March 24 and 25, starting at 9 a.m. each day. The Western Collectibles and Firearms Show will have exhibitors from throughout the United States displaying modern and antique firearms, gun parts, hunting rifles knives, Indian artifacts, Old West memorabilia, cleaning supplies, militaria, ammunition, collectables, and more. The show will run until 5 p.m. on Saturday and 3 p.m. on Sunday. Admission is $5; visit: arizonagunradio.com or call Bill Johnson at 928-772-4247 for more information.
The Avi will host the "Circle of Art & Craft Show" in its ballroom, March 30 – April 1. This shopping experience will feature a wide variety of fine art and crafts for sale and artists will be on hand to discuss their works. Admission is free and the hours each day will be 9 a.m. – 5 p.m.
On April 13, the sit-down dinner show, "Oh, What A Night!," will take place in the Avi Ballroom from 6-9 p.m. This show will pay tribute to "Jersey Boys" and Frankie Valli and The Four Seasons with a special appearance by comedian/impressionist Tony D'Andrea. Dinner and show are $15 with beverages not included.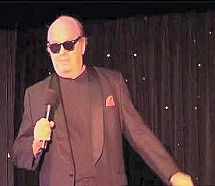 Mini Kiss, a tribute band made up of four little people dressed up like KISS, will perform at the Tropicana in The Pavilion Theater on April 27 and 28 at 8 p.m. Their outrageous show debuted in 1996 and consists of lip-synching while playing blow-up guitars like you see at parties. Tickets are $15 and $20.

This summer a Karaoke Seniors USA Contest will be held in the Starview Room at the Riverside, Aug. 26-29. The event will be a combination variety show and karaoke contest with a $1,000 first place prize for male and female in these categories: Oldies/Rock and Country/Blues. You must be an amateur and at least 50 years of age to participate. To register, visit: karaokeseniorsusacontest.com or call 702-535-4985.



CONTINUE ON TO...:


>THIS WEEK'S LAS VEGAS NEWS
>LAST WEEK'S LAUGHLIN NEWS
>VEGAS VIEW FULL ARCHIVES
>Return to "Heard Around Town"
>Return to Las Vegas Leisure Guide