Veteran superstar entertainer Tony Orlando, who recently celebrated the 30th anniversary of his recording, "Tie A Yellow Ribbon 'Round The Ole Oak Tree," will headline the Rio Vista Outdoor Amphitheater at Harrah's on March 25 at 8 p.m. Tickets are $25, $30 an $35, call 800-447-8700 or 702-298-8510.
From million selling records including five No. 1 hits, a popular television variety series, movies and Broadway shows "Barnum" and "Smokey Joe's Caf'," Orlando has conquered every facet of show business.
Orlando, born and raised in New York City, began hitting the national charts at the age of 16 and was the first vocal artist to sign with Epic Records. He later routed his musical career to the nonperformance side and became one of the youngest vice-presidents for CBS Records, heading their April-Blackwood music label.
Through no plans of his own, Orlando was coaxed into putting his voice on a demo record for a song titled "Candida," which was released under the name of the record promotion director's daughter, Dawn. Lightning struck again with "Knock Three Times," which not only became No. 1, but it was the top song of 1971.
Teaming with Telma Hopkins and Joyce Vincent Wilson, Tony Orlando and Dawn became an international sensation. He solidified his stardom in 1973, when he recorded "Tie A Yellow Ribbon Round The Ole Oak Tree." The yellow ribbon has welcomed home POWs from Laos, Cambodia and Vietnam, the hostages from Iran and the troops from Desert Storm.
Country music star and baritone Trace Adkins will take center stage at the Flamingo Outdoor Amphitheater on April 1.
Adkins has been made a member of the Grand Ole Opry and of the board of directors of the Country Music Association. He has been a frequent guest on TV talkfests and shows and spent time as a national spokesman for KFC. Both his "Comin' On Strong" CD and Trace Adkins Video Hits have been certified platinum, and his "Greatest Hits Collection, Volume I," entered the charts at No. 1. With the release of "Songs About Me," he is poised for yet another breakthrough,
"Ragus" is a fast moving, Irish dance spectacular with traditional music and songs at Don Laughlin's Riverside through March 19. The unique group is the torch-bearer of the traditional culture of these celebrated and almost mythical islands of the West of Ireland. Tickets are $32, call 800-227-3849
"Ragus" reached an international audience with their live video, which showcased their tremendous talent, energy and intuitive-group dynamics on stage. In an era where Irish trade has not only been revitalized in the country of its birth but has also become a box office smash on Broadway, "Ragus" encapsulates the newfound confidence in Irish heritage.

TOP OF NEXT COLUMN
On March 17, the Colorado Belle will serve special corned beef and cabbage meals in three of the resort's restaurants- the Paddlewheel, Boiler Room Microbrewery, and the Captain's Buffet.
In the Paddlewheel restaurant, the full meal is offered from 11 a.m. to 10 p.m. for $6.99. In the Boiler Room Microbrewery, the St. Patrick's Day meal with a 16-oz. handcrafted beer is also just $6.99, and served from 4 p.m. to 10 p.m. In addition, there's a "toast special," a draft beer and shot of Irish whiskey for $3.50. Corned beef and cabbage are on the big buffet lunch and dinner options for $7.99. The all-you-can-eat-lunch buffet is served from 11:30 a.m. until 3:00 p.m.
Dublin's Traditional Irish Cabaret starring Noel V. Ginnity is a tribute to all things Irish.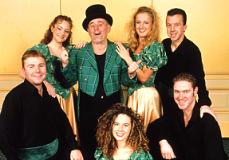 The troupe of dancers, musicians, and singers will perform March 21- 23, in the Pavilion Theater at the Ramada Express. Tickets are $19.
Noel V. Ginnity is universally recognized as Ireland's greatest comedian and is the star of one of Dublin's longest running cabarets. During his 30-year career, with his original ability to portray the wit and wisdom of Ireland, Ginnity has been described as being "more important to Ireland than the Blarney Stone."
The Cabaret, led by Ginnity, includes a strong cast of dancers, musicians, and singers performing a lively blend of traditional music, dance, song and humor. With musical backgrounds deeply rooted in traditional Irish music, the accordion and Uillean pipes are played by Irish music competition champions.
Dublin's Traditional Irish Cabaret has its own troupe of professional dancers hand picked from all over Ireland. They perform with energy, precision and artistry much in the tradition of shows like "Riverdance" and "Lord of the Dance."
The Dance Club at the Riverside will feature Tom & Sharon's' Ballroom, Latin and Swing Dance Party on the following Saturdays, March 25, April 8 and 22, May 13 and 27, and June 10 and 24 from 1:30 to 4:30 p-m For information, call 928-754-2097 or 702-298-2535, ext. 5708.
The "Country Battle of the Bands" will be held at the Colorado Belle's Center Circle Event Area on April 1. Country bands will compete from 3 to 8 p.m. for cash prizes and a recording session.
On April 8 and 9, the Colorado Belle will hold the "3rd Annual Riverwalk Art Festival," highlighting artists displaying and selling fine art, jewelry, photography and fine crafts. The free event runs from 10 a.m. to 5 p.m. both days.
Also at the Colorado Belle on April 15, from noon to 8 p.m., don't miss the "Red Hot on the River" annual employee chili cook-off. The public is invited to view the booths and sample the chili.
The next town-wide big event will be the 12th Annual Laughlin River Stampede PRCA Rodeo, March 30 through April 2. The four-day rodeo will attract more than 700 professional rodeo contestants and nearly 17,000 fans to the arena at the Laughlin Event Center. For tickets and information, call the chamber at 702-298-2214 or 800-308-2253. Tickets range from $12 general admission on Thursday to $23 for Friday through Sunday and the Super Chute is $35.
CONTINUE ON TO...:
>THIS WEEK'S LAS VEGAS NEWS
>LAST WEEK'S LAUGHLIN NEWS
>VEGAS VIEWS FULL ARCHIVES
>Return to "Heard Around Town"
>Return to Las Vegas Leisure Guide