'MEN THE EXPERIENCE' WILL DEBUT AT RIVIERA!

The Male Revue, "Men The Experience," will premiere at the Crazy Girls Theatre inside the Riviera Monday, March 31. The 75-minute show will star some of Las Vegas' most seductive men and feature high-energy choreography and a multimedia set. Ladies will be encouraged to participate on stage throughout the show in acts incorporating cowboys, gangsters, men in uniform and even a tribute to "Magic Mike." Shows will be nightly at 7 p.m. Tickets are $50 and $69.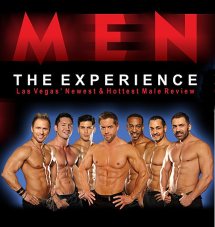 Column Continues Below Advertisement
QUEEN + ADAM LAMBERT STOP AT THE HARD ROCK IN JULY
Queen + Adam Lambert will unite for a North American summer tour starting in Chicago in June. Brian May, Roger Taylor + Adam Lambert will come together for the first time in Las Vegas at The Joint at Hard Rock on July 5 and 6. Tickets starting at $49.50 go on sale Friday, March 14 at 10 a.m. at the Hard Rock Hotel Box Office, online at AXS.com or by calling 888-9-AXS-TIX.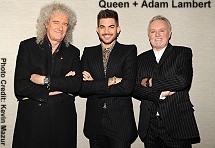 Queen + Adam Lambert received glowing reviews for their performance together at the iHeartRadio Music Festival in Las Vegas last September, triggering a conversation to take the show on the road.
The threesome first shared the stage during "American Idol" in May 2009 for a performance of "We Are The Champions." They teamed up again in 2011 at the MTV European Music Awards in Belfast, Ireland, for an electrifying eight-minute finale of "The Show Must Go On," "We Will Rock You" and "We Are The Champions" and in the summer of 2012, Lambert performed a series of shows with Queen across Europe as well as dates in Russia, Ukraine and Poland. They also performed three sold-out gigs at London's Hammersmith Apollo. Even with the tragic loss of their singer Freddie Mercury, Queen remains one of the most revered bands in rock and pop history.
Lambert's debut album "For Your Entertainment" earned him a Grammy Award nomination for Best Male Pop Vocal Performance. His second album, "Trespassing," debuted at No. 1 on the Billboard charts. In 2013, Lambert appeared as a guest star on the hit TV series, "GLEE," and he is currently writing and recording his third album.
'RAIDING THE ROCK VAULT' FEATURES NEW LINEUP AND SONGS AT LVH
The LVH - Las Vegas Hotel & Casino celebrated the return of "Raiding The Rock Vault" on March 4 with a black carpet event to showcase the production's new lineup and new songs. The all-star show was attended by local celebrities. The show brings the history of rock 'n' roll to life paying homage to rock's greatest hits from the '60s, '70s, and '80s. Refreshed for 2014, the show has signed rock guitarist Doug Aldrich (Whitesnake, Dio), as well as two outstanding female vocalists who will trade off: Carol-Lyn Liddle (Masters of Rock) and Stephanie Calvert (Starship). Songs that have been added to the hit show include "Dreams" (Fleetwood Mac), "Heartbreaker" (Pat Benatar), "Alone" (Heart), "Dream On" (Aerosmith), "Highway to Hell" and "Thunderstruck" (AC/DC).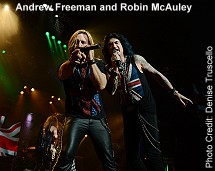 The show's returning all-star lineup includes Rock and Roll Hall of Fame member guitarist Howard Leese (Heart), vocalist Robin McAuley (MSG, Survivor), vocalist and bass player John Payne (Asia), vocalist Paul Shortino (Rough Cutt, Quiet Riot), drummer Jay Schellen (Badfinger, Asia), guitarist and vocalist Andrew Freeman (Lynch Mob, The Offspring), and keyboardist Michael T. Ross (Lita Ford, Hardline).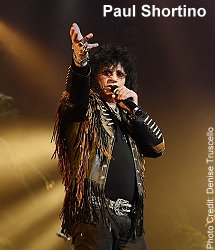 "Raiding The Rock Vault" performs Friday through Tuesday nights weekly (schedule subject to change) at 8 p.m. Tickets range from $49 to $80.
'PAWN STARS' PARODY - 'PAWN SHOP LIVE!' MOVES TO RIVIERA
The producer of the Broadway-style comedy "Pawn Shop Live!," a parody of the story behind History Channel's hit program "Pawn Stars," will be moving the show to the Starlite Theatre inside the Riviera on April 21.
Created by Emmy® award-winning producer Derek Stonebarger, the production is based on the story of the world's most famous pawn shop, Gold & Silver Pawn. "Pawn Shop Live!" includes story contributions from Rick Harrison and the Harrison family. The break-out stars of the TV show have fully endorsed the production, which will run seven days a week at 4:30 p.m. in the Starlite Theatre.
"Pawn Shop Live!" features seven live actors and dancers, as well as a puppet, celebrity guests and surprises as even the real "Pawn Stars" will appear on stage as often as their filming schedule permits. The on-stage characters are lampooned versions of Rick Harrison, Austin "Chumlee" Russell, Corey "Big Hoss" Harrison and Richard "The Old Man" Harrison - better known as Slick, Chump, Lil Boss and Old Fart.
Stonebarger developed the concept of the show while starring in "Oscar: A Good Man," a play he created about former Las Vegas Mayor Oscar Goodman. Stonebarger is an award-winning filmmaker and Emmy® award-winning television producer.
FREMONT STREET EXPERIENCE HOSTS DOWNTOWN HOOPSTOWN
The Fremont Street Experience invites college basketball fans to dribble down to the 5th Annual Downtown Hoopstown taking place through April 8. The four blocks underneath the Viva Vision canopy are lined with college banners and flags as Fremont Street Experience transforms into the ultimate college basketball destination with special events including: nightly entertainment from the stage production show "Hardwood Hotties" featuring "American Idol" Season 6 Finalist Haley Scarnato; an interactive High Hoops Zone; the world's largest NCAA bracket; and a special basketball-themed show displayed on the 1,500-foot Viva Vision canopy. "Hardwood Hotties" will perform on the 3rd Street Stage from 7-10 p.m. on the following dates: March 2-5, 9-12, 18, 19, 21-26 and 28; April 2 and 6-8.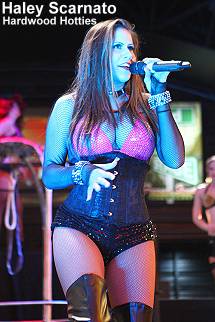 FREE DOWNTOWN 'O CANADA!' CONCERT FEATURING MARIANAS TRENCH
In honor of Victoria Day, a national holiday in Canada, Fremont Street Experience (FSE) and the D Las Vegas are teaming up for a free concert on the FSE's 3rd Street stage featuring Canadian smash-hit headliner and 2013 JUNO Group of the Year award winners Marianas Trench. The event will be held on Sunday, May 18 at 9 p.m. Marianas Trench will kick off the "Rock of Vegas" Summer Concert Series.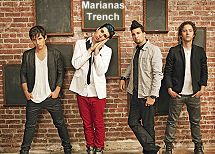 Since their most recent album, "Ever After, " released in November 2011, Marianas Trench has released four platinum selling singles, done two successful headlining Canadian arena tours in 2012 and 2013, been signed to Cherrytree Records in the United States and completed five-week headlining tour across the USA in May and June 2013.
WET 'N' WILD INTRODUCES NEW EXTREME TORNADO™ FUNNEL SLIDE
Wet 'n' Wild is bringing the world's premier funnel water slide to Las Vegas with the acclaimed Tornado by ProSlide Technology. The award-winning extreme water slide simulates a natural storm experience and will join the water park's more than 25 slides and attractions. While the park will open on April 12 for Spring Break, the Wet 'n' Wild Tornado will launch during the official start to summer, Memorial Day weekend.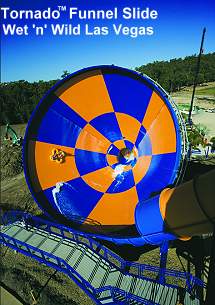 The Tornado is a four-person raft attraction that catapults riders from 36 feet in the air through a 110-foot tunnel before dropping them into the 45-foot-wide funnel where they spin back and forth through swirling water before plummeting into the eye of the storm. As the raft sweeps up the Tornado wall and crosses its centerline, guests experience weightlessness or zero gravity.
In addition to the Tornado, Wet 'n' Wild is adding more hours, days, parking and shade; heating the water in children's area; and other improvements. Wet 'n' Wild is located at 7055 S. Fort Apache Rd. near I-215 and Sunset Road. For information, visit www.wetnwildlasvegas.com.
BELLAGIO BUFFET INTRODUCES CHEF'S TABLE
The Bellagio Buffet is introducing the first Chef's Table within a buffet. This VIP table experience includes a skilled chef team that pampers guests from beginning to end, preparing the finest culinary dishes tableside. Upon arrival, guests bypass the main line and are greeted and escorted to the Chef's Table. Bellagio Buffet chefs describe the meal. The Chef's Table is available seven nights a week during dinner and gourmet dinner service, priced at $53.99 and $59.99.
TOP OF NEXT COLUMN
THE BLIND PIG OPENS IN THE PANORAMA TOWERS
The Blind Pig - Provisions & Lounge is now open just off the Strip in the Panorama Towers. The new restaurant, cocktail lounge and grab-and-go spot from Block16 Hospitality offers a counter-order restaurant and market serving breakfast, lunch and dinner as well as gourmet grab-and-go items, and late-night bites and cocktails. The restaurant was designed with a Prohibition-era speakeasy in mind.
"O" BY CIRQUE DU SOLEIL UNVEILS NEW VIP SUITES
Seven new exclusive box suites with an opera-house style have been unveiled at Bellagio's Cirque du Soleil "O" show. Formerly part of the lower balcony Loggia level, the new VIP suites are complete with premium views of the stage overlooking the theater, four plush seats each alongside a dedicated speaker system, crystal light fixtures, a private door for entry and soundproof drapery that separates each suite for privacy and can be drawn back to accommodate parties larger than four. With the suites, guests have a choice of a bottle of champagne or wine, chocolate truffles and a private cocktail server.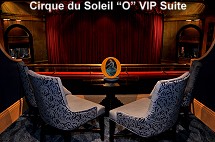 MINUS5 ICE BAR AT MANDALAY BAY LAUNCHES TRIVIA NIGHT
Minus5 Ice Bar's Lodge Bar at The Shoppes at Mandalay Place is partnering with Challenge Entertainment's Sin City Trivia for a bi-monthly Trivia Night every other Thursday starting March 13 from 7:30-9:30 p.m. Guests can enjoy $3 beer and wine offerings along with martini and cocktail specials. There is no admission fee to attend this event.
ST. PATRICK'S DAY HAPPENINGS
The 48th Annual St. Patrick's Day Parade and Festival presented by the Southern Nevada Sons and Daughters of Erin takes place March 13-16 in Henderson with four days of fun and entertainment featuring a carnival with rides and games, a festival with food booths, souvenirs, Irish entertainment and a one-day car show that immediately follows Saturday's parade on March 15 at 10 a.m. A head-shaving event will be at 5 p.m. at the Henderson Events Plaza. For information, visit HendersonLive.com.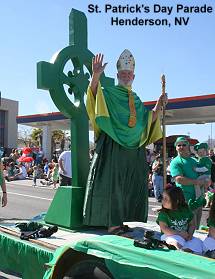 Downtown Las Vegas' annual St. Patrick's Day celebration will feature four straight days and nights of Gaelic madness March 14-17 on the Fremont Street Experience. Downtown party spots will be the D and Golden Gate with T-shirt giveaways, drinks specials and free live performances all weekend by bands including Tempest, L.A. Vation, Darby O'Gill and the Little People and more. The celebration reaches its pinnacle on Monday, March 17 with the Sixth Annual Downtown St. Patrick's Day Pub Crawl. At the D on March 17 will be the "Pot o' Gold" parties with festive drink specials and a relic from the legendary Blarney Castle in Ireland that will be at second-floor Vue Bar for people to plant a kiss on this piece of history.
Cabo Wabo Cantina inside Miracle Mile Shops at Planet Hollywood is putting the rock in shamrock this St. Patrick's Day with lucky food and drink specials from Friday, March 14 to Monday, March 17. The cantina will give Sammy Hagar's signature margarita an Irish twist by serving up festive green margaritas, with prices starting at $10.
Both Arizona Charlie's Casinos are celebrating St. Patrick's Day with traditional Irish flavors at each Sourdough Cafés, Frisco Market Buffet and Wild West Buffet.
'ART & WINE: A PERFECT PAIRING' CONTINUES AT BGFA
The Bellagio Gallery of Fine Art (BGFA) is presenting "Art & Wine: A Perfect Pairing" on the second Wednesday of each month except for May from 5-7 p.m. The event pairs wines from Bellagio's cellar with artwork featured in the gallery's new exhibition "Painting Women: Works from the Museum of Fine Arts, Boston." Highlighting the program is the interactive conversation about wine and art, blending the expertise of Jason Smith, Bellagio's director of wine and Master Sommelier, with the knowledge of Tarissa Tiberti, BGFA executive director. Tickets are $30 for BGFA members and $38 for non-members, call 702-693-7871 or go online at bellagio.com/bgfa.
HAKKASAN HOSTS CELEBRATION FEATURING DJ CALVIN HARRIS
Less than a year since opening last April, Hakkasan Las Vegas Nightclub at MGM Grand has earned its most recent recognition by Nightclub & Bar Media Group as the Las Vegas "Nightclub of the Year." To celebrate this year's eminent award, Hakkasan Nightclub will host an exclusive celebration with resident DJ Calvin Harris as the complex opens its doors for a Nightclub & Bar Platinum Party Tuesday, March 25.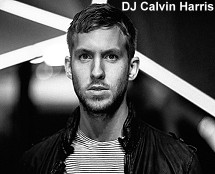 ALIANTE ADDS HERB-VEGETABLE GARDEN INSIDE MRKT SEA & LAND
Aliante has opened GRDN a sustainable herb and vegetable garden inside their signature steakhouse, MRKT Sea & Land. The 7-by-8, 8-foot-high glass greenery allows guests to take in the scenery as they dine while protecting the plants in a climate-and moisture-controlled environment.
Aliante is also introducing new seasonal menu items, cocktails and new Room Chef Mike Kamai who spent the last five years with the culinary division at Neiman Marcus. A graduate of Le Cordon Bleu College of Culinary Arts in Las Vegas, his previous experience includes time with The Stirling Club at Turnberry Place and Del Frisco's Double Eagle Steakhouse.
GOLD CLUB GENTLEMEN'S CLUB OPENS IN LAS VEGAS
The Gold Club chain of gentlemen's clubs has opened a place in Las Vegas located on Windy Road, off Sunset across from Town Square. This venue features two floors of entertainment, a full bar, private couch and champagne suites along with a state of the art sound, video and light show. The Gold Club is open nightly until 6 a.m. and 8 a.m. on Friday and Saturday.
SAMMY'S IN GREEN VALLEY STARTS MONTHLY SOCIAL CLUB
Sammy's Restaurant & Bar in Green Valley is starting a new monthly event that will occur the last Wednesday of every month. Each event pairs a four-course dinner with drinks from a highlighted vineyard, distillery or brewery. The inaugural event will be at 7 p.m. on Wednesday, March 26 and will pair dishes with varieties of Moet & Chandon Champagne. Cost is $60.
ITEMS OF INTEREST
The Palms is the first major hotel in the United States to offer a 24-hour checkout program. Guests for no extra cost can book the 24-hour checkout option on Superior, Premier and Ivory Suites, by booking at Palms.com. It's a simple concept: if a guest checks in at 8 p.m. on Friday, they can stay until 8 p.m. on their day of departure.
Tacos & Tequila is hosting a three-course dinner with tequila pairing fundraiser Viva Max! for food writer Max Jacobson on Thursday, March 13. Cost is $100, call 702-735-8322.
Las Vegas Restaurant Week featuring a variety of fine dining offerings at prix fixe prices at restaurants across the valley is taking place through March 14. Since its inception in 2007, Las Vegas Restaurant Week has raised more than $786,000 for Three Square Food Bank. This year marks the third annual Spring Las Vegas Restaurant Week and the eighth annual Fall Las Vegas Restaurant Week.
The Cromwell, the new Las Vegas Strip hotel, is set to welcome its first guests beginning May 21 and reservations can now be booked online.
After nearly nine years since "Le Rêve - The Dream" opened at Wynn Las Vegas, the production is celebrating its 4,000th showing this month.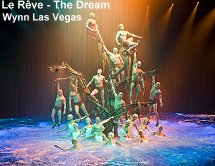 RÍ RÁ LAS VEGAS RAISES $21,000 FOR ST. BALDRICK'S FOUNDATION
On Saturday, March 1, Rí Rá Las Vegas raised more than $21,000 at its third-annual head-shaving fundraiser for St. Baldrick's Foundation. During the signature fundraiser, celebrated seafood Chef Rick Moonen and local food critic Al Mancini both braved a shave after raising more than $6,000 combined. Mancini watched his mohawk of 15 years go down with Chef Moonen manning the clippers. Local barbers from The Art of Shaving volunteered their time, shaving more than 50 heads in total.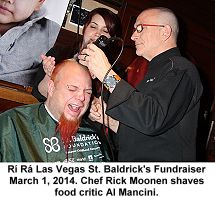 UPCOMING BOULDER CITY FAMILY-FRIENDLY EVENTS
The ninth annual Boulder City Renaissance Faire will be held April 4-6 at Veteran's Memorial Park and feature traveling magicians, musicians, dancers, artists and food. For tickets, visit http://bcrenfaire.org.
The annual Spring Jamboree will be May 4-5 at Bicentennial Park with arts, crafts, the largest car show in Boulder City, food, rides, a gun show, live bands and movies in the park on a 60-foot screen. For information, visit www.springjamboree.com.
The 10th Annual Best Dam Barbecue Challenge will be May 23-24 in Bicentennial Park featuring live entertainment, shopping and a great barbecue with nearly 40 professional barbecue teams competing for their share of $12,000 in cash prizes. For information, visit www.bestdambarbecue.com.
Column Continues Below Advertisement
CONTINUE ON TO...:
THIS WEEK'S >LAUGHLIN NEWS
LAST WEEK'S >LAS VEGAS NEWS
>VEGAS VIEW FULL NEWS ARCHIVES
Return to >"Heard Around Town"
Return to >Las Vegas Leisure Guide