RIVERSIDE GOES IRISH FOR WEEK, ADDS HEADLINERS


"The Irish Show" will be happening at the Riverside, March 11-17. This group is the torch-bearer of the traditional culture of the celebrated and almost mythical islands of the West of Ireland. Inspired by the islanders of Inis Mor in Galway Bay, "The Irish Show" is a cultural performance of fast moving, traditional music, Irish song and dance. Tickets are $34.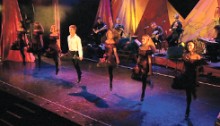 A couple shows that have been added to the entertainment lineup at the Riverside are: Carnival Fantastique April 28 - May 3, and Dead or Alive, a tribute to "Bon Jovi" June 24 -28.
WINGS AND WILDLIFE FESTIVAL OF SOUTHERN NEVADA DRAWS NEAR
Abstract artist Michele Rosett of Sonoma County, Calif., will be displaying her series of work, "The Environmental Series, Wildlife & Habitat," during the Wings and Wildlife Festival of Southern Nevada, being held March 12-15, in Laughlin. Rosett's painting style is accomplished with acrylics, but is rooted in a watercolor technique.
The festival will feature a variety of elements including a nature art show, wine and art reception, live animals such as raptors and reptiles, guided bird and nature walks, booths, demonstrations, displays, and workshops. Festival information can be found at www.SNBWTP.com.
Bob Barnes will be the facilitator for a half dozen events. He will lead birding trips and conduct workshops. Since 1977, Barnes has led more than 300 organized birding trips in Arizona, California, Nevada, Texas and Costa Rica. Barnes started the Kern River Valley Hummingbird Celebration and has taught numerous binocular and bird ID workshops at the four annual Kern River Valley nature festivals, at California State University-Bakersfield Extension, as well as in the field during hundreds of field trips.
A featured speaker will be John Acorn, who was born in Edmonton, Alberta, in 1958, and has been fascinated with animals his entire life. He still lives in Edmonton and he is perhaps best known as the writer and host of the television series "Acorn, The Nature Nut," a family-oriented, how-to-be-a-naturalist show. He also hosted "Twits and Pishers," a travel show for bird watchers, and is the video host for the galleries of the Royal Tyrell Museum, where he has also served as a research associate. These days, Acorn lectures at the University of Alberta, and travels widely as a public speaker. He finds time for the study and photography of insects as well, and is an Associate of the E. H. Strickland Entomology Museum at the University of Alberta. Acorn has written 17 books including many well-received field guides.
RIVER PALMS KEEPS THE LAUGHTER GOING
Sammy Shore's Comedy Club at the River Palms books comedians who have been featured on HBO specials, Comedy Central, Premium Blend, The Tonight Show, Late Night, etc. Rob Sherwood, Grandma Lee and an opening act will headline March 11-15 at 8 p.m. shows. Tickets are $15 and $25, call 866-448-7849.
'LAUGHLIN RIVER STAMPEDE' RIDES INTO TOWN IN MARCH
The Laughlin River Stampede will take place March 26-29 at the Laughlin Events Area. This is one of PRCA's biggest rodeos of the year. More than $200,000 in prize money assures that America's top cowboys and cowgirls will be competing. Autograph sessions are held daily with many past and present world champions, along with appearances by Miss Rodeo America and Miss Rodeo Nevada. For information, call the Laughlin Chamber of Commerce at 702-298-2214 or 800-227-5245, or www.laughlinchamber.com.

TOP OF NEXT COLUMN
HARRAH'S NOSTALGIC SHOW
"Drinkin', Singin', Swingin' - A Salute to Sinatra, Davis, Martin" is running through March 12 at Harrah's. Tickets for the 7 p.m. shows in the Fiesta Showroom are $16, $21, and $26 with $5 off Total Rewards card holders; call 702-298-8510 or 800-447-8700; or visit www.harrahslaughlin.com.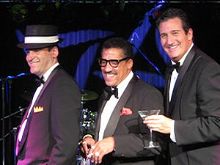 In this "Rat Pack" tribute show, Rick Michel plays the Dean Martin role. He is the man behind the show, who has updated the premise with the characters doing songs that the real guys never did together. He is joined by Bryan Clark, who portrays Sammy Davis Jr., and Ryan Baker as Frank Sinatra. This is a return Laughlin trip for the trio, who are backed by a live seven-piece band.
Michel is a veteran of other Las Vegas-based shows including David Cassidy's "The Rat Pack is Back." In his current show there is a lot of improv between the artists, which keeps the show fresh and often has the band crackling up. In addition, the men do other characters. For instance, Michel does Rodney Dangerfield, Baker takes on Harry Connick Jr. and Michael Bublé, and Clark draws attention to Ray Charles and Stevie Wonder.
RIVER CHILI COOK-OFF SET FOR MARCH 21
The "Red Hot on the River Chili Cook-Off" will take place on the Riverwalk between the Colorado Belle and Edgewater properties on March 21. This cook-off was traditionally limited to employees of the Colorado Belle and Edgewater but this year it's open to all comers, and this one has no restriction on ingredients, so beans are allowed. There will be a total of $5,000 in cash prizes for Best Chili, Best Salsa and Best Booth. For information, call Laura Wegner at 702-298-2453, ext 3758.
MONTGOMERY GENTRY WILL HEADLINE AQUARIUS AMPHITHEATER
Montgomery Gentry, the duo made up by Eddie Montgomery and Troy Gentry, will perform at the Aquarius Outdoor Amphitheater on March 27 at 8 p.m. Tickets are $50, call 800-435-8469.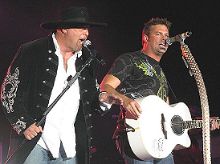 The Montgomery brothers and Gentry joined forces in a band called Young Country until John Michael landed a record deal. His brother Eddie joined his band and Gentry went solo, winning the national Jim Beam Talent Contest in 1994. When Eddie returned to Kentucky, he and Gentry found themselves on stage together at various charity concerts and finally decided to join forces again. Nashville heard the buzz and Columbia Records signed them.
Through it all, the duo's rooted-ness can be seen in the fact that they are still playing with the band they had in their honky-tonk days. Their musical honesty shines through every bit of their latest CD. "Back When I Knew It All" continues their tradition of connectedness as it restates their position as the honky-tonk poets of their generation.



CONTINUE ON TO...:
>THIS WEEK'S LAS VEGAS NEWS
>LAST WEEK'S LAUGHLIN NEWS
>VEGAS VIEW FULL ARCHIVES
>Return to "Heard Around Town"
>Return to Las Vegas Leisure Guide