BON JOVI WILL ROCK THE HARD ROCK

Bon Jovi will play The New Joint during its opening week at the Hard Rock on Friday, April 24.
Grammy Award winning rockers Bon Jovi globally have sold more than 120 million albums and performed more than 2,500 concerts in more than 50 countries for more than 32 million fans.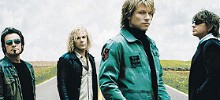 Their latest album, the Nashville-inspired "Lost Highway" was released June 19, 2007, and debuted at No. 1 around the world.

RHUMBAR TO OPEN AT THE MIRAGE

This month near the main entrance at The Mirage, Michael Frey and Craig Gilbert of Drive This! Entertainment will unveil RHUMBAR, a 2,000-square-foot rum lounge and outdoor patio that will accommodate up to 100 guests.

Blocks of slate tile will line the entryway where there will be a highly stylized frozen daiquiri bar with a counter embedded with mint leaves and backlit with neon green lighting. White will be the prevailing color with touches of cool greens throughout. Abstract white mint leaves will adorn the 20-foot-tall glass walls. The arched ceiling will display 15 Jeff Koons-esque sculpted chrome fighting cocks encased in glass protruding from the wall above guests.

The spacious patio will be framed by lush landscaping and offer views of the Las Vegas Strip skyline. Hours will be 10 a.m. until midnight, Sunday through Thursday, and 10 a.m. until 2 a.m. on Friday and Saturday. The company's other Las Vegas venture is T&T, which opened at the Luxor last summer.

Column Continues Below Advertisement



ROCKER DEE SNIDER FEATURED AT HILTON'S MONSTER CIRCUS

"Platinum Masters' Monster Circus" will highlight Twisted Sister frontman Dee Snider in the inaugural "Monster Circus "shows at the Las Vegas Hilton, March 19-21 and 26-28. Tickets are $39-$66 and $86 for the VIP package, call 702-732-5755 or 800-222-5361.

Special guest Snider is more than a musician; he is a radio personality, television host, author, voice over artist, screenplay writer and actor. Snider is in his 12th year radio hosting "House of Hair," which is nationally syndicated to more than 200 stations in North and Central America. Additionally, Snider is the voice behind "Fangoria Radio," a radio show that airs on satellite stations. Snider's most recent project is the follow-up feature film "Strangeland."

"Monster Circus" combines a high-octane live rock concert with sexy dancers, human circus acts, aerialists, freaks and of course, a tour bus full of platinum certified rock stars.

THE KING IS BACK AT THE STEVE WYRICK THEATER

World renowned Elvis tribute artists Trent Carlini, who was the winner of ABC's "The Next Best Thing," will return to the Strip with the launch of "ELVOLUTION™," which he is debuting at the Steve Wyrick Theatre in the Miracle Mile Shops at the Planet Hollywood on Monday, March 9. Tickets are $72, $92 and $150, call 702-650-5081.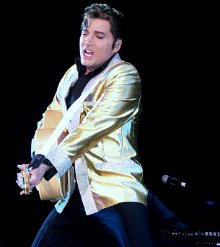 Carlini's show will offer an array of custom-made costumes and elaborate stage sets and more than 20 of Elvis' hits. No stranger to Las Vegas, Carlini has performed in "Legends in Concert," headlined his own show, "Trent Carlini - The Dream King" at the Boardwalk Casino, the Riviera and the Sahara and performed on the same stage as the King himself at the Las Vegas Hilton.
MANILOW BEGINS FIFTH YEAR HEADLINING AT LAS VEGAS HILTON
Barry Manilow, who has made the Las Vegas Hilton his home since Feb. 23, 2005, has kicked off his fifth year in the Hilton Theater and will return March 19-21, 26-28 and April 9-11, 16-18, 23-25. He began his Hilton long-term engagement with "Manilow: Music and Passion" and debuted his new show "Ultimate Manilow: The Hits" in the July of 2008.
An added bonus is the "Ultimate Bar," a working bar located inside the Hilton Theater that features many of Manilow's gold and platinum records from his personal collection and career photos. The Manilow Store, located inside the Hilton, features the Copacabana jacket and dozens of Manilow products.
NEW YORK-NEW YORK HOLDS FOUR-DAY IRISH CELEBRATION
The "luck of the Irish" is being celebrated over four days, March 14-17, at New York-New York. You'll be able to party on the Brooklyn Bridge and rock the night away at Nine Fine Irishmen until 3 a.m. The following groups are on the schedule: ultimate U2 tribute band Rattle and Hum; Irish favorites Celtic Rockers and Ri Ra; the all-female Irish-themed band Killians Angels; and Irish musicians Mike Bowman and Frank Joseph.
The festival atmosphere will feature food and drink specials at Nine Fine Irishmen plus a traditional bagpiper parade on March 17. A three-day ticket for March 14-16 is $25, which includes admission and three draft beers. Tickets for St. Patrick's Day start at $20 and may be purchased at the Zumanity Box Office.
HENDERSON CELEBRATES ST. PATRICK'S DAY WITH A FESTIVAL
The 43rd annual "Sons of Erin" St. Patrick's Day Parade & Festival in Henderson will include a three-day, M arch 13-15, free festival with two stages of live entertainment, carnival games and rides and a parade with more than 100 units down Water Street on Saturday, March 14. There will also be free dance lessons and contests. Performing artist Dona Brown will teach Irish step dancing called the Reel & Jig, and also provide musical instrument lessons on the Irish spoons and the Bodhan (bowron), a traditional Irish drum. For information, call 702-267-2171 or visit www.HendersonLive.com.
FREDDY 'BOOM BOOM' CANNON WILL ROCK AT THE EASTSIDE CANNERY
Rock 'n' roll icon Freddy "Boom Boom" Cannon will perform his classic Sixties hits at the Eastside Cannery on March 27 and 28 at 8 p.m. in Marilyn's Lounge. Admission is $5 at the door.
Cannon exploded on the rock 'n' roll scene in 1959 when he released his first single "Tallahassee Lassie," which sold more than a million copies. He earned the nickname "Boom Boom" because of his driving beat, the "whoos" he would yell on his records and because his name was Cannon. He is best known for appearing on Dick Clark's "American Bandstand" a record 110 times.
EASTSIDE CANNERY WILL HOST SECOND LAS VEGAS FILM FESTIVAL
It's "take two" for the Las Vegas Film Festival, which is set to roll film April 9 through 12 at the Eastside Cannery on Boulder Highway. The event will showcase more than 100 original films and documentaries and host exclusive Las Vegas premieres, fun-filled celebrity tributes, red-carpet parties, interactive panel discussions, a screenplay competition and an awards ceremony. Tickets for individual screenings are $7, visit, www.lvfilmfest.com or call 502-371-8037.
LIL WAYNE WILL PERFORM AT THE PALMS
With a new album on the horizon, slated for release on May 19, 2009, Lil Wayne will bring his act to The Pearl at the Palms on Saturday, March 28. Recording artist and songwriter Keri Hilson will be a special guest. Tickets are $129, $154 and $204.
Born DeWayne Michael Carter, Jr. and raised in New Orleans' infamously poor Hollygrove neighborhood, Lil Wayne was discovered by Cash Money CEO Brian "Birdman" Williams and will now go down in history as the best rapper of his generation. In the span of his 13-year career, Lil Wayne has sold more than six million units. He has been featured on numerous high profile singles and in the past two years he has recorded more than 1,000 songs and freestyles.
SPECIAL SHOWS AT LIBERACE MUSEUM
The "Liberace and Me" Cabaret Series featuring composer and pianist Philip Fortenberry at the 75-seat Liberace Museum Cabaret Showroom at 1775 E. Tropicana Avenue has been extended through June 27. Fortenberry performs 45-minute shows every Tuesday, Wednesday and Saturday at 1 p.m. Tickets are $17.50, and all proceeds benefit the Liberace Foundation for Performing & Creative Arts, call 798-5595 ext. 14.
Fortenberry is from the Palazzo's cast of "Jersey Boys." For his performance, he's seated at Liberace's nine-foot mirrored Concert Grand Baldwin piano. He weaves the music around his own life story and personal journey as a pianist from rural Mississippi to Broadway, from recitals and talent shows, to command performances for royals and dignitaries. A highlight is his original "Portrait in Music," an improvisational gift to the audience created in the moment.
Another "Jersey Boy's cast member Erich Bergen, who is playing the Bob Gaudio role, will perform a one-man benefit show on March 25 and April 8, at 7 p.m. Tickets are $15 and $50 for a Premium Seating Package, call 702-798-5595, ext.14.
KATHLEEN DUNBAR PROVIDES LAUGHS AT RIVIERA COMEDY CLUB
Kathleen Dunbar, who is a sexy single mother with a sharp tongue and a sarcastic wit, will headline the Riviera Comedy Club, March 23-29, with Dave Russo and Steve Marshall. Tickets are $24.99 for the 8:30 and 10:30 p.m. shows, call 702-794-9433.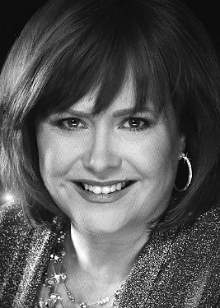 Dunbar was recently named the Midwest's newest and funniest female comedienne. Russo was a part of E! Entertainment Network's 10-episode series "The Entertainer" starring Wayne Newton. Marshall has appeared on CNBC's "The Open Show," FOX's "Blind Date" and the CBS National Sunday Evening News. He also wrote and directed a short film "Get the Script to Woody Allen," which won the 2003 Long Island Film Festival and was a 2003 Academy Awardr nominee.
HENDERSON HOSTS TOUR DE CURE 2009
The City of Henderson will host its third Tour de Cure 2009, a premier cycling fundraiser benefiting the American Diabetes Association, on Saturday, April 4 with races beginning at 7, 8 and 9 a.m. Spectator admission is free and the start/finish line will be located at the Henderson Events Plaza on Water Street where rides will culminate with a celebration lunch, entertainment and awards. Last year, 300 cyclists participated in the event earning $94,000 for the American Diabetes Association.
The event features 100K, 50K and 25K routes for all riders, from the novice to experienced cyclist. New elements have been added including DeTour training clinics that will be held eight, six, four and two weeks prior to the race and the Point Series Competition.
NEIL SEDAKA RETURNS TO ORLEANS
Renowned for his work as a singer, performer, producer and songwriter, Sedaka will perform at The Orleans Showroom March, 26-29 at 8 p.m. Tickets are priced from $39.95, call 702-365-7075.
Starting in his high school, Sedaka formed a vocal group, The Tokens that recorded two hit singles. Sedaka's introduction to Howard Greenfield followed, and they created a successful 30-year songwriting partnership that sold more than 25 million records.
In 1958, at age 18, Sedaka was catapulted into stardom after Connie Francis performed his song, "Stupid Cupid." Francis then sang the theme song Sedaka and Greenfield wrote for the 1960 MGM spring break movie classic, "Where The Boys Are," which ended up becoming her biggest hit.
'CINEVEGAS PRESENTS AT THE BRENDEN' PROMOTES ART FILMS
"CineVegas Presents at the Brenden" is bringing a series of independent and art house films to Las Vegas by launching a year-round partnership with Brenden Theatres at the Palms that will give these movies two-week runs each.
The series is kicking off March 6 with James Gray's "Two Lovers," which premiered at the Cannes Film Festival last May and stars Joaquin Phoenix, Isabella Rossellini and Gwyneth Paltrow. On Friday, March 20, the series will show Steven Soderbergh's "Che," which also premiered at the Cannes Film Festival last May. The film will be played in two parts and a separate ticket will be required for each part. Matteo Garrone's "Gomorrah," winner of the Grand Prix at the 2008 Cannes Film Festival, will be shown beginning Friday, April 3. "The Great Buck Howard" with John Malkovich and Tom Hanks will play beginning Friday, April 17.
QUICK CLIPS
"Menopause The Musical," which debuted at the Las Vegas Hilton on Feb. 1, 2006, celebrated its 1,500th show this past week. The hit production recently welcomed Queen Emily, one of the top five finalists in "America's Got Talent," as a cast member.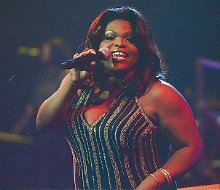 The Alt-pop group Better Than Ezra will perform at the Silverton on Saturday, March 21. Merging rock and melody, the New Orleans band began with a well-received cassette-only release in 1990, "Surprise." In 1995, the band's reissued release of the album "Deluxe" went platinum and several albums have followed. Tickets are $25.
Due to the current economic situation, the Las Vegas Art Museum (LVAM) has closed and the Bellagio Gallery of Fine Art (BGFA) has extended an offer through Sept. 7 for LVAM members to have unlimited entry to BGFA's new exhibition, "Classic Contemporary: Lichtenstein, Warhol & Friends."
From March 10-19, SUSHISAMBA inside The Shoppes at The Palazzo is offering their 10th anniversary James Beard Foundation meal. The dinner is priced at $110 per person with the alcohol pairings and $80 without.


CONTINUE ON TO...:
>THIS WEEK'S LAUGHLIN SEGMENT

>LAST WEEK'S LAS VEGAS SEGMENT
>VEGAS VIEW FULL ARCHIVES
>Return to "Heard Around Town"
>Return to Las Vegas Leisure Guide