FOUR TOPS VISIT E CENTER!

The Four Tops will headline in the E Center at the Edgewater on Friday, March 8 at 8 p.m. Tickets range from $15 to $55.

The quartet, originally called the Four Aims, made their first single for Chess in 1956. When Motown's Berry Gordy Jr. found out the group had hustled a national "Tonight Show" appearance, he signed them without an audition to be the marquee act for the company's Workshop Jazz label. That jazz label proved short-lived for them as they turned out one smash popular hit after another.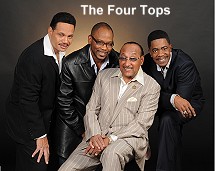 Over the years and working with a couple record labels, the foursome amassed 24 Top 40 pop hits such as "Baby I Need Your Loving," "I Can't Help Myself" (Sugar Pie Honey Bunch), "It's the Same Old Song" and "Ain't No Woman Like the One I've Got." They were inducted into the Rock and Roll Hall Of Fame in 1990.
The original four members Levi Stubbs, Abdul "Duke" Fakir, Renaldo "Obie" Benson and Lawrence Payton remained together for more than four decades, having gone from 1953 until 1997 without a single change in personnel. Following Payton's death in 1997, the group briefly worked as a trio until Theo Peoples, a former Temptation, was recruited to restore the group to a quartet. When Stubbs subsequently grew ill, Peoples became the lead singer and former Motown artist-producer Ronnie McNeir was enlisted to fill Payton's spot. In 2005, when Benson died, Payton's son Roquel replaced him.
SPLASH AT AQUARIUS OFFERS FREE ENTERTAINMENT
Splash at the Aquarius offers free entertainment every Friday and Saturday featuring some of the best local and out of state performers. Admission is free and there is no drink minimum. All performances begin at 7 p.m.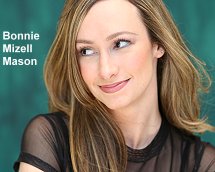 March 8 and 9 will highlight Dueling Pianos. The showroom showdown with two grand pianos will feature husband and wife team Joel Mason and Bonnie Mizell Mason and a repertoire of well-known songs, mostly of the audience's choosing. Performances are between 7 and 11 p.m.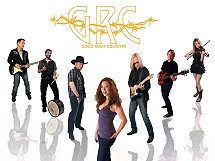 Gold Rush Country will perform its high energy, contemporary Country music on March 15 and 16. This band is known around the Southwest for its level of musicianship and enthusiastic reviews. The Southern California band with female and male lead vocals combines the showmanship sensibilities of a classic rock act with the heart and soul of new country. They will perform from 7 p.m. to midnight.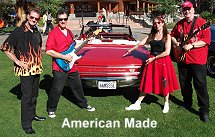 American Made will bring the best of American music to Splash Cabaret on March 22-23 with its repertoire of songs from the past seven decades. In 1984, this group of musicians got together to form a band, and within two weeks, entered the Marlboro Talent Roundup in Southern California. They did not win but returned the following year to take first place, then appeared in concert with Merle Haggard, George Strait, and Alabama at the LA Forum, and sang the National Anthem at a Laker Game. This group will have the stage from 7 p.m. to midnight.
ROCKY WHATULE AND DEL VAN DYKE PERFORM AT THE EDGEWATER
Every Friday-Sunday, two different comedians perform at the Edgewater in the showroom at 7 p.m. Upcoming comedians will include Scott Long and Frank Schuchat – March 22-24 and Karen Rontowski and Anita Milner – March 29-31. Tickets are $10.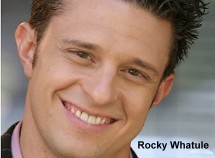 Rocky Whatule will appear March 8-10 with fellow laugh maker Jason Hadley. Whatule keeps everyone in stitches with humor from all walks of life. From dating to married life, from friends to family, from observations to experiences, from people to animals, Whatule is an all-around entertainer. The youngest of five boys in an Italian family, Whatule has been in the entertainment business since he was five years old. This 15-year veteran of television and stage has made appearances on "Friends," MTV's "Rob and Big," Showtime, "Jamie Kennedy Experiment," been the former host of the TV show "Sunset Stripped," and is current host of "The Hollywood Rockin' Wrap-Up."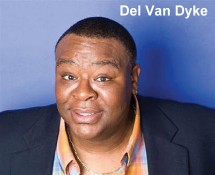 Del Van Dyke emerged from the San Francisco comedy scene in the 80s and quickly became a fixture on the nightclub circuit. He will appear with Marvin Deloatch, March 15-17. Raised in Marin County, Calif., Van Dyke began performing comedy in 1984 after finishing college and has been the winner of several major comedy competitions. He has headlined across the United States, appeared on network and cable television, and performed with musical acts such at The Pointer Sisters and The Neville Brothers. Currently his time is split between club appearances, corporate shows, charity events, and his popular comedy workshops.
TOP OF NEXT COLUMN
VICKI LAWRENCE HEADLINES AT THE RIVERSIDE
Vicki Lawrence with her famous two-woman show that includes "Mama" will appear in Don's Celebrity Theatre, March 6-10. Tickets are $35.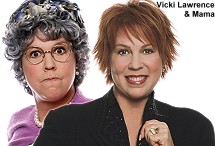 Lawrence, one of the most beloved television personalities and Emmy Award-winner, was plucked out of total obscurity as a high school senior to become part of the legendary cast of the "Carol Burnett Show." In the show's seventh season at age 24, Lawrence created her most endearing character Thelma Harper better known as "Mama." Lawrence explains that her show is not a retrospective. It is a mixture of stand-up comedy, music and Lawrence's observations about real life.
CITY-WIDE EVENT IS 'REBA ON THE RIVER'
The adorable Reba McEntire will entertain at the Laughlin Amphitheater on Saturday, March 16 at 7 p.m. Tickets range from $45 to $125.
McEntire known for her music and 64 Top 10 hits has also had the No. 1 TV sitcom for six years on two networks, a Broadway stint that earned her a Drama Critics Award, and successful clothing, footwear and home collections. She is one of only four entertainers in history to be honored with a National Artistic Achievement Award by U.S. Congress.
THE DIAMONDS WILL SHINE AT THE RIVERSIDE
In 1957, The Diamonds released an instant million-selling hit called "Little Darlin'." The song continues to sell worldwide and has been dubbed "the National Anthem of Rock 'n' Roll." To date, the song has sold approximately 20 million copies and joins Gold Record status with two of their other songs "Silhouettes" and "The Stroll." The Diamonds in their heyday made 33 appearances on "American Bandstand." The Diamonds have been finding a growing audience among all age groups because people like to understand and actually sing the words to a song.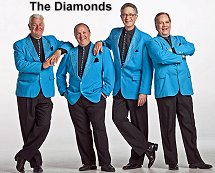 PARTY TIME FOR ST. PATRICK'S DAY ON THE RIVERWALK
It's almost time for the wearing of the green! The event for that color will be the "Shamrocks & Shenanigans St. Patrick's Day Festival" on the Riverwalk between the Colorado Belle and Edgewater March 15-17. This free St. Pat's event will have a beer garden and offer a variety of Irish fare, feature Irish tunes and a variety of music by Publin Draught. Food and beverages will be sold separately. Hours are Friday 4-9 p.m., Saturday noon-9 p.m., and Sunday noon to 6 p.m.
MATT REEVES & THE ALL AMERICANS PERFORM AT THE AVI
Matt Reeves & The All Americans will bring country music to the ArrowWeed Lounge at the Avi, March 5-9, from 6:30 p.m. to midnight. Entertainment is free.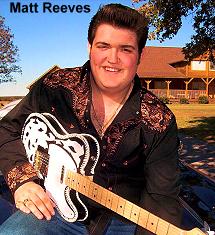 This act is a throwback to the glory days of Country Rhythm and Blues. At age 13, Reeves began playing lead guitar professionally for some big acts. In a couple of years, he had his first two-hour television special with his band in Nevada. Soon after, he started his own show performing in venues all over the United States. In 2008, he competed with more than 50,000 contestants in The Colgate Country Showdown and was one of five national finalists who performed on national television at the legendary Grand Ole' Opry's Ryman Auditorium, with LeAnn Rimes and Charlie McCoy. He was the featured performer of the show.
TROPICANA HOLDS RIVER FUND SLOT TOURNAMENT
The Tropicana Laughlin holds a monthly $2,500 slot tournament with proceeds being donated directly to the River Fund. The next tournament is Sunday, March 24 from 10 a.m. to 4 p.m. in the tournament area by the Roundhouse Buffet. Buy-In is $10 or 5 non-perishable food items. The tournament pays to 14 places, with the first place winner walking away with $1,000 in free play.
In 2012, the River Fund Tournament collected more than $3,000 in cash donations and more than 7,000 pounds of food for the Colorado River Food Bank
TONY SURACI BRINGS HIS MUSIC TO THE AVI
Tony Suraci will perform at the Avi in the ArrowWeed Lounge, March 12-16, and his evening shows are free.
Suraci, born and raised in Southern Calif., picked up the guitar when he was 12 years old and has never looked back. He penned his first original song as a freshman in high school and has been performing in clubs and bars since the age of 21. Suraci, who also plays piano and sings, has warmed up for Willie Nelson in Texas, co-written tunes with Billy Gibbons of ZZ Top for a Paris Hilton movie, and acted on the television show "Melrose Place."

NOTEWORTHY TIDBITS

Aquarius will have a "Lucky Spring Break" promotion running March 18-24 offering a $25 Free Slot Play Giveaway. Aquarius ace | PLAY card members will receive $25 in free slot play for every 5,000 base slot points earned during the promotional period. There is no cap on the amount of free slot play a player can earn.

The Riverside has Karaoke Monday-Thursday in The Dance Club from 8 p.m. to midnight with Chris & Susie of Earthbound. Weekly the Sunday Tea Dance takes place from 2-5 p.m. again with Chris & Susie of Earthbound. There are free county line dance lessons with Jim Allen every Thursday from 6 -7:30 p.m. and line dance lessons with Burt & Jane on Tues from noon - 2 p.m. and 6 - 7:30 p.m.

At the Avi, the "Spring Marketplace Extravaganza" will be held March 6-16 in the West Parking Lot. This free event will feature a variety of vendors selling all types of merchandise daily from 9 a.m.-dusk.

CONTINUE ON TO...:
THIS WEEK'S >LAS VEGAS NEWS
LAST WEEK'S >LAUGHLIN NEWS
>VEGAS VIEW FULL ARCHIVES
Return to >"Heard Around Town"
Return to >Las Vegas Leisure Guide