CEELO GREEN OPENS 'LOBERACE' WITH GRAND VEGAS ENTRANCE!

The over-the-top star CeeLo Green arrived at Planet Hollywood, his new home for his "Loberace" show, after stopping traffic on the Strip by riding on a flatbed truck with a flaming piano surrounded by dancing showgirls. CeeLo also had his handprints done in cement, which will be displayed at the property.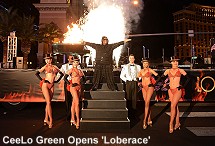 Next door to the showroom, the Strip House restaurant has launched an honorary CeeLo Green $13 drink dubbed the Naughty Strawberry.
Column Continues Below Advertisement
MGM RESORTS PLANS TO BUILD 20,000-SEAT STRIP ARENA
MGM Resorts International said it will partner with a powerhouse arena developer AEG and break ground late this year for a new 20,000-seat sports and entertainment arena on the Strip and do so without public money. The arena will be built on land behind the Monte Carlo and New York-New York and should take 24 to 30 months to complete.
BOYZ II MEN HAVE AUDIENCES DANCING IN THE AISLE
Four-time GRAMMY Award-winning R&B vocal group Boyz II Men have the audiences at The Mirage standing and grooving for nearly half the show. When the trio, featuring baritone Nathan Morris alongside tenors Wanya Morris and Shawn Stockman, hand out roses, the ladies flock like crazy to the foot of the stage.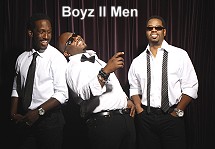 Formed in 1990, Boyz II Men holds the distinction of being the bestselling R&B group of all time with more than 60 million albums sold worldwide. Their smooth harmonies really shine during the a capella segment. Known for their infectious hits like "I'll Make Love To You" and "End of the Road," they connect as well when they reproduce the Motown sound.
Their show of which there will be 78 performances through Dec. 29 can be added to the list of "must see" shows in Las Vegas.
'MILLION DOLLAR QUARTET' OPENING
The Tony® Award Winning musical "Million Dollar Quartet" recently held its official opening at Harrah's with a red carpet celebration. The production is inspired by the true story of the evening on Dec. 4, 1956, that brought Johnny Cash, Jerry Lee Lewis, Carl Perkins and Elvis Presley together for one of the greatest rock 'n' roll jam sessions in history. The show is filled with nostalgic hits that each artist made famous while under contract at Sun Records in Memphis and under the tutelage of Sam Phillips, the "Father of Rock 'n' Roll."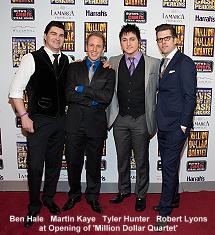 Being in a hotel, the show, which is on an open-ended contract, is cut down and intermission-free unlike its longer Broadway counterpart. The set is a facsimile of the Sun studio and the talent is singing and playing live music. The iconic photo taken at the historic scene brings the show to a resounding conclusion that signals the start of four-song encore with the audience on their feet swaying to the music. The show appears to have the right ingredients to have staying power.
BONEFISH GRILL WILL OPEN AT TOWN SQUARE
Bonefish Grill is partnering with Olive Crest as part of its Grand Opening festivities in Town Square on Saturday, March 16 from 6 – 8:30 p.m. with a special Charity Night to benefit the organization. Supporters will enjoy fresh seafood, cocktails and music. For tickets, call Erin at 702-835-1904.
The new restaurant well known for its community tables and lively music will open its doors to the public on Monday, March 18. The interior features a sleek design with golden hardwood, hand-blown glass amber lamps and an array of three-dimensional art.
NEW GASTROPUB PARK ON FREMONT OPENS IN MARCH
Park on Fremont, a new 5,000-square-foot gastropub will open downtown in March at 500 E. Fremont Street. The new venue will offer innovative bar fare and an eclectic art collection, with a laid-back area for dining indoors and antique tables in a lush garden outdoors. The drink menu will offer 100 different beer selections from around the world and cocktails served in mismatched glassware.
In the rustic 2,500-square-foot interior, the booths and chairs will be covered with an array of rich textured leathers, complemented by dark woods and the reclaimed herringbone floor. Forty-five rpm records played on a 1940s-era jukebox will set the mood, with guest musicians and music aficionados continually curating the music selection.
The patio will have objects d'art from eroded items, an outdoor bar a Cinderella-style carriage on the rooftop, ornate fencing, a game of hopscotch made with mosaic tiles, and an 8-foot-tall archangel statue atop the fireplace. There will be a secret smoking area complete with games and custom art installations. Hours will be daily from 11 a.m. to 3 a.m.
HUMAN NATURE HAD STAR-STUDDED OPENING AT THE VENETIAN
"Smokey Robinson Presents Human Nature: The Motown Show" had a star-studded opening at the Venetian. Just some of the notables included Smokey Robinson, Mary Wilson, Carrot Top, Holly Madison, Frankie Moreno, Deniece Williams, Claire Sinclair, Ricardo Laguna, Celerity Chef Carla Pellegrino, Frank Marino, Teller, comedy hypnotist Marc Savard, Zowie Bowie, and members of many of the Las Vegas Strip's headlining shows.
Produced by Adam Steck and SPI Entertainment, Human Nature will now call The Sands Showroom (formerly the Venetian Showroom) at The Venetian, a 742-seat venue, home for a two-year residency.
EL CORTEZ NAMED TO NATIONAL REGISTER OF HISTORIC PLACES
The El Cortez downtown has been named to the National Register of Historic Places the nation's official list of cultural resources worthy of preservation. Constructed in 1941, the El Cortez is primarily Spanish Colonial Revival style but reflects the 1952 remodel when the façade was "modernized" and the marquee and prominent rooftop signage were added. El Cortez remains one of the oldest establishments on Fremont Street and the only establishment to continue operation under its original name.
WYNN LAS VEGAS UNVEILED TULIPS BY ARTIST JEFF KOONS
Wynn Las Vegas has unveiled the sculpture Tulips by Jeff Koons that was acquired at auction in November 2012 for $33,682,500. Rendered in mirror-polished stainless steel and transparent color coating, Tulips illuminates the Wynn Theater rotunda. The sculpture represents a bouquet of twisted balloon flowers.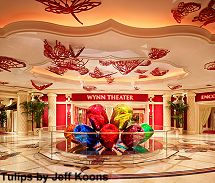 MANDARIN ORIENTAL LAUNCHES JAZZ SUNDAYS
The Triple, Five-Star Mandarin Oriental has launched Jazz Sundays with live jazz music at MOzen Bistro and Mandarin Bar.
Every Sunday from noon – 2:30 p.m., MOzen Bistro has a live jazz duo with a new all-you-can-enjoy brunch that includes fresh sushi and tradition Dim Sum for $58. On the 23rd floor at Mandarin Bar from 4 – 8 p.m., there is a live jazz band, light bites and new libation offerings.
SOME NASCAR WEEKEND ACTIVITIES
NASCAR weekend will kick off on March 6 at 6 p.m. with the popular NASCAR Hauler Parade down the Las Vegas Strip.
During race weekend, the Plaza downtown will be hosting an exclusive meet and greet party in its Z Bar with drivers of the TriStar Motorsports team, such as Jeff Green, Eric McClure, Mike Bliss and Hal Martin.
The Speedway Children's Charities NASCAR Driver's Auction will be held Thursday, March 7 at Sam's Town Live! at 5 p.m. The silent auction will offer a wide array of unique and rare racing memorabilia. Entrance to the event is free.
Emmy® Award-winning sports broadcaster Chris Myers will interview Matt Kenseth, driver of the No. 20 Dollar General Toyota Camry for Joe Gibbs Racing, on Friday, March 8 from 6:30 to 7:30 p.m. at Sam's Town Live!
NASCAR driver Kasey Kahne will appear at The Orleans for a Q&A session with NASCAR broadcaster and Fox Sports analyst Jeff Hammond on Friday, March 8, at 7:30 p.m. in the Mardi Gras Ballroom.
After the Sam's Town 300 race on March 9, Kenny Wayne Shepherd will headline at Sam's Town Live! Tickets start at $30.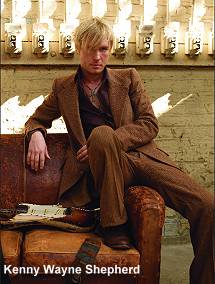 Dick's Last Resort inside the Excalibur will celebrate NASCAR weekend March 8 - 10 by showing the races on TV sets, having giveaways and offering drink specials. Ms. Coors Light, Rachel Rupert, will make an appearance on March 9 at 7:30 p.m. and giveaway four tickets to Sunday's race.
NASCAR Legend Richard Childress, 2012's Rookie of the Year Austin Dillon and Ty Dillon will host a meet and greet in the lobby of the Venetian on Friday, March 8 from 6 - 7 p.m.
The TAG Heuer-sponsored Richard Childress Racing team will appear at the Optica boutique inside The Venetian's lobby on Friday, March 8 from 6 – 7 p.m. The TAG Heuer Avant-Garde Eyewear – 51 Car that Austin Dillon currently drives will be displayed at McCarran International Airport March 5 – 12.
TOP OF NEXT COLUMN
RED ROCK RESORT HAS NEWLY-DESIGNED LUCKY BAR
Red Rock Resort in Summerlin has a newly-designed, raised circular Lucky Bar in the heart of the resort's gaming floor that features a polished, iridescent open concept, accenting 360-degree viewing. With the new retro-modern design, the walls of the former space were removed and transformed into a sleek, verandah style space. The interior has changed from dark cherry red to radiant modern colors with polished stone, metal finishes, a waterfall of chandeliers, custom-designed furniture, 2,000 feet of amber LED lighting and plenty of high-definition televisions.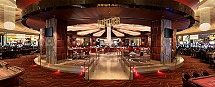 Cocktail servers wear custom handcrafted, one-of-a-kind gold-plated dresses with shimmering gun-metal dress ornaments. The bar is open from 10 a.m. until 4 a.m. daily.
TODD ENGLISH CREATES MEAL AROUND JUSTIN WINERY'S WINES
On Saturday, March 9, Chef Todd English of Olives and Justin Winery with Bellagio's Master Sommelier Jason Smith will join forces for a special dining experience as part of Bellagio's Epicurean Epicenter series. Guests will get to watch Chef English cook one-of-a-kind dishes like "Duck Duck Goose" and "Poached Merus Crab Leg." Tickets are $175, call 866-406-7117.
GILLEY'S-SEAFOOD SHACK PARTICIPATES IN RESTAURANT WEEK
For the first time, Seafood Shack and Gilley's Saloon, Dance Hall and Bar-B-Que at Treasure Island will participate in Three Square Food Bank's Spring Las Vegas Restaurant Week, March 8 through 15. To view the more than 75 restaurants participating, visit www.helpoutdineoutlv.org.
LIFESPA + SALON BY MICHAEL BOYCHUCK OPENS IN SUMMERLIN
LifeSpa + Salon by Michael Boychuck is open now at Life Time Athletic in Summerlin and offering a springtime special for the month of March. Guests receive complimentary gifts with the purchase of salon services. For information, call 702-228-2611.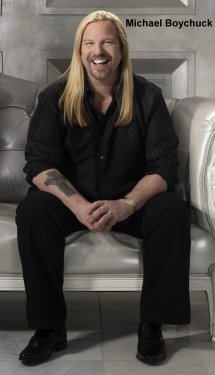 GOLDEN RAINBOW HOLDS ANNUAL 'RIBBON OF LIFE' FUNDRAISER
Golden Rainbow's 27th annual "Ribbon of Life" show is set for Sunday, June 30 at 1 p.m. at The Smith Center for the Performing Arts. This fundraising production features some of the best performers from the Las Vegas Strip in original acts and new numbers. It is one of the largest HIV/AIDS fundraisers in Nevada.
In 2012, "Ribbon of Life" drew a record-setting crowd of 1,630 during its debut event in The Smith Center. The performance raised more than $200,000. Ticket, casting and sponsorship information will be announced soon.
REGIS GALERIE TO HOST EXCLUSIVE LLADRO SIGNING EVENT
Rosa Lladró, president of the world-renowned Spanish porcelain company Lladró, will hold an exclusive signing event, Marcy 8-10, at Regis Galerie, a high-end art collections boutique in The Grand Canal Shoppes at The Venetian. Rosa Lladró will make a special appearance on Sunday, March 10 from 2-4 p.m. and he will autograph all Lladró purchases made that weekend, which will increase the value. The gallery will highlight Lladrσ's newest limited edition creation, "Winged Beauty" valued at $18,000 and only 750 are being produced.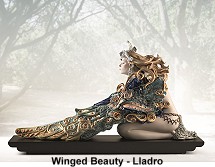 MEATBALL SPOT HOLDS MEATBALL EATING CONTEST
To celebrate National Meatball Day, "Top Chef" Carla Pellegrino's new Meatball Spot at Town Square will hold its 1st Meatball Eating Contest at noon on Saturday, March 9. Local celebrities, including hypnotist, Marc Savard, cast members from "The Australian Bee Gees Show" at Excalibur, and dancers from "FANTASY" at Luxor, will compete to see who can eat six meatballs with their favorite sauce in the shortest amount of time. The winner will receive a donation to their charity of choice.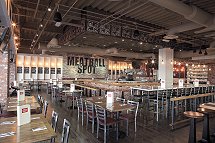 MJ CHRISTENSEN CELEBRATES INTERNATIONAL WOMAN'S DAY
MJ Christensen will hold its 3rd Annual International Woman's Day celebration on Friday, March 8 from 6 – 8 p.m. at the MJ Christensen jewelry store at 10400 S. Eastern in Henderson. This year's deserved honoree is Opportunity Village's Associate Executive Director Linda Smith. Opportunity Village (OV) is Nevada's largest organization that assists people with intellectual disabilities and for more than 30 years Smith has helped raise more than $100 million dollars.
The evening's entry donation is $20 and will include one raffle ticket, appetizers, beverages including World Spirits Gold Winner Tito's Handmade Vodka, gourmet popcorn and OV's homemade cookies, entertainment by OV's Roaring Thunder Percussion Team and gift bags to the first 125 attendees.
PEBALUNA WILL PERFORM AT BACKSTAGE BAR & BILLIARDS
Smash Magazine will present Long Beach, California-based indie band Pebaluna on Thursday, March 21 at 7 p.m. at downtown's newest entertainment venue Backstage Bar & Billiards, also known as Triple B. Last September, Pebaluna released their soulful new album, "Carny Life." Tickets are $9 in advance and $11 day of show.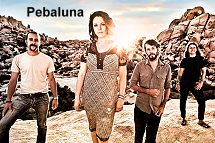 SOME UPCOMING EVENTS
Public House Las Vegas at the Luxor with televisions galore will host viewing parties during the 2013 NCAA Basketball Championships featuring food and drink specials Tuesday, March 19 through Monday, April 8.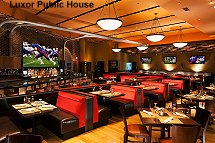 Chris Pocock, defense editor of "Aviation International News" and leading authority on the U-2, will be the guest lecturer at the National Atomic Testing Museum on Thursday, March 12 at 6 p.m. His topic is "U-2: From Area 51 to the 21st Century." To RSVP, call 702-794-5151. It's $20 and free to museum members.
"COLORS" featuring Pascale Elia on vocals, Ryan Rose on drums, Steve Flora on upright bass, Charles McNeal on sax and Uli Geissendoerfer Uli on keys will take place on Tuesday. March 12 from 7 – 10 p.m. at The Mad Greek Café at Sahara and Durango. For reservations, call 702-242-7669.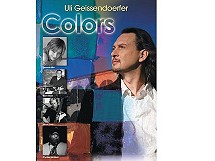 "Perfect Wedding Guide's" Bridal Show will take place on Sunday, March 10 from noon to 4 p.m. at the Red Rock Resort.
The "ECCOCI Boca Park Model Search 2013" will take place on March 9 from noon to 5 p.m. at the ECCOCI Boca Park store. The top model will win a $1,000 shopping spree and "ECCOCI" magazine cover. The contest is open to ladies of all ages from 20 years and up. Visit the store March 2-7 to sign up. The public is invited to the free Saturday event to participate in voting, enjoy refreshments and music and take advantage of the 40 percent discount sale.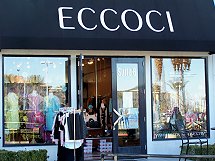 MISC. TIDBITS
Comedian George Wallace, "The New Mr. Vegas" received a Lifetime Achievement Award during the Soul Train Awards Weekend / Centric Comedy All-Stars show. Wallace, who performs a 10 p.m. show at the Flamingo, is being honored for his nearly four decades in comedy.
The English Beat emerged into the music scene in the late 70s in England amid social, political and musical disorder and became an influential British ska band. They will appear at the Hard Rock Café on Wednesday, March 13. Tickets are $22 and $25 day of show.
Hip-hop rapper, producer and GRAMMY Award-nominee Warren G will stop by the Luxor's LAX Nightclub for a special live performance on Wednesday, March 6. GRAMMY Award-winning hip-hop trio Naughty by Nature will make a special live performance at LAX Nightclub on Saturday, March 9.
Krispy Kreme fans can spring into the season with one complimentary Original Glazed® doughnut in honor of daylight savings time from 9 a.m. until noon at Castle Walk Food Court inside Excalibur Sunday, March 10.
Consisting of 18 basketball games featuring men's and women's teams, the Western Athletic Conference basketball tournament will return to the Orleans Arena March 12-16.
Column Continues Below Advertisement
CONTINUE ON TO...:

THIS WEEK'S >LAUGHLIN NEWS
LAST WEEK'S >LAS VEGAS NEWS
>VEGAS VIEW FULL NEWS ARCHIVES
Return to >"Heard Around Town"
Return to >Las Vegas Leisure Guide