'VIVA ELVIs' IS A CIRQUE MISHMASH OF ELEMENTS
"Viva Elvis" has been officially unveiled at Aria in CityCenter as Cirque du Soleil's seventh resident Las Vegas show on the Strip. The production has all the Cirque elements; big cast – 76 artists; hallmark acrobatics; and bold artistic statements. While roughly 30 Elvis classic songs and The King's life act as the theme and backdrop for the show, the interpretative paintbrush is in the hands of Cirque.
Column Continues Below Advertisement
There's lots of dancing mirroring and modernizing the '50s and '60s rock 'n' roll era that Elvis embraced beginning at the top of the show with poodle skirts. While most of the show is upbeat, there are quiet moments like when an actor crosses the stage as Elvis' famous manager "The Colonel" Tom Parker and tells his version of "really missing that boy." Another slow routine early in the show has a piano flowing onto the stage with a lady playing a moody "One Night You" as two acrobats work they routine in, around and through a gigantic wire-like outline of a guitar. This follows The Colonel's biographical comment that Elvis' had a brother who died.
For avid Elvis' fans, they will most enjoy the video segments that are interspersed throughout the show. When the video is run in the top portion of a jukebox high in the proscenium and dancing or balancing routines are taking place on the stage floor, it's the old films and Elvis' charisma that override the production on stage.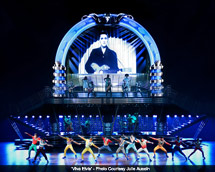 One trick that the Canadian entertainment company has perfected is the element of surprise. You really can't second guess what will show up in the next scene. You run through changing acts such as a marching band and drum corps for "Return to Sender, "Blue Suede Shoes" with a jumbo blue shoe rolling on stage, to the scene stealing "Jailhouse Rock" with prisoners walking on the prison ceilings. Representing Elvis' wedding to Priscilla Presley, who was in the audience on opening night, is a giant wedding cake filling center stage while the bride's veil is unfurled to fill the front of the stage so that the duo's historic wedding video could be shown on it.
Once again, Cirque du Soleil has taken a topic, in this case Elvis, and put it into their branding blender. Tickets are $99, $125, $150 and $175. Shows are Friday through Tuesday at 7 and 9:30 p.m.
HOOTERS's 'LAUGH UNTIL IT HURTs'
Hooters has opened a new comedy show called "Laugh Until It Hurts" starring Geechy Guy, Mickey Joseph and Todd Paul, who performs his own show in the Owl Showroom at 7 p.m. Wednesday through Monday. "Laugh Until It Hurts" is staged Monday through Thursday night, at 11 p.m. Tickets are $24.99, call 866-584-6687.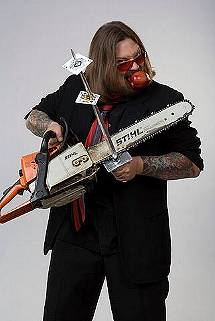 The show gives a behind-the-scenes look at three Vegas comedians as they attempt to outdo each other. It opens with a set showing a back alley with a guy standing outside a door smoking a cigarette and a video. Then it moves to comedians exiting a stage back door after a show. They settle in an area with cans and sit while they casually converse and peel off jokes. It's really quite funny because you witness three different styles of comedy and quick repartee.
The concept is so loose that visiting comedians can join them onstage like Kevin Burke from "Defending the Caveman" and his own comedy show at Fitzgeralds did on media night. To keep your evening going late at night, this show provides the laughter.
BURLESQUE STAR DITA VON TEESE VISITS 'CRAZY HORSE PARIs'
MGM Grand's "Crazy Horse Paris" has announced the return of burlesque artist and fashion icon Dita Von Teese to the famed cabaret show for a limited engagement, March 31 – April 7, after a sold-out engagement in April 2007.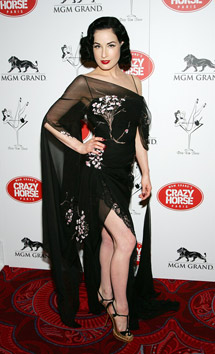 Von Teese was the first guest star in the show's history. During her next visit, she will feature new performance numbers that she developed especially for the Crazy Horse stage for her sold-out performances in Paris in early 2009. A DVD of the show was released afterwards in France and the U.K. and will follow in Germany and the United States this spring.
Von Teese will debut "Lazy," a number featuring her and the Crazy Horse dancers, "Le Bain Noir," a new take on her famous bathtub show she performed in Paris in 2006 and Las Vegas in 2007, and "Teese'ing," her interpretation of the iconic Crazy Horse number "Teasing." Special performance tickets are $75.
THE JOINT NAMED "BEST NEW MAJOR CONCERT VENUE"
The Joint at Hard Rock has been named Best New Major Concert Venue by "Pollstar" magazine. Music industry leaders vote each year on this prestigious award and recognized the venue as setting new standards for the live music experience. The new $60 million venue opened with five sold out shows in April 2009 and has had continued success ever since.
NEW GALLERY FEATURES THE ART OF RICHARD MACDONALD
The Art of Richard MacDonald Presented by Cirque du Soleil® has opened at Crystals at CityCenter. The 3,600-square-foot fine art gallery showcases more than 50 bronze sculptures including 10 heroic-size works by the internationally acclaimed sculptor. The sculptures capture the beauty, athleticism and human spirit of Cirque du Soleil. The space features a 40-foot waterfall, split face stone walls and dynamic steel curved niches.
MARTORANO's CELEBRATES THREE YEARS AT THE RIO
Martorano's is still going strong after three years at the Rio. In honor of the three-year anniversary, Martorano's is celebrating by offering the 3 Taste's of South Philly, a three-course meal for $33 plus tax, through March 5. For reservations, call 702-777-7740.
Steve Martorano began his namesake Martorano's in Ft. Lauderdale, Fla., in the early '90s. His technique is using fresh ingredients cooked old-school Italian.
TOP OF NEXT COLUMN
THE OSMOND BROTHERS WILL PERFORM AT THE SUNCOAST
Celebrating more than 50 years in entertainment, The Osmonds – brothers Wayne, Merrill, Jay and Jimmy, will return to perform at the Suncoast Showroom, March 27 and 28. Shows are 7:30 p.m. on Saturday and 4 p.m. on Sunday. Tickets start from $29.95, call 702-636-7075.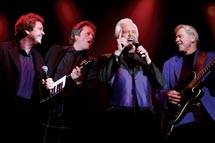 The legendary brothers have mastered a range of musical styles and had such classic hits as "One Bad Apple," "Yo-Yo," "Down By The Lazy River" and "Love Me For A Reason."
Five decades ago, the young Osmond boys were flashed across national television screens on "The Andy Williams Show" for seven seasons as regulars. Together they have mastered 28 musical instruments. Success continued and in 1982, the Osmonds transitioned their sound from pop to country music. A decade later, after almost 40 years of concert tours, the Osmonds purchased a theater in Branson, Mo., and began performing 12 shows a week at the Osmond Family Theater.
'BREWS BEST VILLAGE BEER FEST' SET AT LAKE LAS VEGAS IN MARCH
The Village Lake Las Vegas, Buckbean Brewing Company and New Vista Community will host "Brews Best Village Beer Fest" on Saturday, March 13 from 2 to 8 p.m. The festival will showcase beers from 10 breweries that will set up along the waterfront cobblestone streets of The Village. Tickets are available at the event for $25 with proceeds benefiting non-profit New Vista Community or can be pre-purchased at www.NewVistaCommunity.org.
MONTELAGO VILLAGE OFFERS BEER BREWING 101 WORKSHOP
Guests that purchase the Beer Fest overnight package at MonteLago Village Resort (call 888-600-2688) or pre-purchase tickets for the "Brews Best Village Beer Fest" are invited to a special two-hour workshop at 11 a.m. on craft beer brewing.
The class will be lead by former UNLV brewing science instructor Steve MacMillan, now Brewmaster of White Pine Brewing Company located in Ely, Nev. He will be joined by Jon Christensen, a graduate from the world famous Siebel Institute of Brewing and Brewmaster for the local Joseph James Brewing Company.
QUICK CLIPS
The PBR Rock Bar, a restaurant and bar concept, will open inside the Miracle Mile Shops this spring. The lease has been executed and they will assume the space occupied by Hawaiian Tropic Zone, which closed its doors on Sunday, Feb. 21.
This week, The Pussycat Dolls have ended their run at Pure nightclub inside Caesars Palace.
Billionaire Carl Icahn has completed his $150 million purchase, $106 million for the project and $45 million in financing fees, of the unfinished 3,889-room Strip Fontainebleau. Construction stopped last April when the project was 70 percent complete. Icahn will not resume construction for an undetermined amount of time.
Chazz Palminteri will return to the Venetian, April 28-May 9 and Oct. 6-18, with his one-man autobiographical play "A Bronx Tale."
The show "Menopause" at the Luxor, which is surely an "A" list show, celebrated the beginning of its fifth year in Las Vegas. It originally opened at the Las Vegas Hilton.
There is more sad news about happenings at Lake Las Vegas. The Casino MonteLago is going to close on March 14; however, the MonteLago Village Resort is a separate entity and it will continue to be open.
The wine walk dates scheduled this year at The Village at Lake Las Vegas are on the following Saturdays: April 3; May 15; Sept. 18; and Oct. 23 from 7 to 10 p.m. Cost is $30 per person or $50 per couple. Up to 20 stations at different shops and restaurants provide a variety of wine.
The Greek Isles that was at one time Debbie Reynolds hotel is located down the street from the Convention Center and will soon take one the Clarion name.
CLINT HOLMES RETURNS TO THE SUNCOAST
Clint Holmes will bring his powerful voice and magnetic stage presence back to the Suncoast Showroom March 13 and 14. With a long history of entertaining audiences in Las Vegas, Holmes is known for his six-year run in "Clint Holmes at Harrah's." Tickets start from $29.95, call 702-636-7075.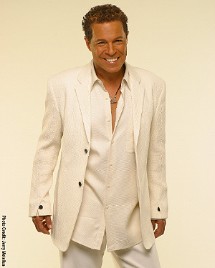 Holmes was named Las Vegas' "Best Singer" for four times and "Entertainer of the Year" three times by readers of the "Las Vegas Review-Journal." He was also Atlantic City's "Entertainer of the Year" three times, and starred in "Clint Holmes' Sophisticated Rhythms," a stage show that traveled through music from the 1940s to the present.
In a career that began with an invitation from Joan Rivers to be her sidekick and announcer on "The Late Show," Holmes even earned the honor of being the featured performer at the Democratic National Convention on the evening of Bill Clinton's 1992 presidential nomination. Also familiar to fans' ears, Holmes was the voice of Lowenbrau Beer for four years.
SURPRISE PRESENTATION FOR CONDUCTOR VINCE FALCONE
Vince Falcone, who was Frank Sinatra's conductor for 10 years and has conducted for numerous stars including Steve Lawrence, Robert Goulet, and Tony Bennett, was recently surprised when he was conducting for singing impressionist Bob Anderson at the Cannery Casino in North Las Vegas. Anderson stopped the show for Las Vegas columnist Norm Johnson to appear on stage and introduce Peter Justl, a prominent Las Vegas architect and portrait painter, who presented Falcone with a special portrait commissioned by Falcone's wife, Annette. In the audience was Mrs. Vera Goulet, for whom Anderson sang a special tribute.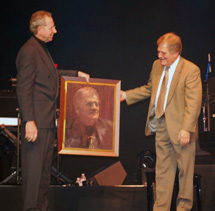 MORE TIDBITS
Always like to acknowledge promotions that have a quirky approach and "Wear Pink for Pork!" definitely catches your attention. Famous Dave's BBQ will celebrate National Pig Day on Monday, March 1 by giving away a free pork sandwich with the purchase of any entrée to guests wearing pink clothing. To keep in the porcine spirit, guests can participate in a pig costume contest between 5 - 6 p.m. at all four Las Vegas Famous Dave's locations. The prize is a $100 Famous Dave's gift card.
Las Vegas legend Buddy Greco moved to Palm Springs a year or two ago and now he is packing his bags and saying farewell to performing in the United States. The music industry giant, who has performed and rubbed elbows with the likes of the Benny Goodman Band, Frank Sinatra and others, and his vocalist wife Lezlie Anders will open their critically acclaimed stage show "FEVER! The Music of Peggy Lee" in London's West End this spring.
Column Continues Below Advertisement
CONTINUE ON TO...:
>THIS WEEK'S LAUGHLIN NEWS
>LAST WEEK'S LAS VEGAS NEWS
>VEGAS VIEWS FULL NEWS ARCHIVES
>Return to "Heard Around Town"
>Return to Las Vegas Leisure Guide