MISS ARKANSAS OPENS FOR TERRY FATOR
Miss Arkansas Alyse Eady will open ventriloquist Terry Fator's 7:30 p.m. show at his theatre in The Mirage on March 4 and 5. Eady, who was first runner-up in the 2011 Miss America Pageant, captured the nation's attention when she performed the ventriloquist act "I Want To Be A Cowboy's Sweetheart" during the talent round of the competition. Her talent got her a guest appearance on "Late Show with David Letterman" where Fator saw her.
Column Continues Below Advertisement
MEMORIAL SERVICES FOR BRECK WALL AND STEVE DACRI
Las Vegas lost two very talented gentlemen recently who were each remembered by the community on the same day at separate services.
For Breck Wall, the star of "Bottoms Up" and producer of more than 30 shows, his showbiz pals produced a show at the South Point in his honor. Among the performers were Tony Arias of the duo "Tony and Lloyd," Kenny Kerr, Wes Winters, and former showgirls. Letters were read from Joan Rivers, Kay Ballard, and Johnny Mathis. Senator Harry Reid said he'll miss Breck's vulgar (but funny) Christmas cards and Mayor Oscar Goodman, the former mob attorney, said, "Breck was the first client I had and he hadn't even killed anyone."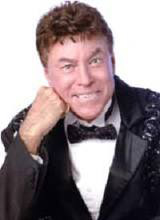 A trivia note on Wall is that he was a good friend and business associate of Jack Ruby, the man that shot Lee Harvey Oswald, and was the only person to visit Ruby in jail.
Magician Steve Dacri, who was presented a Merlin Award, the Oscar of the Magic World, for his close-up magic in 2008 and 2009, is the only magician to win this honor two years in a row. The past year, he was performing in the Shimmer Showroom at the Las Vegas Hilton.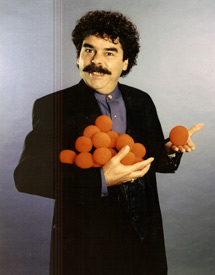 Columnists Norm Clark and Robin Leach, along with impersonators Gene Sironen and Heidi Thompson, who are also reverends, magician Nick Lewin and Elvis impersonator Steve Connolly spoke while The Fab performed Beatle's songs. Dacri's good friend Tony Orlando sent a video acknowledgement.
On every level, these two talented individuals will be missed and remembered.
JABBAWOCKEEZ RELEASE DEBUT ALBUM
In collaboration with the award-winning, Bay Area DJ crew The Bangerz, Jabbawockeez will release its debut, full-length album "Jabbawockeez MÜS.I.C." on iTunes on Tuesday, March 1.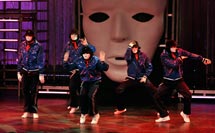 Building off the success of their first single, "Robot Remains," which climbed to the number seven electronic song on iTunes after its release in October 2010, "Jabbawockeez MÜS.I.C." will feature 14 original songs, including several tracks from their critically acclaimed show "MÜS.I.C." at the Monte Carlo.
FAMED SAXOPHONIST KENNY G PERFORMS AT MGM
Grammy Award-winning saxophonist Kenny G will showcase his contemporary jazz hits at the Hollywood Theatre in the MGM Grand for three exclusive shows March 10 – 12 at 8:30 p.m. His recording career spanning almost three decades encompasses 23 albums, has resulted in sales of more than 75 million records worldwide, and includes more than a dozen No. 1 hits. Tickets are $59, $60 and $79, call 800-929-1111 or 702-891-7777.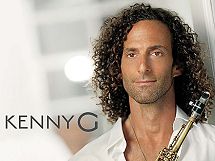 Kenny's latest album "Heart and Soul" was released in June 2010. He teamed up with guest vocalists Kenny "Babyface" Edmonds and Robin Thicke on the album.
LADIES COMPETE AT STUDIO 54 FOR 'MISS KNOCKOUT'
Every Thursday in March, Studio 54 at the MGM Grand will host preliminary rounds for sexy ladies to compete for the chance to become an official ring girl at all 2011 MGM Grand boxing events and win $5,000 in prizes. At the "main event" on March 31, three ladies will be awarded the title of "Miss Knockout." During each prelim, Studio 54 will be transformed into a boxing-themed atmosphere. They will begin their reign at the title fight between Erik Morales and Marcos Maidana on Saturday, April 9.
KAHUNAVILLE PARTY RUM LAUNCHES IN LAS VEGAS
Kahunaville Party Rum, a line of naturally-flavored rums from the West Indies in attention-grabbing bottles is debuting in Las Vegas. The launch will kick off with the ultimate battle of the world's best flair bartenders competing for $20,000 in prizes at The Big Kahuna Flair Smackdown III. Open to contestants from all over the world, the qualifying round will be held at Rock & Rita's at Circus Circus on Monday, March 7 at 6 p.m. The final round and launch party will be held at Kahunaville inside Treasure Island on Tuesday, March 8 at 8 p.m. with $20,000 in prizes at stake; visit www.kahunaville.com/flairsmackdown.
COMEDIAN STEVEN WRIGHT PERFORMS AT THE ORLEANS
Billed as the "Confucius of Comedy" by the "New York Post," Academy Award-winner and Grammy Award nominee Steven Wright will bring his trademark wit, absurdist one-liners and monotone voice to The Orleans Showroom, March 26 and 27. Tickets start from $34.95, call 702-365-7075.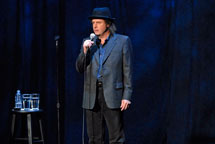 Wright, who was named the first inductee into The Boston Comedy Hall of Fame, began his career at age 23 as a regular performer at Ding Ho's Comedy Club and Chinese Restaurant in Cambridge, Mass. He went on to network guest appearances, two of his own HBO stand-up specials, "A Steven Wright Special" and "Wicker Chairs and Gravity," and making comedy albums and movies. In 1985, Wright received a Grammy nomination for his debut album, "I Have a Pony," and a sequel, "I Still Have a Pony 22" years later.
PSYCHIC GARY SPIVEY PERFORMS AT PALMS
Psychic Gary Spivey will appear at the Palms in The Lounge on Friday, March 25 at 7 p.m. Tickets are $33 & $43, call 702-944-3200.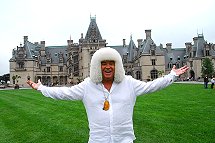 Nicknamed "The Modern Day Nostradamus," Spivey is world-renowned for his ability to predict future events, his gift to communicate with the deceased and his use of healing energy. Spivey tours nine months a year and has written books and recorded meditation CDs.
TOP OF NEXT COLUMN
I♥BURGERS OPENS AT THE PALAZZO SHOPS
I♥burgers, a modern take on the classic American burger joint, is now open inside The Shoppes at The Palazzo and setting itself apart from the typical burger experience by providing premium gourmet burgers with creative toppings and sides. The family-friendly restaurant features a full-service ♥togo counter and also offers one of the Strip's largest selections of domestic, imported and artisan beers, including more than 15 varieties on draft. Executive Chef/GM Errol LeBlanc was formerly with R.E. Tapas Kitchen and Aureole.
CLIMBING THE STRATOSPHERE FOR CHARITY
The third annual extreme athletic Scale the Strat Stair Climb event with proceeds going to benefit the American Lung Association will be held at the Stratosphere March 12 and 13. The "vertical road race" climbing the 108-floor, 1,455-step tower is limited to 400 climbers that register at www.scalethestrat.com. The qualifying event is March 12 at 10 a.m. The top 50 climbers with the fastest climb times will compete on March 13. Registration is $50. Climbers are also asked to make a minimum fundraising pledge of $150 to the American Lung Association.
WORLD'S BEST POKER PLAYERS RETURN TO CAESARS PALACE
With a larger tournament grand prize package than ever before, 64 of the world's most elite poker players will go "all in" at the seventh annual National Heads-Up Poker Championship presented by GoDaddy.com March 3-6 at Caesars Palace. Who's who of the poker world will compete in a bracket-style head-to-head format for $1.8 million in combined prize money. Annie Duke will return to defend her 2010 tournament title and her chance at the $750,000 first-place grand prize.
Model and television personality Leeann Tweeden will serve as the host and sideline reporter, while Craig Hummer and Ali Nejad will provide commentary for the NBC broadcast. The viewing gallery is open to guests on a first-come, first-served basis.
PETE YORN AND GUEST BEN KWELLER PERFORM AT THE PALMS
Singer-songwriter Pete Yorn will headline at the Pearl in the Palms on Friday, April 8, at 7:30 p.m. with special guest Ben Kweller. Tickets are $29 and $39, call 702-944-3200.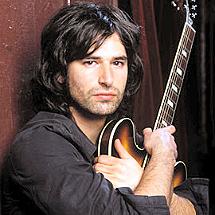 "Pete Yorn" marks Yorn's third release in just over a year, following his two acclaimed 2009 releases, "Back & Fourth" and "Break Up," a musical alliance with Scarlett Johansson. Special guest Kweller's most recent release "Changing Horses" in 2009 finds him returning to his small-town roots and country music, as well as self-producing for the first-time.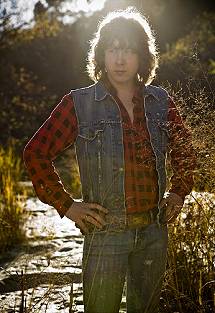 QUICK CLIPS
"Jersey Shore" stars Sammi "Sweetheart" Giancola and Deena Nicole Cortese will host "Off the Shore Spring Break Weekend" at Chateau Nightclub & Gardens at Paris on Saturday, March 12. In addition, Giancola will ring in her 24th birthday.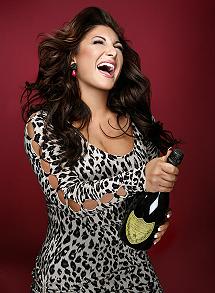 Beginning Wednesday, March 30, Andre's Restaurant & Lounge on the second floor at Monte Carlo will host its brand new Whisky Wednesdays in its signature cigar lounge from 7 to 9 p.m. The price is $25 for an unlimited tasting. For information, call 702-798-7151 or visit http://andrelv.com/.
Hall of Fame quarterback Joe Montana will be signing autographs at J.O. Sports Co. in Boca Park in Summerlin on Friday, March 4 from 7:30-9 p.m.; call 866-410-3860 for information.
Model and UFC octagon girl Arianny Celeste will host at Chateau Nightclub & Gardens at Paris on Tuesday, March 8.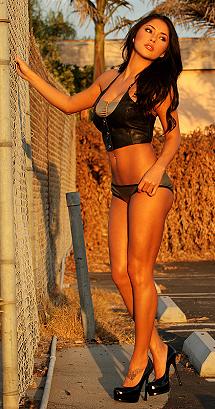 Cabo Wabo Cantina will host the UFC 128: Shogun vs. Jones World Light Heavyweight Championship mixed martial arts viewing party Saturday, March 19. The bout will feature Mauricio "Shogun" Rua.
Sammy's Woodfired Pizza is launching the "Made it Through Monday" wine promotion. Starting March 7 at 5 p.m., the weekly promo will offer patrons half-off any bottle of wine. Meanwhile, all five Valley locations have daily Happy Hour from 4-6 p.m. featuring half-priced tapas, beer and wine.
Crown Theater in the Rio is presenting a new series of 9:30 p.m. shows titled Monday Night Rocks. The shows are free by printing a ticket at www.vegasshotspots.com while supplies last and then $40. Some upcoming acts are: female soul rocker Sophie B. Hawkins March 7; 10-album rap artist Afroman March 14; Marcy Playground March 21; and Taproot April 11.
The Showbiz Society will honor legendary accordionist Dick Contino at a dinner on Saturday, March 12 at 6 p.m. at the "all new" Italian American Club, 2333 E Sahara Ave. Tickets are $40 with one drink included; call 702-877-2278.
The Nevada Ballet Theatre will present its latest production "Spring Series: The Tried and True and the New" featuring five works and special guest artists from Alvin Ailey American Dance Theater, March 4-6 at Artemus Ham Hall on the UNLV campus. Tickets are $10, call 702-895-ARTS.
The Western Athletic Conference Basketball Tournament will take to the court at the Orleans Arena March 9-12 with the top nine conference men's and women's teams competing. General seating is $35, and packages begin at $145, call 888-234-2334.
Column Continues Below Advertisement
CONTINUE ON TO...:
>THIS WEEK'S LAUGHLIN NEWS
>LAST WEEK'S LAS VEGAS NEWS
>VEGAS VIEWS FULL NEWS ARCHIVES
>Return to "Heard Around Town"
>Return to Las Vegas Leisure Guide