In celebration of his 25 years in show business, multi-talented comic-ventriloquist, Ronn Lucas and his "Scorching Comedy" has signed a contract to headline his afternoon show at the Rio in the Scinta Showroom for two more years. Lucas performs daily at 3 p.m., Saturday through Thursday. Tickets are $29.95 plus tax.

Column Continues Below Advertisement


The show still features the same heady mixture of standup comedy, improvisation and ventriloquism with an undeniably contemporary edge. Whatever the object, Lucas makes it talk including his microphone and even his socks. He uses all sorts of fun props and puppets. His current cast members include Scorch, Buffalo Billy and everyday objects and even a live "dummy" from the audience.
Lucas plans to introduce two new characters to the show in the coming months, the first being, Lucas' favorite, punk rocker Chuck Roast.
The Passion Play of Las Vegas, "He's Alive," will open for the eighth year in a row at the Riviera on Monday, March 21, and run nightly at 7 p.m. through Friday, March 25, with a special Saturday 2 p.m. matinee on March 26. The play will take place on the Mardi Gras Entertainment Complex Pool Deck under the stars.
Passion plays were first performed in Latin, and then evolved into German and French by the 15th century. The longest standing Passion play in Oberammergau, Germany, began in 1634. There are various Passion play productions in many parts of the world today depicting Christ's crucifixion and resurrection.
The Passion Play of Las Vegas uses over 100 local residents to re-tell the final days of Jesus Christ's life on earth. The spectacular sets, period costumes and professional level cast creates a pageantry that transports audiences back to First Century Jerusalem.
There is no admission charge; however, ticketed seats are on a first come, first served basis. Tickets may be picked up at the Riviera's Main Box Office, call 702-793-9433 for information.
The Cannery located in North Las Vegas at the corner of Craig and Losee roads not far from the Las Vegas Motor Speedway will present concerts over race weekend, March 10-12.
On Thursday, March 10, Yellow Brick Road, a local classic rock tribute band, will perform at The Club from 8 to 11 p.m. Admission is free. Budweiser will be hosting a fresh beer party from 5 to 8 p.m. with Bud less than 24 hours old.
On Friday, March 11, The Marshall Tucker Band, a classic southern rock group, will headline at 8 p.m. David Lee Murphy, a country music performer, will take center stage on March 12. Reserved indoor seating is $14.95. General admission is $9.95, or free with a race ticket stub, weather permitting. Ticket prices do not include tax and applicable fees.
With braids waving, Rick James tribute artist G.P. Good 'n Plenty won the first quarter 2005 "Be A Legend" Celebrity Impersonator Karaoke Contest at the Imperial Palace. The Las Vegan's winning performance earned him $750 and an audition for "Legends In Concert."
The contest, beginning its second year, gives impersonators from around the country an outlet for their talents and a foot in the door with the Legends tribute show. Three of the money winning five finalists were from California.
The quarterly contest is open to the public and takes place at the hotel's Strip-front Karaoke Club at Tequila Joe's. The next contest is May 19, call 702-794-3114 for information.
The 13th annual Liberace "Play-A-Like" Competition will be held on Saturday, May 14 from 11:30 a.m. to 3 p.m. at the Liberace Museum at 1775 East Tropicana Ave. The contest will honor the memory of Liberace on the anniversary of his 86th birthday.
Competitors will be judged by a panel of celebrity guests on piano technique, material selection and arrangement, and performance style with extra credit for exceptional presentation and costuming. For entry information, call Shirley Axler at 702-798-5595, ext. 20 or e-mail info@liberace.org.
Magician Nathan Burton will be sealed in a Plexiglas box from March 9-15 and suspended in mid-air with seven beautiful showgirls in front of the "V" Theatre at the Aladdin's Desert Passage. He'll do this stunt without or food or water and just energy drinks. People who show up to see him will be able to have a photo taken with "The Magic Man" and showgirls in the box for a $5 donation with all the proceeds going to the Tsunami Relief Fund headed up by Presidents George Bush Sr. and Bill Clinton.
There will be four webcams from different angles which can be viewed online at (site no longer active). The showgirls, 50 in all, will be changed out every four hours.
Nathan Burton currently stars in "V - The Ultimate Variety Show" at the Aladdin and he was one of the stars on E! Entertainment Television's new reality show, Wayne Newton's "The Entertainer." The winner will be announced on Sunday, March 27 and win a $1 million contract to headline at the Las Vegas Hilton.
Drew Barrymore and Eric Bana are starring in an upcoming Warner Brothers film, "Lucky You." The storyline revolves around a struggling singer played by Barrymore who hooks up with Bana a pro poker player who meets up with his estranged father at the World Series of Poker in Las Vegas.
William B's Steakhouse at the Stardust is now open every day. The restaurant opens at 6 p.m. nightly.
Tabú Ultra Lounge at the MGM Grand is celebrating its second anniversary on Tuesday, March 1 from 10 p.m. until dawn. DJ Frankie will usher in the festivities and then turn the night over to special guest DJ sensation Miguel Migs. For information, call 702-891-7183.
The new Wynn Las Vegas property is a 50-story building; however, the floor numbers go up to 60. Due an Asian superstition, there won't be any floors numbered between 40 and 49.
The Dueling Pianos show at the Riviera has added a two-drink minimum with drinks staring at $2.50.
A new adult nightclub called Sin has opened at 3525 West Russell Road. Cover charges are $20 for guests arriving by taxi and/or limo. Normal club hours will be 4 p.m. to 8 a.m. daily, call 702-673-1700.
Rande Gerber's Whiskey Bar at Green Valley Ranch is closed for major renovations. The remodeling is being done by Yabu Pushelberg, who designed Gerber's Stone Rose Lounge at New York City's Time Warner Center. A soft reopening is slated for March 2, with a grand reopening expected sometime in May.
On Saturday March 5, stunt driver Michael "Mad Mike" Hughes, known as the "Daredevil Chauffeur," will jump a custom turbo-powered Lincoln stretch limousine over Ogden Street downtown. He will launch off a 50-foot ramp and leap 94 feet through the air from the seventh floor of the Horseshoe garage and land on the seventh floor of the adjacent garage across Ogden Street. In order to absorb the shock from the hard landing, Hughes will cover himself in bubble wrap.
If successful, the stunt will establish a world record for the highest jump by a limousine. Hughes, is also auctioning one passenger seat for the stunt on eBay for $100,000.
St. Patrick's Day celebrations are being hosted from March 15 to 19 at J.C. Wooloughan's Irish Pub in the Promenade at JW Marriott located in northwest Las Vegas about 20 minutes from the Strip.
Events begin on Tuesday with a special pre-St. Patrick's Day dinner party at 6 p.m. that centers on tasting a range of premium stout beers and a four-course dinner. The third annual "Black Gold" Tasting Dinner includes live entertainment with John Windsor playing all the requests. Cost is $45 per person plus tax and gratuity. A reservation is needed; call 702-869-7225.
On March 16, join Windsor and the J.C. Wooloughan crew in a sing-along and toasting session from 8:30 p.m. until midnight when everyone rings in St. Patrick's.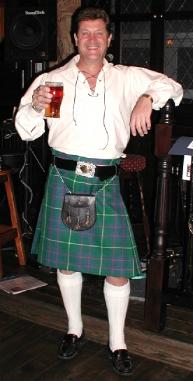 The Pub will open for breakfast on St. Patrick's Day. At noon, the party will kick off with two venues combining for one big party. The bag pipes will launch the festivities with the O'Darvevlis, Thompson / O'Keefe and John Windsor entertaining revelers all day. At 5 p.m., The Backyard will open providing a smorgasbord of food and libation. Back by popular demand, Elevation - The U2 Tribute Band direct from Toronto, Canada - will be performing along with the pub's O'Darevlis. Cover charge is $10, call 869-7725.
Radio station 94.1 FM will be broadcasting live on March 17 from 5 - 7 p.m. Visit the Blarney Stone outside the pub and guess the weight for a chance to win a prize.
On March 18 and 19 the party will continue with Elevation - The U2 Tribute Band staying on to play each night from 9 p.m. to 1 a.m. with no cover charge.
Gallagher's Steakhouse located in New York-New York has special shamrock holiday menus planned for March 17. The complete dinner specials include Wood Roasted Lamb Chops for $10 and Wrapped Angus Beef Tenderloin for $35. The top off is Frozen Bally's Irish Cream Soufflé for $8. For information, call 702-740-6450.
America at New York-New York will be serving a royal banquet on March 17 from 11:30 a.m. to 11 p.m. There will be fresh potato leek soup ($4.50), traditional corned beef and cabbage ($12.95), and for dessert Bailey's Irish Cr&eagrave;me Brulée or a holiday drink special - Guinness on draft ($3.49 / pint) or a frozen Irish mudslide ($2.49). For information, call 702-740-6451.
The Federal Trade Commission has approved the merger between MGM Mirage and Mandalay Resort Group. Now the deal is only pending state regulatory approval and expected to close by the end of March.
Las Vegas experienced breaking numbers last year with a record total of 37.4 million visitors. Of the statewide $10.6 billion casino win, fully half, $5.3 billion was won in Strip casinos.
The CineVegas Film Festival has announced that Dennis Hopper will serve again as this year's Chairman of the Creative Advisory Board, which has begun accepting film submissions through April 8. Details for submission are by calling 702-992-7979.
Hopper was honored in 2003 with CineVegas' prestigious Marquee Award for his lifetime achievements in the film industry. Since its inception in 1998, CineVegas has fast become one of the hottest film festivals in the country. For further information including ticket pricing and packages, call the CineVegas office at 702-792-7979.
CONTINUE ON TO...:
>THIS WEEK'S LAUGHLIN SEGMENT
>LAST WEEK'S LAS VEGAS SEGMENT
>VEGAS VIEWS FULL ARCHIVES
>Return to "Heard Around Town"
>Return to Las Vegas Leisure Guide