TICKET SALES BEGIN FOR 'MICHAEL JACKSON ONE'!

The Estate of Michael Jackson and Cirque du Soleil have unveiled that "Michael Jackson ONETM" will open and take residency exclusively at Mandalay Bay this summer. Directed by Jamie King, "Michael Jackson ONE" will start its preview performances on May 23 and have its official premiere on June 29. This entirely new show is the second creative project to be developed between Cirque du Soleil and The Estate of Michael Jackson; the other being "Michael Jackson THE IMMORTAL World Tour," currently playing arenas in Europe.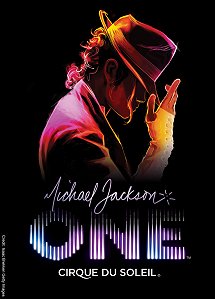 The message for the new Jackson show is "We're All One." Ticket prices range from $69 to $150.
Column Continues Below Advertisement
REALITY STAR COCO SIGNS EXTENSION IN 'PEEPSHOW'
Las Vegas' striptease spectacular, "PEEPSHOW" at Planet Hollywood has announced that E!'s "Ice Loves Coco" reality star, business entrepreneur and glamour/fitness model, Coco Austin has signed a four-month contract extension to continue her headlining role as "Bo Peep" through July 28.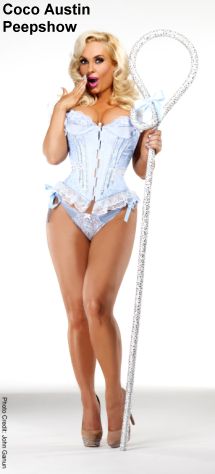 Coco is an actress with a credit in NBC's "Law & Order: Special Victims Unit," an author with her fictional novel "Angel," and a fashion designer with her clothing line "Licious."
CALVIN HARRIS DEBUTS RESIDENCY AT MGM GRAND'S HAKKASAN
GRAMMY Award winner Calvin Harris will launch a new and exclusive DJ residency for 46 dates in April at Hakkasan at the MGM Grand. Additionally, the artist will bring his residency to WET Republic Ultra Pool for 22 dates. DJ, songwriter and producer Harris first hit the music scene with his gold-selling album "I Created Disco" in 2006. Among his awards is Video of the Year for "We Found Love" with Rihanna at the 2012 MTV Video Music Awards.
Hakkasan Las Vegas will be a restaurant and nightclub complex that will offer fine dining, entertainment and nightlife inside a five-level structure currently under construction.
ROCKHOUSE HOLDS GRAND OPENING CELEBRATION
The Rockhouse will celebrate its return to Las Vegas Boulevard with a grand opening party on Thursday, Feb. 28, at its new 9,000-square-foot location at The Grand Canal Shoppes inside The Venetian.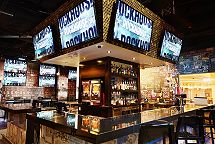 The ultra-dive bar will celebrate its grand opening with the first of many New Month's Eve parties ringing in each New Month in New Year's Eve fashion with a midnight countdown, noisemakers and celebratory toasts. These parties will continue on the last day of every month through 2013.
The Rockhouse interior is set up like an adult playroom, with tire swings for the bartenders and birdcages for dancing, as well as pool tables, beer pong tables and a mechanical bull. Rockhouse will open at 11 a.m. on week days and 10 a.m. on weekends.
'THE PHAT PACK' REOPENS AT THE PLAZA
The new musical, "The Phat Pack," will return to the showroom at the Plaza on Wednesday, March 13 after a 10 week layoff for showroom renovations. The show's new schedule will be Wednesday through Sunday at 5 p.m. The show features three Broadway performers who were formally in "Phantom" at the Venetian.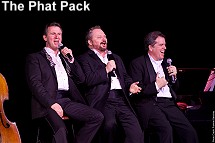 MAJOR LEAGUE STAR LINEUP FOR 'POWER OF LOVE GALA'
Keep Memory Alive's 17th annual Power of Love Gala continues to grow with an extended list of entertainment icons and celebrities attending and performing at the 80th birthday celebration for Quincy Jones and Sir Michael Caine in Las Vegas. The star-studded tribute will take place on April 13 at the MGM Grand and raise funds in support of the Cleveland Clinic Lou Ruvo Center for Brain Health.
The expected celebrity-guest lineup includes superstar Barbra Streisand along with performances from music and film luminaries Bebe Winans, Bono, Carlos Santana, Chaka Khan, Chris Tucker, Herbie Hancock, Jennifer Hudson, Jordin Sparks, Patti Austin, Scarlett Johansson, Siedah Garrett, Snoop Dogg (aka Snoop Lion), Stevie Wonder, Terrence Howard, Whoopi Goldberg, will.i.am and more.
Celestial twins, born in the same year, month and hour and within minutes of each other, Quincy Jones in Chicago and Sir Michael Caine in London, met decades ago and have since been great friends. The event will include a celebrity-chefs dinner by Gordon Ramsay and Wolfgang Puck, a live and silent auction, and star-studded performances. For information, visit www.keepmemoryalive.org.
RECORDING ARTIST RICARDO ARJONA WILL PERFORM AT PH LIVE
Multi-Grammy-winning Guatemalan recording artist, Ricardo Arjona, will bring his "Metamorfosis" tour to PH Live at Planet Hollywood on Feb. 28. The opening act will be young singing sensation, Gaby Moreno, with songs from her album "Postales." She will share the stage with Arjona with the song "Fuiste Tu," which was nominated for two Grammys. Tickets range from $65.50 to $150.
"Metamorfosis" has sold nearly one million tickets since the beginning of the year, breaking records in every city in Venezuela and was previously sold-out at Madison Square Garden in New York and the American Airlines Arena in Miami.
GUITARIST BOB WEIR PERFORMS SOLO ACOUSTIC SHOW AT PALMS
Guitarist and vocalist Bob Weir will perform his solo, acoustic show at The Pearl Concert Theater inside the Palms on Friday, March 1 at 8 p.m. For nearly 50 years, Weir has been known for being the most distinctive rhythm guitarist in rock 'n' roll. At age 17, Weir became the co-founder, guitarist and vocalist of the improvisational jam band Grateful Dead. The band enjoyed a 30-year career with songs written by Weir, including "Truckin'," "Sugar Magnolia" and "Cassidy." Tickets start at $42.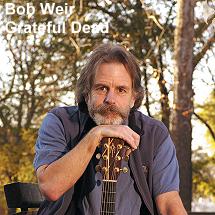 MARCH WILL BE A LAUGH A MINUTE IN LAS VEGAS
At Treasure Island, March 1 will start off with Bill Cosby headlining followed by a member of the "Blue Collar" comedy troupe Bill Engvall on March 8, and Jo Koy on March 22.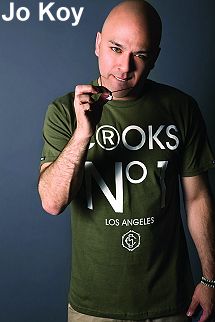 At the Mirage, Ron White, best known as the cigar-smoking, scotch-drinking funnyman from the "Blue Collar Comedy Tour," will perform inside the Terry Fator Theatre, March 1 – 2, April 26 – 27 and May 25 – 26 at 10 p.m.
More hilarity will prevail at The Mirage with comedians Ray Romano of "Everybody Loves Raymond" and "Hitch" star Kevin James performing together March 8 – 9, May 10 – 11 and June 7 – 8 at 10 p.m.
Comedic roundtable guests from E!'s late night talk show "Chelsea Lately" – Chris Franjola, Jen Kirkman and Brad Wollack – will perform their individual stand-up routines during an evening hosted by Chelsea Handler's assistant Chuy Bravo at the Suncoast Showroom, March 9 and 10.
THE IMPROV FEATURES JAMES DAVIS AND DYLAN MANDLSOHN
The Improv at Harrah's will showcase James Davis and Dylan Mandlsohn, Feb. 26 – March 3.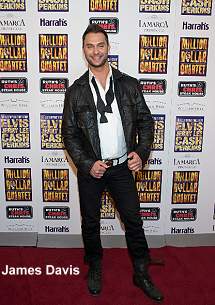 Davis' television credits include BET's "Hell Date," Bill Bellamy's "Who's Got Jokes" and a handful of MTV programs. He's written for the past three BET Awards and the past two BET Hip Hop Awards. Currently, he can be seen on the Comedy Central show "Russell Simmons Presents Stand-Up at the El Rey Theater" hosted by JB Smoove.
Mandlsohn's rubber face and array of charismatic stand-up characters have made history by making him the first Canadian comic to be a back-to-back finalist at the prestigious San Francisco and Seattle Comedy Competitions. Mandlsohn has starred in his own "Comedy Now" special for The Comedy Network and CTV and appears with the Goundlings Improv Troupe in Los Angeles.
TOP OF NEXT COLUMN
IT'S NASCAR TIME – MARCH 8-11
Sam's Town will return as the title sponsor of the 16th annual Sam's Town 300 at the Las Vegas Motor Speedway on March 9. Race weekend will begin March 7 at Sam's Town with NASCAR driver appearances and an auction benefiting Speedway Children's Charities.
After the race, there will be a concert at Sam's Town Live! with blues-infused rock 'n' roll guitarist and singer Kenny Wayne Shepherd, best known for his hit song "Blue on Black." In total, the band has released seven albums, including "How I Go" released in August 2012 that reached No. 1 on the "Billboard" blues chart. Tickets start at $33.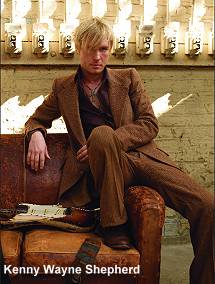 Southern rock legends The Marshall Tucker Band will roll into The Orleans Showroom for NASCAR weekend, March 8 and 9 at 8 p.m. The group, originally founded by lead singer Doug Gray, got its start in Spartanburg, S.C. and debuted its first album in 1973.
The Strip-side PBR Rock Bar & Grill inside Miracle Mile Shops at Planet Hollywood will offer motorsports fans a 10 percent dining discount with a NASCAR event ticket stub throughout race weekend.
WINE EVENT AT BODY ENGLISH AT THE HARD ROCK
Rock N Roll Wine will holds its first signature event of the year on Saturday, March 9, at Body English inside the Hard Rock Hotel and feature more than 40 wines from more than 15 wineries. Singer-songwriter Eric Hutchinson will headline the event. Tickets are $40.
CARRIE UNDERWOOD'S 'BLOWN AWAY TOUR' VISITS MANDALAY BAY
Superstar Carrie Underwood will stop at the Mandalay Bay Events Center with her "Blown Away Tour" on Saturday, March 2. "Blown Away" debuted at No. 1 on both the Billboard's Top Country Albums chart and the all-genre Billboard 200 Chart. The album's first two singles, "Good Girl" and "Blown Away," also reached No. 1. A donation of $1 from each ticket sold on the North American tour leg will support Red Cross disaster relief. Tickets are $45 to $65.
THE ENGLISH BEAT WILL PERFORM FREE SHOW AT HARD ROCK CAFE
Ska musicians The English Beat will perform a free show at 9:30 p.m. at the Hard Rock Café at the Hard Rock Hotel as part of the cafe's new live music showcase on Wednesday, March 13. This show has been moved from Hard Rock Cafe on the Strip.
GORETORIUM FEATURES LIVE EXORCISM REENACTMENTS
Eli Roth's Goretorium is partnering with CBS Films and Strike Entertainment to create live exorcism reenactments through March 3 inside the haunt's lobby to celebrate the nationwide release on March 1 of "The Last Exorcism Part II," produced by GORE-creator Eli Roth. Goretorium actors will re-create scenes based on the film every 40 minutes to get horror fans excited.
ENTERTAINMENT HIGHLIGHTS
CeeLo Green's celebratory arrival event last Thursday at Planet Hollywood was postponed due to the incident on the Strip. The new date for the arrival ceremony is being rescheduled for his stage spectacular opening "CeeLo Green is LOBERACE" on Feb. 27.
Pat Benatar, one of the first female rock singers to hit the airwaves in 1979, and powerful guitarist and producer Neil Giraldo will headline the LVH Theater on March 8.
"Disney's Beauty and the Beast" is coming to The Smith Center as part of the Broadway Las Vegas® series, April 16 to 21.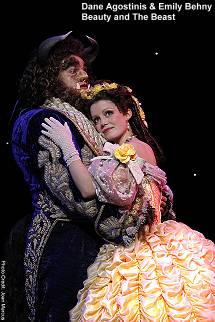 The five musicians from Blues Storm will open for Walter Trout on his national tour stopping at the Railhead inside Boulder Station on Thursday, Feb. 28. Admission is $5.
The Smith Center will turn to ballet when New York City Ballet presents "MOVES" featuring works from some of the most beloved choreographers including George Balanchine, Jerome Robbins, Peter Martins and Christopher Wheeldon on March 5 and 6.
"Trunk Songs," an original review with the music of Jerry Sternbach, Faye Greenberg and John Kroner will be performed by nine artists again at the Onyx Theatre at Commercial Center on March 1 and 2 at 8 p.m. Cost is $20.
Lambus Dean will perform "The Sammy Davis Jr. Story" with a live jazz ensemble at the Family Music Center, 8125 W. Sahara Ave., on Saturday, March 9 at 2 and 8 p.m. Tickets are $20 for seniors and $25 for adults, call 702-742-6109.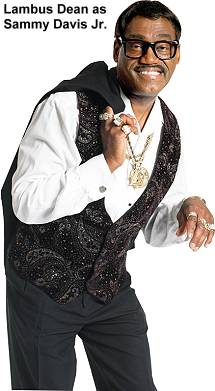 NEWSY NOTES
Ping Pang Pong at the Gold Coast has been named one of the "Best Chinese Restaurants in the United States" by "Travel+Leisure" magazine and was the only Asian cuisine eatery in Las Vegas to be recognized.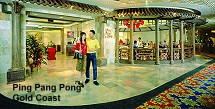 The First Friday on March 1 will celebrate Mother Earth and how easy it is to be green. First Friday is committed to leave 100 percent no waste.
Las Vegas' hometown chocolatier Ethel M will hold its annual Spring Spectacular, March 29-31 in the afternoon. Always free to the public, the event features free photos with the Easter Bunny along with complimentary face painting and balloon art.
Caesars Entertainment has launched a corporate-wide hiring initiative, called "Enlisting Heroes," aimed at providing job opportunities for U.S. Military veterans. For more information, visit Caesars.com/enlistingheroes.
Señor Frog's at Treasure Island will kick off Spring Break 2013 with "Glow Party Wednesdays" on Feb. 27. The upper level of the gathering place will be transformed into a colorful black light paradise with white fabric covering the walls, glow bracelets, body paint, drink special and more.
TREVI, inside The Forum Shops at Caesars, will honor National Meatball Day on Saturday, March 9, with several meatball specials.
Local entertainer Zowie Bowie hosted the Meatball Spot's "Wicked Wednesdays" at Town Square. The new weekly promotion celebrates ladies and local entertainers with half-priced drink specials for women from 8 p.m. to 11 p.m., as well as specialty 10-quart punchbowls.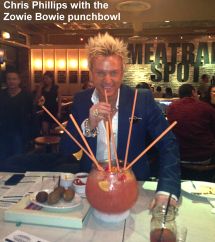 Every Friday night in March, the Silverton will be holding a dance for free in the Veil Pavilion starting at 7 p.m.
The Cultural Diversity Foundation will present its 18th annual educational Taste of Excellence wine tasting, spirits and jazz scholarship benefit on Saturday, March 9 from 6-10 p.m. at the World Market Center. Live jazz will be performed by Brothers Ali. Tickets are $60 in advance and $70 at the door.
KANSAS VISITS THE ORLEANS
Kansas with its classic '70s rock sounds will perform at The Orleans Showroom on March 2 and 3. Kansas started as a bar band in Topeka, Kansas. Instrumentally, the group's music is noted for the presence of violin as a lead instrument, dual lead guitars, extensive orchestrations and melodic interplay. Their first hit single in 1976 was "Carry On Wayward Son" and in 1978 they charted their biggest hit, "Dust in the Wind." Tickets start from $49.95.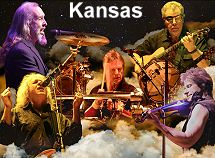 XS IN ENCORE AT WYNN RANKS AS NO. 1 NIGHTCLUB
XS, the sophisticated nightclub in Encore at Wynn, has been named the No. 1 nightclub in the country based on "Nightclub & Bar's" Top 100 rankings. The annual list based on revenue follows a monumental year for the renowned venue, breaking the revenue record with an excess of $80 million in 2012. After an unprecedented roster in 2012, XS has several returning DJs as well as new additions to fill the 2013 schedule. More than 40 DJs are included in the residency list including Above & Beyond, Avicii, Knife Party, Martin Solveig, Dirty South, will.i.am and to name a few.
WET REPUBLIC AT MGM GRAND WILL REOPEN MARCH 22
WET Republic Ultra Pool at MGM Grand will reopen on March 22 following the recent completion of the first phase of a two-year remodel. As part of the resort's "Grand Renovation," that includes guest rooms and suites, casino floor, entertainment venues and other locations, the 53,000-square-foot Las Vegas pool party destination's first phase remodel will unveil a newly renovated and expanded DJ booth, enlarged bar and a more tricked-out LED display.
SEVEN VEGAS PROPERTIES PROVIDE CANCER PATIENTS LODGING
Kudos to seven Vegas hotels that have agreed to provide complimentary lodging as part of the American Cancer Society Patient Lodging Program in Las Vegas so that treated outpatient cancer patients don't have to endure immediate travel home. Deserving recognition are: Courtyard, South; Fairfield Inn & Suites; Residence Inn, South; Hyatt Place; The Westin; and JW Marriott Resort and Spa. Certain requirements do apply.
Column Continues Below Advertisement
CONTINUE ON TO...:

THIS WEEK'S >LAUGHLIN NEWS
LAST WEEK'S >LAS VEGAS NEWS
>VEGAS VIEW FULL NEWS ARCHIVES
Return to >"Heard Around Town"
Return to >Las Vegas Leisure Guide