The Fremont Street Experience will feature free live concerts and NASCAR merchandise booths during the two-day annual Race Jam week end, Feb. 29 and March 1. The performance schedule on the 3rd Street Stage is: Friday, Feb. 29, Garage Boys, 6-8 p.m., and Bruce In the USA, 9-11 p.m.; Saturday, March 1, LoCash Cowboys, 6-8 p.m., and Blake Shelton, 9-11 p.m.
For motorsports thrill-seekers, the motorcycle daredevil team Bela Tabak's Riders of the Thunderdome will perform on Friday and Saturday night at 9:15 p.m. and 11:15 p.m. on the Main Street Stage.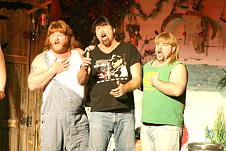 Column Continues Below Advertisement
Country-boy Blake Shelton made his debut in 2001. His starring turn on the NBC mini-series Clash of the Choirs brought both his musical mastery and his offbeat wit to a nationwide audience.
LoCash Cowboys were nominated to Country Music Association's Top 10 Ballot for Duo-of-the-Year in 2006. Bruce In The USA takes performance art to a whole new level with their tribute to Bruce Springsteen and the E Street Band. The Garage Boys are a local Las Vegas cover band.
Bob Saget & Jeffrey Ross will bring laughter to The Joint at the Hard Rock on March 21 at 10 p.m. Many recognize Saget for his prominent role in the long-running sitcom, Full House as well as for hosting America's Funniest Home Videos for eight years. He is currently starring on Broadway through the end of February. Ross is known as "The Roadmaster General," has been crowned "The Meanest Man in Comedy" by New York Magazine and was given the perfect four by the New York Post for his film, Patriot Act: A Jeffrey Ross Home Movie. Tickets start at $39.50.
The nationally praised musical comedy, 3 Redneck Tenors, will return to the Luxor's Atrium Showroom from March 19-24 and April 23-28. Many folks got familiar with the trio when they appeared as finalists on America's Got Talent last summer. Tickets are $30, $40 and $50, call 800-557-7428 or 702-262-4400.
This one-of-a-kind musical comedy has a loose plot that follows three singing cousins from their modest beginnings in Paris, Texas, all the way to their triumphant debut at New York's famed Carnegie Hall. As you laugh with them, the 3 Redneck Tenors laugh at themselves in a musical redneck romp featuring tunes from Elvis to Puccini, soul to pop and country to opera. You join Billy Bob, Billy Joe and Billy Billee as they mix NASCAR with Beethoven, lite beer with Puccini and go from wearing overalls to dresses to tuxedoes. At the show's end, Dinny McGuire who is the show's story teller and outside the show is a professional ringmaster, joins the three tenors, who are really two tenors and a baritone, and sings equally well. Over the past three years, the national touring show has performed in more than 100 cities throughout the United States.
MAMMA MIA! set another benchmark for Broadway musicals in Las Vegas earlier this month when it celebrated its fifth anniversary at Mandalay Bay on Feb. 13. Due to popular demand MAMMA MIA!, which was previously scheduled to end in August after more than 2,300 performances, recently announced it will now play through Jan. 4, 2009. Tickets range from $49.50 to $110, call 800-632-7400.
MAMMA MIA! with more than 1,900 performances at Mandalay Bay is the longest-running and most successful Broadway musical to hit The Las Vegas Strip and has been seen by more than two million people. With three companies currently playing in North America, MAMMA MIA! has more productions playing around the world than any other current Broadway musical and has been seen by more than 30 million people worldwide.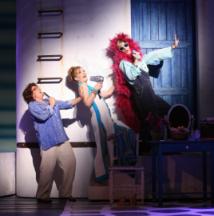 Getting to see the show again, reaffirmed why the show is such a hit. You never tire of the music, the uplifting plot and energy, and the sheer feel-good effervescence and spirit the show imparts to the audience.
Stand-up funny man Sinbad will headline at the 827-seat Orleans Showroom, March 14-16. Tickets are priced from $59.95, call 702-365-7065.
Born in Benton Harbor, Mich., Sinbad grew up telling jokes to his three brothers and two sisters. His first love was basketball and the Globetrotters. He won a basketball scholarship to the University of Denver, where with his flaming red hair and they called Red Chamberlain, but comedy won out. Sinbad never tells jokes. He stalks the stage, telling real-life stories.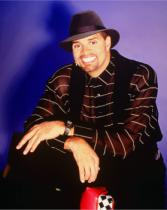 Sinbad made his big screen debut in the 1991 gridiron comedy Necessary Roughness. Other motion picture credits include a starring role in Houseguest, First Kid, Jingle All The Way, and a cameo in Coneheads. He was the voice of the canine Riley in Homeward Bound ll. On television, he starred in the title role of the Cherokee Kid on HBO, and was the star and executive producer of his own acclaimed Fox TV sitcom, The Sinbad Show and Sinbad's Summer Jam Weekend IV also airing on HBO.
In addition, Sinbad has brought his observations to the printed page of a book Sinbad's Guide To Life (Because I Know Everything) published by Bantam Books.
Congratulations are in order. The soundtrack to the Beatles LOVE by Cirque du Soleil playing at The Mirage won two Grammy Awards in the categories of Best Compilation Soundtrack Album for Motion Picture, Television or other Visual Medium and Best Surround Sound Album at the 50th Annual Grammy Awards on Feb. 10. Twenty-five cast members from LOVE paid tribute to the Beatles with a special live performance during the program.
Also congratulations to Criss Angel who was honored this month at the Luxor with the 2008 Merlin Award for Magician Of The Year by the International Magicians Society. This is the fourth time Angel has received the award.
Las Vegas Motor Speedway and Levy Restaurants, the speedway's food and beverage provider, are kicking off a "going green" initiative beginning with the Feb. 29-March 2 NASCAR Weekend. The program by switching from plastic bottles will allow fans the opportunity to recycle their aluminum cans at designated recycling bins throughout the speedway property.
The CineVegas Art House Screening Series will continue in March with the following films and screenings downtown at the Galaxy Neonopolis: The Walker , a Washington D.C. drama starring Woody Harrelson, Feb. 29 - March 6; the Teeth, which garnered the film's star Jess Weixler the Sundance Grand Jury Prize for Acting in 2007, March 7-13; CineVegas will screen its 2007 Grand Jury winner for Best Feature, Look, March 21 - 27; and 4 Month, 3 Weeks and 2 Days, March 28 - April 3. Tickets range from $5.75 to $9.25, call 702-992-7979.
The City of Henderson will present the 11th annual ArtFest™ of Henderson on Saturday and Sunday, May 10 -11, in downtown Henderson's Water Street District from 10 a.m. to 5 p.m., both days. Drawing more than 40,000 attendees, this free event is the largest southern Nevada art festival and has been a Mother's Day weekend tradition for years.
ArtFest features more than 200 select artists from across the nation displaying and selling artwork from paintings to pottery, jewelry to photography and much more. Other festival features include live jazz and contemporary entertainment, a new food and beverage court and an expanded Kids' Gallery, which includes hands-on crafts, a family stage and other activities. For information, call 702-267-2171 or visit www.888artfest.com.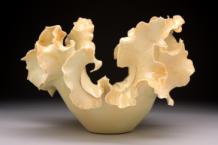 Local elementary art teacher and porcelain sculptor Teresa Testa has been selected to be an honorary featured artist this year. She is the vice president of the Clay Guild, an organization that educates the public about the ceramic arts.
Air Supply with a special solo performance by Graham Russell will headline at the 450-seat Suncoast Showroom at 7:30 p.m., March 7-9. Tickets are priced from $29.95, call 702-636-7075.
Two young lads, Englishman Graham Russell and Australian Russell Hitchcock met for the first time in April 1975 as cast members in the stage production Jesus Christ Superstar. Later that year, the duo formed Air Supply as a five-man group, and released their first Australian hit single, Love and Other Bruises. Their first international exposure came in the late 70's when they were invited to open for Rod Stewart during his tour in Australia followed by his tour of the United States. The Australian soft rock group became a staple of early 80's radio, scoring a string of seven straight Top Five singles.
In 2006, Air Supply released an acoustic album entitled, The Singer and the Song that features the duo's familiar cavalcade of hits including All Out of Love and Lost In Love. The album is their very first all-acoustic project.
In a special promotion with Miller Lite Rock 'n Racing and the Palms, Mighty Mighty BossTones that formed in 1985 will kick off NASCAR race weekend in Las Vegas with a special performance at the Pearl Concert Theater on Friday, Feb. 29, at 9 p.m. Free tickets to see ska favorites Mighty Mighty BossTones are being given away with specially marked packaging of 18-packs of Miller Lite being sold at any Short-Line Express, Green Valley Grocery or Speedee Mart.
Additional Miller Lite Rock 'n Racing activities will include broadcasts of The Adam Carolla Show and Xtreme Disorder, and an autograph signing by NASCAR star Kurt Busch.
On March 17, Rita Rudner will debut her 2,000th show at Harrah's in a comedy special on Vegas PBS titled, Rita Rudner: Live from Las Vegas, and the national PBS airing will follow. The show will feature Rudner in her element, presenting her trademark epigrammatic style. She's been voted Best Comedian in Las Vegas by the Las Vegas Review-Journal for five consecutive years.
Barry Manilow,, resident headliner at the Las Vegas Hilton, has released his two-disc DVD, Barry Manilow: Songs from the Seventies. Bonus material includes outtakes and performances that were not aired on the PBS special. Manilow returns to the Hilton Theater March 3-8 and12-15.
After five years, The Rat Pack is Back will move from the Greek Isles to downtown's Plaza in a night slot with a theatre dinner option. The World's Greatest Magic Show will remain at the Greek Isles.
The Divine Miss M has opened her new show The Showgirl Must Go On at Caesars Palace, but if the show is out of your price range, you can catch Brent Allen at the Riviera in An Evening At La Cage. He impersonates Midler and Judy Garland in the larger-than-life celebrity female impersonator show. Allen works to keep up with Midler's hair changes and new routines in her acts.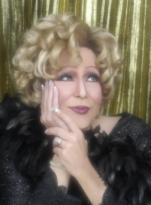 Philippines pop star Martin Nievera has joined the Society of Seven (S.O.S) as a guest star in their afternoon show at the Flamingo through April 13. Nievera's father, Roberto, was lead singer for the popular Hawaiian show from 1963 through 1976.
The Zappos.com Las Vegas Marathon that takes runners down the Las Vegas Strip is scheduled for Sunday, Dec. 7, at 6 a.m. at Mandalay Bay. More than 16,000 runners registered last year. Fees are $85 for the full marathon and $75 for the half marathon through March 31, visit (redacted). In advance of the race, a free two-day Quality of Life Expo will be held at the Mandalay Bay Convention Center and be open to the public.
Mix 94.1 FM will hold a St. Paddy's Eve Bash featuring the Young Dubliners at The Joint at the Hard Rock on March 16 at 7 p.m. The rag-tag team of rockers made their debut album Rocky Road in 1994. In 2002, they revved up the crowd at the 2002 Olympics in Salt Lake City. They will be joined on stage by The Fenians, Southern California's traditional and contemporary Irish band; the band known as Brother who have toured with the Eagles, The Who and Linkin Park; and Wild Celts. Tickets start at $22.
This month, 25 of the world's most celebrated chefs gathered for a historic moment of picture taking at the famous Welcome to Fabulous Las Vegas sign. The celebrity-chef gathering was to kick-off the destination's popular culinary entertainment event, Vegas Uncork'd, a Bon App'tit Epicurean Experience scheduled for May 8-11. For event information, visit www.bavegasuncorked.com. Tickets for individual events range from $75 to $350.
Movie lovers should consider being a seasonal employee or volunteer for the 10th Annual CineVegas Film Festival, which will be held June 12 - 21, at the Palms Resort.
William C., 38, from Lake Forest, Calif., became an instant millionaire recently at the Las Vegas Hilton and also the first person to hit on the new multi-site progressive Millioni$er penny slot by Aristocrat Technologies. He was in Las Vegas celebrating his 38th birthday and won a $1,713,561.96 jackpot. Millioni$er became a state-wide multi-site progressive in Nevada last June.
Actor Paul Newman is debuting his new California Chardonnay and the Cabernet Sauvignon wines, prior to the official release in March, at Fleming's Prime Steakhouse & Wine Bar in Summerlin on Feb. 26 and 29 at 6:30 p.m. The Premiere Wine Dinner will welcome guests with a Red Carpet experience and the film The Color of Money playing as a backdrop. The cost is $95, call 702-838-4774.
Tales of the Cocktail in partnership with Culinary Concierge Magazine are asking for winning recipe submissions for the Official Cocktail Competition of the 6th Anniversary of Tales of the Cocktail event being held July 18-22 in New Orleans. Recipes must be submitted by March 17, at 5 p.m. and the winner will be announced in April.
Sushi Roku and BOA Steakhouse will celebrate Leap Year by offering sinful specialty shots for $2.29 all day and night on Friday, Feb. 29.
CONTINUE ON TO...:
>THIS WEEK'S LAUGHLIN SEGMENT
>LAST WEEK'S LAS VEGAS SEGMENT
>VEGAS VIEW FULL ARCHIVES
>Return to "Heard Around Town"
>Return to Las Vegas Leisure Guide