CHAMPIONSHIP BULL RIDING AND REBA MCENTIRE VISIT LAUGHLIN!

Top cowboys and a country icon will take over Laughlin in March when Championship Bull Riding and Reba McEntire ride into town and visit the new Laughlin Event Center.

On March 8, the excitement will be Championship Bull Riding with the world's top cowboys competing at 7 p.m. Stock contractor Terry Williams and Texas businessman Joel Logan founded Championship Bull Riding (CBR) in 2002 to provide bull riders a more viable way to make a living competing in the sport they love. CBR has propelled the sport forward through innovative ideas and revolutionary new formats. In 2012, CBR introduced the Eight Second Challenge Format, a performance-based payout where every bull rider who makes the whistle gets a check. They also get the chance to ride for $30,000 in added money per event.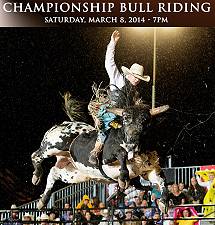 In addition to the cowboy athlete competition, the bull owners also compete for cash in the Million Dollar Bull Team Challenge, a unique contest that incentivizes good bull rides. This year, the CBR Tour and its subsidiary Horizon Series will visit more than 70 venues across the United States. Tickets range from $15 to $200, visit VisitLaughlin.com.
On March 15, country music superstar Reba McEntire performs her signature hits at 8 p.m. Tickets range from $50-$350.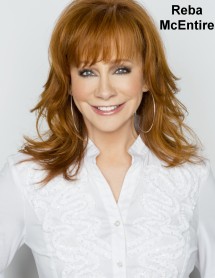 McEntire has released 25 studio albums, acquired 34 No. 1 singles, and 28 albums have been certified Gold, Platinum or Multi-Platinum in sales by the RIAA. Her album "For My Broken Heart" broke ground for female artists in country music, as it was the first album recorded by a female in country music to be certified double-platinum by the RIAA.
In the early 1990s, McEntire branched into film starting with "Tremors." She has since had the lead in the Broadway revival of "Annie Get Your Gun" and starred in her television sitcom "Reba" (2001-2007) for which she was nominated for the Golden Globe Award for Best Performance by an Actress in a Television Series - Musical or Comedy. She has sometimes been referred to as "The Queen of Country," having sold 41 million records in the United States and more than 56 million worldwide. In the United States, she ranks as the seventh best-selling female artist in all genres and is the second best-selling female country artist of all time.
COLORADO BELLE AND EDGEWATER PRESENT SPRING FESTIVALS
Two free-admission spring festivals open to the public are set for the Colorado Belle-Edgewater Riverwalk in March. Each event features free live entertainment and great outdoor atmosphere with food and beverages available for sale.
The first celebration is Mardi Gras March 7-9 with two authentic zydeco and blues bands, Mark St. Mary and Bennie and the Swampgators. Food vendors will offer a variety of southern specialties and beverages. There will be free live entertainment nightly. Event hours are 4-9 p.m. Friday; 11 a.m. to 7 p.m. Saturday; and noon to 7 p.m. Sunday.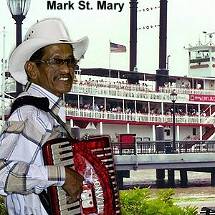 The next happy event is Shamrocks & Shenanigans March 14-16. This St. Patrick's Day weekend party will feature Irish beverages and free live entertainment by Killian's Angels and Paddy's Pig. Event hours are 4-9 p.m. Friday; 11 a.m. to 7 p.m. Saturday; and noon to 7 p.m. Sunday.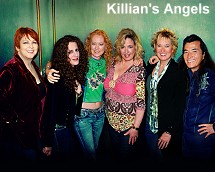 Based out of Las Vegas since September 2001, Killian's Angels has recorded a couple CDs. Their original arrangement "Celtic High Step (aka The High Reels)" was featured in the October 2012 premier episode in the Emmy-nominated CBS drama, "Elementary." The same song is also featured in the NYC Pub Scene in the popular video game, "Grand Theft Auto IV." Killian's Angels won National Radio Honors in 2006 with King World and Oink Inc. for their original version of the "Jeopardy" theme song.
DAVIN ROSENBLATT-LUIS VILLASENOR ARE EDGEWATER COMEDIANS
"Comedy on the Edge" takes place weekly every Friday through Sunday at 7 p.m. in the Edgewater Showroom. Two comedians are featured each week. The future lineup includes: Mark Poolos and Joe Cocozzello March 14-16; Scott Long and Todd Link March 21-23; and David Nickerson and Garet Webb March 28-30. Tickets are $10. On Sunday, U.S. veterans receive a $2 discount.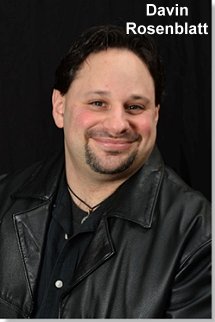 Davin Rosenblatt and Joe Currie will co-headline Feb. 28-March 2. New York-based comedian Rosenblatt has been entertaining audiences throughout the world for several years. His likeable, yet confident, style leaves audiences wanting more of his intriguing perspective on current events, social issues, everyday life and more. He is always in tune with whatever is going on in the room and often deviates from the "script" and engages in off the cuff, unscripted comedy. Rosenblatt also hosts his own weekly radio show and has gone to Iraq, Japan, Korea, and Kuwait to perform for our troops. When Rosenblatt was asked why he abandoned a promising career in the profession of law to pursue comedy fulltime he remarked, "I'd rather make people laugh than cry."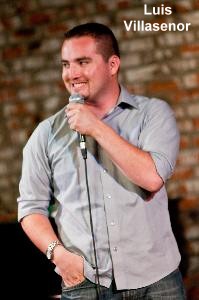 Luis Villasenor and Kevin Young take center stage March 7-9. Villasenor became a stand-up comedian after he abandoned his plans to be a math teacher and gave up the idea of being a police officer when he found out that criminals had bigger guns and more rights. He tried stand-up comedy at the World Famous Irvine Improv and realized that a lifetime of being a class clown in school prepared him for this path. Since then, Villasenor holds audiences captive with his mixture of personal experiences as well as his observations of daily events. He has opened for Jeff Garcia, Manny Maldonado, Shawn Wayans and Anjelah Johnson.
TOP OF NEXT COLUMN
RAT PACK TRIBUTE SHOW AT RIVERSIDE HITS NOSTALGIC CHORD
It will be a swinging good time at the Riverside Resort when "The Rat Pack Is Back!" show visits March 5-9 with 7 p.m. performances. Even if people were born after the swinging Las Vegas showroom era was ruled by Frankie Sinatra, Sammy Davis, Jr., Joey Bishop and Dean Martin, the touring tribute act is a satisfying trip back in time. The show builds momentum as each singer delivers a solo set; each gets interrupted hilariously by Joey; some do numbers together; and then, all four friends assemble, around a well-stocked bar cart, for the upbeat finale. Tickets are $32.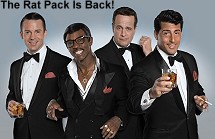 PAUL RODRIGUEZ BRINGS LAUGHTER TO THE AVI
Latino bi-lingual comedian Paul Rodriguez will headline at the Avi Grand Ballroom on Saturday, March 8. Tickets are $20 and $25.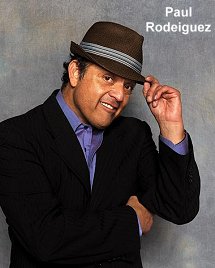 Rodriguez has been making audiences laugh worldwide for nearly three decades with his humor that is a perfect blend of his Latin heritage, the American dream and his undeniable universal appeal. As an actor and comedian, Rodriguez's multi-faceted career includes starring roles and featured appearances in more than 45 films and countless television series and comedy specials.
The multi-faceted entertainer wrote and performed his first-ever one-man show, "Just for the Record." In his tell-all theatrical piece, Rodriguez took audiences on a journey through his remarkable life, including his childhood in Mexico, to his family's move to Compton, Calif., where he grew up, his illustrious career and significant relationships. Rodriguez hosts his own annual celebrity Golf Tournament with all of the proceeds going to the National Hispanic Scholarship Fund.
SHORT NEWS ITEMS
The Golden Nugget will hold a Viewing Party for UFC 171 featuring Hendricks vs Lawler and Condit vs Woodley via closed circuit in the Gold Diggers Nightclub on Saturday, March 15 from 6-10 p.m. Cost is $20 with one drink included.
The Aquarius will hold the "Luck of the Irish" Free Slot Play Giveaway in March. Aquarius ace | PLAY™ members will receive $15 in free slot play for every 3,000 base slot points earned from Monday, March 17 through Sunday, March 23.
The Avi River Stampede PRCA Rodeo will take place at the Mojave Crossing Event Center at 7:30 p.m. Arizona time from Feb. 27-March 1. Tickets for the indoor rodeo produced by Honeycutt Rodeo are: $30 Gold Buckle reserved seating; $20 reserved seating; $10 general admission; and $5 ages 2-10.
A Doo Wop Dinner Show with The Original Cornell Gunter's Coasters, The Legendary Monroe Powell & The Platters Revue, and Bobby Hendrick's Drifters will be held Feb. 28-March 2 at the Edgewater's E Center. Tickets range from $55 - $85 with dinner and show included.
Crystal Gayle will headline Don's Celebrity Theater at the Riverside Resort Feb. 27-March 2 and master illusionist Rick Thomas will be in the showroom March 12-16.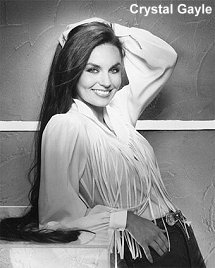 Tom & Sharon's Dance Party featuring dance moves from swing and country to ballroom and Latin will take place at the Riverside Resort on Saturdays, March 15, April 5 and 19 from 1:30 – 4 p.m. There is an admission fee. For details on parties or dance classes, call 928-444-4067.
"The White Glove Affair" in Bullhead City on Saturday, March 8 is a fashion show/luncheon with spring fashions provided by local merchants. The noon event is being held at the Elks Lodge, 1745 Emerald Drive and costs $12; call 928-704-0652
NEARBY LAKE HAVASU HOLDS BLUEGRASS FESTIVAL
The 6th Annual Lake Havasu Bluegrass Festival being held Feb. 28-March 2 is featuring top bluegrass bands, jam sessions, workshops, arts and crafts, food, beer garden and Kidz Zone. The bands include: Joe Mullins & The Radio Ramblers, the International Bluegrass Music Assoc. 2012 "Emerging Artists of the Year;" Adkins & Loudermilk; The Spinney Brothers; Lorraine Jordan & Carolina Road; The Special Consensus; Kody Norris & The Watauga Mountain Boys; Snap Jackson & The Knock on Wood Players; The Bladerunners Bluegrass Band; The Chapmans; and The Roustabouts. The event will be held at Lake Havasu State Park, Windsor 4, Lake Havasu City. Gates will open 8:30 a.m. with music from 10 a.m. until dusk each day. Cost is: $20 per day Friday-Saturday; $15 for Sunday; $10 Friday-Saturday for ages 13-17; $8 on Sunday; and free for ages under 12. Visitors can bring their own chairs/blankets for seating. For information, call 209-785-4693 or email roaddog@caltel.com.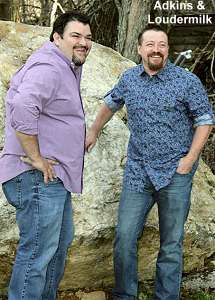 BBQ RIB COOK-OFF COMING UP IN BULLHEAD CITY

The 2nd "Best Racks on the River" BBQ rib cook-off will be held in Bullhead City on Saturday, March 1. Monies raised will help the Bullhead City Fire Charities. This event has free admission for the public and a $50 entry fee for cookers who will be vying for cash prizes. Prizes are: first $1,500; second $750; third $500; fourth $250; and fifth $100. The winner of the "People's Choice" category will win an additional $150 in cash.

The rib cook-off will take place in the parking lot of Jesters Cocktail and Sports Lounge at 877 Hancock Road starting at 10 a.m. with rib-sampling and "People's Choice" voting from 1-3 p.m. followed by awards around 4 p.m. To enter as a cooker, call 928-542-3350 or visit sweetpetesbarbeque.com.

BULLHEAD CITY HOSTS DUCK RACE, 5K WALK, CHILI COOK-OFF

A three-pronged event being held Saturday, March 8 in Bullhead City will include a Duck Race, 5K Walk and Chili Cook-off as a fundraiser for We Care Cancer Support. In addition, there will be healthcare booths, food and beverage booths, entertainment and more at the event site, which is Bullhead Community Park at 1251 Hwy 95. Hours will be 10 a.m.-4 p.m.

The Duck Race is a rubber duck race on the Colorado River on an approximately 400-yard lane roped off at the Bullhead Community Park shore. The owner of the first place duck gets $1,000; second $500; third $300; fourth $200; and fifth $100. You can guy one duck for $5, five ducks for $20, and 15 ducks for $50. For advance purchases of ducks, call 928-704-8797.

The 5K Walk or "duck walk" takes place from the corner of Hancock Road and Hwy 95 down to the Bullhead Community Park. Participants should meet at the Bullhead Community Park no later than 8 a.m. where they will be bused to the start site. There is a $5 entry, which includes a duck hat and duck whistle. Register at Bullhead Health Club in the Riverview Mall 928-704-4610; We Care Thrift & Gift, 2715 Hwy 95, #103 928-704-8797; Hairitage Salon, 1788 Hwy 95; or We Care Cancer Support, 1225 Hancock Road 928-704-5544.

The ICS Chili Cook-off is an International Chili Society (ICS) sanctioned "Home Style" chili cook-off. "Home Style" is the newest category in ICS events and allows cooks to use beans, pasta…whatever they want…in their chili. First place gets $350; second $250; and third 150. There is a $25 entry fee for members of the ICS or $45 for non-members, which includes membership in ICS. Samples of the chili will be available to the public with a "People's Choice" ballot. The cook-off will start at 9 a.m. For more information or entry, call 202-805-5417 or 928-704-8797.



CONTINUE ON TO...:


THIS WEEK'S >LAS VEGAS NEWS
LAST WEEK'S >LAUGHLIN NEWS
>VEGAS VIEW FULL ARCHIVES
Return to >"Heard Around Town"
Return to >Las Vegas Leisure Guide