MONTGOMERY GENTRY WILL HEADLINE AQUARIUS AMPHITHEATER
Montgomery Gentry, the duo made up by Eddie Montgomery and Troy Gentry, will perform at the Aquarius Outdoor Amphitheater on March 27 at 8 p.m. Tickets are $50, call 800-435-8469.
The Montgomery brothers and Gentry joined forces in a band called Young Country until John Michael landed a record deal. His brother Eddie joined his band and Gentry went solo, winning the national Jim Beam Talent Contest in 1994. When Eddie returned to Kentucky, he and Gentry found themselves on stage together at various charity concerts and finally decided to join forces again. Nashville heard the buzz and Columbia Records signed them.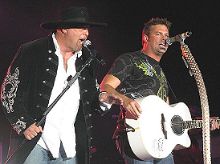 Through it all, the duo's rootedness can be seen in the fact that they are still playing with the band they had in their honky-tonk days. Their musical honesty shines through every bit of their latest CD. "Back When I Knew It All" continues their tradition of connectedness as it restates their position as the honky-tonk poets of their generation.
EDGEWATER AND COLORADO BELLE HAVE A NEW VENUE
The tent located in the Edgewater parking area is officially called the "Edgewater Event Center." It is a climate-controlled venue that allows the Edgewater and its sister property, the Colorado Belle, to present concerts by nationally known artists and events.
B.J. THOMAS WILL HEADLINE AT THE TROPICANA EXPRESS
Singer B.J. Thomas, who during four decades has sold more than 70 million records, earned two Platinum records, had 11 Gold records and won five Grammy Awards, will headline at the Tropicana Express on Saturday, March 7. Tickets for his 8 p.m. show are $30, $35 and $40, call 800-243-6846.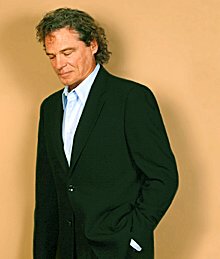 Staying current, Thomas' Curb Records release, "Love To Burn," came out in 2007 and was his first new studio album in almost a decade. Last year, he appeared in the movie "Jake's Corner" playing Doc and contributed songs to the soundtrack. It was his first acting role since the 1973 movie "Jory," which introduced Robby Benson.
His fame; however, was cemented with his signature hits: the Oscar-winning "Raindrops Keep Fallin' On My Head;" the million-selling "(Hey Won't You Play) Another Somebody Done Somebody Wrong Song;" and his career-igniting cover of Hank Williams' "I'm So Lonesome I Could Cry."

TOP OF NEXT COLUMN
RIVERSIDE HAS ADDED BILL MEDLEY AND FAMILY
Bill Medley and Family have been added to the Riverside entertainment schedule, March 19 - 22. Tickets are $36 for the 8 p.m. shows.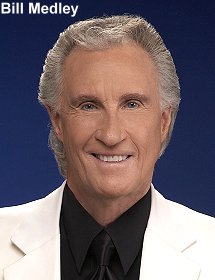 Grammy Award winner and Rock and Roll Hall of Famer, Righteous Brother Bill Medley will perform his hits and the most played song in the history of American Radio "(You've Lost That) Lovin' Feelin'." He'll be joined onstage by his daughter McKenna Medley and his son Darrin Medley. Not surprisingly, both siblings are currently making inroads with their individual careers as singers. They will each perform solo portions of the show and then return to join their dad on stage.
UPCOMING EVENTS
Blues & Brews - The annual "Blues & Brews" is a free event that will take place at the Colorado Belle in the Center Circle Event Area in front of the main entrance, April 10-12. Blues bands including Michael Burks, John Earl and the BoogieMan Band, Brad Wilson and Chris Hiatt will play throughout the day and early evening on a rotating basis. Food and beer will be on sale at booths. For information, call 877-460-0777.
Wings and Wildlife Festival of Southern Nevada - The inaugural Wings and Wildlife Festival of Southern Nevada will be held in Laughlin, Thursday-Saturday, March 12-15. For information, call 702-298-2214 or visit www.LaughlinBirds.com.
There will be guided birding/wildlife watching and nature walks where Arizona, California, and Nevada meet. Festival activities will include: John Acorn, the Nature Nut; Sharon Schafer, featured photographer; guided bird/nature trips by kayak - Black Canyon, Colorado River, Topock Gorge; nature art show; wine and art reception; plus booths, demonstrations, displays, and workshops.
Laughlin River Stampede - The "Laughlin River Stampede" will happen March 26-29 at the Laughlin Events Area. This is one of the PRCA's biggest rodeos with more than $200,000 in prize money up for grabs for the top cowboys and cowgirls competing. Autograph sessions will be held daily.
The Dance Club At The Riverside - On Saturdays Feb 28, March 14 and 28, Tom & Sharon's Ballroom, Dance Party will take place from 1:30 p.m.-4:30 p.m. For details on the party or dance classes, call Tom and Sharon Craddock at 928-754-2097 or 702-298-2535, ext 5708.
Bill Haley's Comets at the Avi - Bill Haley's Comets will perform at 7 p.m. on Feb. 27 at the Avi Convention Center. Reserved seating is $27 for two; $15 for one; general seating is $25 for two; $13 for one; call 800-430-0721.
Avi 14th Anniversary - The Avi will be celebrating its 14 year anniversary on Feb. 28 at 4:30 p.m. with birthday cake and champagne being served at the Business Center.
Xtreme Bulls PRCA Citywide Event - "Xtreme Bulls" will take place April 4-5 at the Laughlin Events Area. This is a premier PRCA-sanctioned event featuring 40 of the world's top bull riders competing for a share of a $60,000 purse. The top 12 go-round finalists will compete in Sunday's finals.


CONTINUE ON TO...:
>THIS WEEK'S LAS VEGAS NEWS
>LAST WEEK'S LAUGHLIN NEWS
>VEGAS VIEW FULL ARCHIVES
>Return to "Heard Around Town"
>Return to Las Vegas Leisure Guide