SIN CITY BREWING CO. WILL OPEN INSIDE THE FLAMINGO IN MARCH

Sin City Brewing Co. will open its second Las Vegas location inside the Flamingo in late March 2009. The Las Vegas-based microbrewery's new outpost will offer a full-bar experience while featuring all four of Sin City's custom brews on tap. The bar, which will be located near the hotel's guest entrance and valet, will live up to the brand's vivacious image by touting multiple plasma screen televisions, etched red metal surfaces, vibrant Sin City Brewing Co. logo merchandise and a patio with tables and umbrellas adjacent to the 15-acre pool and wildlife complex.
Richard Johnson, the man behind the concept, has been brewing beer professionally for more than 20 years.

Column Continues Below Advertisement


NEW LUXURY ELEVENSPA OPENS AT TOWN SQUARE
ElevenSpa, the brand new 20,000-square-foot luxury spa featuring a salon by world-renowned celebrity hairstylist, Ken Paves, has opened at Town Square. The ultra dramatic Hollywood black and white décor and leather furniture with red accents was envisioned by Nicole Oden to look and feel like the Beverly Hills Hotel. The wide open, high ceiling lobby showcases hand-made Australian crystal chandeliers draping into pools of water. ElevenSpa butlers dressed in tuxedos and gray gloves serve guests. For celebrity guests and private parties, there's a spacious VIP treatment room with a private entrance. The entire spa and salon is also convertible because it's designed as a venue for private parties and special events.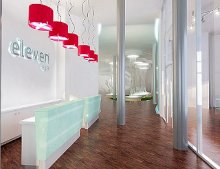 ElevenSpa offers a wide variety of treatments including the signature Eleven Mink Massage done on faux mink-lined sheets. With 28 treatment rooms, six make-up stations, a manicure bar and pedicure room, a hand ritual fountain and a full-service, 12-styling stations Ken Paves signature salon, ElevenSpa Vegas surpasses the ordinary. In addition to five couple treatment rooms, ElevenSpa offers Bungalow 69, a private treatment room for two, with full spa services including a romantic bath treatment in a private bathtub for two. For information, visit ElevenSpa.com.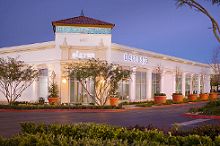 PLAYBOY CLUB LAUNCHES MISS PLAYBOY CLUB MODEL SEARCH
The Playboy Club at the Palms has launched the Miss Playboy Club Model Search. Ladies who visit the Playboy Club can submit their names and non-nude photos. Each month, managers and talent scouts review and select a new Miss Playboy Club to serve as the face of the club for the next month's advertising campaign.
Every winner will receive $1,000, a night's stay at the Palms, a Swedish massage at Drift Spa, dinner for two at NOVE Italiano, complimentary bottle service at the Playboy Club, and a professional photo shoot to be included in the Playboy Club 2010 calendar.
PIONEER OF "HICK HOP" COWBOY TROY AT HARRAH'S
Texas native and former Big & Rich star, Troy Coleman, who has carved his music industry niche by coining himself "Cowboy Troy" and successfully bringing to life his own genre of music known as "hick-hop," will perform at Toby Keith's: I Love This Bar & Grill inside Harrah's, Feb. 25-27 and March 1. His first of four nightly sets will be at 9 p.m. Colman's top single "I Play Chicken with The Train" peaked at No. 48 on the charts and was, at one time, the most downloaded country song on iTunes. He recently released a new album, "Black in the Saddle."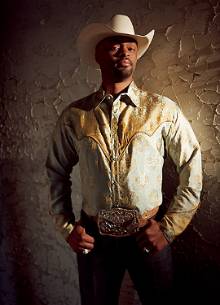 QUICK CLIPS
Queen Emily, one of the top five finalists in "America's Got Talent," joined the cast of "Menopause The Musical®" at the Las Vegas Hilton on Friday, Feb. 13. "Menopause" debuted at the Hilton on Feb. 1, 2006.
The sexy adult show, "X Burlesque" at Bugsy's Cabaret in the Flamingo celebrated its second anniversary this month. The nightly 10 p.m. show has added several different dance numbers, new "barely there" costumes and a new look and curtains to the set. Six beautiful dancers and a mid-show comic like Nancy Ryan are the talent. Tickets are $44.95 and $55.95, call at 800-221-7299.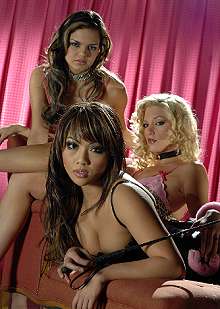 "Hitzville - The Show" ended its seven-month limited engagement at the Harmon Theater on Feb. 15, to perform a previously contracted tour. The show featuring Jin-Jin Reeves and a cast of 10 will return to Las Vegas at a location to be announced on May 1.
"Laugh Out Loud With The Scintas," the popular Buffalo, New York foursome who have been performing in the Shimmer Cabaret at the Las Vegas Hilton since 2007, will end their run on March 14 to go on tour. The Scintas - Frankie, Joey and Chrissi Scinta and Pete O'Donnell - will be working on their upcoming syndicated television show.
A new multi-million dollar water feature is now an entertainment centerpiece across from the V Theater inside the Miracle Mile Shops at Planet Hollywood. The fountain at the top of every hour from 1 a.m. - 11 p.m. entertains with lighted water effects, 50 feet high eruptions, color changing fog, bursts of light and original soundtracks broadcast via a state-of-the-art surround sound system.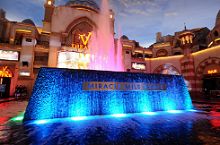 The El Cortez downtown will be opening a new boutique hotel with 64 suites, a fitness center and a walkway connection to the main hotel. The suites will be art deco in design in order to fit in with downtown's arts district.
Another Rock 'n Roll Wine tasting with more than 30 wines from California will be held at Privé Nightclub inside Planet Hollywood on Friday, Feb 27 at 7 p.m. Chris Clouse will provide the entertainment. Tickets are $35 in advance and $40 at the door, call 702-240-3066 or email james@rocknrollwine.com.
MOTOWN SOUND TEMPTATIONS TO HEADLINE THE ORLEANS
The Temptations, who have been a pop music staple in America for more than 40 years, will bring a little bit of Motown to the 827-seat Orleans Showroom, March 12-15 at 8 p.m. each night. Tickets are priced from $49.95, call 702-365-7075.
The Temptations, an essential component of the original Motown machine invented by Berry Gordy, began their musical career in Detroit in the early '60s. In 1964, Smokey Robinson wrote and produced their first major hit, "The Way You Do the Things You Do," and an avalanche of hits followed.
NASCAR ACTIVITIES - AUTOGRAPH SIGNINGS & PARADE
Due to the success of last year's inaugural parade, the 2009 edition of the NASCAR Hauler Parade will begin at 10 a.m. on Thursday, Feb. 26 on Las Vegas Boulevard just south of Russell Road. The colorful NASCAR team haulers numbering 48-50 and transporting the Sprint Cup race cars that will compete in the Shelby 427, will parade roughly five miles north on the Strip to the Sahara.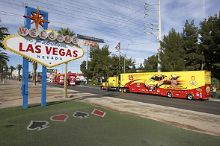 The Stratosphere will feature a full line up of NASCAR® weekend activities, Feb. 26 - March 1, including raffle drawings, show cars, race simulators, drink specials and a special autograph session with Kasey Kahne on Thursday, Feb. 26, from 4 to 6 p.m. On Friday, Feb. 27, it will be time to meet about 14 NASCAR® drivers for an autograph session from 7 - 8:30 p.m.
Eric McClure will sign at Arizona Charlie's on Decatur on Feb. 23 and 24 from 11 a.m. to noon. There will be a Hefty Racing show car appearance from 10 a.m. to 2 p.m. both days.
On Feb. 26. Scott Lagasse Jr. and John Wes Townley will sign at the ESPN Zone in New York-New York from 2-4 p.m. Joey Logano will be at Home Depot, 1401 S. Lamb Blvd., from 5-7:30 p.m. Pole Position Raceway at 4175 S. Arville by the Palms will have Kurt Busch, Jamie McMurray, Sam Hornish Jr., David Stremme and ESPN's Jamie Little signing from 6-8 p.m.
On Feb. 27, David Reutimann and Ken Butler III will be at Aaron's Sales, 3223 W. Craig Road, from 6:30-7:30 p.m. Marcos Ambrose and Michael McDowell will visit the Monte Carlo from 7:30-8:30 p.m.
MORE QUICK CLIPS
Las Vegas is definitely about weddings and an interesting one was held on Valentine's Day at "Defending the Caveman," the one-man Broadway show about relationships currently at the Excalibur. Las Vegas residents Mickie Hollander, 72, and Gene Adler, 80, were united in matrimony by the show's star Kevin Burke, who is an ordained minister, following the 3 p.m. performance. Upon leaving the stage as a married couple, they walked through a line of cave men and women who formed an archway with wooden "cave-clubs."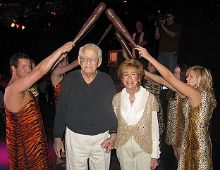 On Friday, Feb. 27, famed rock singer/songwriter and DJ, Perry Farrell, will deliver a live performance and DJ set inside LAX Nightclub at the Luxor.
Sunset & Vines at Lake Las Vegas in the MonteLago Village offers Prime Rib Mondays. The three-course dinner with a 10 oz. cut is $30, and the 16 oz. cut is $40. It's $8 less if you go ala carte with some Tapas and the prime rib. In addition, there's 25 percent off the normal wine list pricing on all bottles of wine. Call 702-382-7900 for information.
The dual sport concept of tournament boxing and mixed martial arts (MMA) debuted at Buffalo Bill's Star of the Desert Arena in Primm, Nev. this month and showcased eight boxers and eight MMA fighters in three weight categories: 130, 150 and 170 pounds. Quarterfinals are set for April 18 and June 20; semi finals will be on Aug. 22 and Oct. 17; and the final competition will be held on Dec. 5. For tickets, call 800-FUN-STOP.
Walk with the Heart of a Child fundraiser is set for Saturday, Feb. 28, at the Fashion Show Mall on the Strip at 8:30 a.m. Phone 702-967-3522 for sponsorship and team registration information. Fees are $25 for adults, $15 for virtual walkers, and $10 for students and seniors.

Las Vegas-based alternative rock band Searchlight that was formed in 2005 will perform at The Farm, Las Vegas' newest all-ages venue at 5597 S. Rainbow Blvd., on Friday, Feb. 27, at 6 p.m. to celebrate the release of their debut CD, "Until the End and After." Searchlight will be joined by special guests Lydia Vance, Collin Creek out of Utah and This City In Collision. Tickets are $10 at www.myspace.com/searchlightmusic or $15 at the door.
Vanessa Remijio from LAVO nightclub took home $10,000 cash earlier this month, when she won first place in SpyOnVegas.com's "Sexiest Server in Las Vegas" contest. Remijio beat out 51 sexy Sin City servers who competed for five weeks in a series of events. Bridget Nicole Peters from Tacos & Tequila and Amy Bishop of Body English came in at second and third place, respectively. SpyOnVegas.com is the most successful nightlife and social networking Web site in the western United States.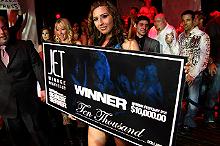 In honor of Black History Month, the City of Henderson will present Gospel Fest 2009 featuring Chicago's urban poet/author Kweisi Gharreau (kway-c ga har ro) reciting original poetry selections on Friday, Feb. 27 at 7 p.m. at the Black Mountain Recreation Center, located at 599 Greenway Road. Gharreau over his 17-year career may be most recognizable as the author of the Chicago Bulls' street anthem "tha bullz" during the team's 1997-1998 basketball championship run.
This month, ENVY The Steakhouse at the Renaissance by the Convention Center began presenting "Mimosas & Music with Wes Winters." The weekly Sunday morning brunch features pianist Wes Winters, who previously conceived, wrote, produced and starred in "A Musical Tribute to Liberace" at the Liberace Museum. Brunch from 11 a.m. to 3 p.m. is $25 with Winters performing from 11:30 a.m. to 2:30 p.m. Call 702-784-5716 for reservations.
Gospel Fest 2009 will continue on Saturday, Feb. 28 from 10 a.m.-5 p.m. with a collection of free musical performances by Kenny Young, Mountaintop Faith Ministries Choir and other local church groups. Admission is free, call 702-267-2171.
The 11th Annual CineVegas Film Festival will be held in June 10-15 this year. Beginning Sunday, Feb. 22, and every Sunday thereafter at 9 p.m. for four weeks, CineVegas is offering the new "Area 52" screening series featuring films that have previously played at CineVegas in the festival's popular "Area 52" section. A reception is held prior to each screening at 8:30 p.m. Tickets are $7 each and can be purchased at the Onyx Theatre, located at 953 E. Sahara Blvd., Suite 16. For information, visit www.cinevegas.com/area52.



CONTINUE ON TO...:
>THIS WEEK'S LAUGHLIN SEGMENT
>LAST WEEK'S LAS VEGAS SEGMENT
>VEGAS VIEW FULL ARCHIVES
>Return to "Heard Around Town"
>Return to Las Vegas Leisure Guide