LEGENDARY ROCK BANDS OPEN EDGEWATER EVENT CENTER
Completion of the Event Center is expected in early April and marks a milestone for the Edgewater-Colorado Belle Casino Resort complex.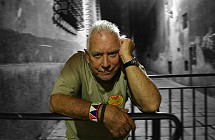 Two legendary rock bands are slated to open the new Event Center during the 29th Annual Laughlin River Run. Eric Burdon & the Animals will be featured in the inaugural concert on April 29 in the all new 2,500 seat venue. Tickets start at $15. One night later, Bachman and Turner will appear in concert. Tickets start at $25.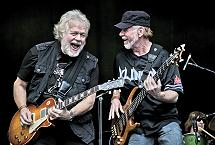 HARRAH's LAUGHLIN JOINS PET STAY INITIATIVE
Harrah's has rolled out the red carpet for traveling dogs with the launch of PetStay Laughlin, the resort's new pet-friendly hotel program. Guests can check into hotel rooms with their canine companion and get the necessary amenities upon arrival: a mat, food and water dishes, disposable waste bags and dog treats. Dogs must weigh 50 pounds or less. They are permitted to walk through designated common areas while on a leash and accompanied by the owner. There's a $25 per night upgrade charge for the pooch. For a full list of policies, rates and availability, visit www.HarrahsLaughlin.com or call 702-298-4600.
REBA MCENTIRE HEADLINES IN LAUGHLIN
Country music superstar Reba McEntire will perform one night only at the Laughlin Event Center on Saturday, March 12 at 7 p.m. McEntire is the second best-selling female country artist of all time, having sold more than 55 million records worldwide. She's had 63 Top 10 hits and released her 34th studio album, "All the Women I Am," in 2010. Tickets are $45, $55 and $85.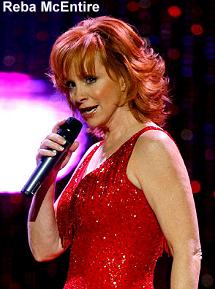 The Aquarius is offering a special online package for $239 (plus tax) that includes two Section C seats to see McEntire, and a two-night stay - March 11 and 12. For $299, you can have Section A floor seats; visit www.AquariusCasinoResort.com and click on "Special Offers." The package also includes 25 percent off at Windows on the River Buffet and 10 percent off Starbucks with your valid ace | PLAY™ card.
GLEN CAMPBELL HEADLINES AT THE RIVERSIDE
Glen Campbell known for songs like "Rhinestone Cowboy," "Wichita Lineman" and "By The Time I Get To Phoenix" will headline Don's Celebrity Theatre at the Riverside, Feb. 22-27. Campbell's career has spanned over five decades and earned him five Grammy Awards. He has sold more than 45 million albums and appeared on countless recordings as an in demand session guitarist. Tickets are $36.50.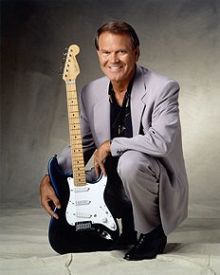 TONY ORLANDO ENERGIZES HARRAH SHOWROOM
Tony Orlando will perform 6:30 and 9 p.m. shows in the Fiesta Showroom at Harrah's on March 5 and 6. Tickets are $45, $50 and $55, call 702-298-8510.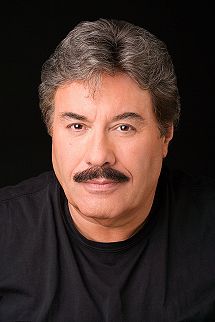 Multi-talented Orlando is the voice behind such hits as "Candida," "Knock Three Times," "He Don't Love You," and "Tie A Yellow Ribbon Round The Ole Oak Tree." For more than 25 years, he has appeared on the "Jerry Lewis Labor Day Telethon" and earned a star on the Hollywood Walk of Fame.
TOP OF NEXT COLUMN
TROPICANA FEATURES CORNELL GUNTER's COASTERS
The Original Cornell Gunter's Coasters will perform in concert at the Tropicana on Saturday, Feb. 26 at 8 p.m. in the Pavilion Theater. Tickets are $20.
Throughout the 1950s and 1960s, the Coasters had many hit songs that were especially catchy tunes like "Charlie Brown," "Poison Ivy," "Little Egypt," "Love Potion No. 9" and "Yakity Yak." This band, with Gunter as its head, was the first band to be inducted into the Rock and Roll Hall of Fame in 1987.
EDGEWATER FEATURES COMEDIANS
The Edgewater sticks with "Comedy on the Edge" in the showroom every Friday, Saturday and Sunday at 7 p.m. Each show features two stand-up comedians. Upcoming acts are: Feb 25-27—Bruce Jingles and Jason Love; March 4-6—Troy Thirdgill and Mary Kennedy; and March 11-13—Mike Wally Walter and Colleen Crabtree. Tickets are $10 at the Edgewater Casino Cage or the door.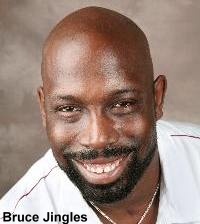 Bruce Jingles is a universal comic that doesn't hide his mistakes and failures. He has performed for our troops in the Middle East and with famous national headliners such as Jeff Garcia, Carlos Mencia, Chris Tucker, Gabriel Iglesias, Damon Wayans, Dane Cook, The Legend...Paul Mooney and many others.
QUICK CLIPS
The special Presidents' Day brunch on Feb. 21 will be served at the Fresh Market Square buffet in Harrah's from 7:30 a.m. to 2 p.m. for $13.99 plus tax a person. The regular offerings will also be available.
"Remember When" Antiques and Collectibles Show will be held in the Avi Grand Ballroom, Feb. 25-27. Hours are noon to 5 p.m. on Friday, 9 a.m. to 5 p.m. on Saturday, and 9 a.m. to 3 p.m. on Sunday. Admission is free admission.
Rio will perform their tribute to Duran Duran at the River Palms in the 2700 Club on Feb. 26 at 9 p.m. Tickets are $10.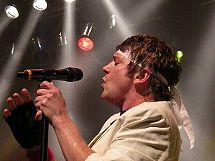 There will be Polka dancing at The Pavilion Theater in the Tropicana Feb. 28-March 3. Twin Cities Soundz and The Hofbrau Boys will provide the music from 3-8 p.m. Tickets are $20 daily or $40 for all four days; locals discount is half price.
The "Irish Riverwalk Festival" featuring an Irish band, food booths and beverages will be held on the Riverwalk between the Colorado Belle and Edgewater, March 11-12.
On March 12, Rare Earth will perform at 7 p.m. in the Avi Grand Ballroom. Rare Earth is made up a group of high school buddies who were signed with Motown from 1968 to 1978. Their hit "Get Ready" started out as a three-minute song, became 21 minutes long, and remained on the charts for almost three years. Tickets are $16.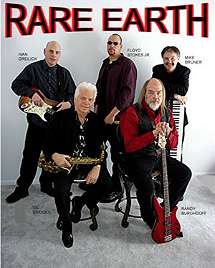 The "Blues & Brews Festival" will be held in the Colorado Belle's parking lot event area, April 22-24. This annual event will feature blues bands including Alligator Records' Michael Burk, BBQ and other food, beverages at booths and vendors. Admission is free with food and beverages sold separately.
Tom & Sharon's Ballroom, Dance Party at the Riverside is scheduled again on Feb. 26, and March 12, 26 from 1:30 – 4 p.m. Admission is free. For more information about parties or dance classes, call 928-754-2097.
PENNY PLAYER HITS HUGE JACKPOT AT COLORADO BELLE
On Super Bowl Sunday, Feb. 6, Cynthia Burton of Santa Margarita, Calif., nailed the Wizard of Oz penny slot progressive at the Colorado Belle for $615,883.41. Burton had $50 invested in the machine when she hit the jackpot with max coin in ($3).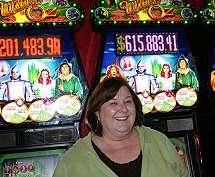 She received a check for $30,794.17 on the spot and will receive an identical check each year for the next 20 years. An Illinois native, Burton plans to go on vacation back home, buy a car and retire there.


CONTINUE ON TO...:


>THIS WEEK'S LAS VEGAS NEWS
>LAST WEEK'S LAUGHLIN NEWS
>VEGAS VIEW FULL ARCHIVES
>Return to "Heard Around Town"
>Return to Las Vegas Leisure Guide