The Rio and show producer Greg Thompson have launched an all-new, late night, rock n' roll explosion, "Greg Thompson's Erocktica Live! Sex, Sweat & Rock 'n' Roll," that premiered this week on Feb. 18. Performances are offered nightly at 10 p.m., Wednesday through Monday (dark Tuesday). Tickets are $49.95 plus tax. Guests receive two free beers with every full price ticket purchased and free admission to the VooDoo Lounge or Club Rio immediately following the show.

Column Continues Below Advertisement


Thompson, along with long time choreographer, Mistinguett, has produced sexy late-night productions for Playboy, E! Entertainment Television and HBO. The duo currently produces "Skintight" at Harrah's Las Vegas.
"Erocktica" is the first Vegas show to incorporate a live band into a late-night production show. Thompson has assembled the all-star classic rock band "US/UK," along with sexy dancers and rock vocalists. To complete the rock 'n' roll package, Mistinguett has designed an array of stunning, sexy, barely-there costumes highlighted by fishnets, feathers and leather.
Kenny Chesney, the Country Music Award Entertainer of the Year, will play the Mandalay Bay Events Center with his "Somewhere in the Sun Tour" on Friday, June 10. His special country music guests will be Gretchen Wilson and Pat Green. Wilson released her mega hit "Redneck Woman" in May 2004. Green is a triple Grammy nominee. Tickets with tax included are $52.50, $73.50 and $94.50, call 702-632-7580.
Due to an unprecedented, overwhelming demand to see master magician and illusionist David Copperfield, the MGM Grand has added seven matinee performances to his current engagements, Feb. 18-27 and March 14- April 13, in the 740-seat Hollywood Theatre. His latest stage production show is "An Intimate Evening Of Grand Illusion." Tickets are priced $79.90 inclusive for matinee performances, call 702-891-7777 or 800-929-1111.
The theatrical production "Forever Plaid" had a successful six-year run at the Flamingo Las Vegas in 1995. Now the show is attempting to regain its popularity in Las Vegas at the Gold Coast in the 335-seat showroom.
The charming off-Broadway hit opened in New York on May 20, 1990. Since then, it has gone on to spectacular success in many other cities.
"Forever Plaid" is the story of a four-member harmony group that was snuffed out in a collision with a school bus of Catholic teens who were on their way to see the Beatle's debut on the "Ed Sullivan Show" in 1964. Now through a hole in the ozone layer, the nerdy crooners get to come back and do one last show. Their music dates back to the 1950's and the song "Moments to Remember" really captures the show's essence.
Even if you aren't familiar with the tunes, the show is well paced and filled with many sight gags and humor. A cute addition is having the cocktail waitresses dressed as Catholic teenage school girls.
"Forever Plaid" is an affordable show with tickets priced at $29.95 plus tax or $34.95 plus tax for the show and dinner package, call 702-251-3574.
Blue Man Group, the multi-media entertainment phenomenon, and acclaimed composer John Powell have collaborated on his score for the upcoming 20th Century Fox feature film, "Robots." Blue Man Group, through its stylized percussion, brings the metal world of "Robot City" to life by creating over 25 new metal percussion instruments specifically to accent the score. "Robots" will have its world premiere in Los Angeles on March 6, featuring a special performance by Blue Man Group. The "Robots" soundtrack will be released on March 1 on Virgin Records and the original motion picture score will be released by Varese Sarabande on March 15. "Robots" opens nationwide on March 11.
Due to a scheduling conflict, Golden Rainbow's February Cabaret at the Luxor has been canceled.
On March 11, 12 and 13, the Silverton will welcome Paul Teutul, Sr., Paul Teutul, Jr. and Mikey from the Discovery Channel's "American Chopper" series to unveil two Silverton custom-made choppers.
The Teutuls, stars of the reality series and owners of the Orange County Choppers motorcycle body shop, will unveil two custom-built choppers for the casino on Friday, March 11. There will also be a public meet and greet event that day.
This is the first time the guys from Orange County Choppers have been commissioned to build a bike for a casino. One of the choppers created by the team was built with a mermaid theme to honor the Silverton's new Mermaid Restaurant & Lounge. The other bike features an outdoor theme in conjunction with the resort's new Bass Pro Shops Outdoors World.
Additionally, the Teutuls will be bringing 50 of their custom-built choppers with them. The bikes will be on display in the Silverton's grand foyer. After the unveiling, the Mermaid and Bass Pro bikes will be on display in the grand foyer indefinitely.
Comedic magician Mac King, star of his own afternoon show at Harrah's, and Sammy's Woodfired Pizza are joining forces to support The Public Education Foundation's Clark County READS program during the second annual Mac King's Book Drive Feb. 28-March 31.
The promotion encourages customers to bring in a new or gently used children's book targeting ages 3-17. In exchange for the book donation, Sammy's Woodfired Pizza will provide a free Messy Sundae certificate to customers.
On March 14 at 4 p.m. at the 4300 East Sunset Road location, just east of Green Valley Parkway, there will be a free reading party and Mac King will read to a group of children and perform magic and comedy.
With water-based latex paint, artist Salvador Quirarte known as Salva is body painting some of the Riviera's Crazy Girls for the Club Curve at the Aladdin, where the ladies mix and mingle with the guests. Salva from Guadalajara, Mexico spends about an hour-and-a-quarter doing the intricate art work on each showgirl.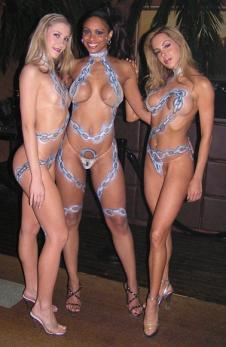 Salva worked in Mexico for TV production companies doing story boards and painting backgrounds. In Las Vegas over the past three years, he's done body painting for Halloween costume contests.
Curve located within the upscale London Club in the Aladdin is open on Thursdays, Fridays, Saturdays and Mondays at 10:30 p.m., call 785-6815.
As reported before, magician Rick Thomas will be leaving the Tropicana and moving his afternoon show to the Stardust. His last performances in the Tiffany Theatre will be at 2 and 4 p.m. on March 17.
Clear Channel Entertainment has teamed up with the Aladdin to manage the resort's 7,000-seat theater and a showroom that will be built that could hold up to 1,500 people. Plans are to modernize the theater. Clear Channel is making a multi-million commitment.
On Sunday nights at 8:30 p.m., Darin Ames accompanied by Tommy Deering delves into The Great American Songbook. After the show, both artists sell CDs and Ames' recording was produced by famous pianist Vincent Falcone, who accompanied him.
Liberace's red, white and blue Rolls Royce is on loan from the Liberace Museum to the Riviera. It is on display through Labor Day honoring the resort's 50th anniversary and Liberace who opened the resort in 1957.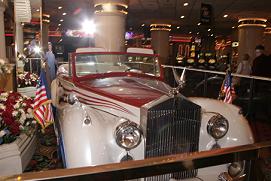 The conservatory at the Bellagio has a new grand display celebrating the Chinese New Year. Since it is the Year of the Rooster, an animatronic rooster that crows is the main focal point in the garden.
The 40,000-square-foot luxury Aquae Sulis Spa at the 541-room JW Marriott in northwest Las Vegas now has a full-service beauty salon. The 2,000-square-foot salon was designed by Takara Belmont, a salon and spa design firm specializing in high-end facilities. The décor centers around the spa's water theme with rich blues and buttercup yellows to sooth the senses.
The salon is managed by Jeffrey Locke LeMert, a seasoned stylist who has honed his hair couture skills in Las Vegas for the past 16 years. There are five stylist stations, five manicure stations, and six pedicure areas that showcase beautiful glass bowl art pieces and chairs that offer therapeutic air massage. Hours are daily from 9 a.m. to 7 p.m., call 702-869-7807.
"Taste and Sounds of Soul" will be a feast of soul food taking place with vendors on Fremont Street, Feb. 26 and 27, from 10 a.m. to 10 p.m. R&B entertainers will perform on the Fremont Street Experience Third Street stage. This event is part of the Black History Month celebration.
For the 10th consecutive year, the southern Nevada Arthritis Foundation will host Oscar Night at Caesars Palace on Feb. 27. Robin Leach of "Lifestyles of the Rich & Famous" fame will co-host the event. Tickets are $250, call 702-367-1625.
A helicopter was used recently to install the four main pieces of the new thrill ride called "Insanity" at the top of the Stratosphere tower. Watching the helicopter lift the massive pieces was quite a sight. The ride is scheduled to open early next month and dangle thrill-seekers off the side of the tower.
More up in the air news was made by Steve Wynn when he released his new television spot with him literally standing on the top of his new Wynn Las Vegas hotel.
Air Force Captain, Scott O'Grady will appear at the Silverton three miles south of the Strip as February's Speaker Series guest next Thursday, Feb. 24 at 7 p.m. to recount his war experiences in Bosnia. Tickets are $30 and $20 with a military I.D., call 702-914-8557 or 1-866-946-4373.
O'Grady was helping enforce the NATO no-fly zone policy in the skies over Bosnia when a Soviet-made anti aircraft missile slammed into his F-16 plane. His story involves surviving in hostile territory for six days before being rescued by the U.S. Marines.
The Tabú Ultra Lounge at the MGM Grand has added a new element - Fusion on Thursday nights. For information, call 702-891-7183.
Nambé, a lifestyle company based in Santa Fe, New Mexico and creators of elegant, modern, award-winning home décor, giftware and accessories, has been awarded the 2004 Good Design Award from the Chicago Athenaeum Museum of Architecture and Design.
The Chicago Athenaeum Museum's historic Good Design program was founded in Chicago in 1950 and remains the oldest and most significant design competition in the world. Selected from amongst thousands of award entries, the Nambé Lounge Chip and Dip server was an award winner and will become part of the museum's permanent collection.
In addition, Nambé designed and crafted the 2004 Las Vegas Life Epicurean Awards for each of this year's 22 winners. The Paella Tray, named for a classic peasant dish of Spain, was designed to exemplify beauty while offering a functional staple for the home.
There are seven Nambé stores and the one in Las Vegas is located in the newest section of the Forum Shops.
CONTINUE ON TO...:
>THIS WEEK'S LAUGHLIN SEGMENT
>LAST WEEK'S LAS VEGAS SEGMENT
>VEGAS VIEWS FULL ARCHIVES
>Return to "Heard Around Town"
>Return to Las Vegas Leisure Guide