Eddie Money will bring his distinct brand of rock and roll to the entertainment pavilion at the Silverton with an electric show on Saturday, March 11. Tickets are $30, call 702-914-8557 or 1-866-946-4373.
Money arrived on the music scene in the late '70s at the height of album rock's popularity. He quickly made a name for himself with hits like "Baby Hold On" and "Maybe I'm a Fool." His catchy, blue-collar rock style, coupled with his knack for funny narrative videos, ensured his success through the early '80s and new MTV era.

Column Continues Below Advertisement


Most recently, Money has been preparing his latest album, "Wanna Go Back!," which is scheduled for release later this month. Money and his band will support the CD with a year-long tour of the United States.
Platinum gospel R&B crossover artist Kirk Franklin will headline at the Aladdin Theatre for the Performing Arts on Thursday, March 30, along with Grammy award-winning duo Mary Mary as featured guest performers. Tickets are $55, and $45 plus service charges and tax, call Ticketmaster at 702-474-4000.
Franklin's 1993 debut album, "Kirk Franklin and the Family," spent 100 weeks on the gospel charts, crossed over to the R&B charts, and became the first gospel debut album to go platinum. As the biggest selling gospel artist in the SoundScan era and three-time Grammy award-winner, Franklin is well-known for his dynamic and energetic performances, which have included two hugely successful "Hopeville Tours" in the past few years.
On the new Hero tour, the gospel dynamo will perform selections from his sixth CD "Hero," which debuted in the No. 1 position on two Billboard Magazine charts - Top Gospel Album and Top Christian Albums. In the spirit of the CD's title, Franklin also plans to celebrate and honor "hometown heroes" in each market.
The Rampart Casino at the Resort at Summerlin will present seven-time Grammy winners, The 5th Dimension, on Friday, March 3, at 8 p.m. in the Grand Ballroom. The group has earned 14 Gold and five Platinum records since 1967, and made theatrical history as the first group to perform in a Broadway play when they starred in the national tour of the Tony award-winning musical "Ain't Misbehavin'."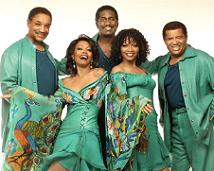 Original members Florence LaRue and Lamonte McLemore, along with Greg Walker, Willie Williams and Jamilia Ajibade have put together a show and sound that is distinctively their own. Tickets are $25 plus tax and can be purchased at the Rampart Casino Cage.
J.C. Wooloughan's Irish Pub at JW Marriott in northwest Las Vegas will begin celebrating St. Patrick's Day on Wednesday, March 15, by hosting a 6 p.m. pre-St. Patrick's Day dinner party. The fourth annual "Black Gold" Tasting Dinner will include the tasting of premium stout beers, a five-course menu, and live entertainment with John Windsor playing requests. Cost is $48 plus tax and gratuity, call 702- 869-7725.
On March 16 from 8:30 to midnight, it will be John Windsor and the J.C. Wooloughan crew in a sing-along and toasting to everyone and everything Irish.
The pub will open at 10 a.m. on St. Patrick's Day, begin serving Corned Beef and Cabbage at 11 a.m. and kick off the party at noon with bag pipes and Thomson / Keefe, John Windsor, Bill Craig and Pop Culture will entertain throughout the day. At 5 p.m., The Backyard will open with local favorites, Pop Culture and feature act Zoo Station, The U2 Tribute Band irect from San Francisco, performing. Cover charge is $10, which covers both venues, call 702-869-7725 for advance tickets.
As the official St. Patrick's Day headquarters for 94.1 FM, the radio station will be broadcasting live on Friday, March 17. A prize can be won by visiting the Blarney Stone, outside the pub and guessing the weight.
On Saturday, March 18, the party will continue with Zoo Station playing from 9 p.m. to 1 a.m. with no cover charge.
The Las Vegas Motor Speedway has announced plans that will make it the most modern facility in all of motorsports. Changes will begin taking place on March 13, with plans for completion in time for the Craftsman Truck race in September. Track owner Bruton Smith is putting up close to $25 million to build higher banks on the already near perfect 1.5 super speedway to make it even faster and building a fan-friendly infield along with a new media center.
Part of the new design will involve moving "Pit Row" about 200 feet closer to the grandstands, tearing down all the old garages and building an exclusive two-story "Diamond" Shaped Nextel Cup Garage area. Fans will have the opportunity to purchase special passes that will allow them into the area, where they can look and watch inside the garages from windows on the first and second floor.
Harrah's, O'Sheas and the Flamingo will bring Mardi Gras excitement to the Strip on Saturday, Feb. 25. The outdoor celebration hosted at the Carnaval Court, O'Sheas and Margaritaville will begin at 4 p.m. and wind down around midnight.
The block party will kick off with a parade starting at Harrah's, moving past O'Sheas and ending at the Flamingo. The Mardi Gras-style parade will make it's way between the three hotels every half hour from 4 p.m. to 8 p.m. and with participation by a Dixie Band, Harrah's and Flamingo showgirls, greeter girls, a baton twirler and Margaritaville stilt-walkers.
In true New Orleans fashion, showgirls and greeters will toss ceremonial beads to spectators and distribute give-a-ways and coupons for Southern Comfort drink specials at the three locations.
After the parades end, the celebration will continue with live entertainment at Carnaval Court, O'Sheas and Margaritaville.
Club Renaissance Vertical Country Club Condominiums is a 61-floor residential tower that will be the tallest proposed residential condominium high-rise in Nevada, reaching 705 feet. The condominiums are designed to serve the needs of active professionals who will work and play in downtown Las Vegas.
Located on the corner of Casino Center Boulevard and Bonneville Street, it will be within walking distance from downtown casinos, courthouses and municipal offices. The condominiums are priced from more than $400,000. For information, visit www.downtownlv.com.
The Cannery in North Las Vegas at the corner of Craig and Losee roads will present rock 'n' roll superstars Georgia Satellites at The Club on Friday, March 10 at 8 p.m. Tickets are $9.95 plus tax and fees; call 617-5585 or 866-287-4643.
The Georgia Satellites were one of the most ferocious bands of the '80s. The quartet immortalized the line, "Don't hand me no lies and keep your hands to yourself" in their hit single "Keep Your Hands to Yourself," which was No. 2 on the Billboard charts. Other Top 40 singles include "Hippie, Hippie Shake" from the movie "Cocktail," and "Battleship Chains."
The Westin Casuarina at 160 East Flamingo Road has completed a cosmetic revamp to create a more intimate dining experience of its signature restaurant, the Silver Peak Grill, while new Executive Chef, Jorge Lopez, has created an extensive menu of updated classics.
The Silver Peak Grill's 200-seat dining room offers booth seating behind a partition. Dark woods and muted lighting create the perfect atmosphere to enjoy a fine meal, conduct business, or relax with a cocktail.
A private dining room seats 30 and is a secluded area for special functions. Chef Lopez was the former chef de cuisine at Lutéce, where in the four years the restaurant was open, it received four Mobil stars three years in a row. He has spent his entire career working for fine dining establishments, and also has held culinary positions at the Regent and Patina, as well as working under the legendary Wolfgang Puck. Previously, Lopez served as executive sous chef at the Westin.
Barry Manilow, who headlines at the Las Vegas Hilton with "Manilow: Music and Passion" throughout 2006, released his new album "The Greatest Songs of the Fifties" on Jan. 31, and it debuted in the top spot on the Billboard Top 200. That means sales of 156,000 copies in the United States, giving Barry his best sales week since Nielsen SoundScan began tracking data in 1991.
This is his first ever No. 1 debut and his first No. 1 album since July 1977. Only Ray Charles and Elvis Presley had longer spans between No. 1 albums.
This past week, the Imperial Palace moved its third-floor Poker Room down to the main casino in the area that was formerly the Kabuki Lounge for many years.
You'll be able to party like a leprechaun at the Fremont Street Experience with free concerts from folk rock all-stars, Tempest on March 17, and Irish party band, Whiskey Galore on March 18 from 8 to 11 p.m. on the 3rd Street stage. For information, call 702-678-5600.
The Bourbon Street hotel / casino that was bought by Harrah's last year and closed in October was imploded this past week. The property originally opened in 1980 as Shenandoah.
The Art of Peter Max is a gallery selling upwards of 150 works on the third floor in the new wing of the Forum Shops that sells Peter Max artwork exclusively. This gallery is the only one dedicated to Peter Max's art in the U.S. Prices range from $1,500 for small collages up to $100,000 for a 12-foot-tall Statue of Liberty and the like.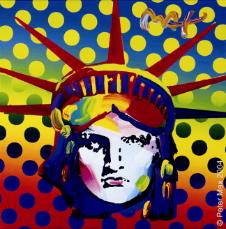 Most recently, Max was named official artist for the 2006 US Olympic Team. Max works in a variety of media, but it's the oils and acrylics that continue to reflect the psychedelic style he pioneered 40 years ago. His next gallery appearances will be May 26-28, and he'll sign his art and books.
Michael Bublé, who performed at the Las Vegas Hilton over Valentine's weekend, is featured on two-denomination casino chips released by the resort. Bublé is on $5 and $25 chips.
This month, "Mamma Mia!" is celebrating its third anniversary in Las Vegas and donating one dollar for every ticket sold in February to the Nevada Cancer Institute. Doing the math with 1,700 seats in the theater and seven shows a week, it will be a pretty nice donation.
After Lance Burton's recent appearance on the hit prime-time TV show "Las Vegas" with Molly Simms, the master magician is now going to levitate her for a spread in the international women's magazine "Marie Claire."
After meeting on the set and Lance doing some close-up magic for her, Simms thought it would make a great feature photo to do some of the bigger magic at his theatre in the Monte Carlo Resort for a behind-the-scenes feature. The last star Burton levitated was Pamela Lee Anderson.
The Silverton has launched the Discovery Ultimate Club Experience - a new points-based, five-level player's club program to reward casino guests with offers from the property's retail, dining, entertainment and lodging amenities. The levels are Copper, Silver, Gold, Platinum and the pinnacle is Diamond-level slot or table game players. One Discovery point is equivalent to one dollar coin in. Rewards include all casino and hotel outlets, the Bass Pro Shops Outdoor World and room nights, etc.
Commander's Palace restaurant inside Desert Passage is carrying on the New Orleans' spirit with a Mardi Gras celebration. A parade will take off from the restaurant on Tuesday, Feb. 28, at 4 p.m. and wind around the shopping center with a live jazz band and colorful characters passing out beads. The eatery is also offering a 25-cent Mardi Tini during dinner from Feb. 21 - March 2.
Roy's Las Vegas restaurants will be holding an $85 South African Winelands Dinner on Tuesday, March 7.
Comedian Magician Mac King, who headlines an afternoon show at Harrah's, and Sammy's Woodfired Pizza are joining forces again this year to support The Public Education Foundation's Clark County READS program during Mac King's March Book Drive March 1-31.
The promotion encourages Sammy's Woodfired Pizza customers to donate a new or gently used children's book targeting ages 4-12 in exchange for a free Messy Sundae certificate.
The book drive will begin with Mac King's March Reading Soirée at 4 p.m. on Monday, March 6, at Sammy's Woodfired Pizza, 4300 East Sunset Road, and at 4 p.m. on Monday, March 20, at 6500 West Sahara. During both events, Mac King will read and perform while the eatery provides pizza and sodas to the children and raffles off giveaways.
The fourth annual "Teddy Bear Tea and Fashion Show" to benefit the Lied Discovery Children's Museum downtown will feature Lance Burton's magic and a children's fashion show this year at 1 p.m. on Sunday, April 2, at the Four Seasons Hotel. Tickets are $75 per person or $750 per table of 10, call 702-382-3445. With the purchase of a table of 10, your child can be a featured model in the event and each child attending will receive a gift bag full of toys.
CONTINUE ON TO...:
>THIS WEEK'S LAUGHLIN SEGMENT
>LAST WEEK'S LAS VEGAS SEGMENT
>VEGAS VIEWS FULL ARCHIVES
>Return to "Heard Around Town"
>Return to Las Vegas Leisure Guide