F.A.M.E. WILL OPEN AT THE LINQ IN MARCH!

The 12,000-square-foot venue F.A.M.E. - Food. Art. Music. Entertainment. will open in March with the second phase of Caesars Entertainment's The Linq and introduce a new concept that blends a high-energy Asian market serving authentic street fare on the main floor and a contemporary Japanese restaurant on the upper level.

The Asian market will recreate a culinary bazaar, combining the great street foods of Japan, Taiwan, Thailand, Korea, China and Malaysia on a menu serving dim sum, stir-fry, ramen, barbecue, crepe and more. Ping Kwan Lam, whose specialty is Chinese-style tapas, will be the featured chef on the main floor. A stationary "food truck" will offer fusion fare, and a vast selection of microbrews from an array of Asian countries will be served in bottles and on tap. Live Asian-inspired entertainment, such as tiger and dragon dances and Taiko drum performances, along with Gangnam-style beats will keep the market festive. A retail area will offer novelty items inspired by Asian culture, such as miniature drums and other souvenirs.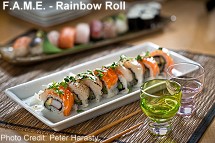 The upper level at F.A.M.E. will host a trendy Japanese restaurant complete with a DJ booth in the dining room and two patios, including one with lounge-style seating adjacent to a bar. Various styles of Japanese cuisine will be on the menu and guests may choose to dine at a table or at the Tokyo-style Robata Bar, Sushi Bar or Tempura Bar.
Column Continues Below Advertisement
THE CROMWELL WILL ADD TO VEGAS' ELITE INVENTORY
The former Barbary Coast/Bill's Gamblin' Hall & Saloon was going to become the Gansevoort but now the boutique hotel at the intersection of Flamingo Road and The Strip will be The Cromwell. Currently under construction, the boutique hotel is scheduled to open this spring with room bookings beginning Feb. 24.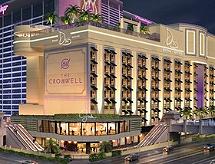 The Cromwell is poised to raise the elite inventory stakes with its $185 million renovation. Giada De Laurentiis and Victor Drai are star anchors with Giada's two-story restaurant masterpiece and Drai's three daylife/nightlife venues.
The Cromwell's hotel design will blend vintage with modern, drawing inspiration from the Coste Hotel in Paris with black Parisian-style awnings and gold fixtures adorning the windows. The hotel lobby will be reminiscent of a parlor from the past with accessories and bookshelves adorned with leather bound books cladding the walls. The 169 hotel rooms will be reminiscent of Parisian loft-style apartments with interesting luggage truck-style furniture and black and white mosaic tiled showers walls.
Giada on the second floor will offer al fresco dining, an exhibition kitchen showcasing fresh pastas being made daily by hand, and a signature antipasto bar. The eatery will accommodate 260 guests and have automatic retractable windows boasting Strip prime views. Giada will be open daily for breakfast, lunch and dinner and have a private dining room for larger parties. The menu will embrace Italian cooking with vibrant Californian influences. This will be De Laurentiis' first restaurant making her one of a couple name female chefs on the Strip.
NEW TROPICANA STARTS SATURDAY LGBTQ BEACH PARTY THIS SPRING
The LGBTQ pool party called "Xposed!" will make a splash at The New Tropicana this spring and be the only beach club on the Strip to offer a Saturday gay pool party. Each event in the pool area will feature live entertainment, celebrity guest performers, go-go dancers, the hottest DJs and light bites.
BELLAGIO GALLERY OF FINE ART PRESENTS 'PAINTING WOMEN'
"Painting Women: Works from the Museum of Fine Arts, Boston" is the new exhibit at Bellagio Gallery of Fine Art (BGFA) through Oct. 26, 2014. Organized in partnership with the Museum of Fine Arts, Boston (MFA), the exhibition showcases 34 paintings spanning the 18th, 19th and 20th centuries, revealing the story of women artists, their activism and artistic achievements.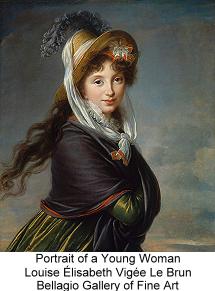 The exhibition features a series of paintings portraying female artists as confident practitioners of their craft. A portrait by French painter Louise Élisabeth Vigée Le Brun, recognized as the most important female painter of the 18th century and role model to the artists showcased, introduces the series. The exhibit also includes examples of successful artistic partnerships between men and women, such as the work of Philip and Lilian Hale.
ALEJANDRO FERNANDEZ VISITS MGM FOR MEXICAN INDEPENDENCE DAY
Leading Latin pop star Alejandro Fernandez will return to Las Vegas bringing his "Confidencias World Tour" to the MGM Grand Garden Arena for a Mexican Independence Day celebration Sunday, Sept. 14. Fernandez, who channels Mexico's rich tradition through his music and continues to capture the hearts of fans worldwide, is one of the most accomplished vocalists and biggest-selling artists in Latin music history. Tickets range from $65 to $225.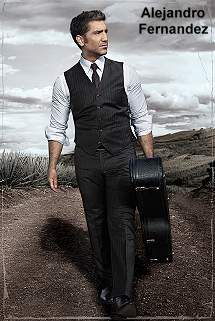 Renewed musical arrangements and innovative technology are included in Fernandez's show, which features mobile structures of more than 230 robotic lights dancing along with a giant screen giving life to breathtaking scenes from Mexico. The costumes also are fascinating highlighted by handmade looms from the Mexican state of Chiapas, shawls from Michoacán and traditional "charro" suits from Jalisco.
'STYLE WITH A CAUSE' PARTNERS WITH 'PROJECT RUNWAY'
The second "style with a cause" event inspiring women through fashion and beauty will take place at the Great Hall at Fashion Show Mall on Friday, Feb. 28 from 6 - 9 p.m. Adding to the excitement this year, special guests Joshua Christensen and Carlos Casanova from Lifetime's "Project Runway" and "Project Runway All Stars" will join the movement, lending their fashion expertise to the event and showcasing their latest collections. A portion of the evening's proceeds will benefit The Pregnancy Foundation Las Vegas.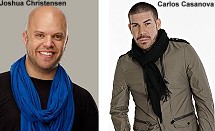 Created by Las Vegas fashion stylist, Jenna Doughton, the event will include honoring inspiring women, a cocktail hour, a fashion show presented by Saks Fifth Avenue, a silent auction and the reveal of a beauty transformation recipient. Tickets are $100 and $200 for VIP, visit www.stylewithacause.com or call 702-569-1008.
TICKETS ON SALE FOR 8th ANNUAL VEGAS UNCORK'D BY BON APPÉTIT
The country's leading culinary festival, Vegas Uncork'd by Bon Appétit features an extraordinary lineup of star-studded chefs, sommeliers and mixologists from ARIA, Bellagio, Caesars Palace, MGM Grand and The Venetian, May 8-11. The four-day celebration offers rare access for food lovers to interact and rub shoulders with their favorite big-named chefs. This year's program will be hosted by celebrity chefs Bobby Flay, Buddy Valastro, Daniel Boulud, Giada De Laurentiis, Jo?l Robuchon, Julian Serrano, Guy Savoy, Mario Batali, Pierre Gagnaire, Masayoshi Takayama, Michael Mina, Nobu Matsuhisa, Royden Ellamar, Shawn McClain, Thomas Keller and more.
PARNELLI JONES NAMED GRAND MARSHAL FOR MINT 400
American Racing Legend, Parnelli Jones will be the Grand Marshal for the 2014 General Tire Mint 400 presented by Polaris on Saturday, March 15. Jones had a long and illustrious carrier in racing. Winner of the 1963 Indy 500, Jones was the first driver to qualify at more than 150 mph, and is one of only two men to have ever won The Indy 500 and The Mint 400. Jones played a critical role in the Mint's history. He was the first nationally recognized high profile racer to sign up and compete in the very first race.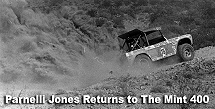 Norm Johnson, who dreamed up the event in 1967 as part of a Mint Hotel promotion, said that when Jones entered in the race, there were about 40 entries. Within a week of the announcement, the list grew to nearly 80, and on race day the Mint 400 had 101 entrants racing for a guaranteed purse of $15,000.
Television coverage of the annual event will broadcast to millions of homes via NBC and FOX Sports One Sports. More than 300 off-road race vehicles will compete in the Mint 400 this year making it the largest off road race in North America. The Mint includes four days of festivities, March 13-16, Downtown on Fremont Street, leading up to the epic 400-mile battle; visit www.themint400.com.
TOP OF NEXT COLUMN
MTO CAFÉ DOWNTOWN INTRODUCES SUNDAY NIGHT SUPPER SERIES

Downtown's newest breakfast, lunch and brunch destination, MTO Café at 500 S. Main Street will host its first pop up dinner, "Not Your Daddy's BBQ" March 9 at 5:30 p.m. The dinner kicks off the all-new Sunday Night Supper Series, which will take place on designated Sundays throughout the year. Bringing together five top Las Vegas chefs for a night of food and fun, Downtown diners will create their own three-course meal, taking their pick from five appetizer and five entrée offerings along with a choice of three desserts. Tickets are $55 plus tax and gratuity, call 702-380-8229 or email sayhi@mtocafe.com

.

ACM AWARDS KICK OFF WITH MAGGIE ROSE AT THE SILVERTON

Maggie Rose and her band will start the American Country Music (ACM) Awards Weekend off with her second appearance at the Veil Pavilion in the Silverton on Friday, April 4 at 8 p.m. Rose will be performing songs from her newest album "Cut To Impress" with the chart topping single "Looking Back Now." Her other hit singles were "I Ain't Your Mama" in 2012 and "Better" in 2013. Tickets are $20.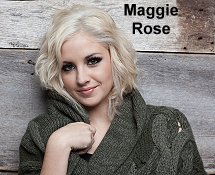 ALIANTE HOST BRIDAL OPEN HOUSE AND TASTING
Aliante is hosting a complimentary bridal open house in the Grand Ballroom and poolside at The Deck from 11 a.m. to 4 p.m. on Sunday, Feb. 23. The event will showcase exhibits by bridal partners and the spacious banquet facilities and reception options available at Aliante along with featuring Aliante Golf Club and the resort's all-new re:lax spa. Registered guests will have the chance to win a new groom's ring in the cake-dive contest courtesy of Michael E. Minden Jewelers. Admission is free but all guests are encouraged to RSVP to events@aliantegaming.com or 702-692-7360 by Friday, Feb. 21.
THE BLONDE DIVAS DEBUT IN LAS VEGAS AT THE ITALIAN AMERICAN CLUB
The Blonde Divas will debut their show in Las Vegas at the Italian American Club Saturday, Feb. 22. This trio of gorgeous ladies was formed in 2008 singing "oldies" from the 40s, 50s, and 60s when sisters Dixie Lu Sims and Nancy Renée Emmerich found Dixie Jo Henson, who had a rich alto voice that blended perfectly with their soprano voices. Recently the ladies have been writing and recording original material. Tickets are $20, call the Italian American Club 702-457-3866 or book online www.iacvegas.com/. The Italian American Club is located at 2333 E. Sahara Ave., Las Vegas, NV 89104.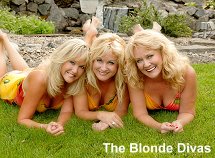 TOOL WILL PERFORM AT THE AXIS AT PLANET HOLLYWOOD
Grammy Award-winning alternative rock band, Tool, will perform inside The AXIS at Planet Hollywood on Saturday, March 15 at 8 p.m. Formed in 1990, Tool is comprised of lead vocalist Maynard Kennan, guitarist Adam Jones, drummer Danny Carey and bassist Justin Chancellor. Tool's performance will be the first touring act presented in The AXIS since the newly-renovated 7,000-seat theater opened on Dec. 27. Tickets start at $85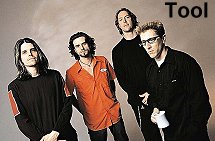 The group has performed as the headline act in world tours and major festivals such as Lollapalooza, Coachella, Big Day Out and Bonnaroo. Tool has sold millions of copies of their albums "Undertow," "Ænima," "Lateralus" and "10,000 Days," with all of the albums receiving RIAA's Platinum and Multi-Platinum certifications.
MISCELLANEOUS NEWS ITEMS
The VooDoo Zip Line attraction that will connect the two towers of the Rio from the patio of VooDoo Steakhouse on the 50th floor of the Masquerade Tower to the adjoining 20-story Ipanema Tower will open in early March. Hours will be noon to midnight Monday through Thursday and 10 a.m. to midnight Friday through Sunday. Admission will be $24.99 until 5:30 p.m. and then $37.
At Bally's, the renovated 756 Jubilee Tower rooms and suites have opened with modern designs meeting stylish and contemporary furniture and fixtures.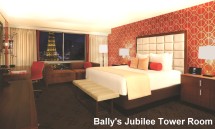 N9NE Steakhouse at the Palms has reopened following a chic makeover as part of the resort's $50 million renovation. N9NE's remodel features stylish new décor, elegant draperies, sleek private dining areas and the introduction of the Center Table, a semi-private dining experience with prime location in the heart of the restaurant.
Border Grill Chef/Owners Mary Sue Milliken and Susan Feniger, of Bravo's "Top Chef Masters" and Food Network's "Too Hot Tamales," will open their new restaurant this summer on the first level of The Forum Shops at Caesars. This will be Las Vegas' second Border Grill location and the seventh in the United States.
The inaugural early morning Strip On The Strip™ 5K/1M Charity Event, benefiting U.S.VETS - Las Vegas, will take place Saturday, March 1. What's different is participants will donate a piece of clothing at each 1K marker throughout the course. Clothing will be donated for the 2014 Veterans Stand Down. Registration ranges from $15 to family-of-four packages for $90. For information, visit www.StripOnTheStrip.com.
The 21st Annual International Tourism Safety Conference, a gathering for hundreds of safety, security and marketing officials in the travel and tourism industry worldwide is returning to Las Vegas and co-locating with ISC West, which is the largest physical security tradeshow in North America. The conference will be March 31-April 4 at the Sands Expo and Convention Center.
Ferraro's Italian Restaurant Wine Bar on Paradise will hold a Taste & Learn on Saturday, Feb. 22 and be pouring Batasiolo wines from the heart of Piedmont - famed home of Barolo wines. Guests will taste four specially selected Italian wines paired with food samplings. Cost is $50, call 702-364-5300.
HENDERSON HERITAGE PARADE SEEKS PARADE ENTRIES
The city of Henderson is seeking parade entries and floats for the 2014 Henderson Heritage Parade scheduled for Saturday, April 26 at 10 a.m. in the Water Street District. There is no cost to participate. All entries should reflect this year's theme, "Let's Go to the Market," which celebrates the 15th anniversary of the Henderson Farmer's Market.
Parade entries will be judged on three categories: incorporation of theme, creativity, and overall appeal. Cash prizes will be first $1,000, second $750 and third $500, and $500 for People's Choice Award where parade spectators vote. Application deadline is Thursday, March 27; visit HendersonLive.com.
SOUTHERN NEVADA MUSICAL ARTS SOCIETY PERFORMS BLUEGRASS MASS
The Southern Nevada Musical Arts Society (SNMAS) will perform Carol Barnett's "The World Beloved: A Bluegrass Mass" March 1 at 7:30 p.m. and March 2 at 3 p.m. in the Horn Theatre on the CSN campus. A five-member group of bluegrass instrumentalists will accompany the 60-voice Musical Arts Chorus with Sidra Kain as featured vocal soloist in this unusual work. The program will also highlight selections from the musicals "Oklahoma!" and "Carousel" by Rodgers and Hammerstein. In addition, 33 Musical Arts Chorus members will participate in a performance of the unusual work in Carnegie Hall in New York City on June 9. Tickets are $15 for adults and $12 for seniors, students, military and disabled at 702-651-5483 (LIVE).
CHEF RICK MOONEN COMMITTED TO SUSTAINABLE SEAFOOD
Recently, Las Vegas-based Chef Rick Moonen, chef/owner of Rick Moonen's rm seafood and Rx Boiler Room at The Shoppes at Mandalay Place, was one of 20 leading chefs and culinarians from across the country to be inducted to the The Monterey Bay Aquarium Seafood Watch® program's Blue Ribbon Task Force. These influential leaders are committed to promoting sustainable seafood in 2014. As an entity, the Blue Ribbon Task Force spreads awareness and promotes sustainable practices of seafood distribution and consumption. From working directly with fishing and fish farming industries, to hosting dinners, cooking demonstrations, and participating in public and media appearances, Blue Ribbon Task Force members encourage participation and motivate open dialog with the Seafood Watch program.
TWO CHARITY EVENTS FOR THE SHADE TREE
"Hypnosis Unleashed starring Kevin Lepine" will host a fundraising night for The Shade Tree, a local shelter supporting victims of domestic violence, inside the Night Owl Showroom at Hooters on Thursday, Feb. 27 at 8 p.m. In honor of the nonprofit's 25th Anniversary, 25 percent of ticket proceeds and merchandise sales from that evening will be donated to the organization. Lepine is a certified hypnotherapist who gives audiences out-of-the-box experience without the humiliation factor. Tickets are $48.30 and $59.30, call 702-739-9000.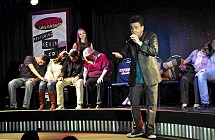 Friends of the Shade Tree will host its 12th Annual "Girls Night Out" charity gala on Wednesday, May 21 at Hyde Bellagio. The nonprofit's largest annual fundraiser will have live and silent auctions, libations by Southern Wine & Spirits and hors d'oeuvres throughout the evening. Shade Tree benefits abused and homeless women, children and their pets locally. Tickets are $150 and tables are available for $300 per person with seating in groups of six, eight, 10 and 12 guests, visit www.friendsoftheshadetree.com.
Column Continues Below Advertisement
CONTINUE ON TO...:
THIS WEEK'S >LAUGHLIN NEWS
LAST WEEK'S >LAS VEGAS NEWS
>VEGAS VIEW FULL NEWS ARCHIVES
Return to >"Heard Around Town"
Return to >Las Vegas Leisure Guide