CELINE DION RETURNS TO CAESARS PALACE FOR THREE YEARS
Confirming the buzz that has been circulating for months, Celine Dion will return to Las Vegas in March 2011 to begin a three year residency at The Colosseum at Caesars Palace. The brand-new show will premiere on March 15, 2011, and feature 31 musicians, consisting of a full orchestra and band. The show's concept will center on capturing the romance of classic Hollywood movies and have a stunning visual presentation. Tickets for the first 54 performances from March 15 through Aug. 14, 2011, are on sale Feb. 12, 2010.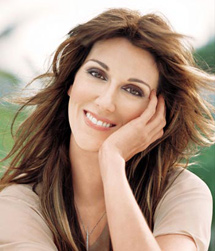 Column Continues Below Advertisement
GILLEY's RETURNS TO THE STRIP AT TREASURE ISLAND
Gilley's Saloon, Dance Hall and Bar-B-Que that was at the old Frontier will open again on the Strip at Treasure Island on April 16. Situated next to Siren's Cove, Gilley's will have retractable glass for outdoor Strip seating, and will be accessible from inside the casino and via a newly constructed bridge in front of the Siren's ship. Of course, the mechanical bull will again be a focal point.
Gilley's will serve lunch and dinner and feature a show kitchen, custom saddle seats at the bar, live entertainment, Thursday through Saturday, line dancing, and the Gilley Girls.
ZAC BROWN BAND STOPS AT THE HARD ROCK
Zac Brown Band, recently named Best New Artist at the 2010 Grammy Awards, will bring its "Breaking Southern Ground Tour" to The Joint at the Hard Rock on Saturday, March 13. Tickets start at $36, call 800-745-3000.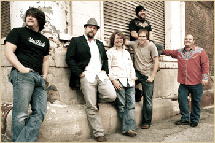 Their album, "The Foundation" released on Nov. 18, 2008, on Atlantic Records debuted at No. 17 on the Billboard Top 200 Chart and No. 3 on the Top Country Albums Chart, it is now certified platinum by the RIAA. Their first single "Chicken Fried" peaked at No. 1 on the Billboard Hot Country Chart, maintaining that position for two weeks, and also debuted as the second-most downloaded country single on iTunes.
MADAME TUSSAUDS UNVEILS REPLICA OF OVAL OFFICE
After months of preparation, Madame Tussauds, located in front of the Venetian, will unveil its authentic reproduction of the Oval Office at the White House on Feb. 15. "The Oval Office Experience" will include a wax President Barack Obama. Visitors will be able stroll around the President's office, sit at his desk, pose for pictures and even watch "Bo" the dog play on the White House lawn.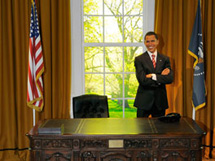 Madame Tussauds features more than 100 world-famous figures, each costing an average of $300,000. General admission is $25, seniors (60+) $18, students (13 and up) $18, children (7-12) $15, and children 6 and under free. For information, call 702-862-7800.
TERRY FATOR INTRODUCES NEW PUPPET AT FIRST ANNIVERSARY SHOW
Terry Fator will celebrate his fisrt anniversary as a Strip headliner on March 13. For the ocassion he will introduce a new characer. Vikki "The Cougar" was the first new character he debuted in The Mirage show and fter a year on the prowl, Vikki will finally get a new colleague. But fans won't know any more until the celebratory one-year Saturday night show. For this one-night-only event, tickets start at $79 and include entrance to Fator's show as well as entry to the after-party at B.B. King's Blues Club where members of Fator's band will jam with the B.B. King's Las Vegas All Stars. For tickets, call 702-792-7777 or 800-963-9634.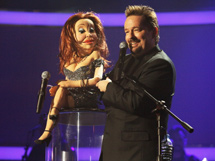 SANTA FE OPENS NEW REVOLVER SALOON & DANCE HALL
Santa Fe Station in North Las Vegas saddles up with a new entertainment offering: Revolver Saloon & Dance Hall. Revolver offers dancing, early evening line dancing and mechanical bull riding. The 10,000-square-foot venue introduces a hillbilly chic motif, deadwood trees throughout the room, and a variety of 30-foot-wide murals and hundreds of smaller images ranging from the likes of John Wayne and Johnny Cash to hot women in chaps. There's also Delilah, the 180-pound mirrored armadillo disco ball hanging from the ceiling that dances at the speed of the song playing.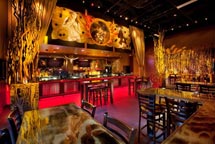 Revolver features two bar areas and specialty "outlaw" cocktails such as "Beergarita," "Buck All Night" and "Reverse Cowboy." The place is open Wednesday through Saturday from 7 p.m. until 3 a.m. Cover is $5 for women, $10 for men or $5 with military ID. Folks can ride the mechanical bull once for $5 or all-night-long for $20. There are also theme nights and specials.
QUICK CLIPS
It's been announced that the 348-room, luxury, Ritz-Carlton at Lake Las Vegas will close its doors permanently on May 2, 2010.
Hooters has opened a new comedy show called "Laugh Until It Hurts" starring Geechy Guy, Todd Paul and Mickey Joseph, Monday through Thursday night, at 11 p.m. The show gives a behind-the-scenes look at three Vegas comedians as they attempt to outdo each other. Tickets are $24.99, call 866-584-6687.
The Sahara is going to consolidate its two showrooms on March 1 and move "The Comedy Stop" and "Sandy Hackett's Rat Pack Show" downstairs to the main theater. Show times will be 5 p.m. for the Rat Pack show, 7 p.m. for magician Rick Thomas, and 9 p.m. for "The Comedy Stop."
The "Society of Seven and Jasmine Trias" show at the Gold Coast will go to one show a night on Friday, Saturday and Sunday at 7 p.m. beginning Feb. 19.
Renowned comedy-magician and Harrah's afternoon headliner Mac King presents more than 50 amazing tricks and feats of illusion in his new book, "Mac King's Campfire Magic," to be released in March 2010. The children's book, published by Black Dog & Leventhal, is suitable for children ages 9-12.
'AMERICAN SUPERSTARs' AT STRATOSPHERE ADDS MICHAEL JACKSON
The "American Superstars" show at the Stratosphere has added Corey Melton as the new Michael Jackson tribute artist. Melton has strong roots in the music business with his father, who was a club owner booking headlining acts, and his vocalist mother working with legends including Smokey Robinson and James Brown. Melton was a cast member of the performance company Team 11, a St. Louis based song and dance company produced by KPLR Channel 11.
BRAD PAISLEY STOPS AT MANDALAY BAY
Reigning Country Music Association (CMA) and Academy of Country Music (ACM) Male Vocalist of the Year Brad Paisley will bring his "American Saturday Night" tour to the Mandalay Bay Events Center on Saturday, Feb. 20. The show includes special guests Miranda Lambert and Justin Moore. Tickets are $81.75 and $60.75, call 800-745-3000.
TOP OF NEXT COLUMN
COUNTRY's CHRIS CAGLE PERFORMS AT SAM's TOWN
Country music star Chris Cagle will perform on Saturday, Feb. 27 at 8 p.m. inside Sam's Town Live! at Sam's Town on Boulder Highway. Tickets are priced from $20, call 702-284-7777.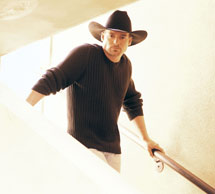 Cagle hit Nashville in 1994 at age 19 and waited tables and tended bar. He was discovered by a Virgin Records agent and signed to a recording deal that would produce two gold albums, seven hits and four top tens.
Cagle's first album, "Play It Loud," was released in mid-2000, with the hit single "My Love Goes On and On," while "Laredo," its follow-up, became his first Top Ten on the Billboard Charts. His latest album, "My Life's Been A Country Song" was released in 2008.
STYX LEGEND DENNIS DEYOUNG PLAYS THE ORLEANS
Dennis DeYoung, former singer and songwriter of Chicago-based rock group Styx, will perform with his five-piece band at The Orleans Showroom March 13 and 14 at 8 p.m. Tickets are priced from $19.95, call 702-365-7075.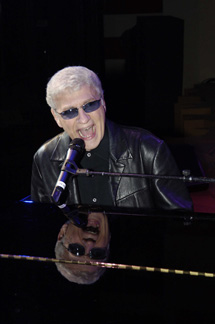 DeYoung was 14 years old when he and his brothers founded Styx in 1962 in the basement of their childhood home. Selling more than 35 million albums worldwide, DeYoung has written eight of Styx's top 10 singles. As a solo, he has recorded seven albums including "Desert Moon," with the title track achieving Top 10 status.
In recent years, DeYoung's songs have appeared in movies and television shows, including Sofia Coppola's "Virgin Suicides," Adam Sandler's "Big Daddy" and "8 Crazy Nights," DreamWork's "Old School" starring Will Ferrell and Vince Vaughn, Comedy Central's "South Park," ABC's "Still Standing and CBs' "The King of Queens."
PSYCHIC GARY SPIVERY HAS ENGAGEMENT AT THE PALMS
Famed psychic talent, Gary Spivey will appear for two nights, March 4 and 5, at the Palms inside The Lounge at 7 p.m. Nicknamed "The Modern Day Nostradamus," Spivey is world-renowned for his uncanny ability to predict future events, his gift to communicate with those who have crossed over to the other side and his use of healing energy. Tickets are $29.95, call 800-745-3000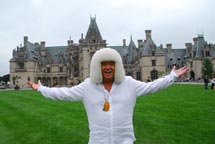 After making his first prediction at age 7, Spivey continues to hone his skills and now tours for nine months each year meeting with clients in private sessions, hosting live seminars, guest starring on radio and television shows, holding workshops and planning spiritual retreats.
TAO AND BLUSH WIN NIGHTCLUB AND BAR AWARDS
TAO Nightclub at The Venetian has been named Nightclub of the Year by the 2010 Nightclub and Bar Awards. The 10,000-square-foot nightclub opened in September 2005 and has three full-service bars, two main rooms, eight private skyboxes, 40-foot outside terrace with a Strip view, and nightly performance vignettes, including nearly nude bombshells.
The 4,500-square-foot Blush Boutique Nightclub at Wynn has been named Ultra Lounge of the Year by the Nightclub & Bar Awards, formerly known as the Five Star Awards. Blush features a crème lantern ceiling-sculpture, purse drawers for personal belongings, and an open-air patio and bar area. The winners will be honored with a VIP celebration during the 2010 Nightclub & Bar Convention and Trade Show in Las Vegas and featured in the March issue of "Nightclub & Bar."
FIELDING WEST HEADLINES 'THE COMEDY STOP'
Headlining Feb. 15-21 at "The Comedy Stop" at the Sahara will be comic/magician Fielding West, along with Jim Carroll and Patrick O'Donnell. West's finale, "Fighting a Vicious Lion," has to be seen to be believed. Fielding has opened for such A-list celebrities as Liza Minnelli, Glen Campbell, Earth, Wind and Fire, Mel Tillis, Phyllis Diller and dozens more and made many TV appearances.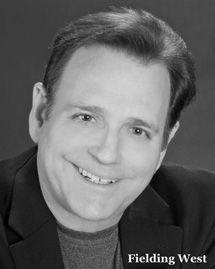 Fielding also works as a writer, and has been a magic consultant and technical director for Lance Burton and Siegfried and Roy for many of their TV specials. Last July, West performed in his first one-hour comedy magic special, "Hocus Pocus it's Fielding West," which aired on WGN.
SANTANA's SHOWS ENCOURAGE DONATIONS TO AGASSI FOUNDATION
Hard Rock Joint headliner, Carlos Santana visited the Andre Agassi College Preparatory Academy children to announce the launch of his partnership with the Andre Agassi Foundation for Education. Santana is encouraging public donations through video messaging during his live performances of "Supernatural Santana: A Trip Through the Hits" this month through Feb. 21.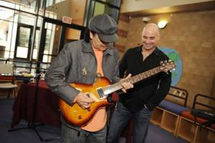 During Santana's visit, he donated a PRS Santana SE autographed electric guitar and a set of LP Santana Aspire series congas and shakers to the Academy's music department.
PALOMA PICASSO CELEBRATES 30 YEARS AS A TIFFANY DESIGNER
Paloma Picasso is celebrating 30 years as a Tiffany & Co. designer and unveils three new bold collections. One is "Marrakesh" that adopts the seductive intricacies of Moroccan grid patterns. Another is a new series of spheres and egg-shaped pendants sparkling with diamonds, emeralds and turquoise. It goes without saying; there is a 30th anniversary "Dove" pendant. "Paloma" means dove in Spanish. There are three Tiffany stores in Las Vegas at Bellagio, Forum Shops and the new Crystals at CityCenter.
EXTRA NOTES
Eleven Spa Vegas, the luxury spa featuring a salon by world-renowned hairstylist Ken Paves located at Town Square, celebrated its one-year anniversary on Feb. 11. In honor of this milestone, the spa is offering a special anniversary promotion through February. Spa guests can have one complimentary add-on service when they book one regular 60-minute treatment, call 702-967-1100.
On Monday, Feb. 22, Sunset & Vines at Lake Las Vegas will present an evening with foods and wines of Argentina. The five-course dinner will be a single seating at a "family table," with a maximum of 20 seats. The dinner is $75, call 702-382-7900.
N9NE Group along with the fundraising St. Baldrick's Foundation team Cirque du SoBald will present an extravagant evening known as Circus Couture, a performance, fashion and art auction event inside Rain Nightclub at 7 p.m. on Sunday, Feb. 28. The 10 p.m. After Party will he held at the ghostbar. Tickets are $35 in advance and $45 at the door, call 702-217-0429.
Column Continues Below Advertisement
CONTINUE ON TO...:
>THIS WEEK'S LAUGHLIN NEWS
>LAST WEEK'S LAS VEGAS NEWS
>VEGAS VIEWS FULL NEWS ARCHIVES
>Return to "Heard Around Town"
>Return to Las Vegas Leisure Guide