NEW LOOK EMERGING AT ALEXIS PARK
Alexis Park was the first all-suite non-gaming property to open in Las Vegas in the 1980s with everyone taking bets if it could survive without the casino. Turned out, it was a hit. Years have gone by and the property has recently remodeled its 496 suites and given the largest of the 10 different floor plans retro themes by naming them after icons such as Frank Sinatra and Dean Martin. The convention space, which is deceiving, has a fresh look too and there's an outdoor roof top space no one knows about that has an incredible view of The Strip.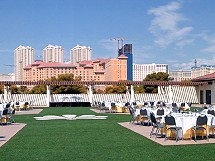 This retro property has a lot going for it with a convenient location just off The Strip and across from the Hard Rock. It's spread out motel-style with winding paths along garden settings that pass by three pools. There's a gazebo in the middle that's ideal for outdoor weddings. Off the lobby there is a restaurant that overlooks one of the pools and a cocktail lounge with a daily Happy Hour from 4-7 p.m. with half off on featured cocktails, $2 beer and appetizers from $4.95 to $8.95 that can easily be a meal. In addition, the intimate Las Vegas Comedy Showroom offers laughs.
Column Continues Below Advertisement
PLAZA DOWNTOWN WELCOMES 'AVANT GARDE'
An intense entertainment experience is coming to the 600-seat showroom at the Plaza downtown. "Avant Garde," described as a collection of "music, mirth, magic and mayhem" will open on Tuesday, Feb. 14, at 7 p.m. and be performed nightly except Friday. Tickets start at $34.95.
The new show, created specifically for Las Vegas, is directed by Juliana Chen, the only woman to win the World Championship of Magic in the last 50 years. With veteran producer Jon Fondy, who has produced more than 600 television shows and more than 400 live shows, the production brings together award-winning acts. "Avant Garde" has rotating cast members hailing from around the world including China, Belgium, Spain, France, and the United States.
SUGAR FACTORY WILL OPEN NEW LOCATION AT MGM GRAND
Sugar Factory is expanding its extra sweet empire with a fourth location on the Las Vegas Strip opening at the MGM Grand. The newest 2,700-square-foot retail store and celebrity hot spot will enjoy a highly visible location just off of the main casino. Television starlet, film actress and magazine cover girl Audrina Patridge will host the red carpet celebration for the grand opening on Friday, March 2.
Sugar Factory satisfies every sweet tooth and features iconic merchandise, apparel, the famous Couture Pop and other candy-inspired gifts including its exclusive designer denim line.
COCONUTS BEACH BAR & MEXICAN GRILL IS OPEN
Coconuts Beach Bar & Mexican Grill has opened at Town Square. The second floor dining experience Infused with a beach vibe and vibrant colors serves fresh Baja Mexican food with a tropical twist and the four M's: margaritas, milkshakes, mojitos, and martinis. Every party of 10 or more receives a complimentary legendary four-foot burrito, piñata, and margarita for the birthday person.
Promoting some theme nights, it is "Rebel Rush College" night on Thursdays at 10 p.m. with rotating DJs, drink specials and $1 tacos on the patio until closing. "Go Loco Fridays Ladies Night" offers an open bar for ladies from 10 p.m. until midnight. Latin Nights with ladies free all night are every Saturday with two rooms of Latin music. Daily Happy Hour with five percent off appetizers is from 4 – 8 p.m.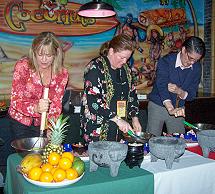 The opening night party featured a guacamole challenge with author Christine McKellar beating out Aundi and Fabian with the restaurant's Grandma's Guacamole. Celebrity judges were actor Steven Bauer, All Star baseball player Jose Canseco, and comedian Geechy Guy.
MUHAMMAD ALI's 70th BIRTHDAY IS A TELEVISED FUNDRAISER
Last week this column had a long list of stars and boxing legends who will appear at Keep Memory Alive's 16th annual "Power of Love Gala" on Saturday, Feb. 18. Now you can add Stevie Wonder, Samuel L. Jackson, David Beckham, LL Cool J, Chris Cornell, and Larry King to the nationally televised celebration from Las Vegas on ABC on Saturday, Feb. 25, at 2 p.m. PT and on ESPN2 later that same night.
In addition, Lenny Kravitz is hosting an additional performance with special guest Raphael Saadiq, as well as scheduled appearances by Lil Jon, Cee Lo Green, Kid Cudi and Slash, on Sunday, Feb. 19 at the MGM Grand Garden Arena. This concert is also in support of the Cleveland Clinic Lou Ruvo Center for Brain Health, Keep Memory Alive and the Muhammad Ali Center.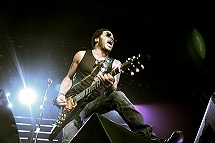 In keeping with its 16-year history, the Power of Love Gala will showcase a celebrity-chef-packed dinner featuring Tom Colicchio, Scott Conant, Michael Mina and Wolfgang Puck, a Dom Perignon reception, and one-of-a-kind live and silent auction items, including a vacation for two couples on David Copperfield's private island in the Bahamas. For information, visit www.keepmemoryalive.org or call 702-263-9797.
"…A TRIBUTE TO BOB FOSSE" HELPS GOLDEN RAINBOW
Golden Rainbow is teaming up with RagTag Entertainment for a benefit production "Take Off With Us: A Tribute to Bob Fosse" on the following Tuesdays, Feb. 14, 21 and 28 at 8 p.m. at Ovation inside Green Valley Ranch. The show's headliners will be Traci Kesisian and Savannah Smith from "VEGAS! The Show." The stage spectacular will deliver Fosse's most memorable dance numbers including "Big Spender" and "All That Jazz." Tickets are $15 and a portion of the proceeds will go to the HIV/AIDS nonprofit.
LAS VEGAS HOLDS FIRST 'BURN VEGAS BURN' EVENTS
InsertCoin(s) Videolounge Gamebar and the First Friday Las Vegas arts and culture festival will hold the first-ever "Burn Vegas Burn" fundraising event Downtown on Thursday, Feb. 23 from 8 - 11 p.m. Monies raised will be used to create and build a 20-foot tall wooden showgirl sculpture named "Lucky Lady Lucy" that will ceremoniously and similar to the Burning Man festival in northern Nevada be burned on March 2 during the First Friday festival.
The fundraising party on Feb. 23 will be a 1980s-themed costume party with a $5 admission for guests wearing 1980s-style clothing and $10 for everyone else. Here's an opportunity to be a part of Las Vegas' first public burn.
NEW SHOOTING RANGE - MACHINE GUNS 4 FUN IS NEAR THE STRIP
Machine Guns 4 Fun has opened a 12-lane shooting range at 5155 S. Dean Martin Dr., just off West Tropicana Ave. that caters to tourists, locals and groups. Novices and gun enthusiasts under professional guidance can shoot high-powered rifles and handguns such as an AK-47, Remington 700, M4 Carbine, Uzi and Thompson Machine Gun. Weapon packages include: "Zombie Hunter," "Call of Duty," "S.W.A.T," and an introductory package for newcomers.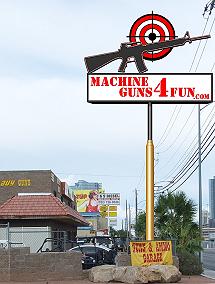 The new venue also houses Guns & Ammo Garage, a gun store adjacent the shooting range. Hours are daily 10 a.m. – 7 p.m.
OFF BROADWAY's 'JEWTOPIA LIVE' VISITS SUNCOAST
Jewtopia Live," a multimedia extravaganza of Jewish humor based on the longest running comedy in off-Broadway history, is coming to the Suncoast Showroom for three shows: Feb. 18 at 8 p.m. and Feb. 19 at 2 and 7 p.m. Tickets start at $25.
The 90-minute, one-act show starring "Jewtopia" writer Bryan Fogel and the play's lead actor, Jeremy Rishe, combines scenes from the popular off-Broadway play, stand-up comedy, excerpts from the best-selling book "Jewtopia: The Chosen Book for the Chosen People," and a unique multimedia presentation. "Jewtopia" is currently being made into a feature film starring Jennifer Love Hewitt and Rita Wilson, and scheduled for release later this year.
GOLDEN NUGGET HOLDS SECOND MASQUERADE BALL
The Golden Nugget downtown is holding its second Mardi Gras-themed Masquerade Ball in Gold Diggers on Saturday, Feb. 18, beginning at 8 p.m. Cover charge is $15, $25 per couple, and $20 per person at the door. VIP tables are $175, call 866-946-5336.
TOP OF NEXT COLUMN
'JACK WALKER & FRIENDs' BOOKED AT GREEN VALLEY RANCH

A "Jack Walker & Friends Variety Show" is scheduled at Green Valley Ranch on Sunday, Feb. 19 at 7 p.m. Charge is $15 at the door; visit www.brownpapertickets.com

.

Walker is a variety vocal entertainer born and raised in Scotland. He has appeared on BBC and Scottish television. In Las Vegas, he became the principal male vocalist in "Jubilee!" at Bally's and "Les Folies Bergere" at the Tropicana. This show will also feature George DeMott and Mark Giovi.

DeMott sings opera to pop and everything in between. Classically trained, he holds degrees from UC Santa Barbara and the prestigious Eastman School of Music. He has performed several classic opera tenor roles and has won several awards and competitions, including the National Italian-American Foundation's Luciano Pavarotti Scholarship.

Giovi has performed in many Las Vegas showrooms as a solo artist, with The Las Vegas Tenors and starred in the show "Bite" at the Stratosphere. He has also performed with Neil Diamond and David Foster and toured with NSYNC, Backstreet Boys and Britney Spears.

AROUND TOWN TIPS

The Las Vegas Hilton became the LVH, Las Vegas Hotel and Casino, last month and now has a new website, www.thelvh.com.

The National Museum of Organized Crime and Law Enforcement, known as the Mob Museum, is scheduled to open to the public downtown on Feb. 14. To celebrate the opening, seven lucky couples will participate in a wedding in the courthouse of the museum, officiated by former Las Vegas Mayor, Oscar Goodman.

The newest store at Hooters Casino Hotel is Rebel Swag carrying new UNLV Rebel gear that can't be found anywhere else, not even on the UNLV campus, and also merchandise from many different professional and college sports teams.

Comedian and impressionist Frank Caliendo will appear at the Venetian Showroom March 29-April 1. Caliendo had a long-run engagement at the Monte Carlo last year and has been a fixture on TV for the last decade in comedy specials and late night talk shows.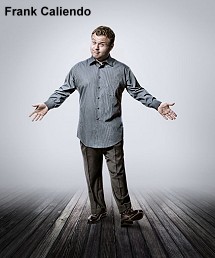 The Suncoast will be home to Norm Crosby March 3-4. Crosby has been "murdering" the English language since the '50s.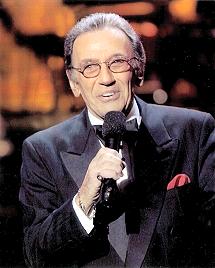 Rising young 19-year-old electronic music prodigy Porter Robinson has established an exclusive DJ residency with Wynn Las Vegas daylife and nightlife venues Encore Beach Club, Surrender and XS nightclubs in 2012.
The annual "Educational Taste of Excellence Wine Tasting," a wine tasting, spirits and jazz scholarship fundraiser will be held Saturday, March 3 from 6-10 p.m. in the Champagne Ballroom at Paris. Tickets are $60 in advance and $70 at the door, call 702-646-2615.
The new Lily Bar & Lounge (formerly Caramel Bar & Lounge) has opened inside the Bellagio.
The fundraising 9th Annual Walk with the Heart of a Child with more than 1,400 supporters will include a 3k walk, entertainment, raffle and Kids Zone on Saturday, Feb. 25 at the Fashion Show Mall at 8 a.m.; visit www.chfn.org. Fees are $25 for adults, $15 for virtual walkers, and $15 for active-duty military, students and seniors.
Star of "The Twilight Saga" series as well as model and entrepreneur, Kellan Lutz, will celebrate the debut of the fall 2012 Dylan George and Abbot + Main collections at the Chateau Nightclub & Gardens at Paris on Tuesday, Feb. 14.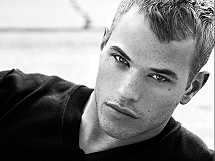 The President's Day weekend, Feb. 18-20, drink special at the PBR Rock Bar & Grill at the Miracle Mile Shops inside Planet Hollywood will include Washington Apple shots for $5 along with the Strip-side eatery's happy hour specials from 3 to 6 p.m. with $3 draft beers, 2-for-1 well drinks, and $5 Jack Daniels Tennessee Whiskey drinks and Jager Bombs.
The City of Las Vegas Mayor's Cup International Showcase, is a youth soccer tournament co-hosted by the City of Las Vegas and Downtown Las Vegas Soccer Club, Feb. 17-20. For the 12th year in a row the Showcase tournament brings together more than 350 teams from around the world to play before college coaches and recruiters.
KISS BY MONSTER MINI GOLF AUCTIONS OFF WEDDING PACKAGE
KISS® by Monster Mini Golf® is offering the opportunity for a couple to be married or make renewed vows with 20 guests as well as Gene Simmons and Paul Stanley as the guests of honor at the new "Hotter Than Hell" wedding chapel when it opens on March 15. This item with a guitar smashing at the end of the ceremony and much more is up for auction on e-Bay through noon (PST) on Valentine's Day. Bidding starts at $2,500 with a "Buy It Now" option of $50,000. Partial proceeds will benefit Toys 4 Smiles. For details and items included in the package, visit: www.monsterminigolf.com/kiss.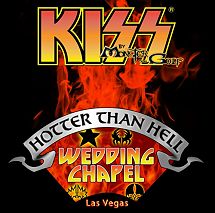 VINCE NEIL CELEBRATES 51st BIRTHDAY AT HARD ROCK
In honor of his 51st birthday, the Hard Rock Hotel & Casino and AEG Live surprised Mötley Crüe's vocalist Vince Neil with an extravagant rock 'n' roll inspired cake during "Mötley Crüe in Sin City" at The Joint on Feb. 8. The cake design featured a three-foot tall guitar, some of the band's signature album covers, and a replica of Neil's custom 1932 Ford Coupe hot rod on display at the hotel.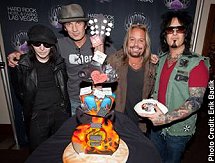 VANITY NIGHTCLUB STARTS 'RUDE PHOTO' FRIDAY NIGHTS
The new Friday night concept starting at 10 p.m. on Feb. 17 at the Hard Rock Hotel & Casino is "Rude Photo" at Vanity Nightclub. The weekly party's mastermind is DJ Felix Da Housecat with the club transforming into a Polaroid play land featuring a voluptuous cast of performance artists spanning every corner and multiple photo opportunities throughout the venue including mannequin stations, a police lineup and a large peepshow wall.
WORLD FAMOUS INK SPOTS GIVE FREE CONCERT
The World Famous Ink Spots will perform a concert at 2 p.m. on Saturday, Feb. 18 at the West Las Vegas Library Theatre located at 951 W. Lake Mead Blvd. Admission is free. They will sing tunes made famous by the original Ink Spots group — "If I Didn't Care," "Do I Worry?," "Java Jive," "I Don't Want To Set the World on Fire" and "We Three" — as well as their own latest release, "Which Ever Way the Wind Blows." For information, call 702-229-4800 or 702-507-3989.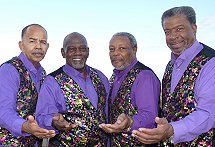 CITY EMPLOYEES MOVE TO NEW LAS VEGAS CITY HALL
Between Feb. 20-24, Las Vegas city employees including Mayor Carolyn Goodman will move into the new City Hall at 495 S. Main Street. Goodman has pointed out that you can't miss the mayor's office looking at it from outside because her husband, former Mayor Oscar Goodman had the building's only balcony installed. She thinks he forgot he wasn't still going to be the mayor. The new energy-efficient structure built to LEED® standards will reduce energy costs by more than $500,000 annually. This building, along with the Bonneville Transit Center, will anchor a five-block downtown redevelopment plan that includes new office and retail offerings.
Column Continues Below Advertisement
CONTINUE ON TO...:

>THIS WEEK'S LAUGHLIN NEWS
>LAST WEEK'S LAS VEGAS NEWS
>VEGAS VIEWS FULL NEWS ARCHIVES
>Return to "Heard Around Town"
>Return to Las Vegas Leisure Guide