'RAIDING THE ROCK VAULT' STARTS YEAR-LONG RUN AT LVH!

The history of rock 'n' roll will come to life when "Raiding The Rock Vault," a concert experience boasting the ultimate set list, kicks off a year-long run Saturday, March 9 at the LVH. The show is nightly except Fridays at 9 p.m. Tickets range from $49 to a special Rock Star Package for $100.

The show using narration, singing, acting, an all-star band and compelling imagery including historical footage transports the audience back to a magical musical journey from 1948 to 1989, traversing the genre's history chronologically. "Raiding The Rock Vault," features classic anthems from The Rolling Stones, The Who, The Doors, Led Zeppelin, Jimi Hendrix, The Eagles, Queen, Van Halen, AC/DC, Journey, Free, Bryan Adams, Supertramp, Toto, Deep Purple, and more. The show is narrated by actor Richard Malmos in front of the giant rock vault onstage.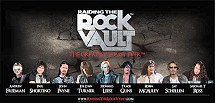 The all-star band is comprised of Howard Leese on guitar (Bad Company), Tracii Guns on guitar (LA Guns, Guns n' Roses), Robin McAuley lead vocals (MSG, Survivor), John Payne bass and lead vocals (Asia), Paul Shortino vocals (Rough Cutt, Quite Riot), Jay Schellen on drums (Badfinger, Asia), Andrew Freeman guitar and lead vocals (Lynch Mob, The Offspring), and Michael T. Ross on keyboards (Lita Ford, Hardline). In addition, rotating special guests will be confirmed starting off with vocalists Bobby Kimball (Toto), followed by Joe Lynn Turner (Rainbow, Deep Purple) joining the show at the end of March.
Column Continues Below Advertisement
HERAEA OPENS AT THE PALMS WITH FEMININE TWIST
Heraea, the ultra-chic American restaurant and sports lounge created by The ONE Group, will celebrate its grand opening at the Palms on Feb.17. This dining concept offers cuisine, music and sports viewing with a large LED television center stage in a stylish space with a feminine flair. The opening of Heraea is part of the $50 million renovation underway at Palms.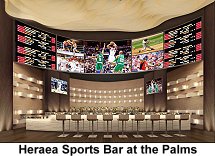 Developed by SEED Design, the restaurant's décor was inspired by the Heraean Games, the first athletic competition for women in ancient Greece. The atmosphere features tufted round banquettes in chenille, plush carpet, screens of metal and chain, and soft lighting.
ADVENTUREDOME ADDS NEW RECORD-BREAKING ROLLER COASTER
The Adventuredome at Circus Circus, America's largest indoor theme park, is going to add a new roller coaster, El Loco, which is only the second of its kind in the United States and one of five worldwide, and it will provide negative G drops, gravity-defying turns and over-the-edge twists. Construction will begin soon and be completed in December. The new action-packed El Loco will replace the Rim Runner flume ride, one of the park's four original attractions.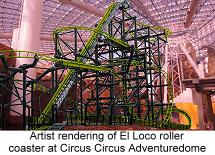 'TRIBUTE ROYALTY' AT V THEATRE IMMORTILIZES THREE ARTISTS
The new "Tribute Royalty" show at the V Theater at Planet Hollywood is a 75-minute show capturing the essence of music industry icons Michael Jackson, Elvis Presley and Lady Gaga through musical re-creations in concert with eight phenomenal backup dancers. The show is produced by former "Legends in Concert" Elvis artist Matt Lewis and his dancer/choreographer wife Janell Lewis. The show is daily except Sundays at 4 p.m.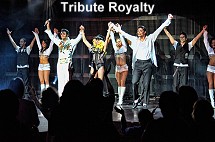 The show allows you to spend quality time with each artist in an intimate showroom. Since each superstar has created many major hits, you have some idea how good the song selection is and the costume changes keep you intrigued. The base general admission is $49.99 and $69.99 for VIP.
SUGAR FACTORY INTRODUCES GOBLET BAR ON THE STRIP
Sugar Factory at Miracle Mile Shops inside Planet Hollywood has introduced its new Strip-side Goblet Bar featuring dozens of sweet, spirit-infused options.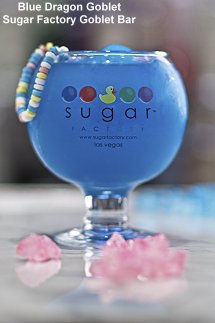 Goblet Bar offers an array of 60-ounce candy-inspired cocktails garnished with different candy such as lollipops, candy necklaces, gummy sharks, etc. All Sugar Factory goblets are served in a souvenir takeaway container for $32. Candy-inspired cocktails are offered by the yard for $16 or in a 45-ounce Las Vegas light-up takeaway for $32.
'AMERICA'S GOT TALENT LIVE IN LAS VEGAS' RETURNS TO PALAZZO
Following a prior successful limited run, "America's Got Talent Live In Las Vegas" will return on Monday, Feb. 25 for a seven-week run at The Palazzo Theatre and feature stars from NBC's No. 1 hit television sensation. There will be six 7:30 p.m. shows each week with tickets ranging from $45-$125.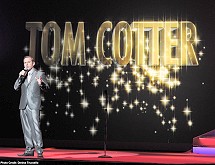 The returning show will feature Tom Cotter, the first comedian ever to reach the finals, Olate Dogs, Lightwire Theater, David Garibaldi and His CMYK's, Las Vegas Strip regulars magic act Jarrett & Raja, and 13-year old Anna Graceman.
MUSICAL PRODIGY JACKIE EVANCHO VISITS THE SMITH CENTER
Twelve-year-old singing sensation Jackie Evancho's first solo headlining show in Las Vegas will take place at The Smith Center in Reynolds Hall on Saturday, April 13. Discovered on NBC's "America's Got Talent," her current album, "Songs From The Silver Screen," debuted at No. 1 on the Billboard Classical charts and followed her "Jackie Evancho: Music of the Movies" album from 2012. Her first PBS taped-for-broadcast special "Dream With Me In Concert" in 2011 was one of the top pledge producing performances in PBS history. Tickets for her show range from $58 to $128.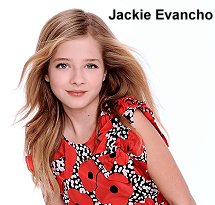 JUICE NEWTON WILL PERFORM AT SILVERTON'S VEIL PAVILION
Grammy winning recording artist Juice Newton, who has been on the charts since the 1970s, will perform at Veil Pavilion inside the Silverton on Thursday, March 21 at 7 p.m. Newton's music is based in country/folk, but has tremendous crossover appeal as demonstrated with massive hits including "Angel Of The Morning," "Queen Of Hearts" and "The Sweetest Thing (I've Ever Known)." Tickets are $25 general admission.
CIRCUS OZ VISITS THE SMITH CENTER
Circus Oz, the national circus of Australia, will bring its spectacle to The Smith Center, Feb. 21-23, with its quirky family show "From The Ground Up." The show features multi-skilled daredevilry, cheeky antics and gravity-defying acts performed by quick-witted stunt jumpers, power-packed aerialists, jugglers, and musicians. Tickets start at $24.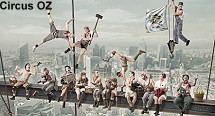 MICKEY GILLEY AND COMEDIANS HEADLINE TREASURE ISLAND
Country legend Mickey Gilley and renowned comedians Bill Cosby, Bill Engvall, Jo Koy and Whoopi Goldberg open a year of entertainment at Treasure Island in the Ballroom beginning Feb. 16 with Gilley.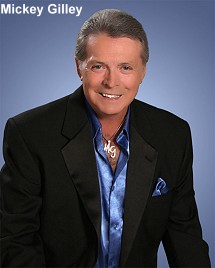 MGM COMEDY SHOW PRESENTS DAVE ATTELL AND JIM NORTON
Dave Attell and Jim Norton will perform a special comedy show inside the Hollywood Theatre at MGM Grand, Feb. 22 - 23. Tickets range from $59.99 to $79.99
Attell is no stranger to Las Vegas, having hosted the Adult Video News (AVN) Awards in 2010 and 2012. In 2005, a feature length concert film titled "Dave Attell's Insomniac Tour Presents Sean Rouse, Greg Giraldo and Dane Cook," was shot in Las Vegas.
New Yorker-Norton has been a New York Times bestselling author two times with "Happy Endings: The Tales of a Meaty-Breasted Zilch" and "I Hate Your Guts." Currently, Norton is touring nationwide performing as part of his new venture, "The Anti-Social Network."
TOP OF NEXT COLUMN
COMEDIANS FILL IN FOR LOUIE ANDERSON AT PALACE STATION
While Louie Anderson is away training and filming his competition in the upcoming reality celebrity diving competition "Splash," which will premiere Tuesday, March 19 on The ABC Television Network, Palace Station is booking other great comedians in his theater. On the list are: "That Metal Show's" Jim Florentine Feb. 13-15; comedian and actor Dean Napolitano Feb. 20-23, and "Rescue Me" star Ken Rogerson Feb. 27-March 2, making a splash at the Louie Anderson Theater for limited runs. Tickets are $59.95.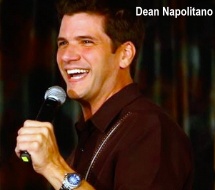 The show "Splash" marks the first time 10 celebrities will train and compete in regulation platform and springboard diving at dizzying heights in front of a weekly poolside audience.
GREAT VEGAS FESTIVAL OF BEER RETURNS
The Great Vegas Festival of Beer with music and food will be held at Sunset Park on April 27 from 3 to 7 p.m. with access to more than 200 craft brews from more than 50 local, regional and international breweries. The beer fest will be one of the first major events held at the lakeside event pavilion following the completion of Sunset Park's $15 million renovation. Tickets range from $30-$65.
ORLEANS ARENA HOSTS '105.7 THE OASIS LOVE AFFAIR'
Celebrated rock and roll, rhythm and blues and soul and funk acts from the '60s, '70s and '80s will perform some of their best-loved hits at the 8TH Annual 105.7 The Oasis Love Affair at the Orleans Arena on Saturday, Feb. 16. Tickets start at $27.50.
Zapp, the concert's headliner is best known for late '70s and early '80s hits "More Bounce to the Ounce," "Dance Floor," "Computer Love" and "I Wanna Be Your Man."
Other acts include: Grammy® Award-winning R&B singer Evelyn "Champagne" King; The Impressions; American Latin-influenced rock and roll group Malo; The Originals; songwriter and singer Barbara Lewis; Memphis Soul trio The Temprees; female trio The Fuzz; and Dorothy Moore.
STILL TOGETHER, THE ADICTS WILL VISIT THE HARD ROCK CAFÉ
Punk rockers The Adicts formed in the mid-70s in England will be performing with all their original members at the Hard Rock Café on the Strip on Friday, March 15. Tickets are $22 in advance and $25 day of show.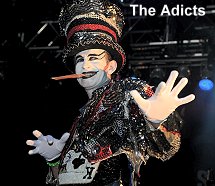 Known for their live performances and distinctive "A Clockwork Orange" influenced image, the flamboyant band's debut album, "Songs of Praise," was released in '81 and quickly became a punk rock classic.
AN EVENING WITH PETER YARROW AT FIFTH STREET SCHOOL
On Feb. 22 at the Historic Fifth Street School downtown, legendary singer/songwriter and activist Peter Yarrow will look back over the career of Peter, Paul, and Mary, telling stories and singing some of the many hits like "Puff the Magic Dragon" that won them worldwide acclaim. Tickets are $10 in advance or $15 on event day, call 702-229-3515 for information.
RICCI MARTIN CELEBRATES HIS FATHER'S LIFE AT THE SUNCOAST
Ricci Martin will pay tribute to his legendary father Dean Martin at the Suncoast Showroom, March 16 and 17. The sixth of Martin's eight children, he blends personal stories, family photos, his dad's performances on the TV series the "Dean Martin Show," with his own performance singing his dad's hit songs. In 2004, Ricci Martin told the story of his relationship with his dad in the book "That's Amore: A Son Remembers." Tickets are available from $15.95.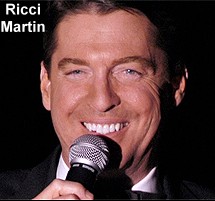 THE POP-UP WEDDING CHAPEL RETURNS TO THE COSMOPOLITAN
In time for Valentine's Day, The Cosmopolitan is again launching The Pop-Up Wedding Chapel on Monday, Feb. 11 at 3 p.m. on the Strip. The chapel offers a range of experiences from traditional to faux to commitment ceremonies and even pet weddings. The chapel's retail space has quirky items such as eraser rings and mini-wedding cake pops from The Cupcakery. In addition a photo can be added to The Cosmopolitan's Facebook page under a "Wedding Chapel" tab.
A NEW SHOT AT VALENTINE'S DAY
The Range 702 takes a shot at romance with a one-of-a-kind Valentine's Day package for couples good Feb. 14-17. Priced at $249.95, the package includes 20 rounds with a .22 Pistol, 20 rounds with a 9mm handgun, 50 rounds with any sub-machine gun, targets, two tickets to the show "Raack N Roll" at the D Las Vegas downtown and a three-course dinner for two at Gary's Café at The Range 702.
BANDS STONE SOUR AND PAPA ROACH VISIT THE HARD ROCK
With the two bands currently selling out multiple shows together across Europe, Grammy-nominated rock bands Stone Sour and Papa Roach are in the United States co-headlining a tour with a stop planned at The Joint at Hard Rock on Friday, Feb. 15. Tickets start at $35.
Stone Sour's "Absolute Zero" and two-album series "House of Gold & Bones" with Part 2 being released this spring and Papa Roach's current single, "Where Did the Angels Go" keep both groups tops on the Active Rock track.
NEWSY ITEMS
Ron White, best known as the cigar-smoking, scotch-drinking funnyman from the "Blue Collar Comedy Tour," will perform at 10 p.m. inside the Terry Fator Theatre Feb. 15 - 16, March 1 - 2, April 26 - 27 and May 25 - 26. Tickets range from $59.99 to $79.99.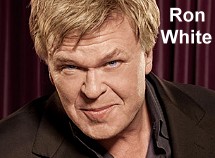 GRAMMY Award-nominee Miguel Jontel Pimentel, better known as Miguel, will host a mid-week affair at PURE Nightclub at Caesars Palace on Tuesday, Feb. 19. He's making the Las Vegas stop while on tour with Alicia Keys. The R&B singer's hit singles are "All I Want Is You," "Sure Thing" and most recently "Adorn."
Project Dinner Table will return on Saturday, April 20 for its fourth season with new locations and chefs being announced shortly. Other dates include Saturdays, May 18, June 29, Sept. 21, Oct. 19, and Sunday,Nov. 10.
"Blue Man Group" is debuting three Dinner & Show Packages for its latest production at Monte Carlo. The bundles feature a Category A, B or C ticket to the show and two-for-one cocktails at Ignite Lounge and range from $129 to $179.
The Plaza downtown is hosting free speed dating inside the Z bar on Valentine's Day, Feb. 14 from 7 to 11 p.m. There will be drink specials, live entertainment and $5 happy hour specials.
When President Barack Obama ordered 12 pizzas and cannolis from Dom DeMarco's Pizzeria & Bar, which has a 50-year-old Brooklyn connection, he put the Las Vegas pizzeria on the map. Now Dom DeMarco's is holding its "Greatest Love Contest" for Valentine's Day, which entails taking a picture of yourself enjoying dining at Dom DeMarco's and telling what you like about the food. Enter by Feb. 12 online at www.domsgreatestlove.com.
Lake Mead Cruises is offering two special Valentine Dinner Dance Cruises on Feb. 14 and 16 aboard the Desert Princess at 7:30 p.m. for three hours of cruising, a four-course dinner and dancing. Cost is $159 per couple, call 702-243-6180.
Last week, Commonwealth downtown launched "Wednesdays," a weekly event fusing art, music and fashion with mixologist Juyoung Kang creating signature "Common" and "Wealth" menus for the weekly event. Commonwealth is open at night Wednesday through Friday.
On Feb. 6, magician David Copperfield visited The Mob Museum that celebrates its first anniversary on Feb. 14 downtown.
Insert Coin(s) downtown has released a series of podcasts that showcase mixes generated by their in-house and guest DJs, for promotional use only. The free, downloadable podcast titled "PLAY. DRINK. DANCE" features soundtracks representing the Insert Coin(s) vibe; visit http://insertcoinslv.podomatic.com/.
CHARITY EVENTS WORTH NOTING
The Shriners Hospitals for Children Open is an official PGA TOUR event held at the award winning TPC Summerlin golf course. The 2013 tournament, Oct. 14-20, will award full points as part of the annual FedExCup series and features 132 PGA TOUR professionals competing for a $6 million purse with a winner's share of $1,080,000. All proceeds benefit Shriners Hospitals for Children.
On March 30 from 1-4 p.m., Southern Nevada Children First (SNCF), will host its 4th Annual "Artfully Sweet" event at an exclusive residence in Southern Highlands" and features desserts and pastries from some of Las Vegas' premium pastry chefs, artwork from international and local artists, a variety of live performances and a silent auction. Tickets are $40, visit www.childrenfirst-nv.org.
The 23rd Annual AIDS Walk Las Vegas to benefit Aid for AIDS of Nevada (AFAN) will take place Sunday, April 14 at UNLV. Participating will be Penn & Teller, leaders of the Penn & Teller Challenge AIDS Walk Team, Jaymes and James, hosts and stars of Chippendales and CBS' "The Amazing Race," and local host and TV 8 anchor Chris Saldaña.