B.J. THOMAS WILL HEADLINE AT THE TROPICANA EXPRESS


Singer B.J. Thomas, who during four decades has sold more than 70 million records, earned two Platinum records, had 11 Gold records and won five Grammy Awards, will headline at the Tropicana Express on Saturday, March 7. Tickets for his 8 p.m. show are $30, $35 and $40, call 800-243-6846.

Staying current, Thomas' Curb Records release, "Love To Burn," came out in 2007 and was his first new studio album in almost a decade. Last year, he appeared in the movie "Jake's Corner" playing Doc and contributed songs to the soundtrack. It was his first acting role since the 1973 movie "Jory," which introduced Robby Benson.

His fame; however, was cemented with his signature hits: the Oscar-winning "Raindrops Keep Fallin' On My Head;" the million-selling "(Hey Won't You Play) Another Somebody Done Somebody Wrong Song;" and his career-igniting cover of Hank Williams' "I'm So Lonesome I Could Cry."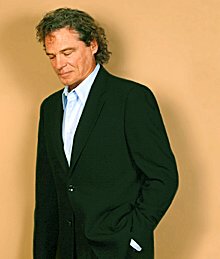 After his initial successes on a small Southern label, Thomas signed with New York's Scepter, where the roster also included Dionne Warwick, who introduced him to songwriter-producer Burt Bacharach, which lead to his performance of "Raindrops Keep Fallin' on My Head" for the movie "Butch Cassidy & the Sundance Kid."
The song has shown amazing resilience. It was featured in "Forrest Gump" when Tom Hanks' character encountered President Lyndon B. Johnson; it made the soundtracks for "Clerks II," "The In-Laws" and "Charlie's Angels: Full Throttle;" and it appeared almost in its entirety during "Spider-Man 2."
GLEN CAMPBELL WILL STOP AT THE RIVERSIDE
The "Rhinestone Cowboy" Glen Campbell will headline in Don's Celebrity Theatre at the Riverside, Feb. 17-22. Tickets are $34.50 and a 3 p.m. matinee has been added on Thursday, Feb. 19, call 702-298-2535 ext 616, or 800-227-3849, ext 616.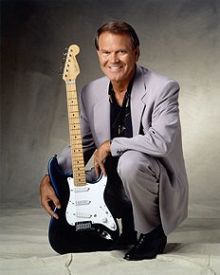 During his 50 years in show business, Campbell has released more than 70 albums, sold 45 million records and racked up 12 RIAA Gold albums, four Platinum albums and one Double-Platinum album. Of his 75 trips up the charts, 27 landed in the Top 10.
Campbell was hand-picked by actor John Wayne to play alongside him in the 1969 film "True Grit," which gave Campbell a Golden Globe nomination for Most Promising Newcomer and gave Wayne his only Academy Award. In 2005, Campbell was inducted into the Country Music Hall of Fame.

TOP OF NEXT COLUMN
HARRAH'S PREPARES TO TAKE A STEP BACK IN TIME
Harrah's will present "Drinkin'-Singin'-Swingin' a Salute to Sinatra-Davis-Martin" in the Fiesta Showroom, Feb. 28 - March 12 (dark March 6). Tickets for the 7 p.m. shows are $16, $21 and $26.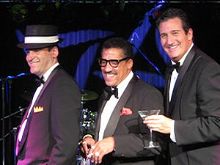 The salute transports the audience to days when song, dance and comedy ruled the stage. Featuring the extraordinary talents of Ryan Baker as Frank Sinatra; Bryan Clark as Sammy Davis Jr.; and, Rick Michel, as Dean Martin. This trio of talented performers captures the essence of the original Rat Pack as they perform legendary hits such as "Candy Man," "New York, New York," "Mr. Bojangles," and "Volare."
Michel, who has been doing celebrity impersonations since he was 7 years old, not only plays Martin in the show, but he is also the show's producer. Recently Michel performed in Costa Rica at the historic National Theatre with the San Jose Philharmonic Orchestra, and entertained doing his own show "Sinatra Forever: A Tribute to Frank Sinatra."
Michel has worked up and down the Las Vegas Strip from one major hotel to another, performed in dozens of comedy clubs, variety shows and theaters all over the world. Michel has shared the spotlight with Rich Little on stage; performed his impression of and for Bob Hope in front of President Gerald Ford and Frank Sinatra; been asked by Steve Allen to join the original "Tonight Show" cast on stage during the reunion show, as Steve's special guest; entertained American troops in Korea in a Bob Hope-style road show; and opened for comics such as Bobby Collins, John Pinette, Rita Rudner and George Wallace.
SPECIAL EVENTS ARE PLENTIFUL AT THE AVI
The Avi will be celebrating its 14 year anniversary on Feb. 28 at 4:30 p.m. with birthday cake and champagne being served at the Business Center.
The "Remember When" - Antique & Collectibles Show will be held at the Avi Convention Center, Feb. 20-22. Hours are Friday noon-9 p.m., Saturday 9 a.m.-5 p.m., and Sunday 9 a.m.-4 p.m. Call 928-768-4196 or 928-788-1756 for further information.
On Feb. 27 at the Avi Convention Center, Bill Haley's Comets will be performing a 7 p.m. show. Reserved seating is $27 for two and $15 for one; general seating is $25 for two and $13 for one.
Across the river from the Avi, the 15th annual Avi Kwa Ame Pow Wow -gathering of Native American tribes from across the United States will be held at the Mojave Crossing Event Center, Feb. 20-22. Admission is $5 or $8 for a two-day pass.
The Avi will be featuring special programs for veterans on Feb. 21 and 24. In conjunction with the Vietnam Veterans of America, Mohave County Chapter 975, Gene Crego, president, will present the second Veterans Information/Education Expo on Feb. 21 at 11 a.m. The Expo is designed to advise veterans of their benefits and rights and representatives from various organizations will be on hand to assist.
George T. MacDonald will be giving a PowerPoint presentation on Tuesday, Feb. 24 at 5:30 p.m. in the convention center. MacDonald was an 11-year-old boy in the Philippines on Dec. 7, 1941. He lived with his American missionary parents and three siblings. He will relate this story of evasion and capture by the Japanese and subsequent three-year interment in a prison camp. A part of his presentation is the story of their rescue under a direct order from General Douglas MacArthur and how that was accomplished by the elements of the 11th Airborne Division.


CONTINUE ON TO...:
>THIS WEEK'S LAS VEGAS NEWS
>LAST WEEK'S LAUGHLIN NEWS
>VEGAS VIEW FULL ARCHIVES
>Return to "Heard Around Town"
>Return to Las Vegas Leisure Guide